Should You Refinance Federal Student Loans?
Wait until 2023 to consider refinancing federal student loans.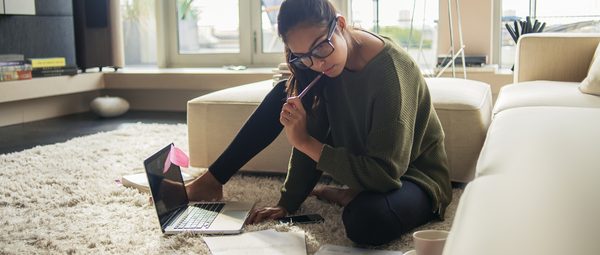 Many or all of the products featured here are from our partners who compensate us. This influences which products we write about and where and how the product appears on a page. However, this does not influence our evaluations. Our opinions are our own. Here is a list of our partners and here's how we make money.
Student loan refinancing rates are low right now. But you should probably wait to take advantage of them if you have federal student loans.
Refinancing with a private lender costs you access to government programs. That includes the student loan relief being offered due to the coronavirus pandemic.
If you have private student loans, refinancing remains a good option if you can lower your interest rate.
For federal loans, we recommend that you use the time that student loan relief programs buy you to get your financial house in the best shape possible. Build an emergency fund. Pay off higher-rate debts. Improve your credit score.
That way, when the smoke clears, you'll be primed to get the best refinancing rate possible — if refinancing makes sense for you at that point.
Is refinancing federal student loans a bad idea?
The federal government is currently offering unprecedented help to borrowers. As a result, refinancing government student loans is not a good idea right now. After the forbearance period is over and cancellation is applied to existing balances, consider the following:
Will your job might be at risk in the coming months?

Will you struggle to afford all your financial obligations if your employment changes?

Do you qualify for other federal loan forgiveness programs?
If the answer is "yes" to any of these questions, think twice about refinancing.
When should you refinance government loans?
Reconsider refinancing federal student loans right now.
Even into next year, only refinance government loans if you're comfortable with the risks involved. If you're OK giving up federal loan benefits, refinancing student loans could offer long-term savings on high-interest federal loans.
For example, say you owed $30,000 with a 7% interest rate and 10 years on your repayment term. Refinancing at a 3% interest rate — roughly the best you could expect — would save you close to $7,000.
To qualify, you'll typically need good credit (a FICO score in at least the high 600s) and a debt-to-income ratio less than 50%. If you wait to refinance, work to exceed those benchmarks to get the best deal possible when you do apply.
Can you refinance federal student loans?
You can refinance student loans, but only with a private lender. You can't refinance student loans through the federal government. You can consolidate federal student loans, but federal consolidation won't lower your interest rate or save you money.
When you refinance loans, a private lender pays off your existing loans and issues you a new private loan with new terms. Once you refinance government loans, you can't return them to the federal student loan program. By making this trade, you give up certain benefits.
The risks of refinancing federal loans include losing the following benefits:
The current interest and payment waiver
Access to potential loan forgiveness
Interest-free payment postponements
In some instances, it may make sense to refinance only some of your federal loans. For example, you could refinance your higher-interest PLUS loans from graduate school, but not your undergraduate direct loans. This would keep part of your federal protections in place, should the unexpected happen in the future. You can never transfer private loans to the federal government.
How to refinance federal student loans
If you've decided to refinance your federal loans, review offers from multiple lenders to find the best deal. Most private lenders will prequalify you via a soft credit check so you can see your new interest rate.
Other potential benefits of refinancing federal loans include the following:
Make a single loan payment each month. If you also have private student loans, you can refinance them together with federal loans.
A single monthly payment or a different loan servicer likely isn't worth giving up the peace of mind that comes with government loans. Keep your eye on the savings instead.
How much can refinancing save you?
Spot your saving opportunities
See your spending breakdown to show your top spending trends and where you can cut back.