Survey: Half of Student Loan Borrowers Say They Borrowed Too Much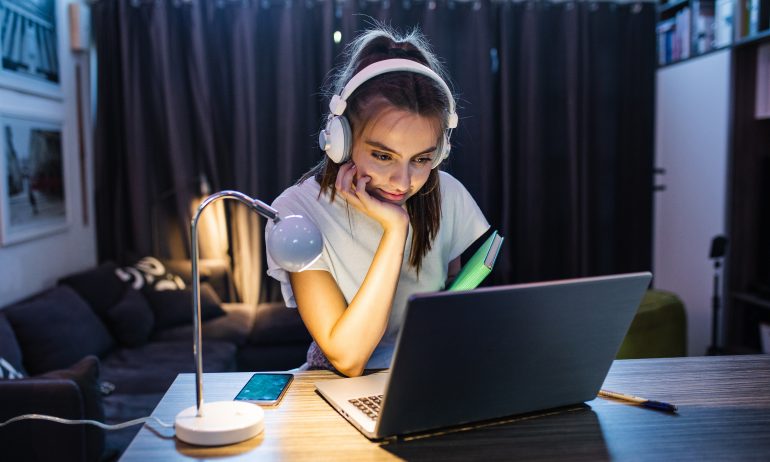 Many or all of the products featured here are from our partners who compensate us. This may influence which products we write about and where and how the product appears on a page. However, this does not influence our evaluations. Our opinions are our own. Here is a list of our partners and here's how we make money.
Student loans might seem like mere numbers on a piece of paper before you start repaying them. But that first bill, and its punch to the bank account, makes them feel very real. No one knows that better than borrowers who are paying back more than they were prepared to.
Almost half of those who borrowed student loans to pursue a degree beyond high school said they could have borrowed less money and still afforded their educations, according to an online survey conducted by Harris Poll on behalf of NerdWallet.
48% of undergrad borrowers said they could have borrowed less and still have afforded their educations.

On average, they said they borrowed $11,597 more than they needed for undergraduate study.

Of those who said they could have borrowed less, women said they took out $13,455 more on average than they needed in loans. Men said they took out $9,915 more than they needed.

31% of undergrad borrowers regretted not applying for any or more scholarships.
For student loan borrowers, hindsight is 20/20
Respondents felt borrowing regret across the board, no matter their gender or geographic location: About three-quarters of undergrad borrowers had regrets about the way they paid for school. Of those respondents, the most common regrets were not applying for any or more scholarships (31%), going to a school that required them to take out loans to afford it (27%), and borrowing more money than they needed (25%). Respondents were asked to choose all that apply.
Among those who believe they could have borrowed less, 42% said they overborrowed by $10,000 or more, and 31% said they overborrowed by $15,000 or more.
Why might former students wish they'd paid for college differently? For many, it may come down to not knowing what they were in for when they first took out loans.
"There's actually not a great understanding among student borrowers about the total amount they owe until they get out of school," says Mark Huelsman, senior policy analyst at left-leaning think tank Demos.
Additional data backs this up: According to a recent report from the George Washington University School of Business, more than half of borrowers surveyed didn't try to determine how much their monthly payments would be. Without tracking how much debt they accumulated during school, students are less likely to feel prepared to repay it.
And interest rates may be adding to that confusion, Huelsman says, in that they make repayment feel more onerous. Rates for federal loans, which are set by Congress, are 3.76% for undergraduate direct loans through July 1, 2017. Lenders base private student loan interest rates on the borrower's credit and financial profile. As of December 2016, private loan rates can start at 2.84% for a variable-rate loan and go as high as 13.74%.
Additionally, borrowers who experience financial trouble can postpone their payments or lower their bills to a fraction of their incomes. These options, though, lead to longer repayment timelines and slower progress. The Federal Reserve Bank of New York, for instance, found that borrowers who stopped taking out loans in 2005 had only paid down 38% of their debt nine and a half years later.
Women and men diverged in their regrets
Gender differences appeared in both the amounts of student loan borrowing — women were more likely than men to borrow $30,000 or more, 32% to 19% — and in some attitudes toward borrowing.
Nine percentage points separated women's biggest regret — not applying for any or more scholarships (36%) — and their second-biggest, going to a school that required loans to afford it (27%). Men were more evenly split among regretting going to a school that required them to take out loans (28%), not applying for any or more scholarships (27%), and borrowing more money than they needed (25%).
Overall among undergrad borrowers, more men said they could have borrowed less — 54% of men compared to 43% of women. In other words, women were more likely than men to say they needed the loans they took out.
Part of the issue may be that women are less confident they can afford their bills after graduation.
"Where the difference comes in, partially because of the gender pay gap, is in repayment," says Kevin Miller, senior researcher at the American Association of University Women. "It's harder for women to repay quickly."
Full-time working women from the class of 2007-08 earned 82% of what full-time working men made a year after college graduation, according to AAUW's 2012 report "Graduating to a Pay Gap." The organization's research also showed that male college graduates from the 2007-08 school year repaid 44% of their student loan debt between 2009 and 2012. Female graduates in the same group paid off 33% of their debt. Black and Hispanic women paid off less than 10% of their debt.
How to lower your student loan bill
You don't have to feel stuck with a student loan payment you can't afford. Try these strategies if you wish you'd borrowed less money — at least until you have access to a time machine.
Apply for income-driven repayment: A major perk of federal student loans is the income-driven repayment program, which lowers your bill to a percentage of your income. The most widely available plan is called Revised Pay as You Earn. It cuts your bill to 10% of your income and forgives your remaining loan balance after 20 or 25 years, depending on the type of loans you have. There are four options to choose from, but when you apply on studentloans.gov you can ask for the plan that will give you the lowest monthly payment.
Refinance your student loans: Private student loans don't generally come with many options for relief. But student loan refinancing can get you a lower interest rate and a lower monthly payment overall if you meet the credit and income requirements. Many lenders will let you combine and refinance both your private and federal loans, but consider refinancing your private loans only. You'll lose the option to repay your federal loans on an income-driven plan or receive loan forgiveness if you refinance them.
How to minimize student loan borrowing
If you, your child or someone else in your life is considering taking out student loans, follow these guidelines to prevent regret from the start.
Fill out the FAFSA: You can't get loans from the federal government without completing a Free Application for Federal Student Aid, known as the FAFSA. But the FAFSA also qualifies you for federal, state and school grants that you don't have to pay back.
Take out federal student loans first: Compared with private loans, federal loans are more flexible and have stronger consumer protections. There are limits to how much you can borrow: Undergrads can take out up to $31,000 in federal loans throughout college if they receive support from their parents and $57,500 if they don't. Private student loans generally have less strict borrowing limits, and they also require a credit check, which means most undergraduates must use a co-signer to qualify.
Consider college costs early on: As of this year, the FAFSA is now available on Oct. 1, three months earlier than in the past. That lets prospective students see how much their families will be expected to contribute to college costs before they apply to schools. Net price calculators on college websites give a school-specific picture of how much families will likely pay for college based on their income.
---
This survey was conducted online within the United States by Harris Poll on behalf of NerdWallet from Nov. 18 to 22, 2016, among 2,049 U.S. adults ages 18 and older, among whom 1,485 had pursued a degree beyond high school, among whom 522 borrowed money in student loans for their undergraduate education. This online survey is not based on a probability sample, and therefore no estimate of theoretical sampling error can be calculated.
Track smarter. Save more.
Keep tabs on your cash, cards, and banks all in one place.