Optimism Reigns Amid Affordability Challenges
NERDWALLET 2020 HOME BUYER REPORT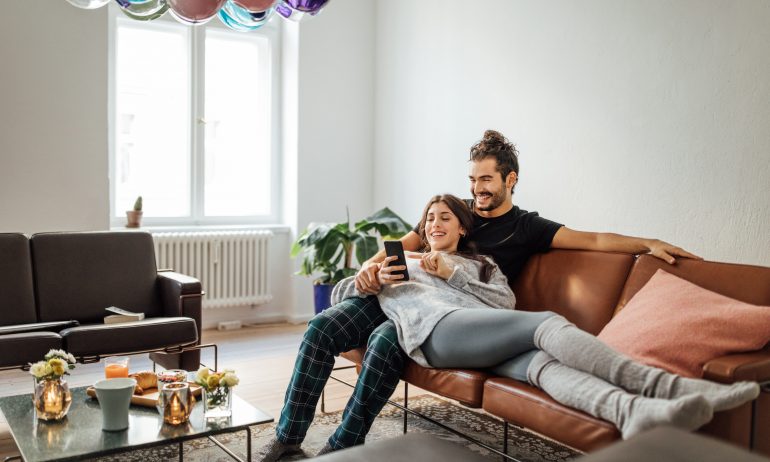 Some or all of the mortgage lenders featured on our site are advertising partners of NerdWallet, but this does not influence our evaluations, lender star ratings or the order in which lenders are listed on the page. Our opinions are our own. Here is a list of our partners.
The shortage of entry-level homes on the market, slow income growth and an uncertain political outlook: Any one of these things could turn people off from homeownership. But the American dream of buying a home remains alive and well, and may be growing, according to a new survey from NerdWallet conducted online by The Harris Poll.
More than 4 in 5 (84%) Americans say buying a home is a priority to them, whether now or in the future, according to the survey of 2,007 U.S. adults. This figure has climbed from 75% when we first asked in NerdWallet's 2018 Home Buyer Report.
More than 100 million Americans (44%) feel better about their ability to buy a home this year compared with last, according to the new survey, and an estimated 27 million plan on purchasing in the next 12 months alone.
"There is colossal pent-up demand for homeownership, both among young people who are ready to pair up and start families, and those who see owning a home as the next step in adulthood," says Holden Lewis, NerdWallet home and mortgage expert. "These folks feel optimistic, but are aware that there's a lot they don't know. They're looking for guidance so they can feel confident about finding a good home they can afford, and qualifying for a mortgage. According to estimates, roughly 6 million new and existing homes will be sold in 2020, and well-informed buyers will have the edge."
An increasing number of Americans say homebuying is a priority. The proportion of Americans who say buying a home is a priority to them, now or in the future, has risen steadily since we first asked. Eighty-four percent of Americans say this — up from 75% in the 2018 report — including 84% of Generation Z, 88% of millennials, 85% of Generation X, and 79% of baby boomers. (Please see study methodology for generation definitions.)

Nearly 100 million are hoping to buy. About 2 in 5 (39%) Americans — a whopping 99.3 million of them — plan to purchase a home in the next five years, according to the survey. This hard-to-believe number suggests radical optimism among prospective buyers in 2020 and beyond.

Some still feel locked out of ownership. Among nonhomeowners, 42% say their low income was preventing them from buying at this time. Indeed, since 2012, as the housing market began to rebound, incomes among Americans ages 25 to 44 — those most likely to be considering a first-time home purchase — rose 24% while list prices among the most affordable homes climbed 86%, according to NerdWallet analysis.

The economy, election year could impact plans. Nearly half (49%) of Americans say the current economy and political climate would make them more likely to purchase a home in the upcoming year if they were in the market, compared with 29% who said it would make them less likely, according to the survey. About one-fourth (26%) of those planning to buy within the next five years say they'd reconsider or stop looking altogether if their chosen presidential candidate lost the 2020 election.
An estimated 99.3 million Americans (39%) plan to purchase a home in the next five years — roughly 27 million of them (11%) in the next 12 months. Such sales would be remarkable since only about 6 million homes were sold in 2019, according to data from the National Association of Realtors and the U.S. Census. These plans could indicate Americans are feeling very good about their ability to purchase, whether or not they ultimately make those plans a reality.
About half (52%) of those planning to buy in the next five years say they feel better about their ability to do so this year compared with last. Among them, many (61%) say it's because they have more income.
Indeed, homebuying is a priority for an increasing number of Americans, growth possibly explained in part by millennials — the largest generation of U.S. adults — reaching peak homebuying age. According to the survey, 88% of millennials say homebuying is a priority, along with 84% of Generation Z, 85% of Generation X, and 79% of baby boomers.
Another indicator people think the future looks bright: Over half (55%) of Americans say buying a home is a priority for them because "it's a good investment." This is up slightly from when we asked last year (51%).
"A home might be a good investment, but it depends on which home you buy, when you buy and how long you own it," according to Lewis. "In the past eight years, home values have gone up steadily in most places. On the other hand, if you bought at the height of the housing boom in 2007, it could have taken the better part of a decade for your home's value to recover from the subsequent crash."
Some optimism could be unrealistic…
An estimated 30.8 million Americans (12%) plan on becoming first-time home buyers in the next five years. Considering roughly 2 million homes were sold to first-time buyers in 2019, according to early estimates from mortgage insurer Genworth Financial, there's a good chance some of these hopes will be dashed.
Of all Americans planning to purchase in the next five years, Generation Z and millennials feel the most ambitious: 57% of Generation Z and 53% of millennials are planning a purchase, compared with 42% of Generation X, and 23% of baby boomers.
"For everyone's homebuying dreams to come true over the next few years, builders will have to dramatically increase the pace of homebuilding and landlords will have to sell millions of houses to owners who will live in them," Lewis explains. "We can't rely on markets to resolve these issues in the near future. A fast fix could require the government to step in — easier said than done."
The desire to buy could lead younger buyers to miscalculate their financial readiness. The amount of a down payment, size of monthly payment, and ongoing homeownership costs like repairs and maintenance can be a lot to bite off. And buying too soon could lead to regrets.
About 3 in 10 (29%) homeowners say they no longer felt financially secure after purchasing their current home. This is particularly true for younger homeowners — 54% of Generation Z and 42% of millennial homeowners felt this way compared with 31% of Generation X and 16% of baby boomer homeowners.
Home buyer tip: Being ready to buy a home isn't only about having a down payment and the ability to cover a monthly mortgage payment. Carefully consider all of the costs that go along with homeownership before you make a plan to buy. Carve out part of your budget for home repairs and maintenance and ensure you have an emergency fund should the furnace, roof or other big-ticket item need replacing.
Affordability remains an obstacle
All of this optimism doesn't necessarily mean homebuying hopefuls are looking through rose-colored glasses; many recognize affordability as an issue.
Three-quarters (75%) of Americans believe it's more difficult to afford the purchase of a first home today than it was 25 years ago.
"While affordability is tricky to measure, the homeownership rate isn't," according to Lewis. "When homes are less affordable, you expect the homeownership rate to go down. And it has gone down for people in their 30s, considered the prime years for first-time homebuying."
From 2000 to 2018, the homeownership rate among 25- to 39-year-olds fell from 54% to 46%, according to a NerdWallet analysis of Census data.
"We know these young people want to own homes, contrary to what some boomers might think, so lack of affordability is the most likely culprit in their declining homeownership rate," Lewis says. "This is mostly a result of home prices rising faster than incomes, though student loan debt is an issue, too."
Indeed, list prices for the most affordable homes have increased some 86% since 2012, when the economy began rebounding from the Great Recession. In that same period, median income for Americans in the first-time home buyer age range rose just 24%.
When asked what's preventing them from purchasing a home at this time, "low income" was the top obstacle (42%) among nonhomeowners. Not having enough for a down payment was the second most common response (37%). For current owners who want to move or upgrade, a lack of available homes (either within their budget or in the area they'd like) was the most chosen response (23%).
The higher your savings goal, the longer and potentially more difficult it will be to reach it. Some homebuying hopefuls may be setting that down payment goal unnecessarily high.
More than three-fifths of Americans (62%) believe you need a down payment of 20% or more to purchase a home. That's unchanged from when we asked the same question last year.
Home buyer tip: A big down payment isn't necessary, although it will give you more equity and a lower monthly payment. There are mortgage options for 3%, 5% and even zero down payments. Use a down payment calculator to see how various options would affect the monthly payment and total interest paid on your loan before choosing the right option for your circumstances and long-term goals.
For example, a 20% down payment on a $250,000 home would cost you $50,000 upfront. A 5% down payment on the same home would be $12,500. However, not only would the larger down payment cut your monthly mortgage payment by a few hundred dollars, you could save roughly $28,000 in interest over the life of your loan.
Economy and the election may impact plans
While 30% of Americans believe we're headed for a recession, this is a notable decrease from when we asked in September 2019. Then, 37% thought a recession was looming.
In line with this shift, about half (49%) of Americans say the current economy and political climate would make them more likely to purchase a home in the upcoming year if they were in the market, compared with 29% who say it would make them less likely.
Homebuying stressors: Expectations vs. reality
The leap into homeownership is big, and the stress that accompanies that journey is largely based on unknowns. We asked prospective buyers and recent buyers about homebuying stressors to better understand how expectations measure up to the reality of the process. Turns out, those planning to purchase in the next five years anticipate stressors at a higher rate than recent buyers (who purchased in the past five years) experienced them, nearly across the board.
A word of caution to new buyers
Buying a home is just the beginning. When asked what their biggest financial stressors are for the next two years, the top response among Americans overall is paying down/off their credit cards (27%), while homeowners' top financial stressor is affording home repairs and maintenance. One in four (25%) homeowners say this would be among their biggest money stressors.
"Buying a home is one big step in adulting. Maintaining a home is another," Lewis says. "If you can afford to spend roughly 2% of a home's value each year on maintenance, you can feel pretty confident that you can handle owning that home."
The home buyer surveys were conducted online within the United States by The Harris Poll on behalf of NerdWallet from Jan. 6-8, 2020, among 2,007 U.S. adults ages 18 and older, from Jan. 16-18, 2019, among 2,029 U.S. adults ages 18 and older, and Dec. 7-11, 2017, among 2,165 U.S. adults ages 18 and older. These online surveys are not based on a probability sample and therefore no estimates of theoretical sampling error can be calculated. For complete survey methodology, including weighting variables and subgroup sample sizes, please contact Marcelo Vilela at [email protected]
NerdWallet defines generations as: Generation Z, born in 1997 and later; millennials, born 1981-1996; Generation X, born 1965-1980; and baby boomers, born 1946-1964.
First-time home buyer affordability chart includes Zillow median listing prices among bottom-tier homes, and U.S. Census 2018 one-year estimates of median household income among householders ages 25 to 44, escalated to 2019 using the Bureau of Labor Statistics' Employment Cost Index.
Population calculations based on the U.S. Census population estimates as of July 1, 2019.
Down payment comparison calculations based on 4.125% interest on a 30-year fixed rate mortgage.
Get more smart money moves – straight to your inbox
Sign up and we'll send you Nerdy articles about the money topics that matter most to you along with other ways to help you get more from your money.