The Cost to Build a Deck: 4 Ways to Save
Designing a standard deck and scheduling installation in the offseason are some of the ways to reduce the bill.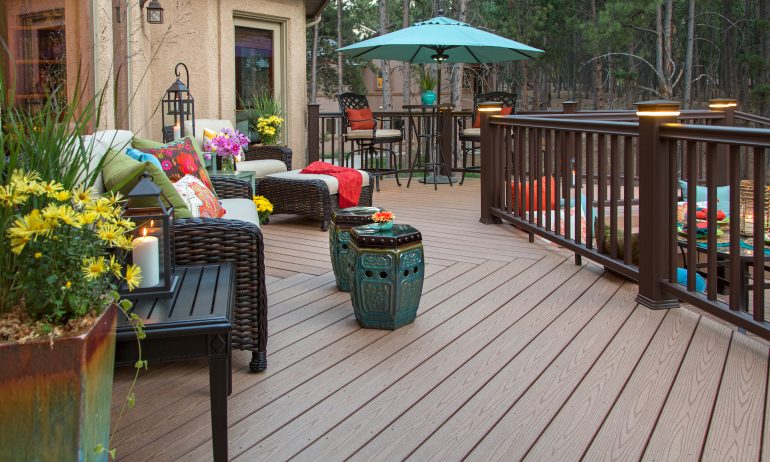 Some or all of the mortgage lenders featured on our site are advertising partners of NerdWallet, but this does not influence our evaluations, lender star ratings or the order in which lenders are listed on the page. Our opinions are our own. Here is a list of our partners.
Your visions of dining al fresco and planting elaborate container gardens can come with a big cost: building a backyard deck.
The average cost to add a professionally-built wood deck to your home is $14,360, according to Remodeling magazine's 2020 Cost vs. Value report. That same survey found the average cost of a professionally-built composite deck — a material made of recycled wood fibers and plastic — to be $19,856. But a U.S. Census survey of homeowners found they typically spent just $2,500 to add a deck or porch to their homes in 2017.
The bottom line: The cost of adding a deck to your home varies, sometimes considerably.
Where you live, the size of your planned deck, the materials you plan to use, who builds it and whether you want benches and planters will all affect how much you ultimately spend. Knowing deck costs in advance — and ways to keep the total price under control — can help you build a deck without destroying your budget.
How much does it cost to build a deck?
Many factors affect the cost to build a deck, such as level of finish and site preparation, but the price of professional installation always makes up a big chunk of the bill. Knowing this can help prevent sticker shock.
When he was a builder, Andrew Wormer, editor of Professional Deck Builder magazine, taught clients the 50/50 rule: "For every dollar spent on materials and supplies, expect to spend another dollar to have it installed," he told NerdWallet in an email. And if your contractor quotes a cost per square foot, it's probably for labor and materials combined.
In addition to supplies and labor, the climate of the location and slope of your property can also affect the cost to build a deck.
"Foundations for decks in cold climates are typically more expensive because they need deeper, freeze-proof footings," Wormer said, while "sloped sites can create additional expenses but also present design opportunities."
How to plan your deck installation
Know your limits: A deck is a permanent addition to your home, just like a bathroom remodel or finished basement. Additions must follow local building and zoning codes, such as required distance from property lines, that may limit the size and scope of the project, Wormer said. Upkeep is another limiting factor to consider: Composite decking and other synthetic materials generally cost more but require less maintenance, making them cheaper in the long run.
Make a budget: Start with a list of "wants" and "must-haves," as well as the amount you're willing to spend. Then, think about the size and value of your home, as well as how long you plan to live there. A large, luxurious home might look funny with a small, simple deck. And an oversized deck with lots of personal features may not make sense for a small house you might outgrow in a few years. Work with a professional builder to fit as many must-have elements into the design as your budget will allow, Wormer said.
Long-term costs like taxes and insurance belong in your deck budget, too. A call to the local tax assessor's office and your homeowners insurance company during the planning stages can prevent unpleasant surprises.
Balance cost with benefits: When planning a deck, increased comfort and living space should be the main goal. Should you ever refinance or sell, improved home value and marketability may be a happy side effect.
Anything that creates more space outside, where people can envision themselves hanging out with friends, can really help sway the market, says Ryan Lundquist, a certified residential appraiser in the Sacramento, California area. Just don't expect a dollar-for-dollar return on your investment: According to Remodeling's report, on average, a homeowner can recoup around 67% of the cost of a composite deck or about 72% of the cost of a wood deck.
Find the right contractor: Peace of mind and a workmanship warranty are usually worth the added cost of hiring a pro. Still, some homework is required to find the right one. Make sure to:
Compare quotes from three or more deck contractors to ensure a fair price

Read credible reviews of all potential contractors as well as the materials they use

Request pictures of past deck projects, and don't be afraid to ask whether the initial timeline and estimate were met

Ask the contractor's previous clients if they are satisfied with the service and finished product

Confirm that contractors are bonded, licensed and insured (if required) by contacting your local building department or state consumer protection agency before hiring them
Keep it simple: Eliminating curves and other fancy design features will make a difference, but reducing the overall size of the deck is where you'll likely find the biggest savings, Wormer said. Matching deck dimensions to standard lumber lengths and using premade concrete piers, or footings, can also reduce cost.
Choose wood, but carefully: Untreated wood decks are generally the cheapest to install, but don't forget long-term costs. Wood decks require yearly maintenance and deteriorate quickly if they don't get it. Investing in pressure-treated wood or a composite deck could save time and money later, especially if you plan to stay in the house for a long time.
Time it right: The warmer months are most popular for deck building, so scheduling your installation in the offseason could be a way to save. Contractors with fewer jobs competing for their time between November and March may offer reduced labor rates and faster scheduling to gain your business.
DIY if you dare: Pulling permits, interpreting building codes and properly installing foundation supports are above the skill level of many DIYers. In most cases, paying a pro to install a deck is worth the peace of mind. But, if you're confident in your carpentry skills or have friends who are experienced builders, doing it yourself can significantly reduce the cost. There are many resources and how-to videos available online, especially if you're content with a simple, rectangular design.
In some cases, it could make sense to have a professional handle the harder parts of building a deck, while leaving the easier tasks to you. For example, a pro could install an unfinished wood deck and you could do the sealing, staining or painting. It's fairly easy for any homeowner and would save some money.
Get more smart money moves – straight to your inbox
Sign up and we'll send you Nerdy articles about the money topics that matter most to you along with other ways to help you get more from your money.