Mortgage Interest Rates Forecast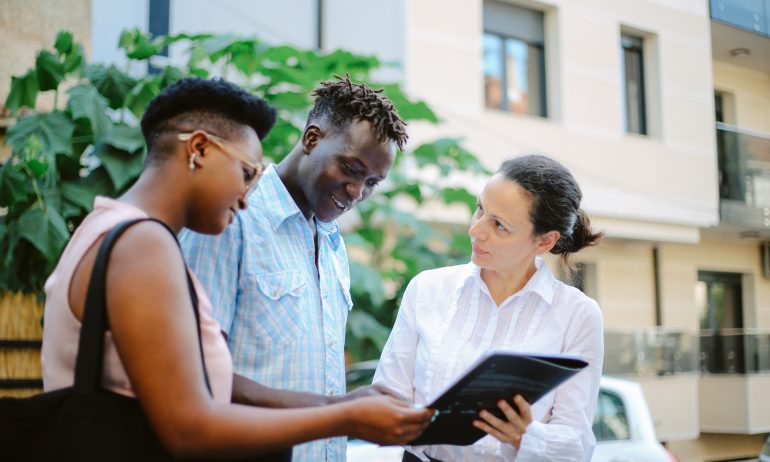 Many or all of the products featured here are from our partners who compensate us. This may influence which products we write about and where and how the product appears on a page. However, this does not influence our evaluations. Our opinions are our own. Here is a list of our partners and here's how we make money.
Mortgage rates today: Thursday, June 30, 2022
On Thursday, June 30, 2022, the average interest rate on a 30-year fixed-rate mortgage fell 17 basis points to 5.612% APR. The average rate on a 15-year fixed-rate mortgage dropped 23 basis points to 4.738% APR, and the average rate on a 5-year adjustable-rate mortgage went down 13 basis points to 4.359% APR, according to rates provided to NerdWallet by Zillow. The 30-year fixed-rate mortgage is 20 basis points lower than one week ago and 277 basis points higher than one year ago. A basis point is one one-hundredth of one percent. Rates are expressed as an annual percentage rate, or APR.
Mortgage rates rose rapidly the week ending June 16, with some lenders advertising interest rates north of 6% on 30-year fixed mortgages.
The 30-year fixed-rate mortgage averaged 5.96% APR, up 62 basis points from the previous week's average.

The 15-year fixed-rate mortgage averaged 5.03% APR, up 56 basis points from the previous week's average.

The five-year adjustable-rate mortgage averaged 4.39% APR, up 15 basis points from the previous week's average.
Mortgage interest rates jumped this week in advance of Wednesday's meeting of the Federal Reserve. Though mortgage rates aren't tied directly to the Fed's actions, monetary policies set out by the central bankers gradually permeate most aspects of the U.S. economy — that's the whole idea.
Markets had long anticipated a 50-basis-point increase to the federal funds rate, which is the interest rate banks charge each other for overnight borrowing. But following a Bureau of Labor Statistics release Friday indicating that inflation continues to worsen, some on Wall Street began clamoring for stronger action from the Fed.
On Wednesday the Federal Reserve announced a 75-basis-point rate increase, bringing the target funds rate to 1.50% to 1.75%. Cooling the market by making it more expensive for people and businesses to borrow money is part of the Fed's plan to check inflation.
It's widely assumed that mortgage lenders had already priced in three potential increases to the federal funds rate, corresponding to Fed meetings in May, June and July. In April, mortgage rates accelerated past 5% ahead of the May Federal Reserve meeting, which saw the first 50-point raise in 22 years. And this week's Freddie Mac Primary Mortgage Market Survey — a solid benchmark for what's going on in home lending — saw its highest single-week increase since 1987.
Rates approaching 6% take refinancing off the table for many homeowners and could require home buyers to revisit their target price ranges, because the amount of monthly payment going toward interest affects how much house they can afford. But that doesn't mean homeowners won't touch their equity, or that people will stop buying homes. Instead, we're likely to see more folks avoiding the usual suspects — cash-out refinances and fixed-rate home loans — and looking into home equity lines of credit and adjustable-rate mortgages.
June mortgage rates forecast
Mortgage rates might be volatile in June. A graph of them may resemble the cutting side of a handsaw, with sharp daily ups and downs. I predict that the average rate on a 30-year mortgage will be higher in the last week of June than in the last week of May.
I'm not brimming with confidence in this forecast. One source of uncertainty arises in the middle of the month, when the Federal Reserve meets to hash out monetary policy. As of late May, financial markets were expecting the Fed to raise the overnight federal funds rate by half a percentage point on June 15.
Experience tells you that when the Fed raises short-term interest rates, then long-term mortgage rates will go up, too. But when the stock market takes a beating (which is what happened in May), that tends to depress mortgage rates. What if investors worry that the Fed's aggressive rate increases will cause a recession soon? In that case, mortgage rates might not rise much, or they could even fall.
To summarize: Mortgage rates probably will rise in June, but that's not a sure thing. Meantime, we could see substantial bumps and dips day to day.
Exiting a period of steady rates
Mortgage rates were relatively tranquil from autumn 2020 to the middle of December 2021. A graph of rates during that period would be a more-or-less straight line with little squiggles day to day and week to week.
Government intervention was responsible for that era of steady mortgage rates. The Federal Reserve accomplished it by buying billions of dollars' worth of mortgage-backed securities every month. This meant that lenders knew they would easily find investors to buy the mortgages they underwrote: If private investors didn't want them, the Fed would buy them.
Lenders kept rates low and steady during this time, knowing they could easily find buyers for their loans. But the period of tranquility ended when the Fed announced in mid-December that it would quickly reduce its purchases of mortgage-backed securities at the beginning of the new year. Lenders didn't wait until January for the Fed to follow through; they raised mortgage rates at the end of December, and kept raising rates into the spring.
Then, in January, the Fed announced that it would slam the brakes on mortgages even harder in February. In March the Fed said it would no longer increase its mortgage holdings. Mortgage rates steadily increased.
Entering an era of unstable rates
The central bank has accumulated hundreds of billions of dollars' worth of mortgage-backed securities since the beginning of the pandemic. In May, it  pledged to start shrinking those holdings in June. The Fed plans to reduce the amount of mortgage-backed securities it owns by up to $17.5 billion a month from June through August, then by up to $35 billion a month after that.
This means that the government is reversing its intervention in mortgage markets. Instead of adding mortgage-backed securities to its balance sheet, the Fed is letting them drain off. When the Fed was accumulating mortgages, rates remained low and steady. Now that the Fed is shedding mortgages, it's reasonable to expect rates to trend upward, and to have bigger up-and-down swings day to day and week to week.
This volatility will add stress when deciding whether to lock a mortgage rate today or wait until tomorrow. The time-honored advice is to "lock on the dips" — to lock on a day when the rate falls, on the theory that it will soon rise again. Your loan officer may offer guidance, but keep in mind that day-to-day rate movements are unpredictable.
Mortgage rates rose in May, as I predicted. The 30-year fixed-rate mortgage averaged 5.32% in May, compared with 5.09% in April. My predictions have been correct in eight of the last 12 months.
Get more smart money moves – straight to your inbox
Sign up and we'll send you Nerdy articles about the money topics that matter most to you along with other ways to help you get more from your money.