What Mortgage Company Changes Mean for Your Home Loan
The advice for mortgage shopping remains the same: Apply with multiple lenders to compare rates and fees.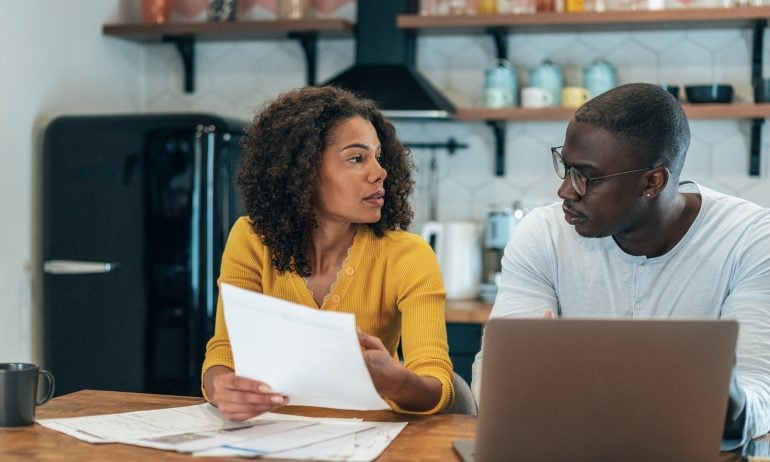 Some or all of the mortgage lenders featured on our site are advertising partners of NerdWallet, but this does not influence our evaluations, lender star ratings or the order in which lenders are listed on the page. Our opinions are our own. Here is a list of our partners.
It's been a bumpy ride for mortgage companies lately. Some lenders have gone out of business, merged with other companies or narrowed their focus. And more changes are likely in 2023.
What does all this mean for borrowers?
Here are answers to common questions, whether you're shopping for a mortgage or paying off a home loan.
What's behind the shakeout?
A key factor: higher mortgage rates. Demand for home loans plummeted last year as the Federal Reserve raised a key interest rate to control inflation and mortgage rates spiked in turn. The average for a 30-year fixed-rate mortgage doubled from near-historic lows in early January 2022 to almost 6.4% at year's end, according to Freddie Mac, an enterprise created by Congress in 1970 to support the U.S. housing finance system.
Higher mortgage rates shrink buying power, so elevated rates shut out some prospective home buyers, already squeezed by eye-popping home prices.
And for homeowners who had locked in historically low rates in prior years, the spike removed money-saving incentives to refinance their mortgages. Unless your primary aim is to cash out some home equity, it doesn't make sense to refinance to a higher rate.
As a result, fewer people applied for mortgages. Mortgage applications to buy homes dropped almost 40% year over year in the last few months of 2022, and refinance applications were down almost 90%, according to a December Mortgage Bankers Association forecast report.
Higher rates also increased risk for banks and mortgage companies that buy mortgage loans from lenders.
Getting ready to buy or refinance a home? We'll find you a highly rated lender in just a few minutes
Just answer a few questions to get started on a personalized lender match
What if my lender goes bust?
Here's what would happen:
If the lender that issued your loan goes out of business or goes bankrupt after the mortgage has closed, you'll be unaffected. The loan terms will stay the same. If the mortgage company that services your loan changes, you'll be informed of where to send your monthly payments.
If your lender runs into trouble and can't fund the loan when you're a week or two away from closing, the company will likely work with you to find another lender, says Mark Indelicato, a bankruptcy attorney and partner with Thompson Coburn Hahn & Hessen in New York. "What I've seen so far in the industry is the players work together to make sure that the borrowers themselves are not hurt," he adds.
Some mortgage companies have filed for bankruptcy or gone out of business in the past year. First Guaranty Mortgage Corp. announced June 30 that it filed for Chapter 11 bankruptcy, for example. And some smaller lenders have simply gone out of business recently. Reali, a real estate company with an online lending arm, said in August that it was shutting down, and LenderFi said in an email in the fall that it was leaving the mortgage business.
Indelicato, whose firm is the lead counsel for unsecured creditors in the First Guaranty Mortgage Corp. case, does not expect to see a big wave of mortgage company bankruptcies. "It's not so bad that you're going to see the wholesale bankruptcies like you saw of mortgage originators in 2007 and 2008," he says.
What if my lender merges with another company?
A merge will have little direct impact on you. Your loan terms will stay the same if your lender merges with or is acquired by another company.
Meanwhile, don't be surprised to hear more about mortgage company mergers. Stratmor Group, a mortgage advisory company based in Greenwood Village, Colorado, projected in an October report that almost 50 mergers and acquisitions would be announced or closed by the end of 2022, a 50% jump from 2018, the year with the next-highest number in the past 30 years. And the consolidation trend will likely continue this year.
What happens if my mortgage servicer changes?
You'll be notified of where to send your mortgage payments. Your mortgage servicer is the company that processes payments and manages the loan. If the servicing rights are transferred to a different company, generally the old and new servicers should notify you, according to the Consumer Financial Protection Bureau. The notices will tell you when the old servicer will stop accepting payments, when the new servicer will start accepting payments and the new servicer's contact information. Read the notices and send payments to the new servicer after the transfer.
Will other mortgage business changes affect me?
You'll still have options if you're seeking a mortgage. Some lenders may change the types of loans they offer or focus on different segments of consumers. Wells Fargo, for instance, said in January that it would create a "smaller, less complex" home lending business focused on bank customers, as well as people in underserved minority communities.
The advice for shopping to get a mortgage remains the same. Look for lenders that offer the types of mortgages you're interested in and apply with multiple lenders to compare rates and fees.
Will mortgage company layoffs compromise customer service?
Not necessarily. Layoffs generally correspond to lower loan volume; there's less work to go around, so fewer employees are needed.
Regardless of what's happening in the industry, customer service is a key feature to consider when shopping for lenders. Many lenders offer a streamlined online application process. But even with robust digital tools available, you should be able to reach a human to help you through the process.
Check customer service ratings online and from companies such as J.D. Power, a global data and analytics company. And when shopping for lenders, compare how quickly and helpfully they respond the first time you contact them with questions.
Are these changes a sign of a housing crash or mortgage crisis?
"Consumers should not be concerned about a potential crash as the one we saw during the Great Recession for a number of reasons," Selma Hepp, chief economist at property analytics company CoreLogic, said by email in reference to the 2007-09 financial crisis.
Lending standards have been strict in recent years, and a lot of buyers made sizable down payments, Hepp noted. In addition, most homeowners now have a lot of home equity, thanks to rising home prices.
"That means that even if they lose a job, they are not forced into a foreclosure but can instead sell their home at a profit," she said.
Hepp doesn't expect a huge wave of homes coming on the market. Many people bought their properties or refinanced when rates were low, so they have an incentive to stay put.
Given the limited supply of homes for sale, experts generally don't expect average home prices to fall steeply as they did in 2008 and 2009.
Get more smart money moves – straight to your inbox
Sign up and we'll send you Nerdy articles about the money topics that matter most to you along with other ways to help you get more from your money.