What Is Accounts Receivable Factoring?
Accounts receivable factoring lets companies access cash by selling invoices for cash advances.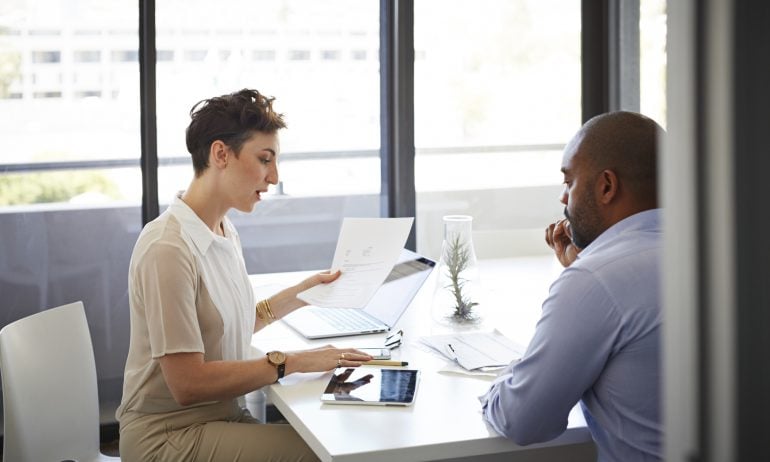 Many or all of the products featured here are from our partners who compensate us. This may influence which products we write about and where and how the product appears on a page. However, this does not influence our evaluations. Our opinions are our own. Here is a list of our partners and here's how we make money.
When a business has an unpaid customer invoice but can't wait 30 to 90 days for a payment, accounts receivable factoring may offer a solution.
Here's how it works: The business owner sells an invoice to a factoring company, which pays the business owner a large percentage of the invoice as an advance. The factoring company follows up with the customer for payment. After receiving it, the factoring company pays the business the remainder of the invoice amount, minus fees.
This financing method — also known as invoice factoring or factoring receivables — allows companies to quickly access cash they have earned. Since it isn't technically a loan, it can be a good option for business owners with bad credit or short credit histories.
Could accounts receivable factoring help your business bridge cash-flow gaps? Here's what you need to know.
How much does accounts receivable factoring cost?
Factoring companies set prices based on the value of the accounts receivable. Sometimes factoring companies charge flat rates regardless of how long it takes them to recoup payment on the invoice. Others charge variable rates: The longer your customers take to pay the invoice, the more you'll owe.
First, most factoring companies pay most of the value of the invoice in advance. Advance amounts vary depending on the industry, but can be as much or more than 90%.
After that, a factor might say they charge 2% of the value of the invoice per month. If your customer pays within the first month, the factoring company will charge you 2% of the value; if it takes them three months to pay, the factoring company will charge 6% of the value.
Some factors charge weekly rates instead of monthly ones. For instance, if a factoring company charges 1% per week and your client takes four weeks to pay, you'll owe 4%.
"Recourse factoring" means you'll have to pay the factoring company if your customer doesn't. "Nonrecourse factoring" means that the factoring company accepts those potential losses. Nonrecourse factors generally come with higher costs because the factoring company assumes more risk.
Will I qualify for accounts receivable factoring?
To qualify for accounts receivable factoring services, business owners need to have established invoicing practices that give details about sales, prices and payment timelines. Invoices need to be for completed work, not work in progress. Customers also need to be other businesses or government agencies, not individual buyers.
Many (but not all) factoring companies require businesses to have been in business for a certain amount of time and have a minimum amount of monthly or annual revenue.
The owner's credit score doesn't determine creditworthiness in accounts receivable factoring. Since lenders earn money by recouping payment from businesses' customers, not businesses themselves, factors focus on the creditworthiness of those customers instead. This can make factoring a good option for businesses with bad credit or startups with short credit histories.
How is this different from accounts receivable financing?
Accounts receivable factoring is not the same as accounts receivable financing, despite their similar names.
Accounts receivable financing (also called invoice financing) is a type of loan that uses unpaid invoices as collateral. Business owners receive financing based on the value of their accounts receivable. After invoices are paid, businesses pay lenders back, with fees.
Factoring is typically more expensive than financing since the factoring company takes responsibility for collecting on the invoice. In the case of nonrecourse factoring, they also accept the losses if the invoice goes unpaid.
With accounts receivable financing, on the other hand, business owners retain all those responsibilities.
How do I find an accounts receivable factoring company?
Some small business lenders offer this service, including online lenders like FundThrough. There are also lots of established factoring companies that specialize in certain industries or geographies.
Factoring costs can vary significantly from one company to another, so expect to reach out for a quote. After approval, many factoring companies can provide financing within a matter of days.
Once you develop a relationship with a factoring company, you can return to them again and again. However, the factor will evaluate each of your customers for creditworthiness before deciding whether to factor those invoices.