Best Cities for Freelancers and Self-Employed Workers 2023
These areas have large populations of freelancers already and strong job markets, among other advantages.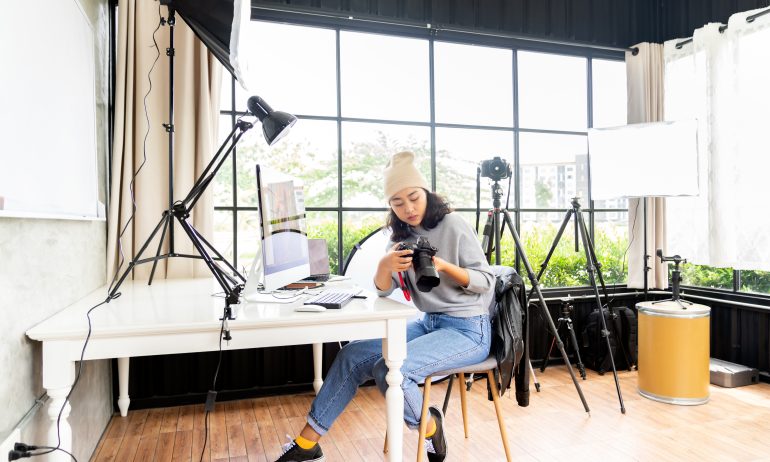 Many or all of the products featured here are from our partners who compensate us. This influences which products we write about and where and how the product appears on a page. However, this does not influence our evaluations. Our opinions are our own. Here is a list of our partners and here's how we make money.
Though some workers have returned to offices, remote work has been normalized for others over the last three years. And some now have more autonomy to choose where they live.
For freelancers in particular, it's becoming more common for workers to settle in a city they like and then seek contracts with companies anywhere, says Keith Hall, president and CEO of the National Association for the Self-Employed.
"I don't remember a time that I have heard more comments from self-employed people that they are looking to where they live based on their quality of life," Hall says. "They pick a place to live for their quality of life, and then manage the business around that. I think that is a significant change from 15 years ago," when the priorities were reversed.
"That's a fundamental shift that I think, long-term, is positive," Hall adds.
Here's the 2023 list of the 10 best U.S. cities for freelancers and self-employed workers. Our analysis used recent metro-area data from the U.S. Census Bureau and state-level data from the Federation of State Tax Administrators. The top cities are those where some combination of the following are true: A large percentage of the workforce is freelancing already, rent is relatively affordable, state income taxes are low, unemployment is low and job mobility is high.
Top 10 metro areas for freelancers
McAllen-Edinburg-Mission, Texas.

Austin-Round Rock, Texas.

Portland-South Portland, Maine.

San Francisco-Oakland-Hayward, California.

Los Angeles-Long Beach-Anaheim, California.

Bridgeport-Stamford-Norwalk, Connecticut.

Nashville-Davidson-Murfreesboro-Franklin, Tennessee.
Seven of the 10 best cities for freelancers ranked especially well for the percentage of their workforce that is already freelancing. In McAllen, Texas, more than 11% of workers are self-employed in their own non-incorporated business. In Santa Rosa, it's 9.6%. And in Boise, Los Angeles and Portland, Maine, it's above 8%. 

Though a freelancer's tax burden will vary depending on their filing status, deductions and credits, it can be useful to learn about state and municipal tax rules before moving your business to a new place. Texas and Tennessee both have no state income tax, for instance. Other costs, like LLC filing fees, may vary by location, too. 

Remote work may give freelancers the option to choose more affordable cities. For example, in Lancaster, Pennsylvania, just 43% of renter households spend more than 30% of their income on rent. In Boise, it's 46%. "If you're self-employed in a large city, obviously there are more people located in your community," Hall says. "Maybe that's a positive, but I think that's becoming less and less important."

On the flip side, large numbers of people still freelance in costlier regions: In Los Angeles and Santa Rosa, California, 58% and 57% of renter households spend more than 30% of their income on rent, respectively. This may speak to the power of other factors, such as existing networks, that keep self-employed workers in those cities. "For most of my clients, they have established themselves in their local area prior to going into business for themselves," says Chris Russell, a certified financial planner and founder of financial planning firm Tempus Pecunia in San Diego. "The decision around location is primarily network-driven, which then dovetails into success with the business."

Several of this year's best cities for freelancers saw significant growth in hiring between Q4 2020 and Q4 2021, potentially due to 2021's strong job market for tech and white-collar workers. In Austin, hiring increased by more than 27% year over year. In San Francisco, it was 25.5%. In last year's data, on the other hand, Boise — which saw more job growth than any other region between Q4 2019 and Q4 2020, at 12.9% — saw similar growth again the following year at 12.4%. But it was surpassed by numerous other cities as their job markets rebounded from the COVID-19 pandemic.
Relocating is about more than business needs
About 6.1% of the U.S. workforce was self-employed in their own non-incorporated business in 2021, up from 5.8% in 2019, according to Census data.
A key advantage for that growing proportion of the population is that self-employment may give you the freedom to move for reasons other than your work.
"Freelancers typically aren't tied to a location because of an employer, so they have more freedom to choose where they want to live," says NerdWallet small-business specialist Kelsey Sheehy. "That might be choosing an area with a lower cost of living, moving to a city or state with a lower tax rate, relocating to be closer to family or settling in a city that matches your desired lifestyle."
Consider these factors when evaluating your options.
1. Consider your personal and family needs
Freelancing may give you the flexibility to move to a place near loved ones, which can help mitigate some of those costs.
"My clients' decision on where to live has primarily been driven by family matters," Russell says. "Child care and children become a key component in that overall picture," with some families choosing to live near relatives who can provide care, he says.
2. Tailor your budget to your location
How much you need to earn may vary depending on your cost of living, Sheehy says.
"Income can be unpredictable when you're a freelancer. Some months you're flush, other months are very, very lean," Sheehy says. "Build your budget based on your lean months and figure out the bare minimum you need to earn to cover housing, bills, food and other essentials."
And wherever you are, try to save conservatively and make sure to set aside money for federal, state and local tax payments.
"One of the biggest mistakes freelancers make is not saving enough," Sheehy says. "Ideally, you'll set aside at least 50% of your income to cover taxes and build a cushion to get you through those lean months. But at a bare minimum, you need to save around 20% of your income for taxes, which need to be paid quarterly to avoid penalties."
3. Network wherever you are
Few of Russell's clients relocate their business for tax or cost-of-doing-business reasons, he says. Their professional network may be one factor — or they may be wholly focused on their personal quality of life.
"Geographic location is either important to their network, or is unimportant to their business entirely," Russell says of his clients.
Wherever you end up, you can seek out other like-minded freelancers.
"When you have self-employed people in a community together, I think they see that as an additional resource," Hall says. "There are people here doing the same thing I'm doing. They're looking for their next customer — I might be that next customer, and they can be mine."
To create the list, NerdWallet pulled data for major U.S. metropolitan areas from the United States Census Bureau. We also pulled state tax rates from the Federation of State Tax Administrators. We weighted the impact of each factor depending on how important we felt that factor would be in the potential financial success of a freelancer. We excluded metro areas for which there was negative or no Job-to-Job Flows Census data.
This year, we changed the way the Best Cities for Freelancers index is calculated to more accurately compare metro areas across multiple criteria. We also adjusted the weighting of several data points as the ways in which the COVID-19 pandemic influenced the underlying data became clearer.
NerdWallet's analysis includes data from the following sources:
U.S. Census 2021 American Community Survey data for the unemployment rate, percentage of people in Census-designated metro areas who identified as self-employed in non-incorporated businesses, and percentage of renters in a Census-designated metro area who spend less than 30% of their household income on rent.

U.S. Census Q4 2020 and Q4 2021 Job-to-Job Explorer data.

State tax rates for 2023 from the Federation of State Tax Administrators.