Best Hotel Accounting Software in 2022
Hotels have special accounting needs. These picks are built for the hospitality industry's bookkeeping challenges.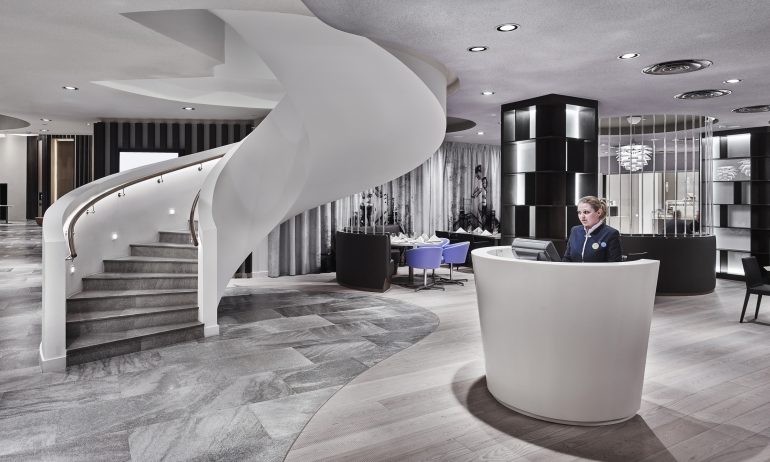 Many or all of the products featured here are from our partners who compensate us. This influences which products we write about and where and how the product appears on a page. However, this does not influence our evaluations. Our opinions are our own. Here is a list of our partners and here's how we make money.
Your hotel's software must be able to manage the unique accounting challenges hotels face — as well as provide specialized solutions that simplify managing those challenges. To complicate the issue, there are also numerous hotel accounting software options to consider, and not all of them are as up-to-date as they should be.
As Chris Macksey of Prix Fixe Accounting, an expert in accounting for the hospitality industry explains:
"[There] are a lot of really big software companies playing in [the hotel accounting] space, and they are quite a bit behind the rest of the industry and other industries. There are still a lot of server-based booking and property management systems that make it hard to incorporate into your tech stack," Macksey says.
If choosing the right hotel software for your business is starting to sound like an insurmountable challenge, this guide should help make your decision easier.
Challenges in choosing hotel accounting software
What about a free hotel accounting software option?
Keeping all of this in mind, you might be wondering how to choose the best accounting software for your hotel. We've explored various hotel accounting software options and narrowed down the top four, depending on the needs of your enterprise.
Best hotel accounting software for small, boutique hotels
"We use QuickBooks Online for them [our small, boutique hotels]," Macksey says. "You need to be on Advanced or Plus," he continues.
No booking or property management software integrates directly with QuickBooks Online, but that shouldn't dissuade you from choosing it for your small boutique hotel. The power you get from the reporting, combined with the ease of use of QuickBooks Online will offset the time you might spend on manual data entry.
Why QuickBooks Online Plus or Advanced instead of Essentials or Simple Start? Plus allows you to set up class and location tracking — must-have features for managing the various profit centers in your hotel. You can also track inventory in Plus, which is critical in order to keep your costs under control.
With QuickBooks Online Advanced, you can expand your user capacity to up to 25 unique users, each with customized access. Advanced also comes with top-tier support, unlimited class tracking and chart of accounts capabilities and online training courses for your staff. The best feature, though, is that it includes a subscription to Fathom — a powerful reporting and analytics software. Fathom helps QuickBooks Online Advanced users get the most out of their accounting data by providing dashboards and the ability to customize projections.
QuickBooks Online Plus pricing starts at $80 per month, and QuickBooks Online Advanced pricing starts at $180 per month.
Best hotel accounting software for small to medium-sized hotel groups
Maybe your hotel business is larger than a boutique hotel or bed and breakfast. Independent hotel groups have different challenges than small, boutique hotels. One of the biggest challenges is managing all your properties from one dashboard.
If you own a small or medium-sized hotel group, check out Cloudbeds, an all-in-one property management, booking and channel management system that boasts ease of use as one of its primary features: a must-have in order to keep your operations running smoothly.
Unlike some competitors in its price range, Cloudbeds allows you to manage multiple properties all from one dashboard. It also serves as a point-of-sale, inventory management and reservations management program.
Cloudbeds is a cloud-based software that functions as a subscription service. Pricing varies based on your hotel type and the number of rooms you have available to book. Fortunately, it also has a pricing calculator to help you determine exactly what plan you need as well as your monthly subscription costs. Small hotels and other hospitality groups can get a price quote right away, while larger hotel groups might need to book a free consultation in order to get specialized pricing.
Although Cloudbeds can give you much of the financial reporting you need right within its system, many hoteliers choose to integrate it with QuickBooks Online. Integrating Cloudbeds with QuickBooks Online gives you a fully-functional double-entry accounting system you can easily use in collaboration with an accountant or outsourced bookkeeper.
To integrate Cloudbeds with QuickBooks Online, you can use either Zapier or The Percentage Company. Note that QuickBooks Online, Zapier and The Percentage Company all require an additional subscription cost. QuickBooks Online Plus — the version you will need if you have multiple locations or revenue classes — starts at $70 per month ($150 per month with payroll). Zapier and The Percentage Company price their services based on the number of Zaps (Zapier) or the number of rooms (The Percentage Company).
Best hotel accounting software for growing hotel enterprises
Maybe you have your booking and channel management software in place, and you aren't looking for a point of sale or inventory management system to use on-site at your hotels. Instead, you are looking for a powerful, cloud-based GAAP-compliant bookkeeping software for your mid-sized and growing hotel enterprise. If this describes you, look no further than Sage Intacct.
Sage Intacct allows you to manage the accounting for all your properties and locations in one software, but that doesn't mean your entire staff can see all the data for every property. Instead, staff members have access to the data only for their location. This data then feeds into a centralized dashboard, which you can use to manage your hotel business's overall performance.
Because Sage Intacct scales with your business, you don't have to worry about outgrowing this software as your business grows. This is a huge relief because learning a new software while managing a growing enterprise is the last thing you want to do. Pricing for Sage Intacct is available by request only.
Best hotel all-in-one accounting solution specifically for hotel groups
Built by hoteliers for hoteliers, M3 accounting software is an all-in-one accounting solution specifically for hotels. You can manage the accounting for your entire property portfolio with this one software. This includes time tracking, accounts payable, financial management and much more.
M3 integrates with nearly 40 property management systems, meaning chances are very good it will be a "plug and play" solution for your accounting needs. Not having to change your property management system — or use a clunky integration workaround — saves you time, effort and stress.
What really makes M3 stand out, though, are its options for support services. M3 provides implementation support and training for those hoteliers with an accounting team on staff. But if you don't want to manage business accountants in-house, M3 has a full-time accounting staff available to handle the accounting for you. These hotel accounting specialists make sure your books are always up to date and in compliance with the latest revenue recognition and other requirements.
Pricing for M3 — both the software and the support services — is available by request only. The first step is to schedule a free demo, which you can do online.
Options for do-it-yourself and assisted payroll abound. If you have a small, boutique hotel business — one location with a limited number of employees — you will likely be fine using a solution like QuickBooks Payroll or Gusto. These are relatively low-cost options, which take much of the stress out of managing payroll and taxes.
If you have multiple locations or more than a few employees, though, you would be better served by engaging the services of a full-service payroll and HR management company. Fully outsourcing your payroll in this manner will not only save you time, but it will also protect from many of the payroll liabilities business owners face.
Bookkeeping and accounting software

Sage 50cloud $48.17 per month (when paid annually) and up.

Wave Financial Free (add-ons available).

Xero $13 per month and up.

Zoho Books $0 per month and up.
A version of this article was first published on Fundera, a subsidiary of NerdWallet