Should You Get a Business Loan With a Cosigner?
Adding a cosigner to a business loan can help you access capital and lower rates, but it's not right for every situation.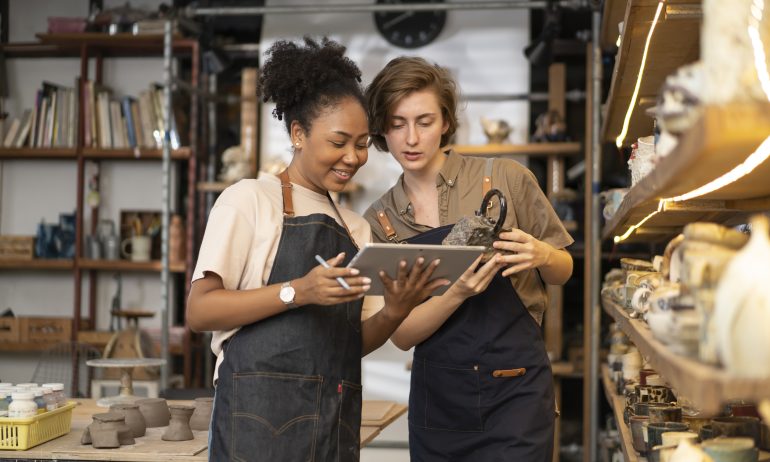 Many or all of the products featured here are from our partners who compensate us. This influences which products we write about and where and how the product appears on a page. However, this does not influence our evaluations. Our opinions are our own. Here is a list of our partners and here's how we make money.
Accessing capital can be a game-changer for your business, but poor personal credit, unconventional revenue models and lack of collateral can stand in the way of an approval. If you are struggling to get financing, you may find that adding a cosigner to your business loan is helpful. 
with Fundera by NerdWallet
What is a cosigner for a business loan? 
Many small-business lenders require a business owner to sign a personal guarantee, which means the owner is responsible for paying the debt from their personal assets if the business can't. To help secure your debt, a lender may allow or request an additional guarantor or a cosigner.
Just like a cosigner on a personal loan, a business loan cosigner is a trusted person who agrees to take over payments if the business or first guarantor can't. A cosigner is essentially another person supporting the repayment of your loan, which can make your application more favorable to a lender. 
Business loan cosigner vs. guarantor
The terms guarantor and cosigner are sometimes used interchangeably, but there may be differences in liability specific to lenders or state laws. A cosigner may be called upon to make payments when a loan is in delinquency, meaning the borrower has missed a payment or has paid late. A guarantor, on the other hand, is generally only responsible for payments after a borrower has fully defaulted on their loan. A business loan default is when the borrower has stopped making payments entirely.
Additionally, a cosigner is an individual person, while a guarantor may be a person, another company or small business, or even another organization like a bank or government agency, like the SBA.
When should I add a cosigner?
Before adding a cosigner, ask yourself the following:
Do I have someone I trust and who trusts me? 
Adding a cosigner to a loan means bringing someone else's personal credit, finances and assets into the mix, which can be a lot to ask. They should be someone who knows you and your business well.
Am I certain adding a cosigner will strengthen my loan application? 
A cosigner can help in specific situations, but they are not a magic fix for all the issues a borrower might have. For instance, if your loan is declined based on type of industry, a cosigner probably isn't going to help. You may not want to go all in on finding a cosigner if you haven't discussed it with a loan officer or other financial professional first.
Am I confident I will be able to repay the loan? 
Similar to using collateral, a cosigner can be a tool to help you get approved for a loan — but they should not be included as a part of your repayment plan. Getting a loan you can't afford sets you up for failure. If you don't think your business has enough revenue or cash flow to make loan payments, it may be best to wait until you have more stable revenue, you pay down a little more business debt or your personal credit improves.
Have I considered all of my other options? 
Asking someone to put personal credit and assets on the line for your business is a big deal. Adding a cosigner can be risky, not just for a cosigner's credit, but for your relationship with that person as well. For that reason, it is usually best to use a cosigner as a last resort. Even agreeing to a higher interest rate or a lower loan amount may be worth considering before using a cosigner.
How to apply for a business loan with a cosigner
Applying with a cosigner isn't much different than applying on your own. These are the general steps that you'll need to follow:
Find a lender. You can start by comparing small-business lenders to see who will accept a cosigner. 

Find a willing and able cosigner. Be thoughtful about who you ask. Generally your cosigner needs to have strong personal credit and assets. 

Gather documents and apply. Gather information directly from your cosigner or refer them to the lender. Make sure they know that the lender will likely pull their credit. 
Adding a cosigner to your business loan application can help you gain access to capital you wouldn't otherwise qualify for, but it's not something to be taken lightly, and it doesn't help in every situation. Business owners should consider their financial situation as well as their other options to decide if a cosigner is right for them.
Find the right business loan
The best business loan is generally the one with the lowest rates and most ideal terms. But other factors — like time to fund and your business's qualifications — can help determine which option you should choose. NerdWallet recommends comparing small-business loans to find the right fit for your business.