12 Family Business Ideas—Plus Tips for Starting a Family Business
Starting a business with your family takes effort and a great idea. See if these family business ideas inspire you.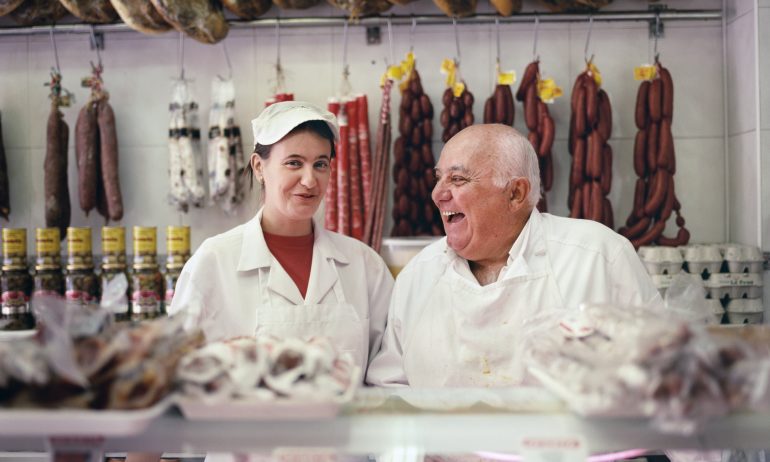 Many or all of the products featured here are from our partners who compensate us. This influences which products we write about and where and how the product appears on a page. However, this does not influence our evaluations. Our opinions are our own. Here is a list of our partners and here's how we make money.
If you've been thinking, dreaming, and planning to start your own small business, it can be overwhelming to consider all the steps and work it will take. Wouldn't it be easier if you had some help along the way? That's why many people choose to start their small business with their family.
Once you have the support of family members in starting a business, you just have to choose from all the great family business ideas. There are many family business ideas that take little to no overhead to get off the ground and running.
When starting a low-overhead small business with your family, all you need is time and energy—and a great idea, of course. Check out these family business ideas for some inspiration.
Family business ideas with low overhead costs
These are just some of the great family business ideas out there. The important thing to remember when starting a business with your family is choosing something you all enjoy.
One small business option to start with your family is a child or elder care business. One of the benefits of this type of family business is that you can provide care in your place of residence or in the residence of the person you're taking care of. Not needing a place to operate your business other than your own home greatly lowers the cost of operations.
You can start this family business simply by advertising to the people you already know or on a caregiving website like Care.com. Offer to fill in here and there as a date-night babysitter or to simply help out an elderly neighbor. Once you've built credibility, you can advertise your services online or get your start through word-of-mouth advertising from one customer to the next.
If you're in need of some extra cash, an easy way to help out those around you is to offer to run errands. Most people who work a traditional office job are short of time. If you have the time, they're willing to pay for the service. Some ideas for errands you can run for others:
Dropping packages at the local post office

Wrapping presents at the holidays

Buying kids' school supplies
You can use sites like Fiverr and TaskRabbit to advertise your services, which can be especially helpful when you're first starting out.
Most high school students (and their parents) are anxious about navigating the college admissions process. There are a lot of steps to take, from visiting schools, completing applications, writing essays, taking tests, and finding scholarships or loans. The entire process can be overwhelming for students and parents.
If you've sent a kid or two to college, or have recently been through the process yourself, it's likely you have a good working knowledge of how the system works.
The best part about starting a family business within this realm is that each member of your family can pick a niche that they enjoy and focus on that. In other words, you don't have to do it all yourself, but your business can offer a variety of services, which can help you stand out from the competition. If you have a good working knowledge of FAFSA and the financial aid process, you can be a big help to students applying for loans and scholarships. If someone else has experience in writing and editing, then they could focus on the niches of college entrance essays and resumes.
Referrals will play a big role in your college consulting business taking off, but when you're first trying to find clients, consider advertising around your local schools and libraries.
4. Celebration boxes or baskets
If you and your family love to craft and need an outlet to feed your artistic flair, offer to create gift baskets or celebration boxes for friends and family to give to loved ones. This can be a home-based business, meaning there's no need to rent a space for your business.
The possibilities are endless, but some celebration box ideas include:
Really, any of life's big moments can be celebrated with a curated box of goodies. Each box can be customized to the preferences of the buyer.
With a physical product such as a gift box, advertising on social media, especially Instagram and Pinterest, can help to grow your business quickly.
If you'd prefer to run an online business with minimal interaction with people, there's an option for you: retail arbitrage.
Retail arbitrage is the idea that you can buy a product from one place and re-sell that item for a higher price in a different marketplace. For example, you might watch the CraigsList free section in your city and pick up high-value, well-maintained items. You can then sell those items on Facebook Marketplace for a profit. You can also find the yard and estate sales in your area to see what resale pieces you can find.
Another ecommerce business idea that requires minimal work on your part is running a dropshipping business. In essence, you act as the middleman between the customer, who places an order on your website, and the supplier, who fulfills the order.
Some students need a little extra help to ensure that they're excelling at their studies. While you will need the knowledge to be able to help students with their homework and preparation for tests, much of what you will need is patience and kindness. Some students just need an adult to sit with them while they go over the material multiple times.
If you can provide the space, patience, and time a student needs, this family business idea could be perfect for you. Learn more in our guide on how to start a tutoring business.
7. Cleaning or fix-it services
One of the best aspects of operating your own business is the fact that you'll get to set your own hours, your schedule, and your rate. If your family is especially handy or good with their hands, you can start a cleaning or fix-it service.
There's a lot of flexibility with these types of businesses because you can offer only the tasks you enjoy and not the ones you don't. For example, some cleaning services offer to do laundry, others don't. As a fix-it person, you only take on jobs that you know how to do or want to learn. If you prefer to work on nights or weekends, you can even look into corporate cleaning. These types of businesses are totally customizable.
However, with other members of your family in on this business venture with you, you'll likely be able to offer more services and work more quickly, so you can take on more jobs than a one- or two-person operation could.
If you love animals, what better way to spend your time than taking care of neighbors' pets who need to be walked during the day or while they're away on vacation? As side businesses go, this one can be a lot of fun.
If you're in need of some extra cash and are looking to start a small business, pet sitting can be an easy way to fill your time, offer love to animals, give back to your community, and make a little money.
This type of business can be all-encompassing or simple, it's up to you. Depending on your transportation and space, you could offer extra services like taking animals to the vet and for grooming or even hosting a dog daycare or boarding services at your home. If those offerings seem like more work than you want, keep it simple by just offering to stop by people's homes and feed animals while they're away on vacation. You make your business what you want it to be.
No matter what work you've done with your life so far, you've been acquiring knowledge. In all likelihood, there's someone out there who would like to have that knowledge. You can offer to mentor people who are interested in learning the skills that you have. For a small cost, you help them learn what you already know and make sure they're putting those skills to good use.
There are many different ways to offer mentoring services. You might meet with people one-on-one for coffee or you can keep it digital by starting a website, blog, ebook company, or podcast.
While many of the businesses on this list require minimal to no overhead for getting started, this one will require either capital or resources to get started. If you own more than one property or have the resources to buy a second property, you can begin to rent your property to other people. This is a business endeavor that can be especially helpful to have family on board for, as additional people can help bring funds to the table, as well as help manage the property.
Once you have a property to rent, you might do this through long-term rentals with a traditional lease or you can set up a profile on Airbnb and pull in some extra cash by renting your property to vacationers. Depending on your location and the size of your property, this could be a very lucrative family business idea.
11. Gardening or lawn care
If you like to spend time outside or just love taking care of plants, consider starting a gardening or landscaping company. Many people love to have fresh vegetables in their garden and green, weed-free grass, but simply don't have the time to maintain either.
While a lawn care business will require some equipment to get started, many people have their own gardening or lawn care materials that you can use while you're still getting started.
12. Farmers market vendor
If you're crafty, have a garden, or enjoy canning or baking, you have a big opportunity to sell your goods at farmers markets. Many people prefer to buy from local vendors and there's a boom in farmers markets right now. No matter what you love to make, for a small fee, you can rent booth space at a farmers market and sell your wares.
Plus, farmers market customers love a good business story, and what's better than running a family-owned small business?
Tips for starting a family business
While many of the businesses on this list require minimal skill, business-knowledge, or startup capital, there are still a few things to be wary of when going into business with your family.
You love your family, but they're also likely the people who know just how to push your buttons. Boundaries between your personal life and work are especially important when you go into business with your family. Thanksgiving dinner is not the time to be talking about your profit and loss statement. Set those boundaries early so you can still enjoy family time away from the business.
One healthy way to set boundaries within a family business is to ensure that each family member who works in the business has a unique role. When each person has a role that's aligned with their skills, you're all less likely to step on one another's toes.
3. Create communication channels and expectations
Communication is a huge barrier to many small businesses. Without consistent communication, the business can fail. Set up expectations for when and what to communicate, what channels to communicate on, and who must be included for what types of communication.
One of the difficulties of going into business with family members is the temptation to play favorites. Employees who are also family members shouldn't be given special treatment in pay, scheduling, feedback, or promotions. A smart way to avoid an issue with favoritism is to not hire family members who are seeking employment from you as a last resort. Hire family members who are interested in the business and want to work there.
If you're hiring a family member in your business, make it as formal as if you were hiring any other employee. You should have a contract that stipulates compensation, duties, expectations, and anything else an employee needs to know. Writing things down and making formal agreements makes it less likely you'll have a disagreement later on.
While some people may recommend not starting a business with your family members because of potential disagreements and falling-outs, you would also miss the benefits and joy of working on a business with your family. If all small businesses avoided hiring family members, there would be a lot fewer small businesses in the world.
Deciding which family business idea is right for your particular family is the first order of business, but once you've all agreed on one and start taking steps to launch your business, you'll also want to consider how to fund your family business.
This article originally appeared on JustBusiness, a subsidiary of NerdWallet.