33 Free or Low-Cost Ways to Advertise Your Business
Free business advertising is about getting creative and utilizing every tool at your disposal, rather than underpaying for traditional methods.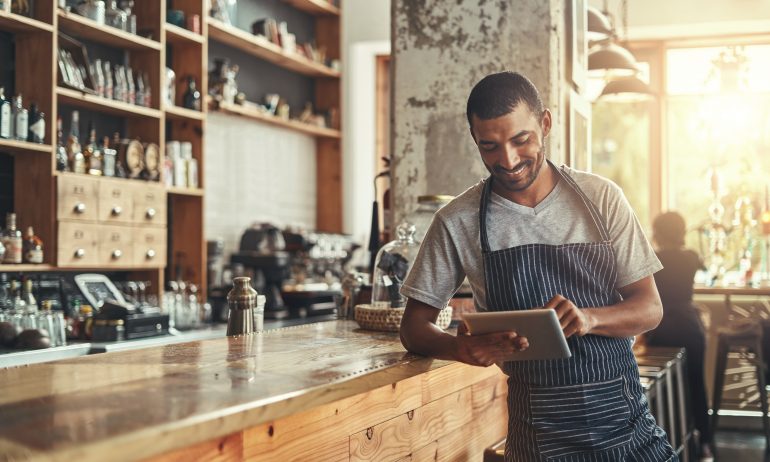 Many or all of the products featured here are from our partners who compensate us. This influences which products we write about and where and how the product appears on a page. However, this does not influence our evaluations. Our opinions are our own. Here is a list of our partners and here's how we make money.
Advertising for your business doesn't have to be expensive. Online stalwarts like Facebook, Yelp and Twitter are simple but effective ways to get your name out there. And partnering with businesses in your area, hosting events and even donating to charities or neighborhood initiatives are analog methods to advertise your business and support your local community.
The best business marketing plans draw on a multitude of strategies, and these free or low-cost advertising ideas offer a diverse playbook to increase your brand awareness.
1. Reward social media sharing
It's great to find new customers, but it's also important to show your appreciation for those who are already loyal to your brand — especially if they're willing to share their experience. Providing incentives to your followers who share your brand on social media rewards their customer loyalty, and gives you a boost.
2. Leverage brand ambassadors
A brand ambassador is someone that has established themself as a prominent figure in a circle that relates to your brand. Gaining an endorsement from an influencer strengthens your brand's presence and legitimacy in that world. If you go this route, though, make sure your social media influencer campaign is transparent.
3. Consider an employee perspective
Your strongest advocates for your business might just be under your own roof. An employee willing to share positive things about the company on their personal social media accounts can grab the attention of potential new customers.
4. Have fun with interactive content
Putting interactive content on your website, blog or social media platforms is both fun and informative for your customers. And quizzes and surveys that encourage users to share their results on social media expands your brand's reach further.
5. Let your customers peek behind the scenes
Use your business's social media accounts to share a behind-the-scenes video. This could be an interview with a member of your staff, a tour of a manufacturing facility or a montage of your participation in a recent trade show or industry event. Giving customers a greater sense of what goes into making your product is a transparent way to interact with your customers. It also lets you show off your team and your brand's personality, and define your company's unique point of view within your market.
Who doesn't love free things? A giveaway of your product or service can grab the attention of those who might not usually think to spend their money with your business. Alternatively, ask those who are already loyal to your brand to participate in a contest where they generate testimonials or share positive stories about your business online under a designated hashtag.
7. Put a face to the brand
Share some information about the company's founder with your customers. Live videos can be a fun way to share their story and how they started the business while connecting with a broader audience.
8. Use LinkedIn Groups to expand your network
The Groups function on LinkedIn is a great way to find like-minded individuals and other entrepreneurs who can provide you with advice on running your business. On the flip side, it also gives you access to a targeted group of people who you know are interested in your product or service. LinkedIn even curates a list of groups you might be interested in based on your profile and interaction with the site.
9. Partner with a fellow small-business owner
Reach out to other business owners whose goods and services complement yours, and see if they're open to creating a cross-promotional deal with you. This can be a great way for you both to tap into each other's client bases, and advertise your business for free.
Partner with a local charity to increase brand awareness while doing good for others. Whether you choose to launch a campaign where donations are made based on the number of users sharing a certain message on social media, ask customers to donate a dollar to a given cause when they make their purchase or use your business's resources to boost awareness for an important social issue, there are lots of ways for your business to give back while also gaining awareness for your brand.
11. Create an eye-catching display
Bring passersby to your storefront by creating a unique, colorful display, or print custom stickers for your business to hand out to customers. A chalk mural can be similarly attention-grabbing, and a fun way to advertise an upcoming sale.
Nothing stands out on the road quite like a vehicle covered in bright, bold lettering and designs. Auto wraps are typically made of vinyl, and they let you turn your car into a four-wheeled advertisement for your company. The cost of wrapping your car varies depending on vehicle size and whether you opt for a full wrap or partial decal. You can also use sites to find drivers who are willing to let you advertise on their cars.
13. Engage with your community
For many small businesses, getting involved in community events can be a win-win. Donating your goods or services for a silent auction, blogging about your staff's volunteer work at a nearby soup kitchen or sponsoring a music or arts festival in exchange for promotional material at the event will advertise your brand while supporting worthy, local initiatives.
It's great to connect with your customers online, but sometimes it's nice to see them in person, too. Hosting an event puts you face-to-face with your brand's loyalists and new prospects, and gives you a chance to make a strong, positive impression.
15. Welcome new neighbors
Partnering with large businesses, realtors or moving companies to offer discounts, or participating in welcome packages for new residents will put your business in the minds of people just moving to town. When they later walk or drive by your storefront, they'll already have a positive association and may be more likely to stop in.
Using email marketing is an easy, low-cost way to get your brand in front of your customers and potential customers. You can send store updates, product launch announcements, tease upcoming events and more. Just make sure there's value in each email or you run the risk of people unsubscribing.
Creating podcast episodes on a consistent basis can help drive clients back to your website regularly to check out your newest episode. Plus, you'll establish yourself as an expert in your field and build the consumer's trust in your brand. If maintaining your own podcast isn't feasible, consider being a guest on other podcasts to discuss your industry.
Like podcasts, blogs give you a way to build a steady readership and drive visitors to your site on a regular basis while proving yourself to be a thought leader in your industry. Consistency is key, so if you don't have the bandwidth to manage your own blog, you may also consider guest blogging on other sites.
Business owners hear a lot of the same questions regularly from their clients. Taking these questions and turning them into topics for webinars makes you the go-to source for information within your industry, strengthening your existing relationships and helping to forge new ones. And with a high-quality camera on every person's smartphone, creating webinars and other video content is easier today than it has ever been.
20. Find opportunities to share your voice
Public speaking opportunities let you brand yourself as a thought leader in your area of expertise. It also gives your company exposure, gives you the added benefit of business networking opportunities with those who attend the event, and allows you to capitalize on the event's marketing efforts.
21. Serve as an expert media source
When a journalist needs a source, they often turn to designated platforms or their own social media accounts to seek out experts in a given field. Finding these opportunities to speak about your industry can help advertise your business for free.
22. Maintain your Yelp page
Yelp is often the to-go place for consumers looking for a particular good or service. Create a page for your business with relevant information like store hours, contact info, website address and more. Keep your page up to date and respond to customers' reviews in a timely — and positive — manner.
23. Target industry-specific review sites
There are lots of industry-specific review sites that you can put to work for your business. For restaurant owners, there's OpenTable, Resy and Reserve. Those in the home, yard, auto and health businesses have Angi. Focusing on an industry-specific site allows you to be found by those who are searching specifically for the goods or services you offer.
24. Invest in low-cost Facebook advertising
As a baseline, every company should create a Facebook business page. Next is Facebook advertising. With the Ads Manager tool, you can tailor your advertising based on your target audience, budget, and objectives. Once your ads are up and running, you get access to detailed metrics that reflect the effectiveness of your campaign so that you can tweak your efforts.
You can set up an account with a major e-commerce marketplace like eBay or Amazon for little or no money. Once you're there, it's simply another destination where customers can find your brand.
26. Try guerrilla marketing
Guerrilla marketing is a low-cost marketing strategy that aims to promote products or services in public spaces using creativity and ingenuity. Guerrilla marketing tactics are often unconventional and designed to help or entertain the customer. Examples include branded public art, plastering stickers with your business's branding around town or creating some sort of eye-catching storefront display.
27. Hand out business cards
Having a business card on hand when you encounter someone you think could be a potential customer is a great way to drum up new business. You can also keep some at your store's cash register to include with a purchase to help remind the customer to come back.
28. Utilize SEO best practices
Search engine optimization, or SEO, is a marketing strategy that attempts to improve a website's rankings on search engine results pages. When executed properly, SEO helps your website show near the top of these pages when customers search for your business name or terms related to your brand, company, industry, products or services.
If you want to go old school with your advertising efforts, there's always direct mail. To get started, create well-designed postcards containing codes for free trials and discounts. Each postcard should contain a unique ID, allowing you to bridge the gap between physical advertising and digital analytics.
30. Send out press releases
A press release is a written statement issued to media outlets with information on a particular matter relating to your business. The goal is to have media outlets take the information provided in your press release and turn it into a news story for their publication or broadcast. Consider sending out press releases when you unveil a new product or service, make a key hire, host an event, receive an award or make a significant business change.
31. Use bulletin board flyers
Remember the coffee shop on your college campus that had a bulletin board with all sorts of flyers and ads? Well, this type of advertising is still alive and thriving and can be a great way to advertise your business among your local community.
32. Give out branded merchandise
While not exactly a free way to promote your business, giving out T-shirts, keychains, tote bags and other swag with your businesses branding on it is a great way to stay top of mind.
33. Create a referral program
A referral program is a way to incentivize your current customers to spread the word about your business. By referring new customers to your business, they may gain a store discount or free swag, while you'll gain additional business.
A version of this article originally appeared on Fundera, a subsidiary of NerdWallet.