Gusto vs. BambooHR 2021 Comparison Review
Decide which cloud-based HR software platform is best for your business.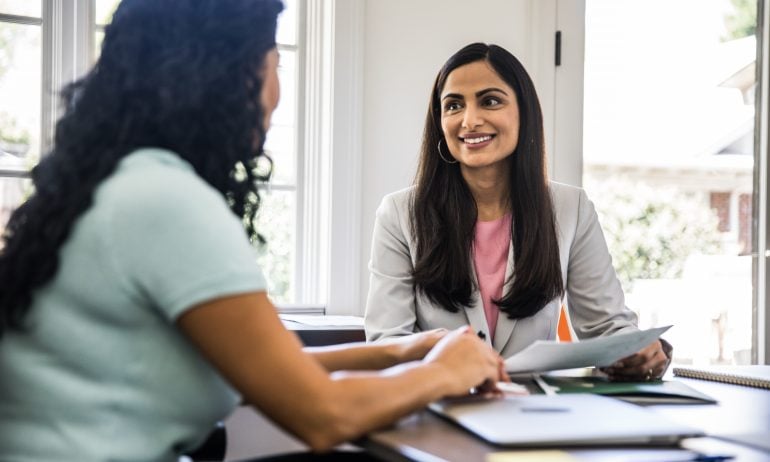 Many or all of the products featured here are from our partners who compensate us. This may influence which products we write about and where and how the product appears on a page. However, this does not influence our evaluations. Our opinions are our own. Here is a list of our partners and here's how we make money.
Using software to handle all of the HR for your small business can make your job as a small-business owner that much easier.
If you're wondering which HR Software would best serve your business needs, this Gusto vs. BambooHR comparison can help streamline your decision-making process. Learn everything you need to know about these two cloud-based HR software platforms so you can make the right choice for your business.
Both Gusto and BambooHR provide HR-management tools for small businesses and that they're both web-based, meaning you can access your account anywhere you have internet access.
Beyond that, these two products offer varying features, pricing structures and more.
Core, Complete, Concierge

$6/month/employee + $39/month

$12/month/employee + $39/month

$12/month/employee + $149/month

Access to certified HR professionals, ease of use, full-service payroll

Mobile app, company and PTO calendar, open API

Yes, duration not specified

8 a.m. to 5 p.m. PT Monday through Friday

6 a.m. to 6 p.m. MT Monday through Friday
With this overview in mind, let's take a closer look at each platform. Gusto is most well-known for its payroll services, but it offers benefits and HR services as well. Gusto offers three plans with varying price points and features, so you can find the plan that best suits your needs — and not pay for features you don't want. Gusto also has a new option for contractor-only employers, who simply pay the $6/employee rate and no base price.
The least comprehensive Gusto plan is Core, which costs $39 per month plus an additional $6 per person per month.
Employee self service and profiles.

Health benefits administration.

Workers comp administration.
With any Gusto plan, you can also opt for additional features by choosing add-ons. These include 401(k), 529 college savings, HSA, FSA and commuter benefits. Prices range for each add-on.
The next level up is the Complete plan from Gusto. This plan includes everything listed in the Core plan and more. The monthly base price stays the same at $39 per month, but it costs $12 per month per employee instead of $6.
The added features this plan includes are:
Employee offers and onboarding.

PTO policies and requests.
As you can see, with the Complete plan you get more when it comes to hiring and onboarding your employees, as well as completing day-to-day tasks like time tracking and time-off requests.
Finally, if you opt for the Concierge plan you'll get everything in the Core and Complete plans, plus you'll have access to HR professionals and a resource center to answer any questions you may have. If your business doesn't have any in-house HR staff members, this could be incredibly useful. You'll have live, unlimited access to a team of pros via phone and secure messaging, so it's almost like they're an extension of your team. The Concierge plan has a base fee of $149 per month plus an additional $12 per employee per month.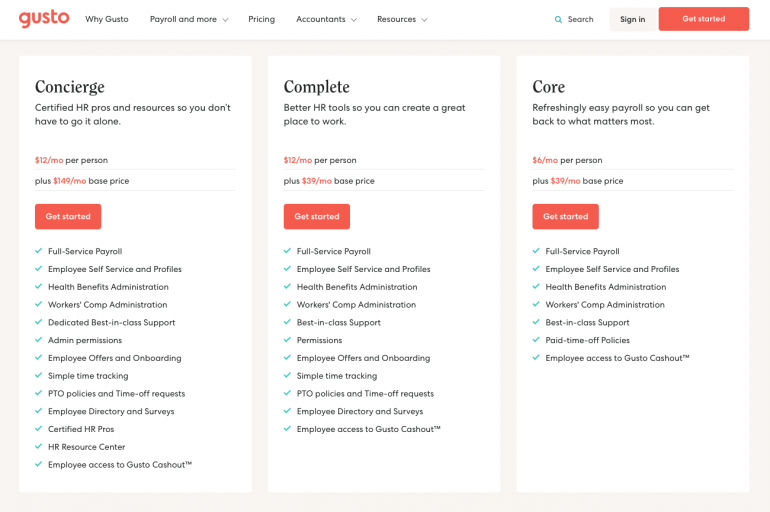 BambooHR plans and pricing
BambooHR offers two service plans plus several add-ons to further customize and expand your HR solution. A big difference between BambooHR and Gusto, though, is that BambooHR does not provide transparent pricing. All of its costs are quote-based, so you will have to reach out to its team directly to get a quote based on how many employees you have and the features you want. That said, let's take a closer look at what its plans offer.
The Essentials plan comes with your basic HR management, employee self-service and customer support features.
Standard workflows and approvals.

Employee directory and org chart.

Mobile app (for iOS and Android).

Customer success webinar library.
According to BambooHR's website, it is first and foremost about "information management." As you can see from the above list of features, a great deal of what BambooHR does is collecting employee information in one place. It's also worth noting that this list of BambooHR features doesn't include payroll, which Gusto handles in all plan levels.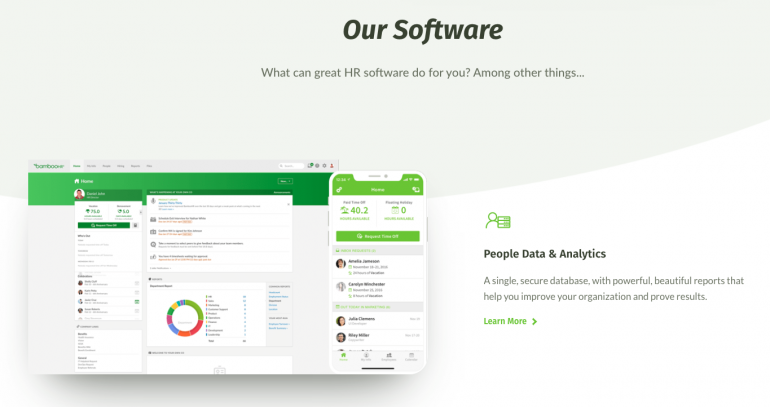 The Advantage plan includes all of the features in the Essentials plan, as well as hiring and onboarding features, integrations and data sharing capabilities, and advanced components. Again, there is no pricing available, so you will have to contact BambooHR directly to learn more.
When you upgrade to the Advantage plan you'll also have:
Applicant tracking system (ATS).

Tailored workflows and approvals.

Employee satisfaction with eNPS.
With either plan, you can also opt for different add-ons, from performance-management tools like goal-setting, assessments and feedback to time tracking functionality, including employee timesheets, approval workflows and automatic overtime calculations.
With all of this information in mind, you may feel no closer to coming to a decision between BambooHR vs. Gusto. To help you choose your best option, we've highlighted where each platform stands out, as well as areas where they're lacking.
These Gusto features are especially noteworthy and may make this software provider the better choice for your business:
One of the things Gusto is best at is its full-service payroll available in all 50 states. You can run payroll as many times as you need each month, including bonus payroll and off-cycle payroll runs. Gusto will also calculate and pay all of your local, state and federal payroll taxes for you, so that's one less thing for you to worry about. While Gusto is known for its payroll services, BambooHR doesn't offer any of its own, so you would need to connect a third-party platform. If payroll is especially important to you, Gusto will likely make more sense for your business.
Access to HR professionals
One thing Gusto can offer customers that BambooHR is lacking is the option to work with certified HR professionals and use the HR resource center to receive assistance with any HR-related questions or issues your business encounters. While many small businesses don't have a dedicated HR department, it will feel like you do with these Gusto resources.
Gusto is known for being easy to use and fairly easy to set employees up with. Not only is the interface intuitive, but it's also backed by a friendly and helpful customer service team for any questions or problems that might arise for users.
"I used Gusto for many years, dating back to when they were known as ZenPayroll. I found their service to be excellent and very easy to use and manage and I've recommended them to many other business owners," Kevin Geary, COO of Hamon Creative, told Fundera.
Ease of use is something that consistently comes up, especially in reviews of Gusto on websites like Capterra where Gusto has a 4.7-star (out of 5) rating.
There is one downside of using Gusto that customers highlighted:
For businesses with employees across multiple countries, Gusto will likely not be the right fit for you, as it only works with businesses in the U.S. "There is one thing that Gusto doesn't support and which is a necessity for us — the support for multiple countries. Half of our team works in the U.S. and the other half is in Canada, making the software useless for our Canadian team," Cassy Aite, CEO and co-founder of Hoppier, told Fundera.
This is a unique situation, but there are some HR options out there that could be better suited for a business that employees people in both the U.S. and abroad.
Now, let's explore the areas where BambooHR stands out:
One thing users highlight about BambooHR is the ease with which they could onboard their employees.
"What I love most about [BambooHR] is that it's made our onboarding process so much faster. Our first day with a new employee used to be spent having them fill out paperwork, giving them all the information they needed, etc. Now, they can do all of that online before their start date by logging into the portal, or very quickly while on site.
"Our employees are very fond of the PTO features, too. They can see a calendar and select PTO dates, and their requests just need to be approved by a manager. This makes the process seamless and gives employees a no-hassle way to put in for PTO," says Courtney Keene, director of operations at MyRoofingPal.
Overall, BambooHR has positive user reviews, which account for its 4.5-star rating on Capterra.
When you go with the Advantage plan with BambooHR, you'll be able to work with its open-access API. This means you'll be able to add other applications and integrate them seamlessly with BambooHR.
You'll be able to make any changes or adjustments necessary for your business by building your own HTTPS requests or by using those that are already listed on the BambooHR site. Keep in mind, though, you will need a developer or someone with the skill set to manage this.
Beyond its lack of payroll functionality, there is another notable downside to BambooHR:
Lack of transparent pricing
The lack of transparent pricing from BambooHR is a big drawback. When you're comparing options, it's easiest to do so when you have all of the information and without having to share your business information in order to get a quote. Without upfront pricing, there's no way to know for sure if your business is getting the best rate.
If neither of these options feels right for your business needs, there are alternatives you can explore.
A trusted name in HR management is ADP, or Automatic Data Processing. ADP offers payroll-specific software as well as a PEO (professional employer organization) option to provide the most comprehensive HR, benefits and payroll tools. Like BambooHR, ADP's pricing is quote-based; however, with so many features available, it may be helpful to build a plan specific to your company, so you can get exactly what you need, without paying for what you don't. This also makes it an extremely scalable solution.
Another positive of ADP is that since it's such a large and time-tested company, it also offers its customers great support. You can get 24/7 support for any technical help you may need with ADP.
If you found even Gusto to be lacking in some of the features your business needs, you may also want to explore Justworks. Justworks is another PEO that offers two plans (Basic and Plus) and is priced depending on the plan you choose and how many employees you have. Unlike ADP and BambooHR, Justworks offers a transparent pricing structure.
Even with its Basic plan, you'll have access to payroll capabilities, online employee onboarding, commuter benefits, harassment prevention and inclusion training, and much more. There are also additional add-ons you can opt for depending on your specific business needs.
Justworks also has 24/7 support for customers over five different channels like email, phone, Slack, text and online chat, so you can get in contact whichever way is easiest for you.
A version of this article was first published on Fundera, a subsidiary of NerdWallet.