Gusto vs. BambooHR 2022 Comparison Review
Which cloud-based HR software is best for your business will depend on whether you prioritize payroll features.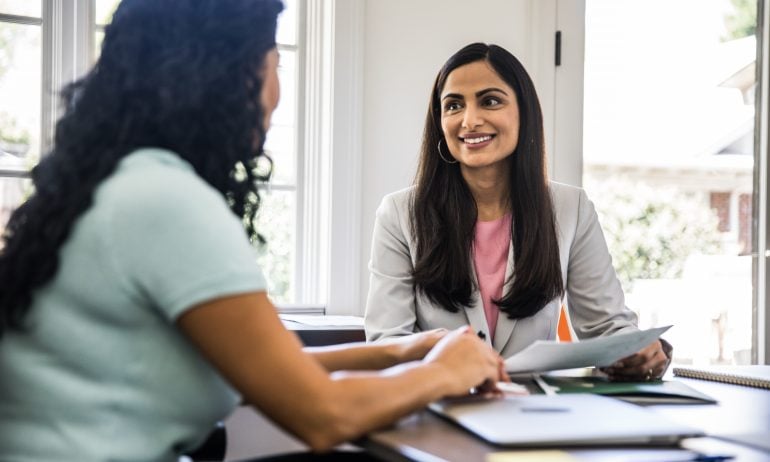 Many or all of the products featured here are from our partners who compensate us. This influences which products we write about and where and how the product appears on a page. However, this does not influence our evaluations. Our opinions are our own. Here is a list of our partners and here's how we make money.
Gusto and BambooHR are very different products, even though they both offer HR-management tools that can make your job as a small-business owner easier. Which of these web-based software products is the right fit for your business? It comes down to whether you want payroll software or data management tools.
BambooHR's software is primarily focused on information management and the collection of employee data in one place. Payroll features are not included in the plans but can be added. In contrast, Gusto is highly focused on payroll, as well as related functions such as employee benefits, time management and hiring and onboarding.
Simple: $40 base fee; $6/person.

Plus: $80 base fee; $12/person.

Premium: Quote-based pricing.

Contractor: No base fee; $6/person.

Essentials: Quote-based pricing.

Advantage: Quote-based pricing.

(Payroll services can be added to either plan.)

Yes. Automatic filing and payment of federal, state and local payroll taxes.

Yes. Federal, state and local taxes are handled.

Ability to manage employee benefits

Good. Medical, dental and vision insurance options, plus 401(k) plans, commuter benefits, health savings accounts, flexible spending accounts and more. (Health benefits are limited in some states.)

Limited. It can sync with other benefit providers software so you can track employee benefits information.

Excellent. Employees have lifetime access to update their personal information and view hours, pay stubs, W-2s and other forms.

Good. Employees can access information through the mobile app.

Good. Live phone, email and chat support is available from 6 a.m. to 5 p.m. Pacific time, Monday through Friday.

Decent. Email support is offered from 8 a.m. to 5 p.m. Mountain time, Monday through Friday. Phone support is added with the Advantage plan.

Excellent. Integrates with accounting software such as QuickBooks, Xero and FreshBooks and a wide range of other apps for hiring and onboarding, time tracking and more.

Good. Integrates with a number of apps, but not directly with QuickBooks. You can use the TimeRewards app for account integrations.
Gusto is well known for its payroll services, but it offers benefits and HR services as well. You can select from two standard Gusto plans, an economical contractors-only option or a premium plan suited for fast-growing businesses. Here's a look at some of the key features of each option along with the costs.
The least-expensive Gusto plan is Simple, at $40 per month plus $6 per person. It offers robust payroll features as well as other HR functions including:
Unlimited payroll runs, tax filings and payments and automatic W-2 and 1099 forms.

State new hire reporting, unemployment insurance and workers' comp administration.

Employee health benefits administration.

Employee self-service with lifetime access to their account.

Live support and access to help center content.
The Plus plan builds on the features of the Simple plan by adding advanced HR features. The monthly base price is increased to $80 per month, and it costs $12 per month per employee. The added features of this plan include:
Time tracking and PTO, or paid time off, management.

Hiring and onboarding tools.

Employee project tracking and cost reports.

Team management tools including performance reviews.
Finally, if you opt for the Premium plan, you'll get everything in the Simple and Plus plans, plus you'll have access to more personalized HR assistance. This plan offers quote-based pricing. Features for the Premium plan include:
Live, unlimited access to certified HR experts.

Direct line for priority phone support.

Compliance alerts for state and federal law changes.

HR resource center with an employee handbook builder.
For businesses that don't have employees, but still need to pay contractors, Gusto's Contractor Only option is $6 per person per month with the base fee waived. The following basic features are included:
Unlimited contractor payments in all 50 states.

Four-day direct deposit and year-end 1099s.

New hire reporting if required by the state.
With any Gusto plan, you can opt for additional features by choosing add-ons. These include 401(k) plans, 529 college savings plans, tax-advantaged spending accounts and device management options. Some of these add-ons are free while a fee is required for others.
BambooHR plans and pricing
In contrast to Gusto, which built its software around payroll features, BambooHR focuses on HR features with payroll as an add-on. Two service plans are offered, plus several other features can be added to further customize your package. One difference between BambooHR and Gusto, though, is that BambooHR does not provide transparent pricing. You'll have to reach out to the BambooHR team directly to get a price based on how many employees you have and the features you want. Here's a closer look at the plans.
The Essentials plan comes with your basic HR management, employee self-service and customer support and includes features such as:
Employee records, benefits tracking, document storage and email alerts.

Employee directory, company calendar and org chart.

Single sign-on and a mobile app.

Email support plus a webinar library.
The Advantage plan includes all of the features in the Essentials plan, as well as hiring and onboarding features, integrations and data-sharing capabilities and advanced components. Again, there is no pricing publicly available, so you will have to contact BambooHR directly to learn more. Some of the additional features available with this plan include:
Telephone support in addition to email support.

Applicant tracking, onboarding and offboarding.

Advanced reporting, tailored workflows and custom email alerts.

Access to BambooHR Marketplace and open API, or application programming interface.
With either plan, you can also opt for different add-ons. In addition to payroll, you can add performance management and time tracking.
Why Gusto is a better choice
If payroll is especially important to you, Gusto will likely make more sense for your business. It offers full-service payroll available in all 50 states. You can run payroll as many times as you need each month, including bonus payroll and off-cycle payroll runs. Gusto will also calculate, file and pay all of your local, state and federal payroll taxes, as well as generate W-2s and 1099s for your employees. While Gusto is known for its payroll services, BambooHR treats payroll as an add-on.
Access to HR professionals
Another area where Gusto shines is by giving you the option to work with certified HR professionals under its two top-tiered plans. At this level, you'll also have access to an HR resource center to receive assistance with any HR-related questions and issues your business encounters. And you are given access to a direct phone line for priority support. While many small businesses don't have a dedicated HR department, it will feel like you do with these Gusto resources.
If you are looking for benefits administration, you'll find it with every Gusto plan. You can work with licensed brokers, including your existing one, to select medical, dental and vision plans for your employees. Other options include 401(k) plans, commuter benefits, health savings accounts and flexible spending accounts. You can also set up pay-as-you-go workers' comp plans, have Gusto automatically file and pay state and federal unemployment insurance and even get help to remotely manage employee computers and other devices.
Why you might want BambooHR instead
Employee data and analytics
If you want software that collects employee information and then lets you use it across a number of different systems, then BambooHR may be the right fit for you. All your employees' information is stored in one secure database and available to use when hiring, onboarding, compensating and evaluating your workforce. The software includes tools to help you manage your employee data and generate workforce management, employee turnover, PTO and other types of reports. You'll also have the ability to create your own templates with custom fields for company-specific reports when you select the Advantage package.
BambooHR is also highly focused on providing employees the tools they need to manage their data and interact with their team. The free mobile HR app gives employees access to HR functions when they're in and out of the office. For example, employees can look up co-workers' phone numbers, request PTO, record and track goals and access a centralized calendar. When you select the Advantage plan, you can send onboarding tasks to new employees, use electronic signatures for documents and create surveys to get employee feedback.
A version of this article was first published on Fundera, a subsidiary of NerdWallet.