How to Open a Joint Bank Account With a Business Partner
If you're starting a small business with a partner, then a joint bank account can help simplify your finances.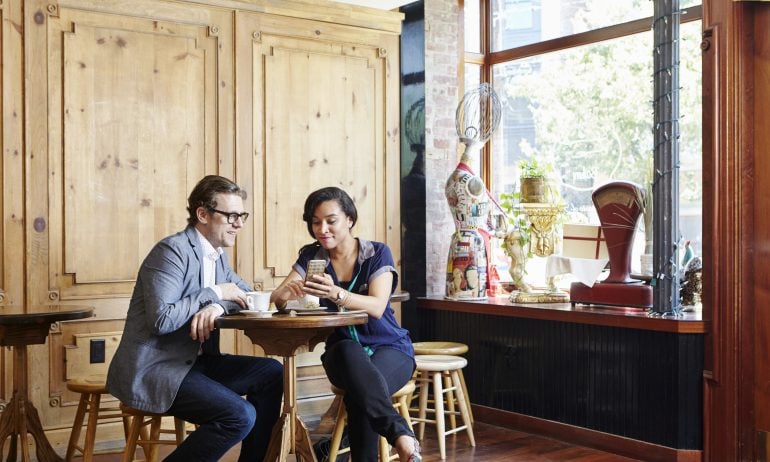 Many or all of the products featured here are from our partners who compensate us. This may influence which products we write about and where and how the product appears on a page. However, this does not influence our evaluations. Our opinions are our own. Here is a list of our partners and here's how we make money.
Compare Top Business Banks
Check out our roundup of best banks for small businesses and compare offers to find the right bank for you.
Working with a partner on a new venture can be an exciting step in a business's growth. If your shared responsibilities extend into your company's finances, you may want to look into a joint business bank account.
The process of opening a joint business bank account is no more complicated than if you were opening an account solo. You'll have to find the right bank for your business, provide it with information about you and your business partner and make sure you meet all the requirements.
How to apply for a joint business bank account
Many banks have slightly different requirements to open a joint business checking account. For the most part, though, they all ask for the same basic information. This includes:
Social Security number (or international taxpayer identification number). Nearly every business bank account will ask you to provide either your Social Security number or if you don't have one, your ITIN. They require this for several reasons, primarily for compliance with federal laws.

Employer identification number. An EIN is akin to a Social Security number, but for your business. Businesses can apply for an EIN for free through the IRS.

Ownership agreements and formation documents. Banks will want a copy of your company's governing documents to verify your identification and relationship to the business.

Business license (if required). If your business is required to have a license to operate in your location, banks may want to see this documentation.

Certificate of assumed name. If your business has a trade or DBA name in addition to the one it's legally registered under, you should also provide these records.
No matter where you're applying, make sure you meet the requirements of the bank beforehand, namely, that you're in good financial standing and do not have prior felony convictions, that you have all the required documents on file and that you can complete the application.
Many banks allow you to start your application online but require you to physically visit a branch to finish the application and open the account.
Some banks, however, do not require you to pay an in-person visit. Novo Bank, for instance, is an online bank that conducts all of its verification steps online. As online-only banks become more popular, you may find it easier to open a bank account without visiting a physical branch.
The benefits of opening a joint business bank account
If you and your business partner (or partners) have equal roles and ownership in your operation, it makes sense that you'll all need access to your business bank account. Having a joint business bank account means each of you has equal ownership of the account. You can each make deposits and withdrawals, conduct account maintenance and more. Plus, having an account dedicated to your business helps keep business and personal finances separate.
Additionally, a joint bank account helps simplify your business finances. Rather than writing and depositing checks with two accounts and then keeping track of who paid for what, you and your partner can conduct all business transactions from your joint account.
Opening a joint business bank account can also set you up for securing a business loan if you need one. Lenders want to see three or four months of business bank statements when deciding whether to lend you money. Sharing an account with your business partner makes it easier to keep your business's financial records in one place.
How to choose the best joint bank account for your business
To choose the right joint bank account for your business, you should consider your short- and long-term goals. If you're just starting out and may not keep a high balance, you might opt for an account with no monthly fee, such as Axos Basic Business Checking.
Business partners who need to deposit cash and who value physical branches might choose a bank that has both in-person and online options, such as Chase Business Complete Checking℠.
Other considerations to keep in mind while you explore joint bank accounts include:
Monthly fees and minimum balance requirements to waive them.

Minimum opening deposit requirements.

Transaction and cash deposit limits.

Whether the account earns interest.

Other financial products offered.
No matter what account you choose, there are significant reasons why opening a joint bank account with a business partner is a savvy decision. You'll add legitimacy to your business, set yourself up to make the right financial decisions in the future, and can work your way toward building business credit.