The Ultimate Guide to How to Open a Pizza Shop
Major money can be made starting a pizza shop. Here are some tips on how to open a pizza shop and keep it running.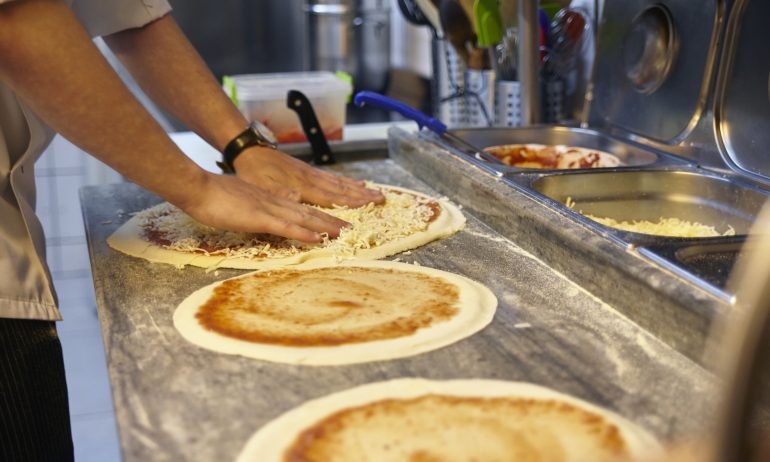 Many or all of the products featured here are from our partners who compensate us. This influences which products we write about and where and how the product appears on a page. However, this does not influence our evaluations. Our opinions are our own. Here is a list of our partners and here's how we make money.
Everyone loves a good slice of pizza, and some people love it enough to make it their entire job and livelihood. If you're thinking about starting a small business, and are specifically wondering how to open a pizza shop, we're here to help.
In the U.S., pizza is wildly popular: 93% of Americans purchase pizza at least once a month. To put that percentage into perspective, that's about 350 slices Americans are eating per second, or 100 acres of pizza eaten in a day.
Why do Americans love pizza so much? According to Rob Veltri, owner of Pizza in the Square in Yonkers, New York, loving pizza is a simple concept: "It's one of the healthier bad foods you can have," he says. Today, approximately 17% of the nation's restaurants are pizzerias and the highest-grossing, single-unit independent pizzeria in America is Moose's Tooth Pub and Pizzeria in Anchorage, Alaska, which brings in about $6 million in sales annually.
So if you're ready to take the leap to restaurateur, keep reading to find out how to open a pizza shop of your very own.
1. Create a business plan for your pizza shop
Usually, the first step for opening a business would be writing a business plan. When you're starting a pizza shop, the biggest part of that plan is coming up with the perfect product to keep your customers coming back for more.
Pizza in the Square has been around for nearly 30 years and Veltri was there from day one. As a result, he remembers a time when people were afraid to try a pizza that veered slightly from the traditional. This isn't the case anymore.
"Right now, you can put anything on a pizza," he says. "You really can. I think that's one of the things that makes us successful. We're always willing to change and make things different."
Perhaps the Italian immigrants who introduced pizza to Americans in the late 19th century wouldn't approve of Veltri's Nutella pie or spaghetti and meatballs pizza, but modern, more experimental consumers are loving them. Just take a look at the pizzeria's reviews for proof, says Veltri.
Once you have the perfect recipes and menu down to a science, it's time to create the rest of your business plan for your pizza shop. This includes creating a budget, a marketing and sales plan, a name for your shop and should also include ideas for a restaurant or business space.
Something else you'll need to decide at this stage is the legal structure of your business. Choosing a business entity will be necessary for creating your business plan and the steps that follow, including what taxes you'll pay and what legal responsibilities you'll assume. Whether you opt for a sole proprietorship, LLC, C corporation or another business structure, you'll need to provide this information as you follow the next steps in starting a pizza shop. And keep in mind, you may want to consult a business attorney when making this decision.
2. Register your pizza shop
Once you've crafted the business plan for your pizza shop and chosen a business entity, the next step in starting your pizza shop is registering your business. To do so, you'll need to get an employer identification number, also known as an EIN or business tax ID number. You can apply for an employer identification number with the IRS online and get one almost instantly, and this number will be used for tax, banking and credit purposes.
Registering your business also means claiming the name of your pizza shop, which is a different process in each state. Many states though, like Pennsylvania, have an online database where you can check and see if your desired business name is available.
Once you've established that the name you want for your pizza shop is available, you should register the business under that name by following the rules laid out by the state in which you'll be operating your pizza shop.
3. Get any required licenses or permits for your pizza shop
Any time you're serving food you're going to need additional permits and licenses to do so legally. After all, there's a certain level of responsibility that comes with serving customers a hot slice (or five).
The rules around these business licenses and permits can vary from state to state but you'll likely need a food service license, food handler's permit, a building health permit and more.
Having fresh ingredients isn't only good from a food safety perspective, customers want it too. "What I've seen in the last few years is that people have turned back to quality," says Veltri. "If it's a little more expensive, they understand. With the news, social media and everything, [consumers] have learned how things like the costs of goods have increased. They'll accept the good quality if they have to pay more for it."
He adds: "We grind our tomatoes by hand every day. That's how we make our sauces. Everything is done from scratch. Every sauce is made from scratch. Sometimes it takes a little longer, but everything is done fresh. And that's what we've focused on since day one."
If you also plan to sell alcohol at your pizza shop, you'll need a liquor license — which can be a complicated process in its own right. Make sure you understand all of the licenses and permits you'll need when starting a pizza shop before you open your doors to customers.
4. Create a financial plan and get funding for your pizza shop
Just as important as crafting the perfect recipe, creating a financial plan is essential to starting a pizza shop. After all, starting any new business is usually not cheap. As a consumer, you might think, "How expensive could the ingredients be? I can get a slice for a dollar on the street, how much could it cost the shop to make the pizza in the first place?" The answer is actually, it could cost a lot to open a pizza shop and run it successfully.
According to Veltri, it can cost anywhere between $75,000 to $100,000 for a pizza counter and maybe a few booths. If you want to open a sit-down pizzeria, that can run you at least half a million. Whatever your dream pizzeria looks like, be realistic and overestimate your startup costs — adding on an additional 15% to 25% to your budget — so that you don't run into financial issues while starting your pizza shop.
Veltri's reasoning for high costs: "Equipment is not cheap."
"I have two ovens in the front," he explains. "The basic, old-fashioned oven with the stone and everything, then I also have a conveyor oven underneath that."
While having fancy equipment, like a wood-burning oven, might have higher costs, as this New York Magazine report finds, the oh-so-satisfying taste it produces might be worth it. For instance, think about Brooklyn's famous Roberta's pizza joint, which has gained massive popularity and a loyal following for their wood-fired pies and home-grown ingredients.
Before you get discouraged, there are financing solutions that can provide the money you need to start your pizza shop. From restaurant equipment financing to a business term loan, or even a 0% intro APR credit card, there are several options to help get your pizza shop off the ground.
This is also where your business plan can really come in handy. Anyone considering giving you money will want to see that you have a solid plan for starting the business and eventually turning a profit. So whether you're hoping for a bank loan or to find an investor, having a solid business plan is key to starting a pizza shop.
5. Open a business bank account for your pizza shop
As soon as your pizza shop is officially registered and you're about to start spending money on it, you should open a business checking account. You'll want to keep your business finances separate from your personal finances, at the very least for tax purposes. Establishing your bank account early on is also an important element for building your business credit score. You can check your free business credit report in a few places online. Your business credit score is another reason the EIN is important and why you'll want it whether it's required for your business or not.
When starting a pizza shop, you'll want, at the minimum, a business checking account and a business credit card. Once you have your business account and credit card set up, be sure to use them for any expenses related to your pizza shop, including purchases, paying bills, etc.