How to Start a Painting Business in 7 Steps
Our guide on how to start a painting business covers getting registered, opening a business bank account, and more.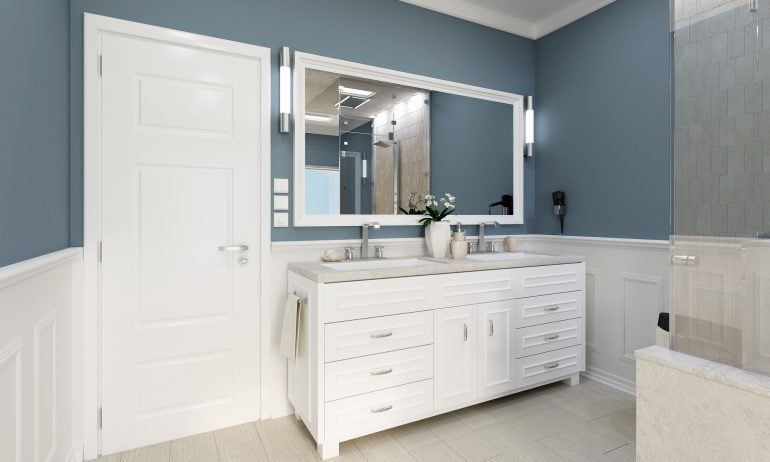 Many or all of the products featured here are from our partners who compensate us. This influences which products we write about and where and how the product appears on a page. However, this does not influence our evaluations. Our opinions are our own. Here is a list of our partners and here's how we make money.
There are few certainties in life besides death, taxes, and the inevitability of home renovations, which may be good news for you if you're looking to start your own business. If you watch home improvement shows long enough, you'll see that a fresh coat of paint can do wonders for a home.
Not everyone has the patience or skill with a brush to do the job on their own, however. That's why learning how to start a painting business can be a great opportunity to be your own boss and unleash your inner designer.
Whether you're a seasoned entrepreneur or a first timer, starting a painting business can come with plenty of questions and considerations—some of which are unique to working in the home renovation industry. Some people start a painting business with little more than brushes, ladders, and a vehicle to carry it all. That isn't necessarily the best move, however, as there are a heap of small business finances and licenses that you might need to keep your business above board (and, most importantly, protected against accidents).
Determining how to start a painting business doesn't need to be a challenge, but there are a few considerations that you'll have to address before hanging your shingle, throwing on your painter's cap, and getting down to work. We'll help you navigate the process of registering your business, setting up a business bank account, figuring out what licenses and insurance you need, and how to secure business financing if you need it.
Smart money moves for your business
Grow your small business with tailored insights, recommendations, and expert content.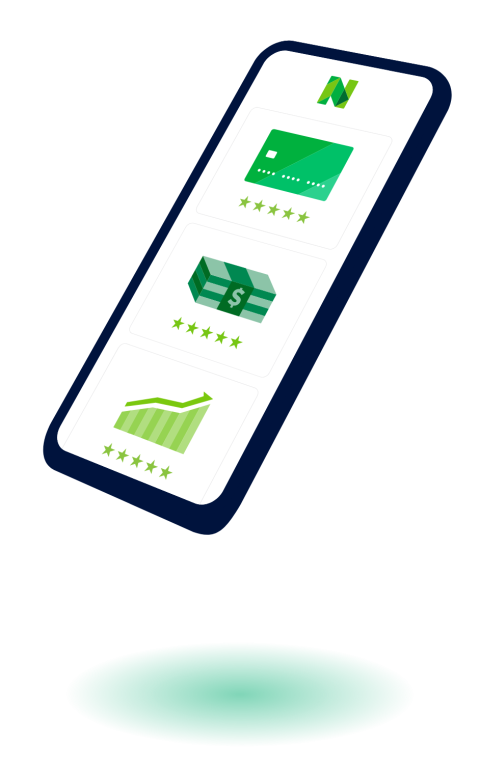 5 reasons to start a painting business
There are tons of reasons why you might be curious about how to start a painting business: Overhead is relatively low, particularly compared to other trades, you don't need to have a particularly specialized knowledge to get started, and you aren't as limited by seasonal fluctuations as other trades are.
Here are five reasons why starting a painting business might appeal to you.
1. Getting started is easy
The barrier to entry for starting a painting business is low. Painters don't usually have to go through the same kind of rigorous education and certification processes that other tradespeople, such as metalworkers or carpenters, do. This means you'll be able to find employees that can start quickly, learn on the job, and may not be as expensive to hire as in other parts of the industry. And, if you plan to do the work yourself, you won't have to spend time (and money!) going through preparatory classes. It's not a bad idea to take a continuing education class to learn the finer points of painting homes, but if you're already well-versed, you should be fine to get started without one.
Another great reason to start a painting business is its flexibility. You can work as many or as few jobs as you want. This is particularly true if you opt to do painting work seasonally. There's a reason for jokes about teachers being house painters in the summer—it's a great way to put a little extra money in your pocket when your regular job (or other contract work) is slow or out-of-season. And, with most businesses, you can get started without needing a ton of paperwork to register your business. Small business insurance may be another story, though, and we'll cover that later on.
2. Startup and overhead costs are low
Operating a painting business also requires less expensive equipment than other fields. Instead of having to stock up on power tools, welding equipment, plumbing supplies, or other overhead-heavy materials, you can get started with little more than brushes and ladders. Other equipment, such as scaffolding and paint sprayers, can come later once you've recouped your startup expenses. Plus, upgrading your materials over time can help pay for itself, as you'll be able to work more efficiently and take on additional jobs.
If you end up having enough business to require an additional set of hands to get things done, you won't likely have to spend a ton on staff, either. Unlike other trades, such as carpentry and plumbing, there is less of a learning curve involved in learning how to paint houses. This means you won't have to necessarily spend as much on staff as you would for more skilled tradespeople. Granted, this may not be true for every market, but the national average salary for painters is almost $38,000 versus a plumber's salary, which is just above $57,000.
3. Clients pay more for specialized painting skills
There's a big difference between putting a new coat of paint on the side of a house and creating a German smear-style coat on a brick wall. The more specialized your painting skills get, the more you can charge for your services. These techniques may take a little longer to hone, but learning specialized painting styles and techniques could help you make major bank if you invest the time in learning them.
The proliferation of home renovation shows has made even the most DIY-averse property owners attuned to the world of unique looks and decorating styles. This trend could be a huge asset for your business and provide you with a competitive edge. Plus, some niche services, such as historically accurate painting, can mean major contracts for your business.
Most communities have strict rules about what colors (and painting methods) people can use on historical homes, and you can be one of the businesses that offer these services. You could also branch out into related tasks, such as wallpapering, which opens up avenues for growth for your business.
with Fundera by NerdWallet
4. Painting businesses are in demand
The painting industry grew 4.2% from 2014 to 2019, employing more than 500,000 people according to current figures. The industry is also worth about $43 billion as well. What does all of this mean for you if you're looking at starting a painting business? Well, in short, it means that you'd be in pretty high demand.
If you live or work in an area where the real estate market is hot, you may also be able to get in on the action by starting a painting business that works alongside home flippers. Real estate investors need home improvement work done on short order, and are usually happy to work with a reliable partner across several projects. Find a flipper who needs painting services, and you might just have yourself your first long-term client. This can help you establish positive cash flow and get your business off the ground—particularly if you can harness the power of word-of-mouth advertising.
5. You get to be your own boss
This perk might be self-evident if you're looking to start your own painting business, but it bears repeating. One of the biggest benefits of becoming an entrepreneur is setting your own schedule, building your business the way you want to, and setting the hours you want to keep. For many, that's a huge benefit to consider when you want to know how to start a painting business, as well as just about any other kind of small business endeavor.
Granted, that also means getting your hands dirty with financial, legal, and regulatory issues—often without much help from other people if you're starting off on your own. Painting businesses may be subject to fewer rules and restrictions than, say, an HVAC company, but there are still hurdles to clear for any business—particularly with regard to registering your business and getting set up with a business bank account.
How to start a painting business: The basics
You're primed and ready to start your painting business (sorry, we couldn't resist that one). Whether you've already thought about your strategy to enter the market or haven't made it past the concept stage, there are plenty of factors and next steps that you'll want to take on if you're going to give your company the best chance at success that you can. Here are a few business basics to consider when starting your painting business, in order of operations.
You may not think that starting a painting business would mean drafting a business plan, but there are a ton of advantages to doing your homework in this regard. Plus, your business plan doesn't need to be overly complex or detailed—it can be a long or short as you want, so long as it covers a few basic elements. Don't be overwhelmed by the idea of having to put pen to paper (or letters to screen, as it were): The best business plan is iterative, as it changes and grows alongside your business and its needs.
A good business plan empowers you with a roadmap for how you build your company, as well as a set of guiding principles once you're up and running. Owners of successful businesses are usually short on time, which means you might not have a ton of mental bandwidth to take on big-picture strategy development tasks when you're in the middle of juggling jobs, balancing the books, and collecting invoices. A good business plan helps you stay on track when staying afloat becomes a full-time job.
Get your business registered
Got your business proposal in the bag? Great. Now the real fun begins. By fun, we mean paperwork (to each their own, right?). Running a small business that's protected from accidents, legal trouble, or any kind of unforeseen incidents with the IRS means filing paperwork and covering your assets. Registering your painting business is perhaps the crucial events in your business's life, too.
It's important to register your business—and choose the right kind of business entity—because of the liability protections and tax implications that come with each of the options out there. Depending on where you live, you may be able to set up a sole proprietorship without even needing to file paperwork. Although this is the most expedient option, it also puts you at the most personal risk if something goes wrong.
Most painting businesses can get by with a limited liability corporation (LLC) or limited liability partnership (LLP). There are several varieties of both, each designed to accommodate different business structures. Some LLCs are designed as a pass-through entity for individual owners or partners. These allow you to keep your personal assets separate from those of your business, and even allow you to file your business taxes through your own personal returns.
Other corporation types, such as S-Corps and C-Corps, involve a bit more paperwork and logistics, and require you to file business taxes separately from your own return. As with all matters legal, be sure to get in touch with a lawyer before making a decision.
Purchase insurance and get licenses
Some municipalities require painting businesses to be insured and licensed, while others may not. In all states except Texas, for example, employers are required to get workers compensation insurance. Even if you're not required to do one or both of these steps, it's in your best interest to get both in most cases. Some types of small business insurance will help cover you and your employees in the event of an accident while on the job, as well as financial support in the event of a lawsuit or legal issue. Your coverage will depend on the kind of policy you purchase, and there are a variety of options out there from which you can choose.
Most areas will require a business license for you to do professional painting work legally. These rules are typically enacted and enforced on a state and local level. Therefore there's no one-size-fits-all recommendation here, as your location is likely to have its own unique rules. You'll want to make sure you're fully licensed and on the right side of local laws before you start working. Without proper licensure, you may find yourself on the wrong side of the law and incur penalties for working without the right permits. Again, this is where a lawyer's expert advice can come in handy.
Set up a business bank account
Once you've gotten your business officially on the books with the local or state governments, you'll want to open a business checking account to keep your personal and business finances separate. This is a crucial step in the business startup process: If you don't route your business's money through a business bank account, you run the risk of leaving your personal assets up for grabs if your business goes under or gets sued.
The good news is that it's easy to set up a business bank account. Most brick-and-mortar banks will let you start the process online and finish at a local branch. There are a growing number of online-only business banks that allow you to register for a business bank account online without needing to step foot in a bank. These banks won't work for businesses that conduct most of their transactions in cash, though, since these options offer no ATMs where you can deposit greenbacks. If you anticipate doing most of your business in cash, you may want to stick with a more typical business bank account.
How to start a painting business: The financials
Even though the startup costs involved in starting a painting business are relatively low, that doesn't necessarily mean that you'll have the cash on hand to pay for everything you need to get started or grow your business. There are some compelling opportunities to get the cash you need, though—primarily through loans and zero-interest credit cards. Here are your options for what you can borrow in order to start your painting business.
Get an equipment financing loan
Equipment financing loans can be a great option for people who are looking to start a painting business. These loans function differently than your typical bank term loan: instead of requiring you to put up collateral in order to get the money you need, equipment financing loans allow you to borrow the amount of cash you need to make a specific purchase. Most equipment loan lenders will ask you what you're looking to buy and a price quote from a vendor. If approved, they'll loan you the total cost of the equipment in exchange for repayment over a certain period of time, plus interest. What you purchase serves as the loan's collateral, meaning that the lender will sell what bought with the loan in the event that you can't pay what you owe.
Get a small business term loan
When you think of a conventional bank loan, you're likely envisioning a small business term loan. These loans are given out by banks to creditworthy borrowers. They require repayment on a predetermined schedule, and come with fixed or fluctuating interest rates depending on the way the loan is set up. Business term loans can be a great option for business owners that have strong personal credit, a track record of repaying business loans, and a robust business plan. Note that small business term loans are usually difficult for first-time entrepreneurs to get, so you may not be as likely to get money through these means if you haven't already developed a track record through prior business loans.
Get a 0% intro business credit card
If banks aren't open to lending your business money and you can't pinpoint a specific purchase that you need the loan to complete, you aren't completely out of options. Getting a 0% intro APR business credit card can give you access to cash with no interest payments, so long as you use your card properly. This option lets you buy what you need to get started while avoiding interest payments during the 0% APR period. This may even be better than a loan in some circumstances as a result.
Bear in mind that you have to pay your balance off in full before the introductory period expires—otherwise you're on the hook for interest payments on top of your credit card balance.
Being your own boss by starting a painting business can be a rewarding experience, particularly if you're not averse to getting your hands dirty (metaphorically and literally). With a little bit of paperwork, cash, and drive, you can get your business scaled up and ready for primetime without having to move mountains.
So long as you've set yourself up for success with the right business structure, licenses, insurance, and strategy, your paint rollers should be, well, ready to roll.
This article originally appeared on JustBusiness, a subsidiary of NerdWallet.