How to Start a Wholesale Business and Keep It Successful
From product selection to logistics and everything in between.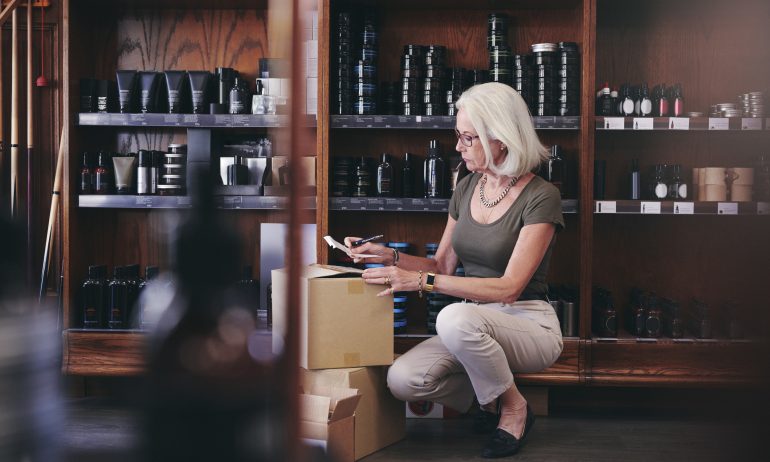 Many or all of the products featured here are from our partners who compensate us. This influences which products we write about and where and how the product appears on a page. However, this does not influence our evaluations. Our opinions are our own. Here is a list of our partners and here's how we make money.
If you're an entrepreneur who wants to start a business and make a profit, getting into wholesale distributorship can be a great choice As a wholesaler, you'll provide products to other companies for a profit. It can seem overwhelming, though, to think of everything that goes into how to start a wholesale business: financial planning, a clear business plan, sourcing items and finding space are just the beginning steps you'll need to figure out.
here's a lot of planning involved to start a wholesale business, but this guide can help you get organized.
6 steps to starting a wholesale business
1. Decide what you want to sell
There are many directions you can take your business in when you're researching how to start a wholesale business. You'll probably want to be a wholesaler that focuses on one group of products or another, instead of trying to manage wholesaling different types of goods. There are plenty of options out there and you might already have an idea of what you want to sell.
Some options include being a wholesaler of building materials, deciding to sell home goods and food items or maybe you're interested in wholesaling electronics like televisions. Whatever it is you want to sell, you should do some research to nail your product offerings down before moving on to the other steps.
2. Choose a business name and entity
The second step on our how to start a wholesale business list is to come up with a business name and to choose a business entity. You want to make sure that your business will have a unique name that isn't already taken by another business out there. To do this, you can usually check with your state's Secretary of State business search page. Many allow you to search business names online to see whether the name you want is available.
You should also choose a business entity. Different entities or business structures have different benefits they offer. Some wholesalers operate as an LLC, which shields them from personal liability while providing the option to be taxed either as a sole proprietor or corporation. Some might find it beneficial to register as an S-corp for tax purposes. Whatever you choose, first consider whether you want your personal assets protected from any legal action the business might face. You may want to consult a business attorney or an accountant to help you figure out which entity will be most beneficial come tax season.
This step includes much of the heavy lifting of how to start a wholesale business, but if you completed Step 1 and Step 2, you're probably pretty prepared for this.
When you're writing a business plan for your new wholesale business, there are some things you should be sure to include. Your business plan can be written from scratch, using a business plan software program or come from a business plan template.
Whatever you choose, be sure that your plan includes a summary, an overview of the company and structure and an in-depth market analysis. The market analysis is key because it shows whether or not you've done research to figure out if there is enough of a demand to keep your business running. A lack of market demand is one of the biggest reasons small businesses fail.
Also, list some manufacturers you might be working with and their prices. This is important for you creating a cost analysis and estimating when you might turn a profit to start making money.
4. Get a wholesale license and other permits
When it comes to how to start a wholesale business, licensing and permits will be an important part of your research process. Laws about this vary by state. A wholesale license can have different names in different states; some call it a "resale license" instead because it allows you to resell goods.
Check with your state's tax office, which you can find here, about how to obtain a wholesale license. You can also check with your Secretary of State's office for any other types of business licenses or permits you may need.
5. Apply for an employer identification number
You'll also want to apply for an employer identification number. If you're starting a wholesale business, you'll need it to file taxes among other things.
You can apply online directly on the IRS website, or you can apply by fax or mail. Applying online is quick and you can get your EIN in a matter of minutes. Not all entity types are required to have an EIN (sole proprietorships that don't have employees file taxes using their social security number) but it makes running your business easier and will be necessary to do things like open a business credit card.
While the steps above are helpful, they're just a start and there's plenty more you'll have to do when you're learning how to start a wholesale business. This is where planning will get specific, since the logistics you'll have to figure out before starting your wholesale business will vary depending on the specifics of your business plan, location, budget, who you're doing business with and what you intend to provide. These include, but are not limited to:
Choosing manufacturers to work with: Aside from large-scale manufacturers, you can also source products from independent artisans or import products from overseas. Along with price, you'll need to factor in speed, quality and location to select your suppliers.

Getting warehouse space: When you're just starting out, working out of your garage might be okay. But as you grow, make note of how much space you need, and start looking for a location large enough to accommodate your operations. This will probably include inventory, machinery and employee necessities, like a break room and bathrooms. Eventually, as we'll discuss below, you may want to expand to another space.

Choose a shipper if you'll be shipping goods: Cost, speed and reliability are all factors, but there may be other considerations, like a company's history with customs, if you're shipping internationally or are shipping unusual items.

Consider getting a lawyer to review your registrations and paperwork: Registration and business insurance requirements will vary by state and can be complex to figure out when starting a wholesale business, so this may be a useful step for you. A business attorney may also be able to advise you on your insurance needs.

Hiring employees: When you're hiring employees for your wholesale business, you'll need staff to cover purchases, sales, finances and day-to-day warehouse operations. Consider recruiting employees from trade shows or professional organizations, like The National Association of Wholesaler-Distributors. We'll go into the different roles you can hire for below.
Tips for running a wholesale business
After you're done looking into how to start a wholesale business, you should still try to think of more lucrative ways that you can continually grow your operations. If you're complacent with your business goals, it'll be easier for a competitor to swoop in and overtake you.
Here are five ways to ensure you can flourish after starting a wholesale business:
Expand your product lines and service
If you want to increase sales and grow your overall business when starting a wholesale business, you can think about expanding your product lines or who you serve.
For example, if you're a specialty wholesaler that specializes in providing retail products, you could start offering items to different types of merchants. Or, if you're a general merchandise wholesaler that primarily offers electrical supplies, you could start selling other resources, like plumbing materials.
These are just a few examples of how you can increase your wholesale business's product lines to include new options. Ultimately, you'll need to listen to your customer base and see where you could better meet their needs. By doing this, you can develop your company and ensure that you're taking into consideration what your existing customers care about.
Increase your marketing efforts
Another way to grow your wholesale business is to invest in new small business marketing efforts. If you don't promote your business's services, you can't expect your customer base to grow. Similarly, you also aren't going to benefit if you keep trying the same types of marketing, only to end up with no results. Instead, conduct deep research about your ideal customer demographics and determine the types of marketing efforts that will attract them.
Think about these kinds of tactics when you're starting a wholesale business:
Send direct mail. Running direct mail campaigns is an affordable, yet effective way to market your business. You can send mail to prospective clients with information about your latest promotions. Make sure that your mailed campaigns are attention-grabbing and that they boast incentives that patrons will want to take advantage of.

Advertise in relevant publications. Many business owners forget about the benefits that print marketing can bring. With an increased attention put on digital marketing these days, you might not have tried purchasing ad space in local or industry-related publications, like wholesale trade magazines. These types of advertising opportunities can be a great way to reach your desired customers.

Optimize your website. Having a website for your wholesale business might seem fairly obvious, but your site could be missing out on important components. You should make sure that your business's website is user-friendly and well-branded, so that current and potential customers can use it as a resource. You should also have your business's contact information clearly listed and provide information about your products and their typical delivery schedules, so that customers can be informed of what to expect prior to placing an order.

Post sponsored media content. On social media platforms like Facebook or Twitter, you can publish sponsored social media posts. These posts can be targeted to your ideal customer's demographics, which is what makes social posts an asset to your marketing strategy. For instance, you could target a post toward individuals of a certain age and with a specific job title in your business's area, to ensure that the people seeing your post are more likely to become potential customers.
Open a new location for your business
If your wholesale business location is small, with limited room for necessary equipment or technology, or is an inconvenient area, it might be time to move to a better location. In addition, you could even open an additional location. By having a new operating location for your wholesale business, you'll likely be able to produce more wholesale goods, which can, in turn, lead to more sales.
To expand your wholesale business, you should consider hiring additional employees. This could be done by hiring more individuals for an existing team or creating a new position that will likely lead to improved productivity and increased sales. Below, we'll list a few different types of wholesale positions that you could consider hiring:
Production leads or assemblers.

Administrative assistants.
When you're hiring your first employees, you should ensure that the roles you're looking to fill are necessary and will help your business grow. For example, if you're hoping to attract more customers, expanding your sales team makes the most sense; but if you need to generate more orders faster, you might need to recruit additional truck drivers instead.
Having state-of-the-art technology to help improve business processes is imperative. Your business will benefit a ton from having up-to-date tech that can help you grow:
Inventory management. This is one of the most crucial items on the how to start a wholesale business checklist. You should always be aware of upcoming orders, available inventory and incoming supplies. To remain organized, we suggest implementing wholesale inventory management technology, which will help you track inventory in real time.

Cloud technology. It's important to be able to access data remotely, especially if you have multiple operating locations or are working from home. Due to this, your business could benefit from using cloud technology services.

Customer management software. With a reliable customer management software, you can track interactions, store client data, view lead process and set up automations, in addition to other applications. Having a customer management software program will enable you to refine your sales process and guarantee that important tasks aren't forgotten about.
Whether you're just learning how to start a wholesale business, or you're looking to expand your existing operation, these tips should help you establish a solid base for your company and give you ideas about what you can invest in to increase profits. Although it can be daunting to take these steps, you'll be thankful you did once your wholesale business is thriving.
This article originally appeared on JustBusiness, a subsidiary of NerdWallet.