Payanywhere Review: Pros, Cons, Costs and Alternatives
Payanywhere is an all-in-one payments platform that offers straightforward pricing and free next-day deposits.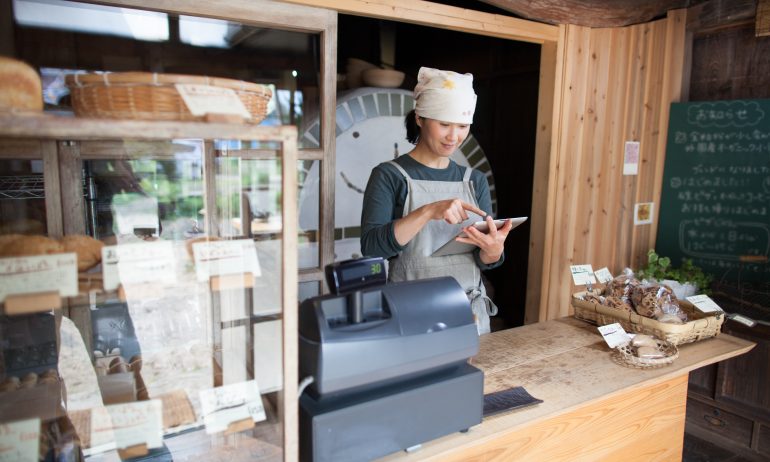 Many or all of the products featured here are from our partners who compensate us. This influences which products we write about and where and how the product appears on a page. However, this does not influence our evaluations. Our opinions are our own. Here is a list of our partners and here's how we make money.
Payanywhere is a payments platform that allows U.S. businesses to accept credit card transactions in store, online and on the go. For merchants looking for a mobile POS with straightforward pricing, it's a strong option. It stands out by offering flat-rate pricing and free next-day funding.
The platform, launched in 2011 by its parent company, North American Bancard Holdings, LLC, is designed for a broad group of merchants, including retail stores, professional services, food trucks and nonprofit organizations. In addition to payment processing, it also offers tools for invoicing, reporting, and inventory and employee management. However, it supports limited integrations and sometimes charges early termination fees.
In-house payment processing.

Free next-day funding. Option for free same-day funding in some cases.

Potential early termination fees.

Magazine subscription services.
$0 if using only 3-in-1 reader.

$14.95 per device if using Smart Keypad.

$24.95 per device if using Smart PINPad Pro or Smart Flex.

$44.95 per device if using Smart POS+.

Payanywhere will place a payment device at your business for free, or you may choose to purchase the hardware:

$59.95 for 3-in-1 reader.

$249.95 for Smart Keypad.

$449.95 plus one-time setup fee of $49.95 for Smart PINPad Pro.

$549.95 plus one-time setup fee of $49.95 for Smart Flex.

$949.95 plus one-time setup fee of $99.95 for Smart POS+.

2.69% for in-person transactions.

3.49% plus 19 cents for online, keyed and virtual terminal transactions.

Accept in-person, online, mobile and keyed payments.

Next business day funding is free for sales processed by 10 p.m. Eastern. Free same-day funding option for businesses operating past the processing deadline of 10 p.m. Eastern, such as bars.

You can terminate the user agreement at any time for any reason. However, if you agree to custom pricing and commit to a set contract term, you could be charged an early termination fee of $295 or more, depending on the details in your merchant agreement.

Live customer support is available 24/7 by phone, email and chat. A library of help articles can also be accessed by users.
How does Payanywhere work?
From the Payanywhere website, you can start your application by creating an account, selecting your plan and hardware and providing your personal, business and banking information. Within 24 hours, you can expect an email notification about your application.
You will use the same password you created for your online account to log in to the Payanywhere app and the payments hub. The payments hub is the control center for your account where you can accept payments, pull reports, view your accounts, add users and manage funding and closing settings.
Once you are approved and set up, you can accept credit cards, debit cards and contactless payments in-person and online. A virtual terminal, located in the payments hub, lets you enter payments from your computer for online orders or ones placed over the phone.
Payanywhere offers two pricing models:
Pay as you go. This includes:

2.69% of total for in-person transactions that are swiped, dipped or tapped.

3.49% plus 19 cents per transaction for virtual terminal (keyed) payments, invoicing and recurring payments.

$3.99 per month is charged as an inactivity fee when you don't process a transaction for an entire year.

Custom. You can contact the sales team and get a quote.
The Payanywhere app itself is free with no monthly fee to use the software. However, there are monthly software fees ranging from $9.95 to $39.95 to run devices. The app is compatible with most smartphones and tablets. Apple devices require iOS of 13.0 or higher and Android devices require 5.1.1 or higher.
Payanywhere will place a payment device at your business for free, or you may choose to purchase the hardware:
$59.95 for 3-in-1 reader.

$249.95 for Smart Keypad.

$449.95 plus one-time setup fee of $49.95 for Smart PINPad Pro.

$549.95 plus one-time setup fee of $49.95 for Smart Flex.

$949.95 plus one-time setup fee of $99.95 for Smart POS+.
All devices accept EMV chip card payments and magstripe payments. The more expensive devices offer built-in barcode scanning, receipt printing and customer-facing screens.
Free placement is offered for some devices, which means they can be used without cost but must be returned when you no longer use the service.
It's easy to email invoices from the Payanywhere app or payments hub with the option of creating a single invoice or setting up recurring invoices at the frequency you want. The invoices you send can be customized with your logo and contact information. In addition, the customers who you've set up with recurring invoices can enroll in autopay. The fees for invoice payments are 3.49% plus 19 cents per transaction.
You can sell, track and restock items, and upload inventory information in bulk. You also have the ability to have multiple price variants for items, sort items into categories and set discounts that can apply to a single item or the entire order.
Employee management tools
Tools to help you hire, schedule and pay your staff are included at no cost with Payanywhere. Different levels of access can be given based on your employees' roles. You can produce reports on individual or group productivity by identifying transactions completed, sales volume, tips and payment method. And your employees can rate their shift plus clock in and out using the Payanywhere app.
To help you identify trends, free reporting and analytics tools are provided so you can review sales volume, payment type and customer purchases. You can view your dispute activity, upload supporting documents and be alerted when you need to take action. Flash reports can be used to see net sales, discounts, tax, tips, voids and other details. For a quick look at your sales activity, open your Payanywhere app.
Payanywhere mentions two integrations. You can export your data to your QuickBooks Online account to sync transactions, and also integrate with the scheduling software Homebase.
Payanywhere's software development kit, or SDK, would appeal to developers who want to accept payments in their apps. The SDK lets you plug into a complete payments system where you can accept popular payment methods and transaction types. You can customize a hosted payment form, view transactions, export sales reports and manage disputes. You'll pay the standard Payanywhere rates per transaction and the download is free.
Payanywhere is a one-stop payments solution that could save merchants time and effort. It can accept in-person, online, mobile, invoiced and keyed payments. Mobile readers, mini terminals, POS systems and accessories are available through the company. In-house payment processing is provided through Electronic Payment Exchange, a fellow subsidiary of North American Bancard. It also allows for offline payments. Tools to help manage inventory and employees and generate reports and analytics are included for free with the software.
The platform offers pay-as-you-go pricing and a free reader option. You can also pause processing transactions for up to 12 months before incurring an inactivity fee of $3.99 per month, providing flexibility some merchants need when starting a business or encountering a lull in sales.
Unlike some of its competitors, Payanywhere integrates with only two apps. You can sync with accounting software giant Quickbooks Online and employee scheduling software Homebase. You will have the ability to download information from Payanywhere about transactions, customers and items as CSV files, which you can upload to different apps, but this isn't the same as integrating with an app.
Potential termination fees
If a merchant selects the pay-as-you-go option, they avoid a contract term and any potential of a termination fee. However, if a merchant opts for non pay-as-you-go or custom pricing, they could have a contract length up to three years. And depending on the contract, an early termination fee of $295 or more could apply.
Square's low start-up costs, free software and comparable payment processing fees makes it a strong competitor of Payanywhere. Like Payanywhere, your first card reader is free. Team management tools, reporting and analytics and a virtual terminal are included at no additional cost. You can pay a little more and upgrade your plan to include customer loyalty programs, email marketing and gift cards.
$0 for Square POS, Restaurant, Retail and Appointments Free plans.

$29 for Square Appointments Plus plan.

$60 for Square Restaurant and Retail Plus plans.

$69 for Square Appointments Premium plan.
2.6% plus 10 cents for in-person transactions.

2.9% plus 30 cents for online transactions.

3.5% plus 15 cents for manually keyed transactions.

3.3% plus 30 cents for invoices.
$0 for Square magstripe-only card reader ($10 for each additional reader) or if using Tap to Pay for iPhone (iPhone not included).

$49 and up for Square Reader contactless and chip card reader.

$149 for Square Stand iPad POS or Square Stand Mount (iPad not included).

$299 for Square Terminal mobile card reader with built-in printer.

$799 for Square Register two-screen system.
If you are looking for lower payment processing fees, Helcim is a good option. It has an interchange-plus pricing model that uses the payment method and card type to determine fees. You don't have to sign a contract or worry about monthly fees, and you can close your account without a penalty. Automatic volume discounts are available along with a free virtual terminal. Like Payanywhere, you have the ability to sync with QuickBooks, but Helcim offers a few other integrations including Adobe Commerce (formerly Magento), WooCommerce and Zone 4. However, customer support isn't available 24/7.
Interchange plus 0.4% and 8 cents per in-person transaction (if $50,000 or less in monthly card transactions).

Interchange plus 0.5% and 25 cents per online or manually keyed transaction (if $50,000 or less in monthly card transactions).

0.5% plus 25 cents for ACH payments.
$109 for a mobile card reader (with stand).

$349 for a standalone terminal with built-in thermal printer.
Best Payment Processing Companies
Product

Payment processing fees

Monthly fee

Learn more

Helcim

0.40% + 8¢

 

plus interchange, in-person; 0.50% + 25¢ plus interchange, online.

$0

 

Square

2.6% + 10¢

 

in-person; 2.9% + 30¢ online.

$0

 

Starts at $0/month for unlimited devices and locations.

Stripe Payments

2.7% + 5¢

 

in-person; 2.9% + 30¢ online.

$0