Racial Funding Gap Shows Black Business Owners Are Shut Out From Accessing Capital
Data breakdown on the racial funding gap: BIPOC business owners are at a disadvantage when it comes to financing.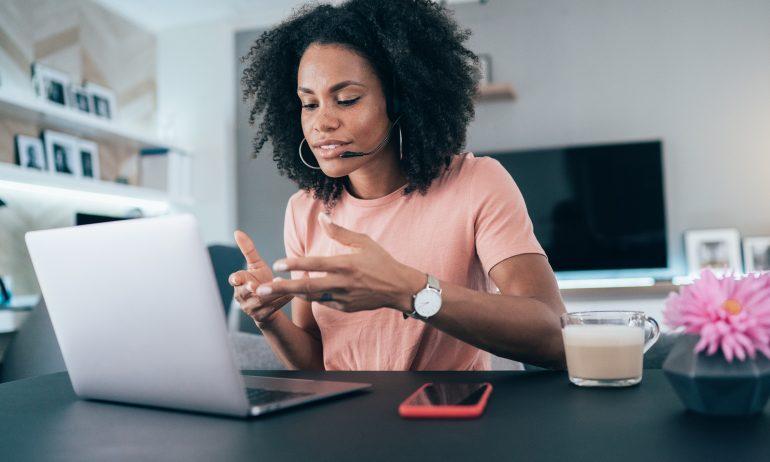 Many or all of the products featured here are from our partners who compensate us. This influences which products we write about and where and how the product appears on a page. However, this does not influence our evaluations. Our opinions are our own. Here is a list of our partners and here's how we make money.
There are great inequities in entrepreneurship — as with so many other aspects of life in the United States. One of the most obvious examples of this is that business owners of color — as well as women business owners and other overlooked entrepreneurial communities — are not able to access the same financial resources that white, male business owners obtain regularly.
In analyzing data made public by the Federal Reserve, as well as other research and analysis from experts in the field of entrepreneurial inequality, this report demonstrates that in virtually every way that it is possible to measure, there is a gap between the financing that white small-business owners receive and the financing that Black, Latinx and Asian business owners receive.
with Fundera by NerdWallet
6 key takeaways on the racial funding gap
BIPOC receive less business financing, less often and at higher rates: According to the Federal Reserve, 80.2% of white business owners receive at least a percentage of the funding they request from a bank, compared to 66.4% of BIPOC (Black, indigenous or person of color) business owners. Another study found that the average loan size for small white-owned firms was over $30,000 higher than for small BIPOC-owned firms. And according to a report from the Minority Business Development Agency, "minority firms paid 7.8% [in interest] on average for loans, compared with 6.4% for non-minority firms."
Banks subject BIPOC to more scrutiny than they do white business owners: One audit study found that in comparison to white applicants, BIPOC applying for bank loans were more often asked to show business financial statements, income tax returns, bank account information, personal financial asset details,and credit card debt. They were also offered less frequent assistance in filling out loan applications.
Online lenders approve loans to white business owners more often: Online lenders typically have less stringent qualifications for loan approval than banks, and their processes should remove the possibility of in-person bias. But while 82.1% of white business owners are approved by online lenders, both Black and Hispanic business owners still trail in approval rates, coming in at 67.2% and 71.5%, respectively.
Black-owned startups receive a small fraction of the outside equity white startups receive: Research shows that white-owned startups have an average of $18,500 in outside equity at the founding, compared to just $500 for Black-owned startups.
BIPOC business owners are discouraged from applying for loans: In multiple studies, BIPOC business owners were found to be "discouraged" from even applying for loans, meaning they did not apply due to an expectation of rejection. Even BIPOC business owners that were equally creditworthy to white business owners applied less frequently than their white counterparts.
Racial disparities remain even when controlling for creditworthiness: Research found that a gap in interest rates between white and Black business owners remained, even when controlling for factors such as creditworthiness, size and age. These results indicate that discrimination, not differences in credit score or location, is the source of this racial disparity.
with Fundera by NerdWallet
Breaking down the data on disparity
Data collected on this topic through the years tells a striking and consistent story: BIPOC business owners, particularly Black business owners, are at a disadvantage when it comes to financing.
BIPOC receive less business financing, less often and at higher rates
According to data released by the Federal Reserve in 2020, the percentage of white business owners that receive at least a percentage of the funding they requested from a bank is 80.2%. In contrast, only 60.9% of Black business owners say the same, along with 69.5% for Hispanic business owners and 77.1% for Asian business owners.
The gap was even wider when it came to whether a business owner received the full amount of financing they requested from banks. Just over 54% of white business owners received the full amount sought, compared to 33.8% for Asian business owners, 32.1% for Hispanic business owners and 26.0% for Black business owners.
Online lenders — which have less stringent underwriting processes and faster turnaround times than traditional banks — are supposed to make it easier for small businesses to obtain financing. Yet while 82.1% of white business owners were approved by online lenders (compared to 66.5% at banks), both Hispanic (71.5%) and Black (67.2%) business owners still trailed in approval rates.
Even when BIPOC business owners are able to obtain financing through a term loan, they receive less money and are asked to pay a higher price for it. In the paper "Impacts of Owner Race and Geographic Context on Access to Small-Business Financing," researchers note that, "Over the time frame covered by 2003 SSBF data, the average loan size was $89,833 (white-owned firms) and $53,843 for minorities among firms with annual sales under $500,000. Corresponding loan mean interest rates were 6.9% and 9.1%."
The Minority Business Development Agency also found a smaller but still statistically significant gap, noting in a report that "minority firms paid 7.8% [in interest] on average for loans, compared with 6.4% for non-minority firms."
The gap in funding between different groups in the U.S. isn't just a product of loan denials. There is another force weighing down on the experience of finding financing for BIPOC business owners.
BIPOC are discouraged from applying for financing
There are two types of business owners: those with financing needs and those who don't have financing needs.
Among business owners with financing needs, there are those who apply for funding and subsequently may not receive the full amount they requested -- or any amount at all. Then there are those business owners who do not apply for financing in the first place, either because they are debt-averse, discouraged from applying or for other reasons.
Let's delve into the concept of being discouraged from applying because it comes up again and again in reports on the unmet financing needs of BIPOC business owners, particularly Black business owners.
According to the Federal Reserve, a whopping 37.9% of Black business owners said that their primary reason for not applying for a loan was that they were "discouraged," meaning they believed they would be turned down for a loan even if they applied. Compare that to just 12.7% of white business owners who felt the same.
Why would BIPOC business owners feel discouraged from applying for a loan? The answer, in part, may come from research that demonstrates just how little support BIPOC business owners receive from lenders when they seek financing.
According to the Federal Reserve, the process of applying for funding, whether from a large or small bank, was more likely to be a challenge for BIPOC business owners. When asked if they faced any challenges applying for funding, 53.5% of white business owners who went with a large bank had no challenges, and 63% of white business owners who went with a small bank said the same. On the other hand, only 30.3% of Black business owners faced "no challenges" at a large bank, and just 34% said the same at small banks.
The responses on challenges faced at large and small banks were varied, but taking small banks, for example, Black business owners were more likely than white business owners to say that they faced a difficult application process (33.3% vs. 17.1%), dealt with a lack of transparency (25.2% vs. 6%) or were given unfavorable repayment terms (15.8% vs. 8.5%).
More challenges are laid out in the paper "Impacts of Owner Race and Geographic Context on Access to Small-Business Financing." The authors of the paper describe an audit study conducted in 2014 in which "minority" and white testers, seeking bank loans, were matched on all characteristics except for race. The researchers found that Black and Hispanic applicants compared to white applicants, were more often asked to show business financial statements (83% vs. 50%), income tax returns (86% vs. 52%), bank account information (25% vs. 0%), personal financial asset details (60% vs. 22%) and credit card debt (42% vs. 13%).
In addition, Blacks and Hispanics were offered less frequent assistance in completing loan applications than whites (18% vs. 59%), and loan officers gave out their business cards to them less often (43% vs. 82%).
More recent research on a similar topic echoed these findings. A study by the National Community Reinvestment Coalition found that bank representatives at 32 bank branches in Washington, D.C. treated white and Black (as well as male and female) business owners who came in seeking a Paycheck Protection Program loan differently. The study recorded differences in levels of encouragement, a difference in the products offered and a difference in the amount of information provided. White males received the most information about the program, on average, while Black women received by far the least.
What makes these findings all the more galling is that the PPP does not have a strict underwriting process. For the most part, the U.S. government made it easy for businesses that were in existence before February 15, 2020, and could demonstrate their payroll, to qualify. There was little reason not to encourage all business owners to apply for the program if they met the requirements.
Research like this demonstrates that BIPOC-owned businesses are consistently given less help, and subjected to more intense scrutiny, in comparison to white business owners.
Startups run by BIPOC start with less and never recover
BIPOC-owned businesses on Main Street are one thing. Do BlPOC-owned startups — which have different short-term revenue and long-term growth goals than a traditional small business — experience similar obstacles to obtaining financing?
Part of what explains this enormous gap is the amount of personal equity each group generally brings to the table: "In the year the business is founded, black (sic) owners contribute around $19,500 of personal equity, compared with around $34,500 for white business owners." Of course, this is a reflection of the large differences in underlying average net worth between the two groups, as the median net worth of white households is nearly 10x that of Black households.
Other factors are at play, however, including:
At founding, the average Black-owned business has around $500 of outside equity (such as venture capital and angel financing); the average white-owned business has more than $18,500 from outside equity.

In the first year, just 1% of Black business owners obtain business loans, compared with 7% for white-owned firms.

In the first year, 15% of Black-owned businesses use business credit cards, while 30% of white-owned businesses do.

In the first year, just 14% of Black-owned businesses rely on personal loans for their business, compared to 18% of white-owned businesses.
In fact, the only area in which Black business owners outperform white business owners when it comes to obtaining capital is in relying on family loans: 14% of Black business owners use a family loan in the founding year, as opposed to just 9% of white business owners. Black business owners continue to rely on these types of loans to a greater extent than white business owners in three years following the business's founding.
Similar to our other observed data, this report notes that Black business owners "are about three times more likely to not apply for loans because of fear of rejection than white business owners."
This report also makes the case that credit scores play an enormous role in the ability of businesses to find outside debt. This is an established fact of small-business financing: Lenders will review your credit scores, and many have informal credit score minimums they'll look for in an applicant. Also, the higher your score — a reflection of how creditworthy you and your business are — the better terms a bank or online lender may offer you when extending a loan approval. BIPOC have, on average, lower credit scores than white people.
And if credit scores explain "the largest share of the difference," doesn't that mean that, if BIPOC improves their credit scores, they'll be more likely to be approved for business financing, not to mention mortgages and other avenues of wealth creation?
Improving your individual credit score is an important step that every business owner or prospective entrepreneur should take. But not only is the credit score gap a result of a vicious cycle of wealth inequality that has existed for decades — making it, to put it lightly, very difficult to course-correct in the matter of a single day, year or even generation — but it also doesn't tell the whole story of why BIPOC receive less and more expensive business financing than their white counterparts.
Discrimination exists even when controlling for risk factors
Throughout much of the research we reviewed, a common theme emerged: On the surface, businesses owned by BIPOC and white people were not equally creditworthy.
Does that mean that if BIPOC-owned businesses make more of an effort to improve their credit scores prior to applying for a loan, the funding gap will close?
For one thing, there are many factors that contribute to BIPOC having lower average credit scores than white people, including centuries of unequal treatment and practices that have made it difficult for these communities to build and pass on wealth. There is no simple solution to this issue.
Second, and perhaps most importantly: Research finds that even when controlling for factors such as creditworthiness, gaps in approval rates and interest rates remain. That means that a Black business owner and a white business owner with similar credit scores, business age, business size and other traits still do not have the same access to business financing.
For example, "Discrimination in the Small Business Credit Market" also found that a gap in interest rates between white and Black business owners remained, even when controlling for factors such as creditworthiness, size and age. Thus, the paper concluded, "These results indicate that the racial disparity in credit availability is likely caused by discrimination."
In "Impacts of Owner Race and Geographic Context on Access to Small-Business Financing," researchers noted that gaps in the amount of financing and interest loans levied remained even when white and Black or Latinx business owners had "identical risk-related traits." The paper later noted:
"Regarding widespread unmet small-business credit needs, low firm profitability, credit scores and owner wealth levels are important causal factors, but owner race stands out as an additional independent factor limiting MBE access to bank loans."
Additionally, even when BIPOC business owners are on equal ground with white business owners in terms of creditworthiness, they submit fewer loan applications. In "Impacts of Owner Race and Geographic Context on Access to Small-Business Financing," researchers found that Black and Latinx-owned firms are less likely to submit loan applications, compared with equally creditworthy white-owned firms — recognizing that banks view them differently due to their race.
As we can see, many of the factors that appear to "explain" the racial funding gap may, in fact, be an easy way for actors in this space to pass the buck. If BIPOC business owners are denied credit, or charged more for it, more often than white business owners with similar business backgrounds, credit scores and other deciding factors like business location, what else could be the cause of this gap?
Individual biases, insufficient training and the use of factors and metrics that disproportionately disqualify BIPOC business owners from obtaining the funding they need all play their part here. Although most research shies away from explicitly pointing the finger at banks for being discriminatory in their practices, the results speak for themselves.
What the racial funding gap means for BIPOC-owned small businesses
Financing is everything to a small business. As it stands now, most businesses need thousands of dollars just to get off the ground, and many business owners rely on personal funds or gifts from family and friends to raise that capital. In some cases, they are able to obtain a startup business loan. If they are able to scrape by on savings and thin profit margins in their first years, they may qualify for an SBA or a bank loan that can help catapult them to even greater success.
But as these findings show, BIPOC business owners are at a distinct disadvantage when it comes to financing. And while all small businesses struggle with maintaining positive cash flow and keeping money on hand, undercapitalization for BIPOC-owned firms — particularly Black-owned businesses — majorly impacts their bottom line and leads to higher closure rates.
Not having enough financing is problematic even in the best of times, but when the economy goes through any sort of dip or dive, those who are undercapitalized feel it most acutely. The Federal Reserve reviewed the financial health of small businesses around the country in 2019 and found that 58% of Black business owners said their business's financial health was either "at risk" or "distressed," compared to just 27% of white business owners. While 37% of white business owners said their business was "healthy," no other ethnic group broke 30% with the same response.
It's no wonder, then, that BIPOC-owned businesses were disproportionately affected by the coronavirus pandemic in 2020. While many factors contributed to this outcome, one of the most-cited issues was the fact that BIPOC business owners are underbanked and lack connections with the institutions that processed the most Paycheck Protection Program loans. It's telling that most of the discussion around tweaks to the PPP and for subsequent financial aid are focused on how to get more capital to BIPOC businesses.
Whether in times of plenty or crisis, a lack of access to financing at every stage puts BIPOC businesses at greater risk of failure — an outcome that has a ripple effect on employment, wealth generation and the welfare of all communities.
What can we do to close the racial funding gap?
Unfortunately, the disparity that BIPOC business owners face here is no doubt familiar to them.
In virtually every facet of modern life, many BIPOC business owners face barriers, discrimination and outright racism that impact the outcomes of their lives. These facets are not isolated — they are interwoven and reliant on each other, much as all systems we engage in on a daily basis are part of a larger ecosystem. It is impossible to separate the disparity in small-business funding from other inequalities in personal banking, housing, education or criminal justice. Dismantling systemic racism is bigger than any one solution to any one problem.
That being said, through our research and in talking with organizations such as Community Reinvestment Fund, USA — a national nonprofit that strengthens communities through innovative financial solutions — we have identified some steps that lenders, corporations and business owners can take to close this gap, in some small way. Assuming that a reallocation of rights, resources and representation is beyond our individual grasp, what else can be done?
Enforce the Equal Credit Opportunity Act
The ECOA prohibits creditors from discriminating against credit applicants on the basis of many factors, including race. Stricter enforcement of the Act by the Justice Department by filing lawsuits against lenders that have a pattern or practice of discrimination is one way to enforce the act. As suggested by "Impacts," the kind of audit study where BIPOC and white business owners apply for a loan at the same institution and measuring the outcome — not just in application approval but in behavior by the loan officers — could help establish proof of these patterns.
By demonstrating a willingness to prosecute violators of the ECOA, the federal government would motivate banks and other lenders to subject their BIPOC applicants to the same degree of scrutiny — or offer the same amount of aid — as they do white applicants.
Consider soft information and character-based lending
Smaller banks and community lenders, such as CDFIs, tend to consider "soft information," such as character and context, alongside "hard information." Hard information includes things like credit score or time in business — they are quantitative stats, rather than qualitative. A strong and singular focus on hard information tends to disqualify BIPOC business owners with lower credit scores while using soft information in conjunction with traditional factors gives all business owners a chance to demonstrate why they're worth investing in.
Lenders often must refer to hard information for regulatory reasons. Large lenders, such as national banks, may use hard information exclusively to review a loan application, as it's faster and easier than examining the larger context. Lenders such as Community Reinvestment Fund, USA (CRF) take a different approach.
"Most business lending is credit-based, the five Cs," says Keith Rachey of Community Reinvestment Fund. "We're really looking at the propensity to repay from a character basis. And so that means understanding a little bit more about their personal backgrounds, their network and digging deeper into the future business plan. That's really building a relationship with small-business loan applicants to understand that they have the support system in place and the entrepreneurial drive to actually make the business successful. And we have a lot of confidence in that."
In this way, though CRF follows all necessary program guidelines when funding SBA 7(a) loans and abides by a credit underwriting and lending policy, they are more flexible when it comes to listening to a borrower's story. This other information may outweigh a lower credit score and personal financial hurdles.
Such character-based lending could be even more important in an economy that has been shaped and impacted by the coronavirus pandemic, said Rachey. People will be challenged, their credit scores might have taken a hit and lenders will have to find different ways to approve applicants rather than just reviewing quantitative information. "I'm hopeful that's the case," Rachey said.
The challenge will be to make this work at scale. It's much easier for most lenders to simply accept or reject an applicant based on hard numbers, rather than getting to know and understand the business. In the meantime, BIPOC applicants seeking greater access to funding may be best served by working with a CDFI like Community Reinvestment Fund, USA.
Commit to diversity and bias training
A lack of diversity and unconscious biases at financial companies contributes to the racial funding gap. Even the algorithms that many lenders use to determine the creditworthiness of an applicant can be biased, due to the use of data points that favor certain groups over others.
One of the best ways to reduce these biases is to hire a diverse workforce which will, in turn, diversify the perspectives that make their way into creating machine-learning systems, or that meet with potential loan applicants in person.
Committing to bias training for all employees is another important step for lending institutions. As noted in American Banker: "Many AI developers are white, male and with similar backgrounds in terms of education and experience. There are countless examples of how this causes problems, from facial recognition that doesn't recognize people with darker skin tones, to voice recognition that doesn't hear women… AI engineers must also understand how each data point used for machine learning amounts to a lever in their companies' compliant fair-banking apparatus. AI teams must also be trained on anti-discrimination laws and implicit bias, emphasizing that negative impacts on protected classes of people can often be just as costly as ill-intended acts."
Lenders must actively work to remove biases from their workflows in order to close this funding gap.
Move money to banks that serve BIPOC communities
Corporations and other big businesses can make an impact in this space as well by following the lead of companies like Netflix, which recently announced plans to move some of their cash holdings to financial institutions and organizations that directly support Black communities.
The capacity of lenders who focus on BIPOC communities is limited by the literal amount of capital they have on hand to lend. As Netflix puts it, "[I]f every company in the S&P 500 allocated a modest amount of their cash holdings into efforts like the Black Economic Development Initiative, each one percent of their cash would represent $20-$30 billion of new capital." This would greatly expand lenders' ability to approve loans to new and growing small businesses led by BIPOC.
Encourage BIPOC to apply for financing more often
Finally, it's worth reiterating that some of the unmet financial needs of BIPOC stem from the discouragement they feel about their chances of success. Organizations that work with BIPOC business owners must encourage them to actually apply for bank loans, SBA loans and other forms of financing that make economic sense for them. As "Impacts" puts it: "[S]eeking loans equal in dollar amount to those sought by equally creditworthy White-owned firms is a sound business strategy."
In many ways, lending institutions fail BIPOC business owners. They don't seek to help them; they rely on practices and algorithms that deny them; they may offer them loans at prices that are purposely higher than what they would offer to white business owners because it is more profitable to do so. The opportunity to obtain a needed loan isn't always available to BIPOC due to forces outside their control — but when it's possible to claim one, they should take it. The more often a BIPOC-led business receives a loan and succeeds thanks in part to that capital, the more often lenders will, hopefully, extend offers to their peers in the future.
There are no easy solutions to a problem like this. The factors that created the racial wealth gap are long-standing and deeply ingrained in the biases, conscious and unconscious, of many. The first step is to address and acknowledge the disparity. The next steps will be different for each of us, but they must all point toward a common goal: Leveling the entrepreneurial playing field and giving every business owner the opportunity to succeed, no matter who they are, where they live or what they hope to achieve.
This article originally appeared on Fundera, a subsidiary of NerdWallet.