17 Restaurant Ideas for 2022
Explore restaurant ideas—from different types of restaurants to different features that help your eatery stand out.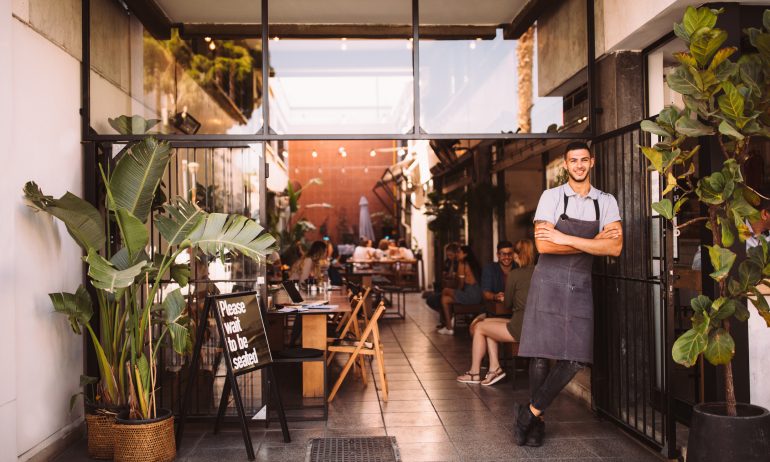 Many or all of the products featured here are from our partners who compensate us. This may influence which products we write about and where and how the product appears on a page. However, this does not influence our evaluations. Our opinions are our own. Here is a list of our partners and here's how we make money.
While starting a business in any industry can be a leap of faith to a certain extent, opening a restaurant is seen as particularly risky. And while restaurants have a higher success rate than is commonly thought, about 17% of all restaurants fail in the first year.
To keep your new restaurant from being one of them, it helps to have a great restaurant idea that will attract customers and keep them coming back. There are endless restaurant ideas out there, but choosing the right one makes all the difference.
In this guide, we'll explore several unique restaurant ideas—from types of restaurants you can open to features you can offer to help your eatery stand out.
Unique restaurant ideas to try
If you're looking for unique restaurant ideas, there are a few types of restaurant dining experiences for you to consider. To find one that will resonate most with your target audience, you should spend time researching the market to determine what kinds of restaurants already exist and if there's a need for a specific type of restaurant that you could fill. The following restaurant concepts ideas can help.
Food trucks went through a transformation in the last decade to reach a new echelon in the food services industry. While they initially offered customers a quick meal on the go, they've since evolved into gourmet destinations that people travel out of their way for.
You can set up your food truck outside of a busy office park to cash in on the lunch rush, or you can cater for parties, weddings, and other special events. The best part of starting a food truck business is that you can take your business anywhere, and you're not paying expensive rent for a brick-and-mortar location. Plus, a food truck can be a standalone business, or if you're already running a restaurant, you can add a food truck to your offerings to expose your food to a larger customer base—like the famous Johnny Rockets.
A classic but beloved restaurant idea is opening a cafe. A pro of this type of restaurant is you don't have to design an extensive menu. Instead, think baked goods, sandwiches, salads, coffees, teas, and smoothies.
With more and more people working from home, a cafe where they can go for a quick bite to eat and also get some work done or have a casual business meeting can be the perfect solution. If this sounds like the type of restaurant you'd like to start, check out our guide on everything you need to know to open a cafe.
A pop-up restaurant is the next business idea on our list because it's a way to create hype and get people interested in your business. Pop-up restaurants aren't open for long, and the fact that not everyone will be able to get a reservation can help garner interest—as well as gauge how successful a permanent location may be.
Another great thing about a pop-up restaurant is that you can change up the location or theme and use it to your restaurant's advantage—that's what Lucali did. This New York-based neighborhood pizza eatery opened a two-day pop-up shop in Los Angeles, giving California a taste of their famous thin-crust style pizzas.
Anything that helps your pop-up stand out can make it the perfect Instagram spot or a fun experience for diners. Consider opening a pop-up around a holiday or season, as well, to pique people's interest even more.
If you've ever gone out to dinner with a large group, you know it can be difficult, especially if your group is full of adventurous eaters who want to try different dishes. That's where family-style dining comes in—it allows customers to order large dishes for the table to be shared.
When it comes to unique restaurant ideas, this is a relatively easy one to implement—you'll find that many Asian-style restaurants offer this dining style. The key to this type of restaurant is designing dishes that complement one another since your diners will be eating several throughout their meal.
The key to a successful restaurant is offering a unique experience that people can't get anywhere else. While it won't appeal to everyone, creating a restaurant that specializes in a particular item or ingredient can build a cult following of devoted customers. An example of this is The Meatball Shop of New York City; they specialize in meatballs of all kinds and have become known for them over the years.
While this restaurant idea won't require an extensive menu—you may only offer one item—what you do offer is one of the best in its class. So if you want to open a restaurant that only serves burgers, you need to make sure every ingredient, from the patty to the sauce to the bun, is perfect.
People love the chance to learn something new, especially if there's food involved. Why not teach them to cook something new? Not only will it give them a lifelong skill, but they'll also have a fun story to tell. If your customers come in and love your food, an excellent way to get them to come back is by offering cooking classes so they can learn what goes into their favorite dishes.
From wine and cheese pairing to sushi, pizza, or cupcake making, you can offer a cooking class focused on anything your restaurant specializes in. This is an excellent activity for corporate events, birthday parties, date nights, and more.
7. Serve farm-to-table food
A great way to reduce your carbon footprint and support other local businesses is to work with local farmers by launching a farm-to-table restaurant. This is a trend that's caught on in recent years for its sustainability and support for other local businesses. Being a farm-to-table restaurant can also push you to come up with new, innovative menus that are seasonal and festive.
The Kaimana Farm Cafe in Honolulu, Hawaii, is famous for locally sourcing their food. Their delicious salads, smoothies, and bento boxes keep local residents and hungry tourists coming back for more.
Consider that those who are concerned with being localvores, or people who eat food from local sources, will be drawn to your restaurant, as well as people who simply enjoy knowing where their food is coming from.
An interactive restaurant brings customers into the experience of their meals and makes for a more memorable transaction. Whether you have an open kitchen where customers can watch your chefs hard at work or a more hands-on setup, such as Korean barbecue restaurants where customers grill their own food, there are several ways you can make your restaurant more interactive.
Making the dining experience immersive or entertaining turns the meal into an experience rather than a means to an end. It is sure to attract customers who want a unique dining atmosphere.
People love to visit restaurants with fun themes that, again, make dining an experience rather than simply just a meal. You can play off the location, different time periods, television shows, genres of music, cuisine, or just something that lends itself to great decors, like a tiki theme.
Besides decoration, you should incorporate your theme into every aspect of your restaurant, from the menu to the servers' outfits, and more. In New York City's Times Square, Ellen's Stardust Diner provides a unique experience where the servers put on a show for diners, and the menu features items like "Blue Suede" and "Mama Mia Meatloaf."
Social media and online reviews play a massive role in the success of restaurants these days, so making your restaurant so picturesque that people can't help but share it online is another restaurant idea to consider. Customers will already be blown away by the food at your restaurant, but making the setting beautiful will heighten the experience as well and help you with your social media marketing efforts. Tons of plants, unique lighting installations, bold color choices, striking artwork, and more all contribute to a dining experience people won't be able to help but share.
11. Partner with a brewery or winery
If you have a local brewery or winery near your restaurant, you can carry their products to help set your restaurant apart from others in the area. Similar to being a farm-to-table restaurant, selling local wines and beers will get the attention of people who appreciate supporting their local businesses.
It can also help reduce your costs because your products are coming from nearby and the companies you partner with may be more willing to offer a discount for another local business. This is an excellent opportunity for you to start a small business partnership and create a reciprocal relationship.
What if there is a way you could sell delicious beverages and pastries and make adorable kittens the spotlight of your restaurant? Good news: There's a way to do it. Across the United States, more people are opening their very own cat cafes.
Just take a look at Mewsic Kitty Cafe in Nashville, Tennessee. Their cafe and bakery menus feature your staple beverages and pastries. Yet, they also serve as an adoption center where customers can bring home a delicious cup of coffee—and a new four-pawed furry friend.
There's hardly a better pairing than dinner and entertainment. The rise of dinner entertainment is elevating the dining experience. Not only do you get to enjoy a delicious meal, but you can also watch a story unfold live, right before you.
That's what Medieval Times offers their patrons. Customers get to enjoy a medieval-style dinner, including bread, tomato soup, and roasted chicken. They also get to raise their chalices for their favorite hero in a live jousting tournament.
Everybody has their unique tastes and preferences. Why can't your eating experience reflect that? More culinary entrepreneurs are hopping on the build-your-own meal train, and customers love it.
Popular restaurant franchises, like Pieology, Chipotle, and Cava let customers choose exactly what goes on their pizza, burrito, or pita. Typically, customers move down an assembly line, choosing from a selection of vegetables, meats, cheeses, and more. Other dine-in restaurants seat their customers beforehand and provide printed menus, where customers can check off the items they want in their meal.
15. Become a culinary incubator
If you've heard the terms shared-use kitchens or community kitchens, you've likely stumbled across a culinary incubator. According to EConsult Solutions, Inc., culinary Incubators have increased by 50% to over 200 facilities between 2013 and 2016.
Food entrepreneurs and culinary startups often rent shared-use kitchens by the hour to test their business ideas and food menus. As the owner of a community-owned kitchen, you can feature different chefs, exposing your customers to a vast spectrum of flavors and culinary techniques.
Green is in and it's a unique restaurant idea more businesses are executing. The number of vegetarian and vegan restaurants has exploded in recent years. As more people are turning Meatless Mondays into a daily lifestyle, vegans and vegetarians are seeking restaurants that serve their dietary preferences.
In Washington, DC, Elizabeth's Gone Raw is serving this niche. This restaurant serves an entirely vegan menu, but it's not your basic salad and vinaigrette type of place. At $80 to $90 per person, this plant-based restaurant delivers a full six-course dining experience. Serving vegan-friendly entrees like chilled smoked eggplant soup, and cured Fagioli del papa, they are proving that vegan can be delicious and fancy.
If you're seeking a restaurant idea with a more intimate and wholesome atmosphere, consider opening a communal-style restaurant. Communal-style restaurants often feature long tables where different groups are seated together. This opens new opportunities for customers to connect, bond, and have a great time.
Charlotte, North Carolina, is home to Osteria LuCa, an Italian-style eatery that encourages this communal-based atmosphere. They seat their customers at their long marble bars and large communal tables. Groups from different backgrounds get to converse over their artisan pizzas, housemade pasta, and Italian wines.
Whether you're thinking of starting a new restaurant or you want to revamp your existing restaurant, you can implement any of the unique restaurant ideas above to create a unique dining experience.
Being willing to adapt to changing trends is one of the critical things you can do as a business owner to attract new customers and keep old ones excited and interested in your restaurant. As social media and the internet have evolved, they've also changed the dining experience. Picture-perfect meals ready for Instagram and beautiful restaurant interiors can be some of the best free advertising for your restaurant.
Don't forget to think about other experiences or meals you've enjoyed and analyze which restaurant concepts ideas work well. This concept can serve as inspiration for your restaurant as well.
This article originally appeared on JustBusiness, a subsidiary of NerdWallet.