Square for Retail Point-of-Sale Review: POS Pricing, Features, Alternatives
A close look at Square for Retail, what it can provide your retail business and alternatives for you to consider.
Many or all of the products featured here are from our partners who compensate us. This influences which products we write about and where and how the product appears on a page. However, this does not influence our evaluations. Our opinions are our own. Here is a list of our partners and here's how we make money.
Square for Retail is Square's standard point-of-sale (POS) system with retail-specific features such as the ability to add inventory in bulk. It runs on Android and iOS mobile devices and tablets, and on hardware by Square. There's a free version; Square Plus costs $60 per month per location.
Square's straightforward and transparent pricing for software and payment processing services and its easy-to-use user interface are among the reasons it's NerdWallet's pick for best POS system. Square is a good option for many small- and medium-size businesses; some large businesses use it, too.
Find the right payment provider to meet your unique business needs.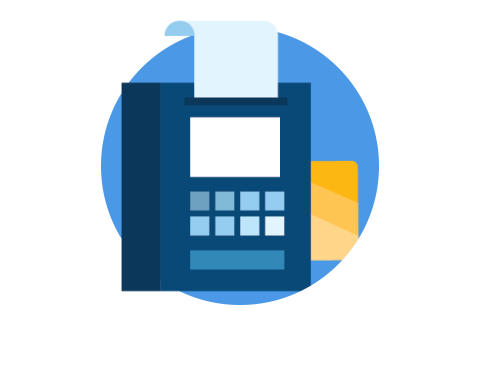 Software cost: Free version available. Square Plus costs $60 per month per location.
Hardware cost: You can use your own Android or iOS device. Square also sells its own hardware, ranging from a $299 handheld device to a fully featured terminal for $799.
2.6% plus 10 cents for in-person transactions.

2.9% plus 30 cents for online transactions.

3.5% plus 15 cents for manually keyed transactions.

3.3% plus 30 cents for invoices.
Payment methods supported: All major U.S. card brands, Google Pay, Apple Pay, ACH transfer.
Contract length: No contract. Cancel at any time without penalty.
How do you use Square in retail?
What you'll need to get started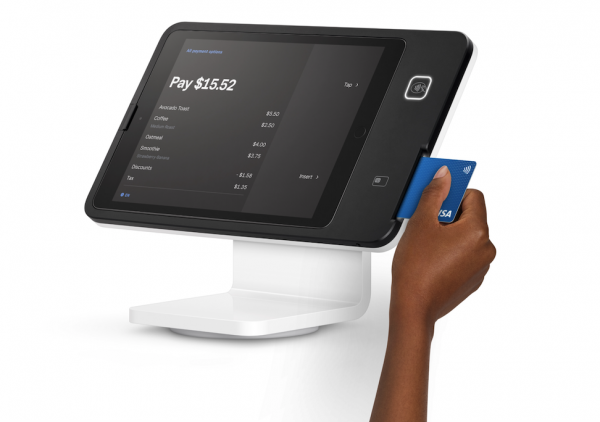 Square apps run on iOS and Android phones and tablets.

The basic POS for retail app is free to use, and you can start taking payments in person by pairing a card reader with a device you already own.

You can access management features on your Square Dashboard online account from a computer.

Square offers a premium version of POS for retail that has additional features, particularly for inventory management and reporting. Square also sells its own mobile and desktop hardware with features your devices don't have, like an internal printer and a customer-facing screen.

On the software side, you can integrate any of Square's add-on services, like its customer loyalty management program, for a monthly fee.
Making sales with Square for Retail
To get started, build your inventory on your Square dashboard by adding products and product details.

You can sell with Square at a physical location, multiple locations or online using that single central inventory.

If you don't already have a website, you can create one for free with any subscription level.

After you've linked a bank account, you can start selling.
When you're ready to make an in-store sale, you can find items in a favorites menu, navigate merchandise categories, search by name or scan a barcode. Square performs routine tasks, like calculating taxes and deducting sold items from your inventory.
As you add inventory and make sales, Square creates reports you can use to better understand your business. For example, you can:
Keep tabs on the cost of goods sold and your profit margin.

See how products from particular vendors are performing.

Receive an alert when stock runs low.
How much does Square for Retail cost and what does Square for Retail include?
The cost to use Square is determined by your hardware needs, the POS subscription level you choose and payment processing fees.
You can use your own iOS or Android device.

You'll need a card reader: one swipe-only reader for free; a $49 wireless reader that allows customers to tap or dip their chip card; or a $149 iPad stand that accepts swiped, tapped and dipped card payments. Square also offers Tap to Pay on iPhone, which lets merchants accept card payments using only a regular iPhone with the Square POS app. Customers hold their cards or their own iPhone wallets near the merchant's phone to pay.

You can also buy a Square-built handheld device for $299 that includes a printer and card reader or a touchscreen terminal for $799 that includes a customer-facing screen.

You might also need peripherals, like a cash drawer, barcode scanner, printer or scale. Square sells a variety of these and also offers kits of popular hardware configurations; these kits are cheaper than buying each item individually.
Square offers two versions of its retail POS software: a free version and a premium version, called Plus, for $60 per month per location. Plus-only features include:
The ability to forecast when you'll need to reorder items.

Adding of inventory in bulk.

Access to cost-of-goods-sold and profit-margin reports.
You can add other Square services to your POS subscription at any point. They include:
Customer loyalty program management, starting at $45 per month.

Marketing services, starting at $15 per month.

Payroll services, starting at $35 per month plus $5 per person.

Advanced features for your e-commerce site, starting at $12 per month.
Square processes every card transaction that's run through its POS system. For in-person sales, the fee is:
2.6% plus 10 cents per transaction if you use the free version.

2.5% plus 10 cents per transaction if you use Square Plus.
The fee for online transactions is 2.9% plus 30 cents per transaction on both versions.
Benefits of Square for Retail
Easy-to-understand pricing. Signing up with Square is fairly simple. There are no contracts and the pricing tables are easy to understand (no opaque promises to provide pricing details only if you speak to a sales representative).

Deep lineup of POS features and related services. The wide range of services that build on Square's POS system reduces the need to find, learn and navigate multiple providers. For example, the POS system includes features for inventory management and shipping, and add-on services such as website hosting and payroll services integrate with data directly from the Square dashboard.
Drawbacks of Square for Retail
Doesn't work with every business type. Square does not accept cross-border payments or work with certain types of businesses, including direct marketing and firearms

Larger retailers might outgrow Square. Square's ability to do a lot on one platform is a selling point, but larger businesses might be able to manage more specialized services for different areas of business operations. For instance, dedicated inventory software might provide a deeper set of features. Businesses with high sales volumes are eligible for custom pricing, but a processor that offers interchange plus pricing can be more cost-effective, especially at scale.
Alternatives to Square for Retail
Lightspeed: For more complex needs
2.6% plus 10 cents per in-person transaction.

2.6% plus 30 cents for manually keyed transactions.
Why we like it: Lightspeed stands out for the depth of features on its retail POS system. If you like wringing insights from data your store generates, you'll benefit from the dozens of reports Lightspeed creates. Larger retailers that juggle many vendors could benefit from Lightspeed's Supplier Market, which lets you browse vendor catalogues, order and track shipments all within Lightspeed's system.
Shopify: If you're online first, in-store second
2.4%, 2.6% or 2.9% plus 30 cents for online payments for Advanced, Shopify or Basic plan, respectively.

2.4%, 2.5% or 2.7% for in-person payments for Advanced, Shopify or Basic plan, respectively.
Why we like it: There are stores that have a website, and there are e-commerce sites that have a storefront. If you're the latter, opting for a retail POS system that was initially built for websites could make sense. Shopify is NerdWallet's pick for top e-commerce POS because of the online experience it provides. For example, if you plan to sell on multiple channels, from Walmart and Amazon to Facebook and Etsy, Shopify lets you manage it all from a single location.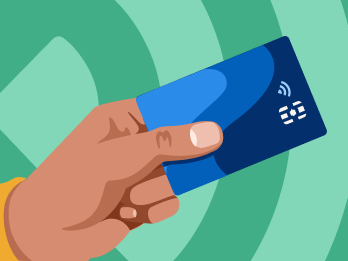 Accept payments, avoid surprises
Answer a few questions to match your business with our selected payment partners.