TouchBistro POS Review: Pricing, Features, Top Alternatives
TouchBistro stands out for its flexibility and scalability, but a contract commitment is required.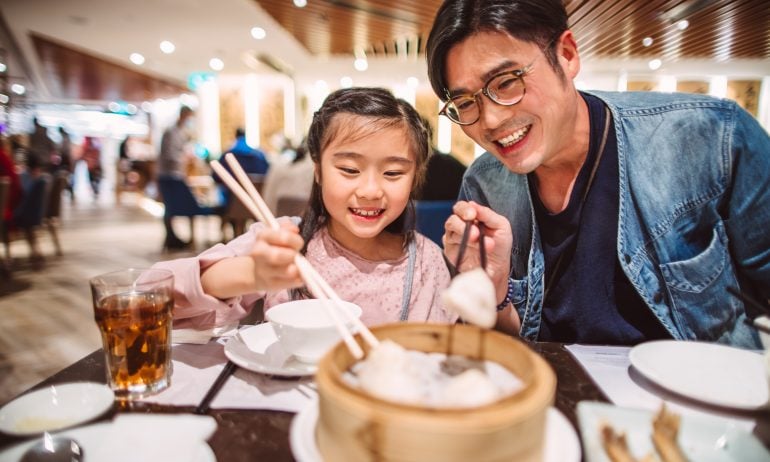 Many or all of the products featured here are from our partners who compensate us. This may influence which products we write about and where and how the product appears on a page. However, this does not influence our evaluations. Our opinions are our own. Here is a list of our partners and here's how we make money.
TouchBistro is a point-of-sale, or POS, system designed specifically to help restaurants manage tables, menus, inventory and staff. Features such as online ordering, gift cards and customer loyalty programs are also available at an additional cost. For those looking for functionality and scalability — TouchBistro lives up to the hype.
Well-known in the restaurant industry since its launch in 2010, this restaurant management system is used in more than 29,000 establishments and processes over $13 billion in payments annually. However, unlike some competitors, TouchBistro doesn't offer a free trial period or month-to-month subscriptions.
Is TouchBistro the right fit for my business?
Tailored for the restaurant industry.

Loaded with helpful features.

Excellent customer support.

No free or pay-as-you-go options.

Contract without the option to cancel.

Automatic contract renewal.
| | |
| --- | --- |
| | |
| | An iPad is necessary to run TouchBistro software. IPads, cash drawers, routers, printers, mini servers, keyboards and other accessories are available by quote. You may also have the option to use your existing equipment. |
| | |
| | The contract length is specified in the quote and is automatically renewed unless 30 days' prior notice of cancellation is given. In most cases, you can't terminate the contract early. |
| | Customer service and technical support are available 24/7 by phone and email. Additional resources include a support center with articles and videos, live workshops and a VIP Community. |
| | TouchBistro is user-friendly with a modern interface. A dedicated onboarding manager will help you with the setup and provide training on the system. Add-on products easily integrate with the existing POS system. |
How does TouchBistro work?
TouchBistro is designed for full-service restaurants, quick-service restaurants, cafes, bars, nightclubs and even food trucks. The POS provides the software and hardware restaurants need to accept payments and track sales, although a third-party payment partner may be needed to process card transactions.
To operate the POS system, you'll need a hardwired, local connection, a router and an iPad with TouchBistro software. This type of setup allows you to continue to use your system even if your internet connection isn't working. If you're operating more than one register, you must download TouchBistro's Pro Server application, which allows the iPads to sync with each other.
TouchBistro POS pricing starts at $69 per month and is quote-based. This doesn't include the cost of hardware or other fees, such as the fees charged for payment processing. Add-on features are available at an additional cost. The actual price of your system will be provided in a quote. A contract, or service agreement, is required with details such as contract length outlined in the quote.
TouchBistro lets you select the hardware you need for your operation instead of offering bundled packages. Pricing is delivered in a quote and may include an iPad, router, printer, cash drawer, Mac mini server, monitor, keyboard and mouse. Hardware financing isn't offered and you may need to get a credit card terminal from your selected payment processor.
TouchBistro Payments Powered by Chase, available to U.S. customers only, integrates with the POS system to accept debit and credit card payments along with Apple Pay, Google Pay and Samsung Pay transactions. Other payment processing partners include Square, Barclaycard, EVO, Moneris, Worldpay, TSYS and Chase Payment Solutions (Canadian customers only). The processing fees you pay and how quickly your funds are deposited in your account will depend on the payment processor you pick.
In addition to payment processing, TouchBistro integrates with other partners that offer software for accounting, inventory management, online ordering, analytics, staff scheduling and payroll. This includes QuickBooks, Xero, MarginEdge, Sage, Shogo, Avero, WISK.ai, Optimum Control, Freepour, Craftable, MarketMan, Bevchek, Deliverect, Ordermark, Push Operations and 7shifts.
When you sign up for TouchBistro, an onboarding manager will guide you through the entire process, including installation, menu setup and other training.
POS software plan features
TouchBistro's floor plan and table management software lets you lay out your entire restaurant floor plan, assign staff to sections and view availability in your dining room with ease. It also offers easy table transfers if diners want to change tables. When someone calls to ask for a reservation, you can associate a specific table at a specific time slot with that reservation.
For tableside ordering, the system allows servers to browse the menu, punch in items and modifiers, and send the entire ticket to the kitchen when the order is complete. The system includes a feature to prompt servers to mention other items and allows them to split or join bills at a customer's request. You can also enter "card not present" transactions and set taxes and gratuity to automatically calculate at checkout.
Building and adjusting your menu can be done directly through the POS. Menus can be customized with photos and detailed descriptions of items can be included to help servers answer questions and create special orders. You can also schedule specials or seasonal changes by cloning your existing menu.
The software features a clock-in/clock-out function that allows you to track employee hours. You can assign staff their own accounts and adjust their permissions based on their roles. Employee payroll details are stored to help you calculate wages, and reports with data on overtime hours and labor costs are available.
The inventory management software lets you create a record of the quantity and cost of ingredients used in your recipes so you can determine menu item profit margins and make the call on whether an item stays or goes. Stock level reports help you determine when to order. When inventory is running low on a specific dish, servers are notified so they can withdraw it from the menu.
The software comes with over 50 reports that provide valuable insight into your restaurant's performance. For example, you can learn about customer behavior and identify spending patterns. These reports are useful when making decisions about your menu, promotions and the service you provide. Detailed reports are also available on staff performance.
You can add to the POS system by purchasing additional features:
Reservations — starting at $229 per month
This booking system can be used by a restaurant of any size. Since this is a flat monthly charge, there aren't any other booking-related fees. You control the availability of online reservations by blocking out dates. Guests receive email confirmations of their reservations and have the opportunity to go back and make changes through the system. It may be possible to transfer reservations from an old system with the assistance of a TouchBistro team member.
Online ordering — starting at $50 per month
This online system allows customers to place orders on your website, through social media and through TouchBistro Dine, a reservation platform. Customers can order in advance and pay online, plus you'll receive notification through the POS system. This feature is available in the U.S. and Canada, excluding Quebec. You can cancel this feature at any time.
Gift cards — starting at $25 per month
This feature offers physical and digital gift cards for your restaurant that can be purchased at your location, on your website or through a personalized customer web app. It takes three to five days to receive generic, physical cards and close to two weeks for custom cards.
Loyalty — starting at $99 per month or a minimum of $179 for a premium version
This customer relationship management feature offers multiple reward options for customers. You can design personalized promotions to be sent to customers by email. The premium version allows you to get customer feedback, in-app messaging and automated marketing. The loyalty program can be used across all your locations and is available in the U.S. and Canada.
Self-ordering kiosk — starting at $69 per month
A self-ordering kiosk where customers place their orders without the assistance of staff is also available. This iPad-based system has a customizable menu and also notifies customers of promotions. Orders are automatically sent to your POS system. However, when it comes time to settle the bill, only kiosks in Canada can take payments.
Digital menu board — starting at $20 per month
The digital menu board starts at an additional $20 per month and allows you to display menu items from your POS onto a large mounted screen for customer convenience. The board shows items, descriptions, ingredients and pricing.
Kitchen display system — pricing varies
Another type of software available to run on your iPad is a kitchen display system, which provides a consolidated view of orders along with a loud chime announcing a new order. Servers have the option to prioritize tickets with color-coding.
Customer-facing display — pricing varies
Another add-on feature is a customer-facing display that allows customers to view their orders. Customers review items ordered, prices and modifications as they place their order. The display can also be customized with the branding of your restaurant and be used for advertising.
From visual menus for food trucks to chef's notes for upscale restaurants, TouchBistro offers features that fit the needs of a wide range of different restaurant types. Offering a self-ordering kiosk, kitchen display system and customer-facing display are other options that highlight the system's flexibility.
TouchBistro offers core features to help you manage tables, menus, inventory and staff. You have the option to start small and then select add-ons that let you scale as your business grows. This might include gift cards, online ordering and a loyalty program. Or it might mean additional iPads and other equipment such as cash drawers and receipt printers.
TouchBistro customer support is exceptional. It's free and available through phone, chat and email to answer customer inquiries 24/7, every day of the year — including holidays. To get you off to a good start, TouchBistro offers remote installation specialists and thorough training. Another plus is the use of remote access, which allows a staff member to take control of your POS to diagnose issues.
TouchBistro Payments has a few drawbacks. When you use it to process your card transactions and you bank with Chase, your funds are deposited by the next business day. However, if you use a different bank, it can take anywhere from one to four business days to see the money in your account. Also, TouchBistro Payments is only available to U.S. customers.
A contract is required to use TouchBistro and it's one you won't be able to get out of early. The contract term is provided in your quote. In addition, without 30 days' prior written notice of your desire to cancel, you'll be automatically locked into another term. You can't test the system with a free trial period and there isn't a pay-as-you-go option to minimize upfront costs.
Alternatives to TouchBistro
If you're not sold on TouchBistro, here are some alternatives to consider:
Toast POS is another robust system designed specifically for restaurants. The Standard plan has monthly software fees of $69 with a rate of 2.49% plus 15 cents per in-person transaction. Customer payments are processed through Toast and not a third-party processor. Hardware bundles start at $799. Toast requires a two-year contract, but there's a pay-as-you-go option that allows you to pay for your hardware as a percentage of sales.
A less expensive restaurant POS alternative is Square for Restaurants. Monthly software cost options include $0, $60 or custom pricing, and you can cancel at any time. Payment processing rates are 2.6% plus 10 cents per in-person transaction. POS hardware can be purchased from Square with an option to finance. You may also be able to use your existing iPad or other hardware.
A version of this article was first published on Fundera, a subsidiary of NerdWallet.