Sage Accounting Software Review: Cost, Pros, Cons
Sage Accounting is affordable, but competitors can offer a more modern user experience and greater product transparency.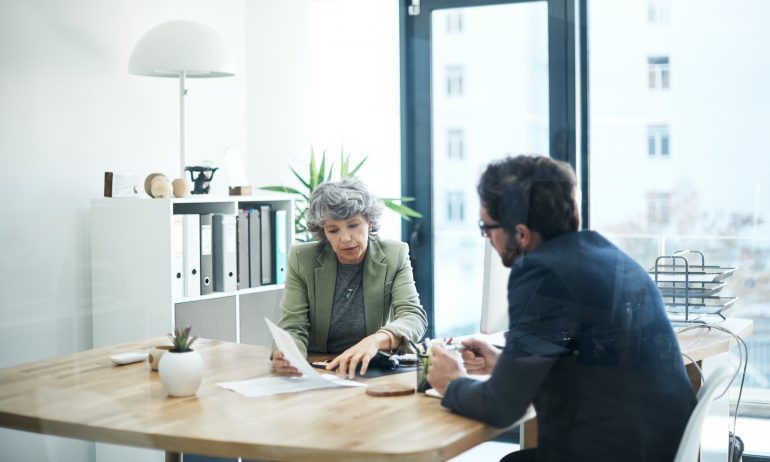 Many or all of the products featured here are from our partners who compensate us. This influences which products we write about and where and how the product appears on a page. However, this does not influence our evaluations. Our opinions are our own. Here is a list of our partners and here's how we make money.
Sage Accounting is a cloud-based small-business accounting software. With two affordable plans to choose from, Sage Accounting offers essential bookkeeping and accounting features, comprehensive reporting and inventory tracking. Despite its affordability, however, competitors like QuickBooks Online and FreshBooks may provide a more modern user experience and greater product transparency.
Try not to get confused by the Sage naming conventions. "Sage Accounting" is used to refer to the cloud-based software we'll be reviewing here, as well as one of the two pricing plans offered for this product — Sage Accounting Start and Sage Accounting. You may also see the Sage Accounting software called "Sage Business Cloud Accounting." Additionally, the phrase "Sage accounting" is sometimes used online to refer to any or all of the Sage software products that perform accounting functions.
Affordable monthly costs.

Unlimited users with Sage Accounting (second-tier plan).

Comprehensive reporting and inventory tracking.

Time tracking not included with either plan.

Subscription required for receipt capture service; receipt capture available only with Sage Accounting plan.

Lack of clarity and transparency with product details on Sage website.
Sage Accounting Start: $10 per month.

Sage Accounting: $25 per month.

Sage Accounting Start: 1 user.

Sage Accounting: Unlimited users.

Maximum number of financial accounts

Ease of sharing with accountants

Good. Sage recommends that your accountant sign up for the Sage Accounting - Accountants Edition to establish a link to your data with full access rights. Your accountant will be able to sign up for free and invite you to connect to their account regardless of your Sage plan level.

Fair. You can easily upgrade from Sage Accounting Start to Sage Accounting as your business grows. If you decide to upgrade, your data will automatically migrate to the new version. If, however, your business grows beyond the level of the Accounting plan, you'll need to perform a more manual migration process to switch to one of Sage's software products designed for larger businesses.

Fair. Sage Accounting has a simple dashboard and straightforward top navigation, but it lacks the more modern design of competitors like QuickBooks or FreshBooks.

Additionally, due to the popularity of Sage in Canada and the United Kingdom, you may find it more difficult to find user support resources specific to U.S. versions of the software.
How does Sage Accounting work?
After you sign up for Sage Accounting, you'll be able to log in to your account and access your dashboard. Your main dashboard view will be the summary tab, which provides an overview of key financial information, such as sales, expenses and cash flow. You'll be able to navigate to different sections of your account using the navigation bar across the top of your dashboard.
When you sign in for the first time, you'll see the Getting Started wizard, which can walk you through the steps needed to get your account set up. You'll be able to enter basic information about your business, like your company name and address, as well as create and link your bank accounts.
Once your bank accounts are linked, your transactions will download to Sage automatically, helping to streamline the reconciliation process when balancing your books.
Next, you'll be able to enter customer and vendor information. If you have existing contact data in a spreadsheet, you'll be able to import it directly into Sage Accounting. You'll also be able to set up your chart of accounts, enter opening account balances and review your trial balance report.
At any time, you can visit the online help center for additional information on setting up your account, or chat with Sage customer service by clicking the chat button in the upper right corner of your screen.
With the Sage Accounting plan, you can invite multiple users to your account and assign them one of five user roles. If you are working with a professional bookkeeper or accountant, they can sign up for Sage Accounting Accountants Edition and send you an email invite from their account. Once you accept the invitation, your accountant will have full access rights to the data within your Sage account.
Sage Accounting Start users must go through this process in order to work with an accountant. However, although Sage Accounting offers unlimited users, Sage recommends linking accounts through this process for a better user experience.
Promotional discounts may apply. Sage offers a 30-day free trial for the Accounting Start and Accounting plan. You can also schedule a one-on-one session with a Sage Accounting expert to address questions you may have, or call its sales phone line for additional product information.
Create, send and track invoices.

Connect bank accounts and track expenses.

Add customers and suppliers.

Perform automatic bank reconciliation.

Process online credit and debit card payments.

Generate and export financial reports.

Download free Sage Accounting mobile app.

Integrate with 20+ third-party apps in the Sage Marketplace.

All the features of Accounting Start.

Create and send quotes and estimates.

Set up recurring invoices, payments and customer statements.

Track and manage inventory.

Enable foreign currency invoicing.

Capture and post receipts automatically with AutoEntry (paid subscription required, monthly fee waived for first three months).
Benefits of Sage Accounting
Between Sage Accounting Start and Sage Accounting, this software offers solid reporting features, extending beyond the basic financial statements (profit and loss statement, cash flow statement, general ledger). With the entry-level plan, you can create a chart of accounts, sales tax reports, 1099 vendor reports and accounts receivable aging reports.
The Accounting plan takes reporting to the next level with cash flow forecasts, profit analysis, accounts payable aging reports and stock movements. For comparison, accounts payable and receivable reporting requires the Essentials version of QuickBooks Online ($50 per month). FreshBooks doesn't even offer basic accounting reports, like the chart of accounts or general ledger, until its second-tier plan ($25 per month), and accounts payable features require the Premium plan ($50 per month).
Inventory tracking can be a particularly useful feature of accounting software for product-based businesses. Not all accounting software solutions offer inventory management, however, and some that do offer it only with their top-tier plans.
Sage does not include inventory tracking with the Accounting Start plan, but it is included with the Accounting plan — at $25 per month. QuickBooks Online is well-known for its inventory features, but you must opt for the Plus plan (at a minimum) for $80 per month to access them. Similarly, Zoho Books doesn't offer inventory tracking until its Professional plan ($50), and the free Wave accounting software doesn't provide these capabilities at all.
With Sage Accounting, you can add products, organize them into categories and customize their prices. You can track quantities, set stock reorder levels, receive out-of-stock notifications and generate reports on your best-selling products. Moreover, you can also add services or actions that you buy and sell to customers, like software upgrades or computer repairs.
Unlimited users with Sage Accounting plan
If you want to be able to create several user accounts — without paying additional fees — the Sage Accounting plan could be a particularly good option for your business. This plan offers unlimited users, with five user role options. In fact, one of the five options allows you to customize your user's access levels, designating the permissions you want them to have based on the different sections of your account (sales, expenses, contacts, etc.)
Although Xero and Wave accounting offer unlimited users with their software, other competitors require that you upgrade your plan or pay separate fees for user access. Even with QuickBooks Online Advanced, the highest-level plan ($180 per month), you can only add up to 25 users; Zoho Books Premium ($70 per month) only accommodates up to 10 users. FreshBooks, on the other hand, requires that you pay $10 per user per month for the team member add-on — and doesn't offer accountant access until the second-tier Plus plan (something that is offered with Sage Accounting Start).
Drawbacks of Sage Accounting
Neither the Accounting Start nor the Accounting plans include any time tracking features. This is particularly unusual considering the Sage website states that the Accounting Start plan is best suited for the self-employed and microbusinesses, some of which benefit from time tracking capabilities, especially if they're in a service-related industry.
Although some competitors are also lacking in this area — Wave doesn't offer time tracking, Xero includes it only with the highest-level plan and Zoho requires the third-tier plan ($50 per month) — this is a significant differentiator with alternatives like FreshBooks and QuickBooks.
QuickBooks Online includes mileage tracking with all plans, and although you have to opt for the Essentials plan to access time tracking, you also have the option to purchase QuickBooks Time for additional features, or integrate with one of the many third-party time tracking apps in the marketplace.
FreshBooks is an even better option, offering unlimited time tracking and mileage tracking with all plans.
Compared to competitors, the Sage Accounting dashboard is reminiscent of an older desktop-based software. The color scheme is monotone, the font is small and although it isn't particularly difficult to use, it doesn't have the same approachability as some alternatives.
You'll find that competitors like Wave, FreshBooks and Zoho, among others, have a more modern design. The dashboards are often colorful, with navigation menus on the side of the screen as opposed to laid out across the top. The fonts are larger and easier to read.
The look and feel of your dashboard is a matter of personal preference, however, so you may find that you prefer the Sage dashboard to other options.
The Sage website is not easy to navigate and could be more clear when it comes to product details and information. Sage has many software products, including Sage Accounting, but the website is not always consistent with terminology — for example, using Sage Accounting and Sage Business Cloud Accounting to refer to the same product, and calling one of two Sage Accounting plans "Sage Accounting."
These inconsistencies can make it difficult to determine which product is being discussed on a particular page, in addition to causing general confusion. Moreover, Sage is relatively brief on the differences between the Accounting Start and Accounting plans on the main part of the website, but if you dig deep into the support site, you can find a thorough list comparing their features.
Overall, you may find more upfront information about Sage Accounting than some of the other Sage software products (like Sage Intacct), and yet, it's still much simpler to browse the sites of competitors and find exactly what they have to offer with their plan options.
Additional Sage software products
Although Sage Accounting is perhaps the most suitable Sage software product for small businesses, it's only one of many solutions the company offers.
Here's a brief summary of the most popular Sage financial products:
| | | | |
| --- | --- | --- | --- |
| | | | |
| | Desktop-based accounting software with cloud connection. | | Businesses that need more than Sage Accounting can offer, like job costing, advanced budgeting or industry-specific features. |
| | Desktop-based business management software with cloud connection. | | Medium-size businesses that need features beyond accounting software, such as security, compliance, business planning, distribution and more. |
| | Desktop-based business management software with cloud connection. | | Medium-size businesses that need to manage more than one location or multiple companies. |
| | Finance and operational management software designed for medium-size businesses. | | Advanced supply chain and sales management. |
| | Advanced financial management software for larger businesses. | | Customized, enterprise-level needs. |
If you're interested in any of the other software options, we'd recommend contacting Sage directly for a demo and additional product information.