Vanco Payment Solutions Review: Pricing, Features, Top Alternatives
Vanco's payment solutions and other products are designed for the specific needs of churches and schools.
Many or all of the products featured here are from our partners who compensate us. This influences which products we write about and where and how the product appears on a page. However, this does not influence our evaluations. Our opinions are our own. Here is a list of our partners and here's how we make money.
Vanco Payment Solutions provides credit card processing for nonprofits, tailoring its products specifically for schools and faith-based organizations. If your organization falls into one of those camps, Vanco could be worth considering.
Although payment processing is its core business, Vanco also offers an array of related products, including event ticketing and school and food service management.
Faith-based and education-based nonprofits.

Starting at $10 per month, based on average monthly donations. Additional costs for education-based nonprofits may apply.

For faith-based nonprofits:

Under $20,000 in monthly donations:

2.75% (3.5% for American Express) plus 45 cents per transaction.

1% plus 45 cents per transaction for Automated Clearing House fees.

Between $20,000 and $40,000 in monthly donations:

2.35% (3.5% for American Express) plus 35 cents per transaction.

0.8% plus 35 cents per transaction for ACH.

Custom pricing available for faith-based nonprofits with more than $40,000 in monthly donations.

No contracts, but a 30-day termination notice is required.

Given the complexity of Vanco's offerings, nonprofits will need to rely on its free live customer support and resource library.

At time of writing, 30 different integrations are available.
Vanco Payment Solutions powers the payment component of the Vanco family of products. These products are broadly organized into the following subsidiaries:
Vanco Faith is Vanco's solution for faith-based organizations. There are numerous products available under the Vanco Faith brand, which you can mix and match based on your organization's needs.
Vanco Online, also known as GivePlus Online, lets you quickly and easily create options for donors to support your organization with one-time or recurring donations. Other features include:
Customizable tiles to make it easy for donors to choose how they want to support your organization.

Options for donors to cover payment processing fees.

Integrations with over 60 church management software packages.

Coaching from eGiving consultants, customer support, and online resources.
Vanco Mobile is a free mobile app that goes beyond online giving. It also includes:
Online groups for your congregation.

Private chat to connect your congregation to support staff.

A virtual hub for online worship services.
GivePlus Text lets your donors contribute by text message. Standard text message rates apply.
GivePlus Kiosk allows you to take donations and event payments and produce a receipt on the spot. It comes customized with your organization's logo, colors and branding.
GivePlus Swipe is a card reader for your Apple or Android tablet or smartphone. It allows you to take one-time or recurring donations as well as payments for fundraisers and events.
Also available is the GivePlus mobile app for both Apple and Android products. This app differs from Vanco Mobile in that it is used only for donations.
Vanco Education was created for schools and other nonprofit educational organizations. As with Vanco Faith, there are numerous products available, including:
ASAP is a full school management platform that includes the following modules:
Online registration portal for students and parents.

Student information database.

Class management, including enrollment and attendance records.

Tuition billing and payment processing.

Private lesson management.
RevTrak provides online payment processing for all school fees. RevTrak is perfect for schools needing simple payment processing without all the bells and whistles of ASAP.
Food Service Solutions allows schools to manage their cafeterias. It includes both point-of-sale and preorder capabilities.
Charms, specifically created for music programs, can track student information and handle communication with parents.
Charms can also organize your library and keep track of your inventory, equipment, props and uniforms. Other features include tracking fundraisers and disbursing profits, filing 1099 and 990 forms, managing budgets, creating schedules and more. For a complete rundown of all Charms features, visit its website.
Events helps schools manage ticketing for both paid and free events, including sporting events and fundraisers. Vanco Events allows schools to create event webpages via a drag-and-drop interface. Elements you can add to webpages include custom images, maps, descriptions, session times, dates, location and pricing details, and a portal where tickets can be purchased. There is also an interactive seating chart feature.
Schools can customize the look and feel of their tickets by adding images, logos and backgrounds. Once your webpage is complete, you can embed widgets on your own website and direct visitors to a page where they can purchase tickets. You're also able to provide discounts and promotion codes, and track sales in real time.
Vanco Events comes with a ticket scanning app (for iOS devices) that allows users to scan QR codes, view guest information and manage volunteers at all entry points.
Accept payments without worry
See our payment provider recommendations that fit your business.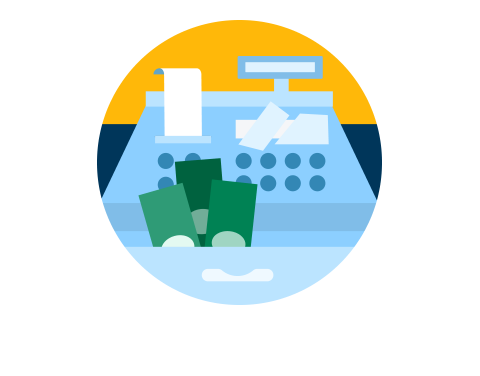 How much does Vanco cost?
Vanco Payment Solutions provides some pricing information for its products on its GivePlus website, but not on any of its other subsidiary websites.
The rates on the GivePlus website are divided among three subscription plans.
Start plan: The Start plan is designed for faith-based organizations with less than $20,000 in monthly donations. This subscription comes with a $10 monthly fee, 2.75% (3.5% for American Express) plus 45-cent processing fee per transaction, and 1% plus 45-cent Automated Clearing House fee. It features Vanco's payment gateway and mobile app.

Sustain plan: This plan is designed for faith-based organizations with monthly donations between $20,000 and $40,000. It features everything in the Start plan, but with a $49 monthly fee, 2.35% (3.5% for American Express) plus 35-cent processing fee, and 0.8% plus 35-cent ACH fee.

Custom plan: Vanco offers faith-based organizations with over $40,000 in monthly donations custom pricing. The Custom plan comes with everything included in the Sustain plan, but with custom monthly, processing and ACH fees designed to suit your organization.
The following features are not included in the prices quoted above:
GivePlus Text requires an additional subscription of $5 per month.

GivePlus Kiosk requires an additional subscription of $29 per month. There is also a one-time hardware cost, which is not disclosed on Vanco's website.

The GivePlus Swipe card reader also requires a one-time hardware cost, which is not disclosed on Vanco's website.

Other fees — such as chargeback and PCI noncompliance fees — might also apply. Vanco discloses this information for Canadian nonprofits, but not for U.S.-based nonprofits.
There aren't many merchant service providers out there that cater directly to schools and faith-based organizations (there are quite a few for other nonprofits).
Vanco's mission of helping the organizations that serve communities shows in the level of customer service it provides. Most merchant services providers aren't going to give you dedicated account specialists to help you integrate and promote your service. This type of support is crucial for faith-based organizations and schools, which often have limited technical infrastructure.
Vanco lists 30 different integrated software partners on its website. Even if you choose not to use one of Vanco's products, chances are your nonprofit's software will work with Vanco Payment Solutions.
Lack of pricing transparency
The main issue with Vanco is pricing transparency. Its GivePlus website offers pricing information, but the same information is not available on the RevTrak, Charms, ASAP or Vanco Events pages (not to mention its main website). This makes it somewhat confusing to determine if RevTrak costs the same as GivePlus. Further adding to this confusion is that some searches for Vanco's pricing yield pricing results specific to Canadian nonprofit organizations.
In addition, Vanco does not disclose the costs you'll end up paying for its POS system or mobile credit card reader.
If Vanco Payment Solutions is a little too specific for your nonprofit, here are some payment processors that serve a broader market.
2.6% plus 10 cents for in-person transactions (2.5% plus 10 cents with Retail Plus plan).

2.9% plus 30 cents for online transactions or invoices without a card on file.

3.5% plus 15 cents for manually keyed transactions or card-on-file invoices.
Why we like it: Square is one of the most versatile and widely used payment processors for small businesses. Square provides new users with a free magstripe reader and access to free POS software. Square also offers Tap to Pay on iPhone, which lets merchants accept card payments using only a regular iPhone with the Square POS app. You can also purchase credit card and POS terminals through Square, as well as other tools that can help you run your business, including payroll processing and a suite of marketing services.
Pricing: Memberships range from $59 to $99 per month. Payment Depot does not charge a per-transaction fee on top of card network interchange fees, which is unlike its competitors.
Why we like it: Another Vanco Payment Solutions alternative is Payment Depot, which provides membership pricing and wholesale interchange rates. Payment Depot also provides customers with a dedicated merchant account, payment gateway and virtual terminal.