Ways to Finance Construction Equipment: Lenders and How to Qualify
Lenders that specialize in heavy-duty equipment loans can usually offer construction companies more flexible terms.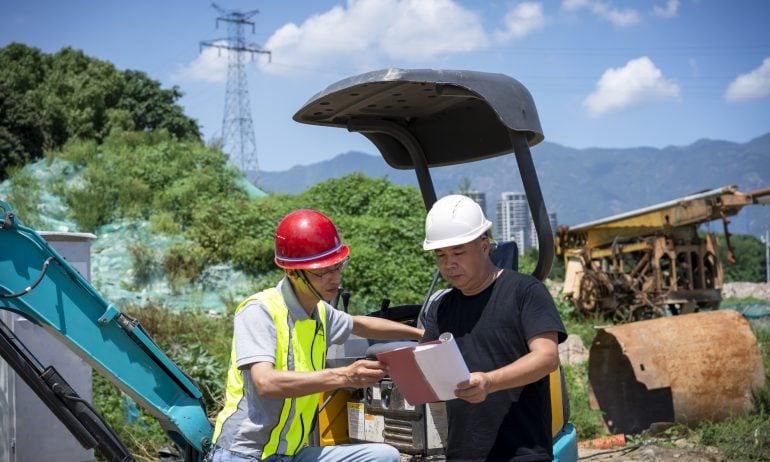 Many or all of the products featured here are from our partners who compensate us. This may influence which products we write about and where and how the product appears on a page. However, this does not influence our evaluations. Our opinions are our own. Here is a list of our partners and here's how we make money.
Construction equipment — like bulldozers, excavators, forklifts and cranes — is a huge investment for small businesses, and purchasing it outright oftentimes isn't an option. Banks, the U.S. Small Business Administration and online lenders offer equipment financing through business loans.
The right choice for your business depends on your credit score, time in business, cash flow and down payment amount, among other factors. For heavy equipment financing, the machinery being financed typically functions as collateral, making it an attractive option for businesses with limited assets otherwise. These types of loans are also less risky for lenders, so they may offer more competitive interest rates.
Construction equipment financing options
The SBA offers several different types of loans that could be used to purchase construction equipment, but the SBA CDC/504 loan is intended for major fixed asset purchases (like heavy-duty machinery). These loans, administered by nonprofits dedicated to boosting economic growth in their communities, come with 10- or 20-year repayment terms. Interest rates typically total about 3% of the debt, and the SBA requires a 10% borrower contribution.
Businesses applying for equipment loans from a bank typically need about two years in business and a minimum of $100,000 to $250,000 in annual revenue, though requirements vary from bank to bank. Repayment terms generally don't exceed the financed equipment's life span, and borrowers may be able to receive up to 125% financing, when extra costs like installation are taken into account.
Equipment loan terms and requirements tend to be a bit more lenient than those of nonspecialized business loans, since the equipment being financed doubles as collateral and down payments aren't always necessary.
Generally, online lenders that specialize in construction equipment financing can offer borrowers more flexibility than banks, though they may come with higher interest rates. For example, some online lenders let borrowers customize their repayment plan according to seasonal shifts in cash flow. On top of being quicker to fund, they usually have less strict requirements for time in business, credit score and annual revenue, too.
Lenders can also assist business owners with equipment leasing, instead of loans. Leasing is a good alternative for businesses that plan to use the equipment for less than three years, according to the Equipment Leasing and Finance Association. Instead of financing the outright purchase of a piece of machinery, you'd pay a fixed fee each month to essentially rent it. At the end of the lease, you can either buy the equipment or return it to the lender.
with Fundera by NerdWallet
How to qualify for equipment financing
Most lenders consider several factors before approving a construction equipment loan:
Credit score: Banks typically require the highest minimum credit score at around 650.

Time in business: Businesses that have been operating for at least two years may qualify for equipment loans from banks, but startups will probably have more luck with online lenders or the SBA.

Annual revenue: While banks like to see that a business consistently makes at least $100,000 to $250,000, online lenders typically have more lenient requirements — as do lenders that work with startups.

Down payment: While certain loans don't require a down payment, long-term loans — such as those from the SBA — generally require at least a 10% borrower contribution. Additionally, putting down more cash upfront may get you better interest rates and loan repayment terms.