What Is Adjusted Gross Income (AGI)?
Adjusted gross income is your gross income minus certain payments you've made during the year.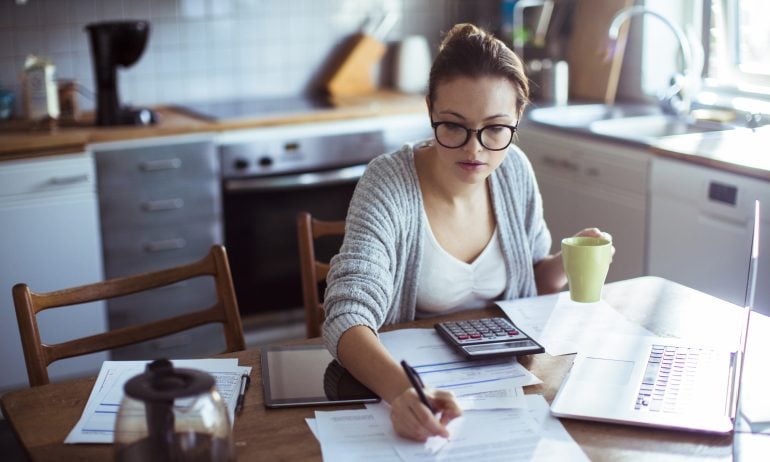 Many or all of the products featured here are from our partners who compensate us. This influences which products we write about and where and how the product appears on a page. However, this does not influence our evaluations. Our opinions are our own. Here is a list of our partners and here's how we make money.
Your AGI plays a role in calculating your taxable income.

Adjusted gross income can help to determine your eligibility for certain tax credits.

To calculate your AGI, you reduce your gross income by subtracting certain qualified payments, such as student loan interest.
Adjusted gross income, or AGI, is a term you're likely to come across when working with tax documents or when filing your annual tax return. It refers generally to your annual gross income after certain adjustments, such as retirement plan contributions, have been subtracted from it.
Outside of the tax world, adjusted gross income can also be used by government agencies, banks, and even private companies to determine if someone meets the criteria for a certain program, benefit, or application. For example, AGI may play a role in figuring estimated monthly payments on income-driven student loan repayment programs.
Here's a quick guide to what adjusted gross income is, how it's calculated, and why knowing what yours is important.
What is adjusted gross income (AGI)?
Adjusted gross income, or AGI, is a number that the IRS uses as a basis to help calculate how much you owe in taxes. The IRS defines AGI as gross income, minus certain adjustments to that income.
You can determine your AGI by calculating your annual income from wages and other income sources (gross income), then subtracting certain types of payments, such as student loan interest, alimony, retirement contributions, or health savings account contributions, you've made during the year.
Once you have your adjusted gross income, you can use that number to determine your taxable income by taking either the standard deduction or itemizing to further reduce your liability. Your AGI can also help you figure out which tax credits might be able to save you money.
How to calculate adjusted gross income
In general, the formula for calculating AGI starts with determining your gross income. Gross income includes money earned from most sources:
You can then subtract the following from your gross income:
Educator expenses (books, supplies, equipment).

Certain business expenses.

Deductible HSA contributions.

Moving expenses for military members.

Deductible self-employment taxes.

Contributions to retirement plans (e.g., SEP, SIMPLE) or health insurance for self-employed people.

Penalties on early withdrawals of savings.

Deductible IRA contributions.

Deductible tuition and fees.
If you file taxes online, your software will calculate your AGI. If you use a tax pro, they will calculate your AGI as they prepare your tax return.
Tax extension running out? Get it done with NerdWallet
Our user-friendly tool makes filing taxes simple. By registering for a NerdWallet account, you'll have access to our tax product in partnership with Column Tax for a flat rate of $50, credit score tracking, personalized recommendations, timely alerts, and more.
Where is AGI on a tax return?
You can find your adjusted gross income right on line 11 of your tax return, also known as the IRS Form 1040.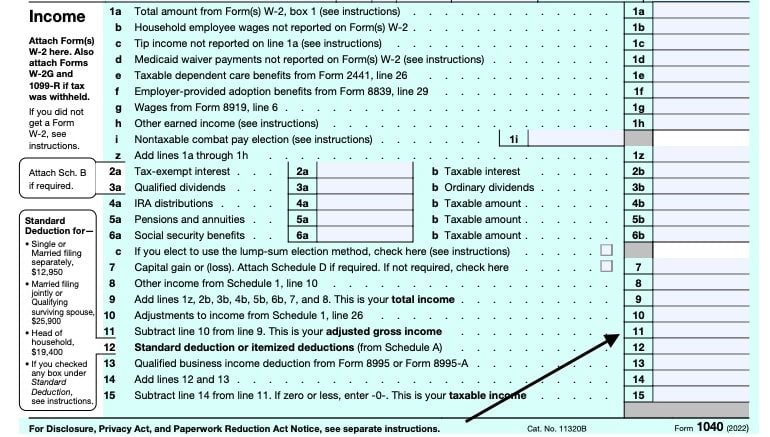 The significance of adjusted gross income
Your AGI is often the starting point for calculating your tax bill. From there, you'll make various adjustments and subtract your allowable deductions to find the amount on which you'll pay tax: That's your taxable income. You'll see the term "adjusted gross income (AGI)" repeated throughout your tax forms.
Your state tax return might also use your federal AGI as a starting point.
What is your modified adjusted gross income (MAGI)?
If you're filing Form 1040 and itemizing so that you can take certain deductions, you may have to calculate your MAGI, or modified adjusted gross income. Your MAGI may also be a baseline for the phaseout level of some credits and tax-saving strategies, including:
According to the IRS, for most taxpayers, modified adjusted gross income is simply adjusted gross income before subtracting deductible student loan interest, but the formula for MAGI can depend on the type of tax benefit it applies to. For example, calculating MAGI can also include adding back in the deduction for half of the self-employment tax paid or any non-taxable Social Security benefits.
If you're unsure how to calculate your MAGI for a specific benefit, consult the IRS website or with a tax pro for more information.
Get more smart money moves – straight to your inbox
Sign up and we'll send you Nerdy articles about the money topics that matter most to you along with other ways to help you get more from your money.