CEO Pensions Worth at Least 239 Times More Than Your 401k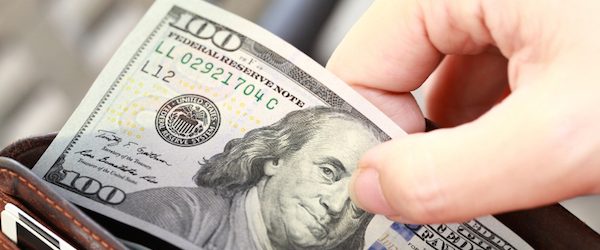 Many or all of the products featured here are from our partners who compensate us. This may influence which products we write about and where and how the product appears on a page. However, this does not influence our evaluations. Our opinions are our own. Here is a list of our partners and here's how we make money.
While there has been much furor over CEO compensation, many of America's most highly paid business chiefs are amassing huge pensions. Such CEO pensions are on average 239 times larger than the average employee's 401(k) balance at 10 of the biggest U.S. companies, a survey by NerdWallet Taxes has found.
These pension plans, which typically consist of non-qualified retirement plans, are offered at the company's discretion and are reserved for top executives. CEOs often defer receiving their multimillion-dollar cash bonuses till their retirement years, storing the cash away in a retirement plan that typically allows them to pay lower taxes once they draw on the money.
A key factor behind massive CEO pensions is CEO total annual compensation, which typically consists of cash bonuses and stock options awards. In September, the SEC proposed rules requiring publicly traded companies to disclose the ratio of their CEO's compensation to the median compensation of all other employees. While the rule is currently undergoing a 60-day public comment period, NerdWallet Taxes has calculated the pay gap ratio between CEOs and non-executive employees, which include managers and non-managers.
Unlike regular employees, CEOs are selected by their companies to participate in non-qualified retirement plans because their high incomes make them ineligible under IRS contribution restrictions.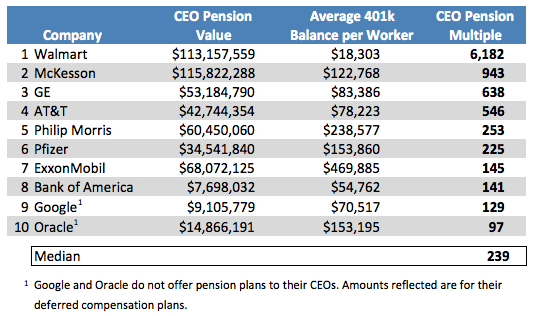 Walmart's CEO tops the list with a pension that is more than 6,000 times larger than the non-executive employee's average 401(k) balance of $18,000, according to Walmart's latest January 2013 figures available from financial information company BrightScope. Walmart's employee 401(k) plan was valued at $18.1 billion, but covered roughly 1 million employees, the highest in our sample.
McKesson's CEO had the highest pension valued at nearly $116 million, 943 times the average employee's 401(k) balance of $122,768. CEO John Hammergren's pension was nearly 13 times larger than the amount of deferred compensation owed to Google's CEO.
GE's chief executive Jeffrey Immelt has a pension valued at $53.1 million, 638 times larger than the non-executive employee's average 401(k) balance of $83,000.
A CEO Earns 550 Times More Than an Average Employee
While the median ratio of CEO pensions to all other employee 401(k) balances stands at 239, the ratio of CEO compensation to non-executive employee compensation is even larger. Across the companies in NerdWallet's sample, the median multiple of CEO pay to the average employee's pay was 550.

Oracle CEO Larry Ellison topped the charts in total annual compensation, earning nearly $80 million last year, $77 million of which came from stock options awards. Although the median non-managerial employee salary in software publishing was the highest in the sample at $63,000, it still was 1,262 times less than Ellison's compensation. Compared with the median managerial salary, Ellison's compensation was 571 times greater.
McKesson's CEO earned nearly $52 million last year, 1,065 times greater than the average employee's salary in the medical supplies industry, and 439 times greater than the median manager's salary.
Walmart CEO Michael Duke earned $20.7 million last year, 836 times more than the median employee salary and 305 times the typical manager's salary, based on Bureau of Labor Statistics data for the department store industry. The multiples for Walmart are third-highest in the list partly because the median non-manager and manager salaries for its industry are the lowest in our sample at $25,000 and $68,000, respectively.
CEO compensation and pension figures obtained from each company's most recent annual proxy statement filed with the SEC. Average 401(k) balance per employee obtained from IRS Form 5550 via BrightScope data from December 2012 unless otherwise noted. Median annual compensation of managerial and non-managerial employees was calculated from the Bureau of Labor Statistics Occupational Employment Statistics survey, using each company's NAICS industry classification code.
Read More From NerdWallet:
Image courtesy of Shutterstock.