Many or all of the products featured here are from our partners who compensate us. This influences which products we write about and where and how the product appears on a page. However, this does not influence our evaluations. Our opinions are our own. Here is a list of our partners and here's how we make money.
Airlines have been playing catch up following the post-pandemic slump with so many people taking to the skies this summer. As a result, thousands of flights were canceled in the first half of 2022, leaving passengers scrambling to save their vacations.
You may be asking, "Is American Airlines still canceling flights?" Unfortunately, American flight cancellations aren't as rare of an occurrence as passengers might hope. From January to May 2022, the world's largest airline canceled 3.36% of its flights. That adds up to over 11,500 flight cancellations in just five months.
These cancellations also came after the airline recently stripped passenger rights from its contract with flyers. That means it's as important as ever to know how to protect yourself if you encounter cancellations on American Airlines flights. Here's what you need to know about what to do if your flight is canceled.
Why is American canceling flights?
There are plenty of reasons why flights can be canceled, which vary in terms of whether or not the airline itself is responsible. Typical scenarios include inclement weather, mechanical delays and staffing issues that range from air traffic control to pilots to flight attendants.
Like other airlines, American has struggled to keep up with passenger demand following a lull in air travel during the pandemic. As a result, in July 2022, the airline announced it would cancel 1,200 flights to manage its schedule better.
Flyer rights after American Airlines flight cancellations
American Airlines recently stripped away flyer rights from its Conditions of Carriage — which is the contract you agree to when booking an American ticket.
Under the new terms, American Airlines disclaims any liability for not getting you where you need to go if it cancels, delays or changes your flight schedule. So, for example, suppose there's an American Airlines flight cancellation or delay of more than four hours. In that case, American Airlines is only on the hook for refunding the remaining flights on your trip — even if that leaves you stranded somewhere.
If American cancels or delays a flight and causes you to miss a connection, the airline's contract says it will only "rebook you on the next American Airlines or American partner flight with available seats."
American makes some exceptions for elite status flyers and passengers booked in premium cabins and other exceptional circumstances — such as military orders, passengers with disabilities and unaccompanied minors. Also, let the agent know if you're traveling to a funeral, surgery or catching a cruise, as that may unlock more rebooking options.
From the U.S. Department of Transportation
According to consumer protections from the U.S. Department of Transportation, once you've booked a ticket with American, you're under Contract of Carriage.
Currently, if American cancels your flight, you have two options:
You can accept a rebooking from American.

You can have your money refunded to the original form of payment.
Even so, the DOT does not require airlines to provide passengers additional compensation for delayed or canceled flights. Refunds should include seat selection, checked baggage fees, and airfare.
Due to recent DOT proposals, consumer protections for flight cancellations may change this fall.
If your American flight departs from a European Union member country or territory and is canceled for a reason that's within the airline's control — such as mechanical issues — Flight Compensation Regulation 261/2004, often referred to as EC261, can help. Passengers on qualifying canceled flights can get additional compensation ranging from 250 to 600 euros based on distance and delay.
What to do if your American Airlines flight gets canceled
When American cancels your flight, you have two primary options: rebooking your flight or requesting a refund. Let's take a look at what to do in each situation.
How to rebook after an American Airlines flight cancellation
If you're dealing with an American Airlines flight cancellation, chances are that you still want to go on that trip.
Time is of the essence when your flight is canceled. You're likely competing with an entire planeload of passengers — all of whom want to go where you want when you want. That means you should act as soon as possible, potentially trying a few different angles simultaneously.
Start by checking the American Airlines app. By clicking on the flight cancellation button, you may be able to quickly snag a seat on another flight without having to make a call or speak with an agent.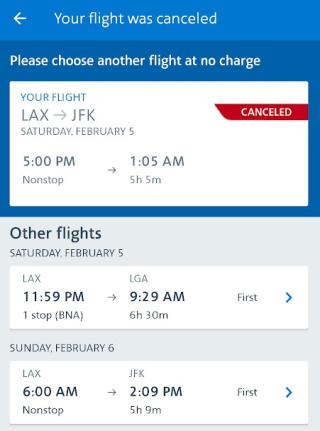 If that doesn't work, call American Airlines reservations. Working with a reservations agent will be the next-best way to get rebooked. To avoid waiting on the phone, you can set up a callback if the wait times are too long.
While you wait for a callback, it doesn't hurt to get in line to speak with an airport agent if you're at the airport when the cancellation happens. If the line is long at your gate, try a help desk or an Admirals Club lounge to get an agent quicker.
How to get a refund after an American Airlines flight cancellation
If you opt for a refund, the process depends on whether you bought a cash fare or used miles to book your trip.
Refunding American Airlines cash fares
For cash fares, skip the phone lines. The wait times are likely long and the process can be arduous. Instead, request your refund from American Airlines right on its website. American Airlines has a dedicated refunds page where you can submit your refund request.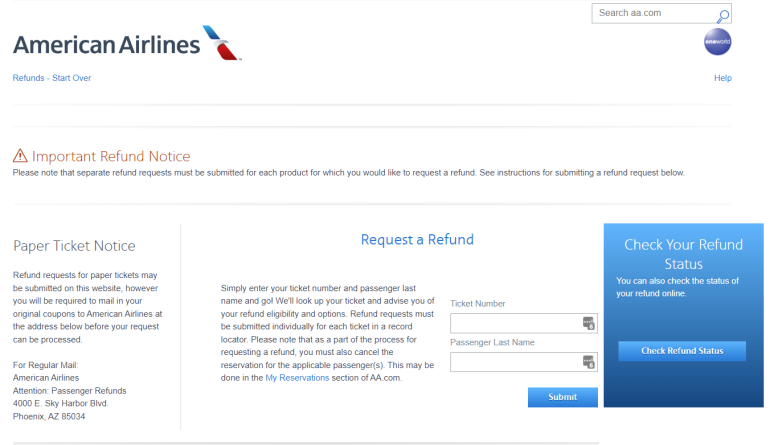 You'll need the passenger's last name and ticket number to get started. You can find that ticket number on your email confirmation from American Airlines with the subject line "Your trip confirmation." Your ticket number is the one that starts with 001.
Each passenger gets a unique ticket number, though the numbers are typically very similar if they were ticketed simultaneously. You'll need to submit a refund request for each passenger.
Refunding AAdvantage award tickets
Many AAdvantage award tickets can be canceled on American Airlines' website. Start by logging into your AAdvantage account, opening All Trips, clicking the reservation you wish to cancel and selecting "Cancel trip."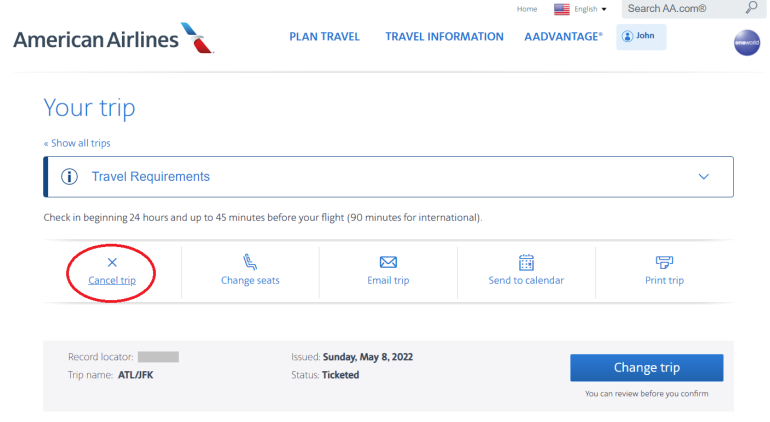 If your ticket is eligible, you can cancel your award and your miles will be automatically refunded. However, certain award tickets won't be automatically refunded. These include:
Trips that have already started.

Award flights on partner airlines.

Tickets purchased outside the U.S.

Trips that have been changed since originally ticketed.
In these cases, you'll need to call American Airlines reservations to request that an agent manually submit a refund request.
Credit card and travel insurance that can get your money back
Flight cancellations have the potential to disrupt a trip and subject you to extra expenses. Thankfully, if you booked with the right credit card, you might be able to get reimbursed for expenses while you wait for your next flight.
Credit cards with so-called "trip delay reimbursement" cover necessary expenses — such as meals and lodging — incurred when waiting out a delay. However, these credit card protections typically only help when the airline doesn't consider itself at fault, such as severe weather, strikes or equipment failure. In other cases, you'll need to seek compensation from the airline.
Credit card protections can also help soften the blow if severe weather completely wrecks your trip. Cards with trip cancellation/interruption insurance can reimburse you for nonrefundable travel plans as long as you've paid for the trips with your card.
For example, the Chase Sapphire Preferred® Card offers up to $10,000 per person (and up to $20,000 per trip) to cover nonrefundable travel expenses if severe weather, injury or other covered situations prevent you from traveling.
Consider purchasing travel insurance to get additional coverage for American Airlines flight cancellations. Travel insurance policies may reimburse additional expenses or even cover the cost of rebooking another flight, depending on the coverage.
If your American flight gets canceled
Remember to act quickly. The airline may automatically rebook you on a new flight, but that might not be your best option. So first, check for options in the app. Then, if those don't work, call American Airlines reservations to see if there are better options.
If you bail on the trip, requesting a refund can generally be done online — saving you the hassle of waiting for an agent over the phone. However, the process varies depending on whether you booked a cash fare or used miles to book your trip.
Finally, suppose you're unsuccessful in obtaining a refund from the airline. In that case, you may be eligible to recoup some of your costs from your credit card's insurance or a separate travel insurance policy.
---
How to maximize your rewards
Get more smart money moves – straight to your inbox
Sign up and we'll send you Nerdy articles about the money topics that matter most to you along with other ways to help you get more from your money.