American Airlines Sues Skiplagged
"Hidden-city" booking site Skiplagged has faced the ire of airlines before. How it fares against American is yet to be seen.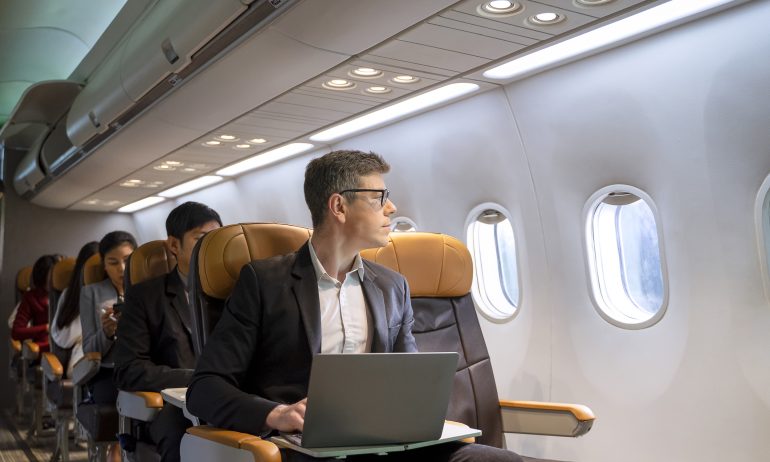 Many or all of the products featured here are from our partners who compensate us. This influences which products we write about and where and how the product appears on a page. However, this does not influence our evaluations. Our opinions are our own. Here is a list of our partners and here's how we make money.
American Airlines is cracking down on "skiplagging," a popular tactic some travelers use to save money on airfare.
In August, the Fort Worth, Texas-based carrier filed a lawsuit in federal court against Skiplagged, a company known for helping customers buy tickets using "hidden-city booking." Skiplagged searches flights with layovers in the passenger's desired final destination so that passengers can snag a cheaper fare by skipping the second leg of their trip.
American Airlines accuses the company Skiplagged of illegally selling its tickets to customers and using "unauthorized and deceptive ticketing practices" in the process.
The lawsuit comes just a few weeks after American Airlines made national headlines when it caught a teen apparently planning to use the tactic. The airline made him buy a new direct flight and reportedly slapped the teen with a three-year ban on the airline.
Given both the potential cost-savings and apparent risk, it's worth asking: Is skiplagging worth it?
Hidden-city ticketing, or "skiplagging," is an unconventional booking strategy where passengers can save money by booking a trip with a layover in the city they actually want to fly to.
Then, instead of taking the second flight, they simply leave the airport with their carry-on bag in tow. (It doesn't work if you have checked luggage because those would be routed to your final destination.)
In many ways, it's a booking strategy that's arisen from airline pricing models, which are driven less by distance and more by the forces of supply and demand (and the mysterious algorithms that monitor them).
Let's say you wanted to book a one-way flight in September from Charlottesville, Virginia, to Charlotte on American.
The cheapest nonstop flight, as shown by Google Flights, goes for $245.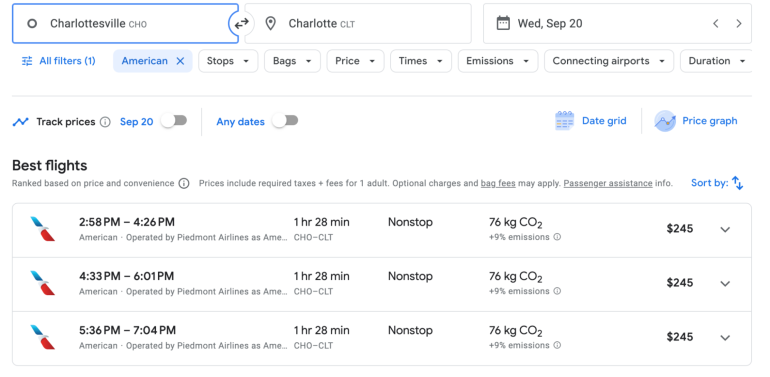 However, let's say you instead search for flights from Charlottesville to New York, but with a layover in Charlotte. That's just $92. If you were skiplagging, you'd disembark in Charlotte and skip the Charlotte-to-New York flight.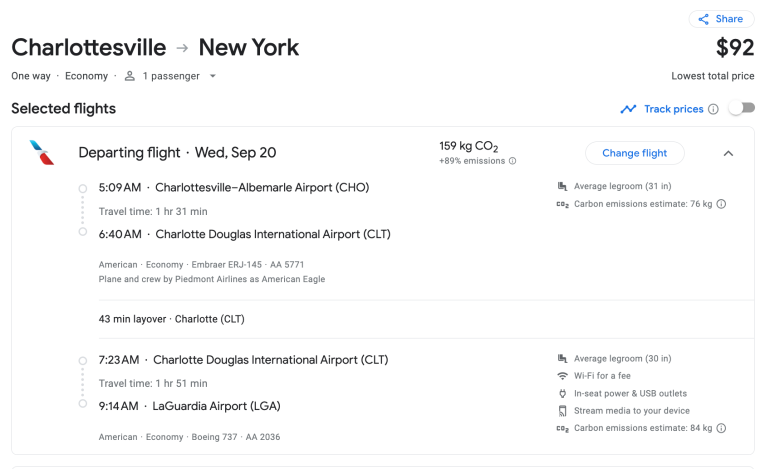 The problem with hidden-city ticketing is not that you'll be in legal trouble. It's that it violates the airline's policies.
American Airlines' conditions specifically prohibit "purchasing a ticket without intending to fly all flights to gain lower fares (hidden city ticketing)."
Most other major U.S. airlines have similar restrictions in place.
American warns of several steps it may take if it catches travelers using prohibited practices like hidden-city booking, including:
Refuse to let the passenger fly.

Charging the customer for what the ticket would have cost if they "hadn't booked it fraudulently."
In some cases, it may even ban you from flying with the airline temporarily — as in the incident with the teen earlier this summer. Even worse, you could be banned permanently.
Why is American suing Skiplagged?
In its recent lawsuit, American says that every ticket issued by Skiplagged "is at risk of being invalidated." The company continues to sell hidden-city bookings knowing that American will not honor such tickets.
The airline specifically calls out Skiplagged for, in its words, encouraging customers to lie about their final destination.
In the lawsuit, American points to some of the tips Skiplagged offers its customers. For example, Skiplagged advises not to overuse hidden-city itineraries and to avoid associating a frequent flyer account with the booking.
"You might upset the airline, so don't do this often," Skiplagged's website says.
In a statement to NerdWallet regarding this most recent lawsuit, a Skiplagged representative said the company exists because of airline pricing models. It specifically mentions American Airlines as "taking advantage" of travelers.
"Skiplagged wishes American Airlines was more concerned with finding a way to reduce their reliance on these monopolistic fares," a company spokesperson said, noting the company is "proud to stand on the side of the traveler."
Skiplagged has faced previous litigation from other airlines, most notably United Airlines back in 2014. A district judge threw out the case because the court didn't have jurisdiction, but Skiplagged phrases it a bit differently on their website, "Our flights are so cheap, United sued us ... but we won."
But with the latest lawsuit and more airlines cracking down on the practice, skiplagging gets even riskier for passengers.
---
How to maximize your rewards
Get more smart money moves – straight to your inbox
Sign up and we'll send you Nerdy articles about the money topics that matter most to you along with other ways to help you get more from your money.