Americans Prefer to Know Hotel Costs Upfront — Fees and All
Resort fees stink, but many feel that knowing these charges earlier in the booking process makes them easier to stomach.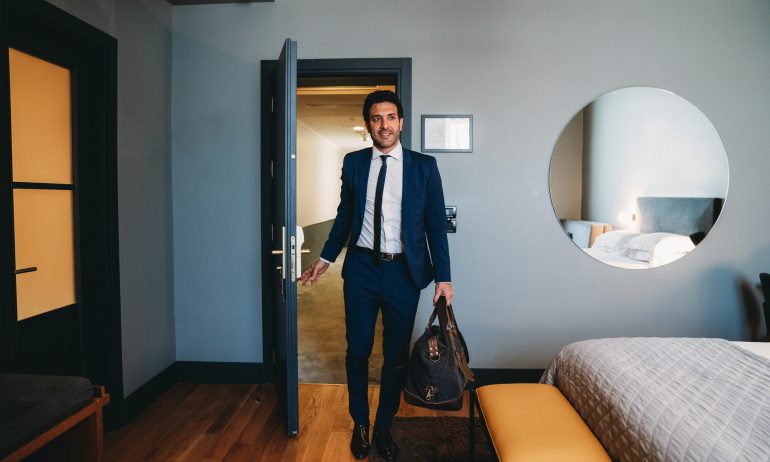 Many or all of the products featured here are from our partners who compensate us. This influences which products we write about and where and how the product appears on a page. However, this does not influence our evaluations. Our opinions are our own. Here is a list of our partners and here's how we make money.
Few things contribute to the end-of-vacation doldrums like checking out of your hotel and getting hit with a resort fee.
Resort fees tend to run from $20 to $50, and they're usually calculated per night instead of per stay. At some properties, these fees cover amenities like bikes, snorkels, yoga classes and cucumber-infused water. But other properties offer few resort-style amenities at all. Fees that cover menial amenities, like use of the room phone, can feel frustrating and wasteful.
Resort fees have become a hot issue in travel. President Joe Biden went so far as to reference them in his 2023 State of the Union speech when he touted his administration's Junk Fee Prevention Act, which is proposed legislation that would limit hidden fees and surcharges across a handful of industries, including travel.
Those fees encompass surprise surcharges for families to sit together on airlines or service fees for buying tickets to concerts and sporting events. And, yes, the proposed legislation aims to eliminate hidden resort fees, too.
What's particularly frustrating about resort fees is that hotel guests typically can't just refuse to pay them. It's not possible to, say, opt out of gaining access to the pool or gym in exchange for not paying the fee.
"We'll ban surprise 'resort fees' that hotels tack on to your bill," Biden said during his Feb. 7 speech. "These fees can cost you up to $90 a night at hotels that aren't even resorts."
A $90 resort fee is an extreme example, but resort fees can still amount to a big portion of your lodging budget. NerdWallet analyzed more than 100 U.S. hotels with January 2023 check-in dates and found that — among the hotels that charge them — the average resort fee was $42.41 per night. That amounts to about 10.76% of the room's overall nightly cost among hotels that charge such fees. 
How do Americans prefer to see lodging fees?
A NerdWallet survey conducted online by The Harris Poll sought to understand how Americans prefer to see resort fees when booking.
Of the Americans who intend to travel in 2023 and have ever looked for hotels/motels/resorts, 64% say they'd prefer to see one total combined price that includes all charges rolled into one, rather than a room rate plus separate fees. 
"If resort fees were included in the room rate, consumers could compare rooms at different hotels by simply viewing the room pages at the hotel websites," according to a 2017 report on resort fees from the Federal Trade Commission. "With separately-disclosed resort fees, consumers would need to add the room rate to the resort fee and remember the total for each hotel under consideration."
Meanwhile, 30% of 2023 travelers who've looked at hotels/motels/resorts prefer resort fees broken out from the room rate (7% say they weren't sure how they prefer to see costs), according to the NerdWallet survey.
There's one cohort that's less opposed to seeing lodging fees as separate line items: Generation Z (defined as those ages 18-26). Of 2023 travelers who have looked at hotels/motels/resorts, 39% of Gen Zers prefer to see fees separated out from the nightly rate, compared to just 29% of Generation Xers (ages 43-58) and 25% of baby boomers (ages 59-77).
So while the majority of Gen Z travelers still don't like separate fees when looking for hotels/motels/resorts, they're less likely to be bothered by it than some of their older counterparts. 
Why do hotels charge resort fees?
If most people don't like them, then why do hotels charge resort fees? There's no single reason, and you'll get different explanations depending on who you ask. Some resort operators say the fees encourage guests to actually use their amenities, which could make for a better overall vacation experience.
Then there's drip pricing, where companies advertise only part of a product's price and reveal other charges later as the customer goes through the buying process. With a lower base rate, a traveler might discover a hotel they wouldn't otherwise have considered. Of course, once the resort fee is added in, the price could end up being more than they expected.
Resort fees may also be a way for hotels to maximize profits without necessarily charging guests more. That's because resorts typically pay commissions to travel agents based on the nightly rate versus the overall cost.
"Hotels claim that resort fees allow hotels to reduce the commissions paid to online travel agents," according to the FTC, in reference to how a lower nightly rate plus resort fee reduces what the resort would pay the travel agency.
So, for example, a room that costs $250 per night without any resort fees might be listed instead at $200/night with a $50 resort fee, resulting in the same cost to the buyer, but allowing the hotel to save on its commission to the travel agent.
How can travelers avoid resort fees?
If you don't have points or status — and you're paying with cash — you can let your money talk. There are actually a surprising number of properties, even in resort areas like Las Vegas, that don't charge resort fees. Consider spending your money there instead.
This survey was conducted online within the United States by The Harris Poll on behalf of NerdWallet from Feb. 7-9, 2023 among 2,080 U.S. adults ages 18 and older, among whom 1,709 plan to vacation in 2023 and have looked at hotels/motels/resorts. The sampling precision of Harris online polls is measured by using a Bayesian credible interval. For this study, the sample data is accurate to within +/- 2.8 percentage points using a 95% confidence level. For complete survey methodology, including weighting variables and subgroup sample sizes, please contact Lauren Nash at [email protected].
Get more smart money moves – straight to your inbox
Sign up and we'll send you Nerdy articles about the money topics that matter most to you along with other ways to help you get more from your money.