Coronavirus Scrambles Hotel Breakfast Buffets for the Better
These are some of the grab-and-go hotel breakfast options that our writer encountered on her trip.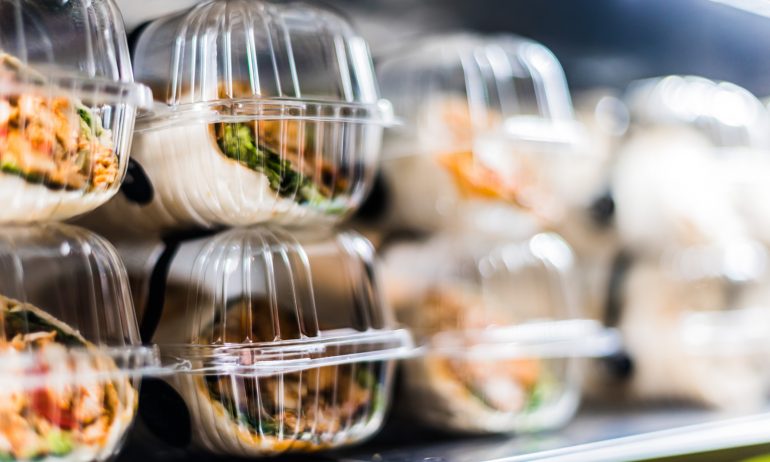 Many or all of the products featured here are from our partners who compensate us. This influences which products we write about and where and how the product appears on a page. However, this does not influence our evaluations. Our opinions are our own. Here is a list of our partners and here's how we make money.
Sneaking a banana in your jacket pocket, because you might be hungry later. Stuffing yourself with as much food as possible, because lunch in the tourist areas is expensive. Let's face it: Breakfast buffets have the capacity to turn people into thieves or bears in pre-hibernation mode. And I'll admit, I'm guilty.
Alas, hotel breakfast buffets have undergone a transformation ever since the coronavirus upended pretty much every aspect of travel. At most hotels that previously promised all-you-can-eat breakfast, there's no more infinite supply of pancakes. No omelette bar. No cereal dispenser that can dole out a half-dozen varieties.
Instead, most hotels that previously offered complimentary breakfast buffets have now shifted to serving to grab-and-go breakfasts as part of their efforts to safely serve guests during the COVID-19 pandemic. The quality varies by hotel, but it tends to consist of some assortment of a granola bar, a piece of fruit, a container of yogurt and maybe a prepackaged muffin.
Knowing this as I headed off for my national parks road trip around the Southwestern United States, I was prepared to be disappointed. After all, one of the greatest joys of roadtripping is carb-loading on Hampton Inn waffles. But after two weeks of galavanting through Arizona and Utah on my summer road trip, I realized that prepackaged breakfasts aren't always a dud — and sometimes, I kind of prefer them to the usual breakfast buffet.
Here's a look a several new breakfast options I encountered during this new COVID-era travel.
Hyatt Place Salt Lake City: The all-you-can-eat (prepackaged) breakfast
At the Hyatt Place Salt Lake City, there was an assortment of pre-packed food that you could help yourself to, including cereal, muffins, bananas, apples and yogurt, plus some hot items and Hyatt classics.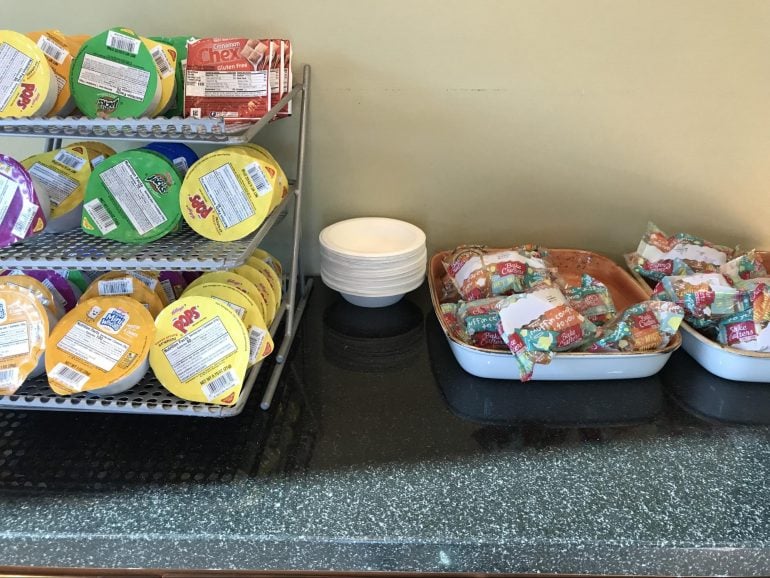 One section of the Hyatt Place Salt Lake City breakfast counter in July 2020 (pictured above) had complimentary grab-and-go muffins and cereal. No one seemed to care whether guests picked one muffin or four (presumably, one person might bring back breakfast for everyone else in the room).
Hyatt Place regulars might have a soft spot for the zucchini spice bread; in this case, it was individually packed in plastic wrap. Honestly, that's probably better than the past alternative where everyone touched the same tongs, or worse, ignored the tongs completely and stuck their grubby fingers into the loaf to grab their piece.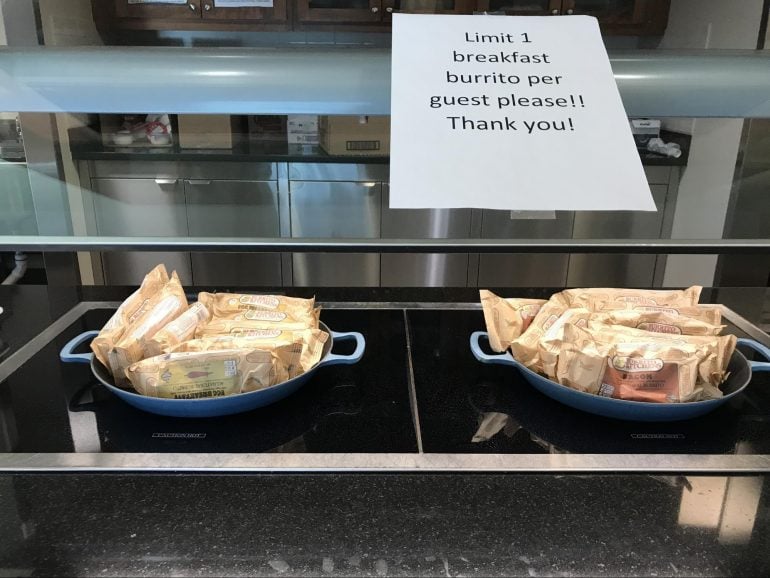 Surprisingly, one of the breakfast items available at this property was a prepackaged breakfast burrito (your choice of bacon-filled or vegetarian). I was particularly impressed that there was still a hot item — a packaged, once-frozen breakfast burrito from Burrito Kitchens that otherwise runs $3 to $4 in grocery stores. This was the only item that had a "please take one" disclaimer.
Home2 Suites by Hilton Page Lake Powell: The meager brown bag breakfast
A Hilton spokesperson said that properties providing the simplified grab-and-go option would provide breakfast for each registered guest, including a bagel, cream cheese, hard-boiled eggs, yogurt, fruit, juice and coffee. They added that would be "the minimum offering ... hotels that are able to resume a more extensive offering are encouraged to do so."
Alas, that wasn't quite my experience at the Home2 Suites by Hilton Page Lake Powell. My breakfast in August 2020 wasn't bad, but it was certainly more meager than promised.
Maybe I had previously been spoiled by the delightfully huge spread that I'd come to expect from Hilton's Home2 Suites brand, which included:
Multigrain buckwheat waffles.

Yogurt with fancy toppings like fruit, granola and nuts.
In fact, Hilton usually markets its Home2 Suites breakfast buffet as a place where you can concoct more than 400 breakfast combinations.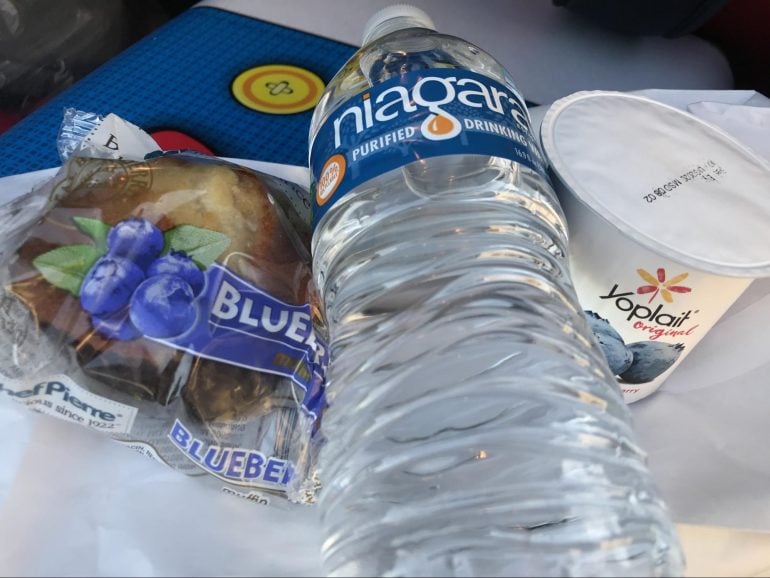 But this time, all I got at the Home2 Suites Hilton was a prepackaged muffin, yogurt and water bottle.
Still, I can't hate on a free yogurt and muffin to go. I had a 2.5-hour drive ahead of me to get to the Grand Canyon, where I would then spend the whole day hiking. Plus, I wanted to stop for a real, hot breakfast at the legendary Jacob Lake Inn anyway (it's famous for its cookies).
The yogurt was enough to tide me over for the drive to the inn. Later, after huffing and puffing my way back up the Grand Canyon, I whipped open my snack stash to find the muffin; no pastry ever tasted more paradisiacal.
Hyatt Place Moab: A brown bag breakfast and plenty of leftovers
When visiting Moab's Arches National Park, a wise traveler will wake up early to beat the oppressive heat. You probably don't want to hike Delicate Arch midday, when the sun is directly overhead, so you best be on the road early, which means no dawdling over the DIY-waffle maker.
At the Hyatt Place Moab, I woke up before the sun did. And it was here that I found perhaps the most impressive brown bag breakfast of my road trip. This generous spread consisted of:
Fresh eggs, sausage and potatoes in a to-go container.

A ready-to-eat oatmeal cup.

Carton of milk (with choices including non-fat and almond milk).
All that food was ideal for grazing on throughout the day: Eat the eggs upon entering the park. Whip out that yogurt when you finish your first hike. Break open the muffin when you need to replenish your glycogen storage after making it to the Double O Arch.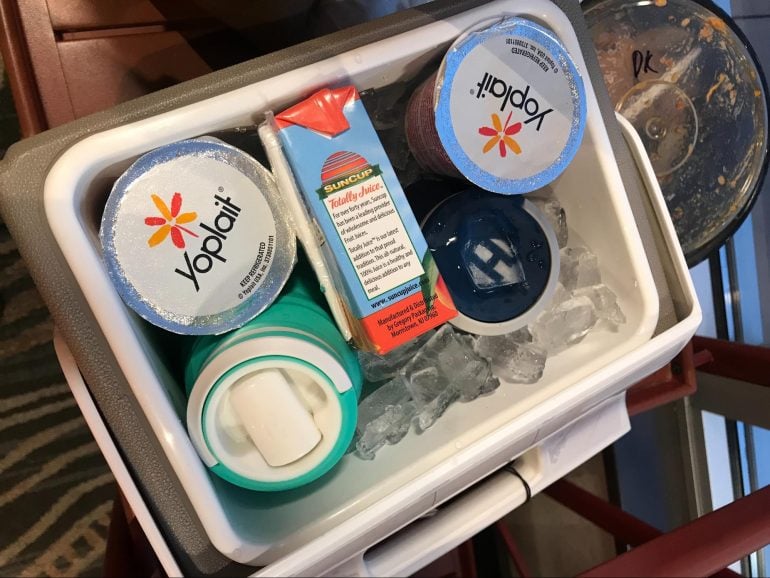 With so much food from the Hyatt Place Moab breakfast, I loaded the yogurt, juice and milk in a cooler for later — diving into it at lunchtime.
I appreciated that this to-go breakfast afforded me the freedom to hit the road and get out into the world as early as I wanted every morning, while still ensuring I had breakfast food when it was convenient for me to eat.
What does the future hold for hotel breakfast?
At Hilton properties that typically offer free breakfast, don't expect the buffet to come back by the time you plan holiday travel.
According to a Hilton spokesperson, the company anticipates any changes made to breakfast will be in effect through at least the end of the year, and it plans to reassess resuming full food and beverage offerings early next year.
For full-service Hyatt hotels with restaurants that usually offer buffets, a spokesperson told us that hotels have temporarily shifted to a la carte menus and made-to-order options. And at select-service hotels with a breakfast buffet, hotels have shifted to individually prepackaged items (they added that the company will "update and adjust guidance as the COVID-19 pandemic continues to evolve").
Some Hyatt locations are experimenting with other options, including improved room service offerings or individual buffet-style meals that are curated and proportioned for each dining table.
As was the case with most hotel breakfast buffets pre-COVID, the quality of grab-and-go breakfasts can sometimes be unpredictable, varying not just by hotel brands, but even by specific locations within the same brand.
I'll be grateful when real breakfast buffets return — when I can order my eggs scrambled, hard-boiled or sunny side up. I look forward to the day when I can once again mix four different cereals in one bowl just because I want to. And I crave avoiding the tough decision to have eggs, pancakes or French toast, choosing a smidge of each instead.
But on the sunny side, the COVID-19-friendly alternative seems to be working out OK for now. Hopefully, hotels will continue to offer some improved grab-and-go options even when "real" breakfast returns. Maybe I'll no longer feel compelled to overeat in the name of "not wanting to be hungry later." And I can get my piece of fruit for the road without feeling like some sort of apple-stealing Aladdin.
---
How to maximize your rewards
Get more smart money moves – straight to your inbox
Sign up and we'll send you Nerdy articles about the money topics that matter most to you along with other ways to help you get more from your money.