8 Credit Cards That Reimburse Nexus
A range of Chase cards now offer Nexus reimbursement as a benefit, including some co-branded cards.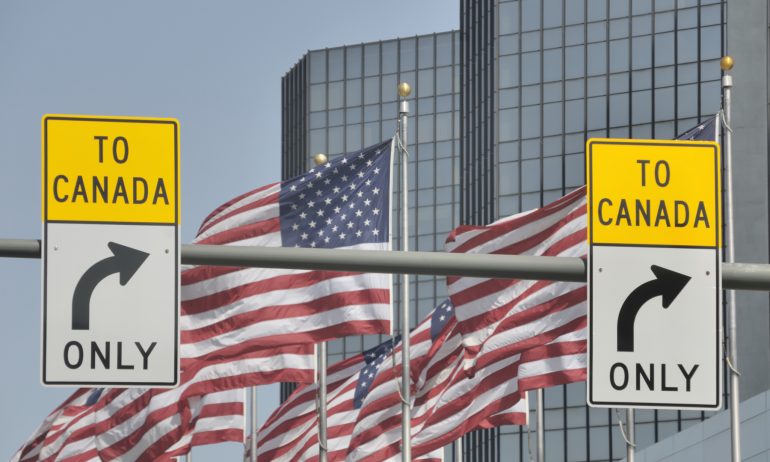 Many or all of the products featured here are from our partners who compensate us. This influences which products we write about and where and how the product appears on a page. However, this does not influence our evaluations. Our opinions are our own. Here is a list of our partners and here's how we make money.
Few things waste more time than waiting in line. Why add more time waiting at the airport?
Luckily, several trusted traveler programs — such as TSA PreCheck, Global Entry, Nexus, Sentri, and Fast — help us save time spent waiting in line and use it for something more productive.
Time is money, and ways to save time cost money. However, it's possible to get some of these enrollment fees covered via a Nexus credit card reimbursement.
Let's cover who should enroll in the program and which credit cards reimburse Nexus.
Nexus is a three-in-one membership that helps you breeze through various airport and immigration queues in Canada and the U.S. Think of Nexus as similar to Global Entry except that it works exclusively in these two countries.
Nexus is a trusted traveler program — run jointly by the U.S. Customs and Border Protection and the Canada Border Services Agency — that allows members to use dedicated lines to expedite crossing the border into the United States and Canada when arriving from any country by air.
Nexus also allows members to cross the U.S.-Canada border quickly by land and sea.
Nexus membership actually includes Global Entry, so you can enjoy a quick and painless entry into the U.S. as well. And if you add your Nexus-associated Known Traveler Number to a reservation, you can enjoy the perks of TSA PreCheck membership, too.
To sum it all up, you get the following perks by applying for a Nexus membership:
Expedited processing when entering Canada by air.

Expedited processing when crossing the U.S.-Canada border by land or sea.

Global Entry for expedited processing when entering the U.S. by air.

TSA PreCheck at more than 200 U.S. airports.
What does a Nexus card cost?
Nexus cards cost $50 each and include five years of membership. Compare that to Global Entry, which charges $100 for the same time span.
How to get a Nexus card for free through Chase cards
Many credit cards reimburse the cost of TSA PreCheck and Global Entry enrollment — and now that is expanding to cover the cost of Nexus, too. Several Chase cards have added the enrollment cost of Nexus membership every four years to their travel benefits.
Credit cards that reimburse a Nexus application fee are:
Use any card above to pay for your Nexus membership and receive a statement credit back in your account. Because a five-year Nexus membership costs $50, the credit of up to $100 covers up to two membership fees, meaning you can enroll yourself and a spouse, a family member over 18 years old or a friend. Children under 18 are free and don't pay an enrollment fee.
How to apply for a Nexus card
So, if the Nexus application fee is only $50 compared to a $100 cost of Global Entry, and it includes TSA PreCheck and Global Entry, why wouldn't you pay a lower fee to enroll in Nexus in the first place?
The main reason is the second step of the application process. Even if you qualify for the trusted traveler program, you must follow up with an in-person interview at a Nexus enrollment center located along the U.S.-Canada border.
To apply for Nexus, you must be a citizen or a resident of the United States, Canada or a Mexican national who is a member of the Viajero Confiable program.
Required documents, broken down by citizenship
Applicants must provide the following documents.
A birth certificate and a photo ID.

A Canadian citizenship certificate.

A certificate of Indian Status.
A birth certificate and a photo ID.

A U.S. citizenship certificate.

A certificate of naturalization or a border crossing card.
Canadian permanent residents
A valid permanent resident card.
A valid permanent resident card.
Mexican nationals who are members of Viajero Confiable
A valid work or study permit (if required).

Workers or students in the U.S. and Canada.

A work permit or a study permit.
Then, you have to fill out an online application and pay a nonrefundable application processing fee of $50.
The last step is the most complicated, yet important, step. You must schedule an in-person interview with an officer at a Nexus enrollment center located along the U.S.-Canada border.
You can find Nexus enrollment centers in the following U.S. and Canadian cities:
Nexus enrollment center locations
Unless you live in or close to a city with a Nexus enrollment center, it might be difficult to schedule the required in-person appointment.
One way to make the in-person interview happen is to schedule an appointment in combination with already-planned travel.
Say you booked a work trip to Detroit or a family vacation to Seattle. You can try to time your interview with a trip. However, note that an appointment will eat into your work/vacation hours.
If you're considering a Nexus membership
If you cross the land border between Canada and the U.S. often, whether for business or for personal reasons, you might consider enrolling in the Nexus program to shorten the time you wait in line. Now that several Chase credit cards cover the cost of processing fee, there's one less hurdle in your way. TSA PreCheck and Global Entry benefits are a bonus — all for a fee of $50 every five years, which you can get reimbursed for if you plan ahead.
---
How to maximize your rewards
Get more smart money moves – straight to your inbox
Sign up and we'll send you Nerdy articles about the money topics that matter most to you along with other ways to help you get more from your money.