The Guide to Delta Basic Economy
You can't change or cancel your ticket and you won't earn SkyMiles when flying Delta basic economy.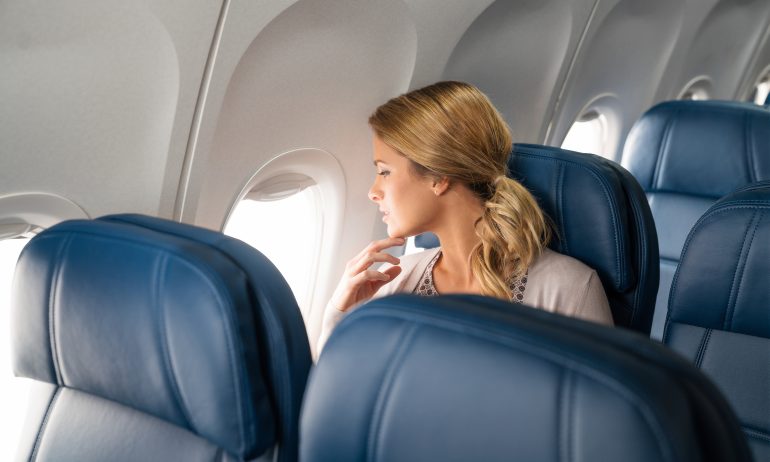 Many or all of the products featured here are from our partners who compensate us. This influences which products we write about and where and how the product appears on a page. However, this does not influence our evaluations. Our opinions are our own. Here is a list of our partners and here's how we make money.
Are you willing to accept a bare-bones airplane experience if it means saving money? Basic economy seating on Delta Air Lines offers a less expensive way to fly, but it does have fewer perks than a regular main cabin ticket. You might be wondering: does it include a carry-on? Am I even guaranteed a seat? What is basic economy on Delta like, really?
Find out what to expect when flying Delta basic economy, how to book a ticket and other ways to add value to your flight.
What to expect flying basic economy with Delta
What's included in Delta's basic economy fare and what does it offer passengers looking to save money? Here are the basics.
Delta basic economy baggage
Checked bag allowance: Delta basic economy baggage rules depend on your destination. Those on domestic flights will pay the same as other main cabin passengers: $30 for the first checked bag and $40 for the second.
International travelers will likely have to pay for a checked bag, but the rate varies based on destination. Fees start from $30 in each direction to the Caribbean to $75 in each direction to Europe. However, on flights to Asia, basic economy passengers get one checked bag for free.
Carry-on allowance: When flying Delta basic economy, a carry-on and a personal item are permitted free of charge.
Earn up to 100,000 bonus miles with our favorite Delta cards
Check out our nerdy picks for the best Delta credit cards and find the right card for you.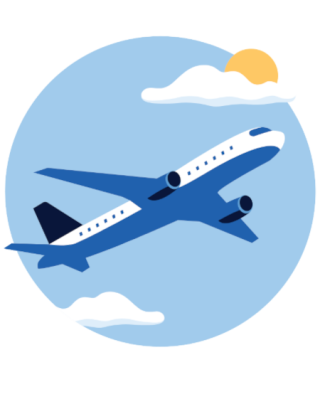 Delta basic economy seats and in-flight experience
Seats: Although you get to sit in the main cabin, you don't get to select your seat for free. If you book multiple people on the same reservation, it's possible that your party may be split up. Unless you pay for a seat, you'll be assigned one either at check-in or at boarding time. You are, however, guaranteed a seat as much as with any other ticket.
Entertainment: If you're wondering whether you'd be bored on your flight, don't worry. A basic economy ticket doesn't take away your seatback screen or the option to watch in-flight movies or TV with your personal device through Delta Studio.
Food and beverages: In-flight refreshments are also the same as you would receive in the main cabin: snacks on domestic trips and full meals on international flights.
Rewards earnings: Passengers flying basic economy on Delta will not earn redeemable Delta SkyMiles or credit toward Medallion status.
Delta basic economy lounge access
Lounges: As you might have guessed, a basic economy ticket doesn't grant any lounge access. However, if you have Delta Sky Club access by other means, such as an annual membership or a credit card benefit, a basic economy ticket doesn't prevent entry.
How to book a basic economy ticket with Delta
Booking a basic economy ticket with Delta is quite easy. Search for a flight like you normally would — enter the city pair, travel dates and the number of passengers. Select the red arrow to view the results. In this example, we're looking for a one-way ticket from Salt Lake City to Los Angeles on Dec. 15.

If a basic economy option is available, it'll be the first option displayed on the left. Whether you want to pay for your ticket with dollars or miles, the results are going to be displayed the same way.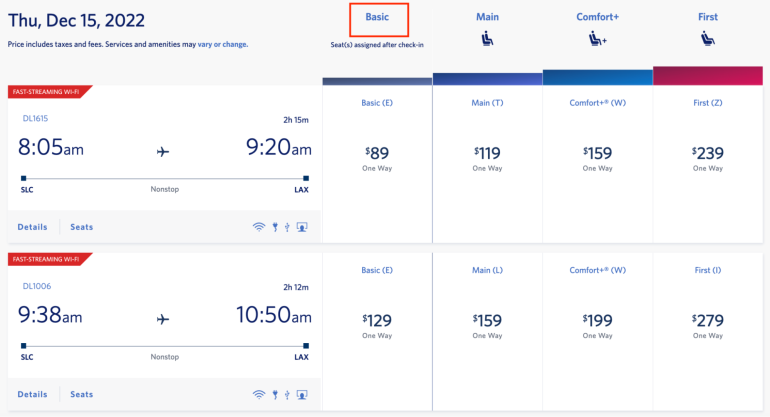 Once you select the flight you want, a disclaimer will appear notifying you that there are limitations when booking a basic economy ticket:
No seat(s) assigned until after check-in, not together.

Cancel for partial eCredit (ticket minus $99/person).

Last to board and not eligible for upgrades.

No miles earned; no credit toward SkyMiles Medallion status.
If you wish to proceed with purchasing a basic economy ticket, you must check the "Accept Restrictions" box to continue booking the flight.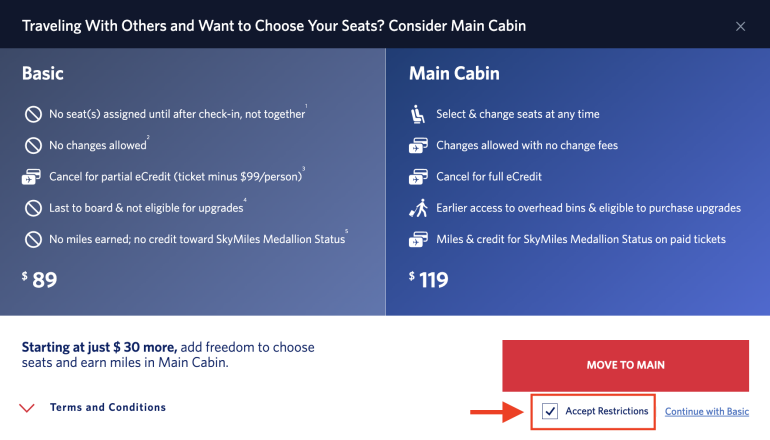 By checking the box, you avoid any miscommunications about the kind of fare you're purchasing and acknowledge the restrictions associated with a basic economy ticket on Delta.
Delta basic economy vs. main cabin
Delta offers its economy passengers three options: basic economy, main cabin and Comfort Plus. So, what exactly are the differences between Delta basic economy and main cabin tickets?
As mentioned above, Delta's basic economy fares don't allow seat selections, ticket changes, full refunds or rewards-earning opportunities. Additionally, basic economy passengers are the last to board a Delta aircraft and aren't eligible for upgrades.
Main cabin passengers can choose their seats, change or cancel a ticket at no extra cost, earn flight rewards and board the plane before basic economy passengers.
If you choose to book a basic economy ticket, you have to accept a random seat assignment (even if it's the middle seat) and be absolutely sure you don't need to cancel or change your flight. You'll also give up earning miles for the trip.
Before you make a final decision, compare the benefits against the difference in price and decide whether an upcharge is worth the extra perks.
Additional ways to get good value
Although a basic economy ticket offers just the basics — literally — there are still ways you can make your travel experience more enjoyable.
Because you won't earn rewards on basic economy flights paid with cash, you might as well redeem miles to book one of these fares and save the money for a future trip. In our example flight from Salt Lake City to Los Angeles, the earlier flight costs $89 and the later flight is $129. If you were to pay with miles, the rates are also different: 6,000 SkyMiles and 9,500 SkyMiles, respectively.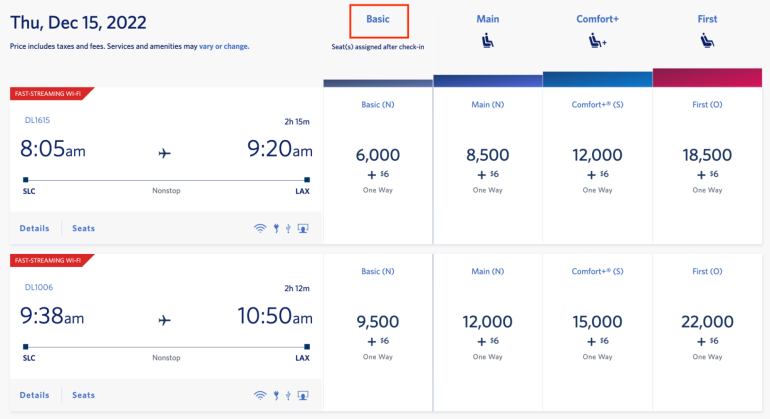 The first option yields 1.39 cents per mile in value and the second option yields 1.30 cents per mile, which is below average for Delta SkyMiles, according to our NerdWallet valuations. Not a huge difference in value in this case, but still make sure to look carefully at all the flight choices and take advantage of the redemption rates that benefit you the most.
Take advantage of credit card perks
Delta basic economy passengers get on the plane in the final boarding zone.
If you often check luggage, more perks await: select co-branded credit card holders can check their first bag for free, as can up to eight companions traveling on the same reservation. Terms apply.
Basic economy across U.S. airlines
In NerdWallet's annual analysis of the best airlines, we compared the basic economy experience across the major U.S. airlines currently offering a basic economy fare. We looked at restrictions and allowances, including baggage, miles earning and trip modification policies. Here's how they stacked up:
Delta basic economy, recapped
When flying basic economy on Delta, don't expect anything fancy. Although the seats are the same as in the main economy cabin, you can't pick one for free, and it's not possible to change or cancel your ticket if something unexpected comes up.
The final nail in the coffin is the lack of rewards you can earn on these types of flights. If the price difference is manageable, we suggest opting for a main cabin ticket instead.
Photo courtesy of Delta Air Lines.
---
How to maximize your rewards
Get more smart money moves – straight to your inbox
Sign up and we'll send you Nerdy articles about the money topics that matter most to you along with other ways to help you get more from your money.