Disney Cruise Review 2023
This travel Nerd fulfilled her Disney cruise dreams. It was expensive but worth every penny.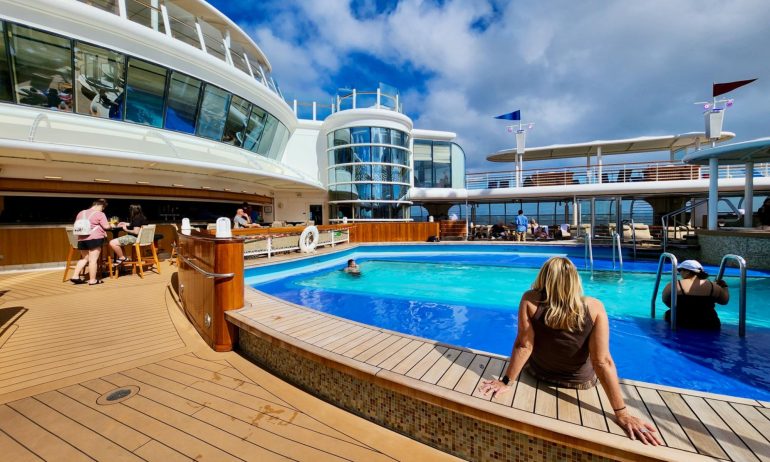 Many or all of the products featured here are from our partners who compensate us. This influences which products we write about and where and how the product appears on a page. However, this does not influence our evaluations. Our opinions are our own. Here is a list of our partners and here's how we make money.
I've always been a big Disney fan. Whether I'm visiting nearby Disneyland or flying to its big brother Disney World, there's little about Disney I don't like. This includes its cruises, which I have been eyeing enviously for years. 
Happily, I was recently able to take a Disney cruise, and the experience lived up to my expectations. Let's talk about it in this review.
Like most everything Disney, its cruises are expensive. While you might find a cruise for a couple of hundred dollars on a different line, expect to pay more for Disney. Room rates start at $1,400 for two guests on the four-night cruise from San Diego to Cabo San Lucas, Mexico, that my family and I booked. 
Rather than settling for an interior category room, we booked a deluxe oceanview stateroom with a verandah. Prices can vary but expect to pay a minimum of $2,500 for this room type. 
While booking a Disney cruise is costly, there are ways to help bring down the price. If you subscribe to Disney+, for example, you may be able to take advantage of an offer allowing the third and fourth guests in your stateroom to sail for free. 
Those who live in Southern California, Florida or Canada may also qualify for discounted rates on select routes and dates, as do those in the military. 
Once we booked the cruise, we received an email confirmation. Along with details about our itinerary, the confirmation also included information regarding online check-in and documentation. 
We needed to provide a variety of information before departure, including our passport information, COVID vaccination status and other personal details. Once completed, Disney assigned my family a port arrival time, which let us know when to show up for embarkation. 
We were also mailed luggage tags to attach to our suitcases. This meant we were able to drop off our bags upon arrival and receive them in our room a few hours later. 
On the day of departure, we were due to board at 1:45 p.m. Once we arrived at the cruise terminal, however, we were required to join several very long queues before actually getting on the ship. This included a security screening as well as an additional check-in process. 
The cruise ship terminal is decidedly unmagical. It's a large concrete building filled with ropes and one sad vending machine. The entire process took an hour from arrival until the time we got into our rooms. 
I wish I could say this was unexpected, but Disney is as known for lines as it is for quality. All in all, I didn't love the embarkation process, but I understand the necessity. 
For what it's worth, those who book Disney cruise concierge rooms enjoy an entirely separate and expedited check-in experience.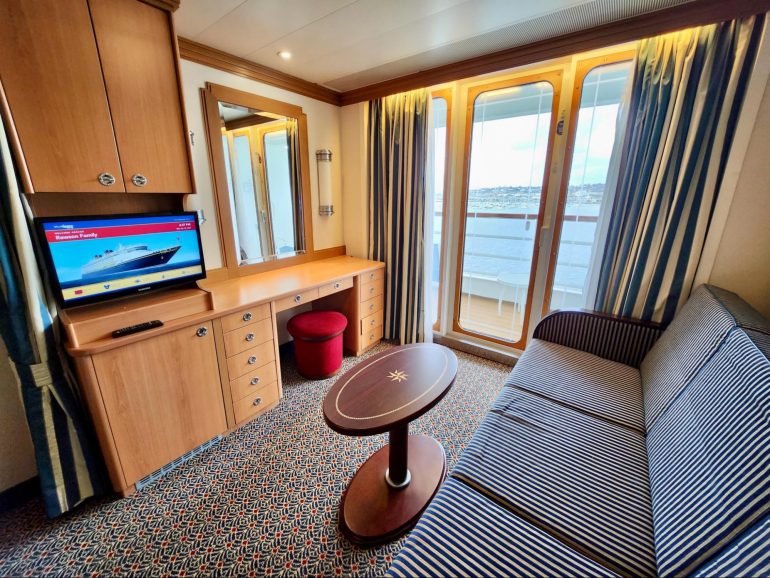 We were aboard the Disney Wonder, which is one of five ships that Disney operates. As I mentioned, we had booked a room with a verandah. It felt pretty large for a cruise room, especially since it fit both a king bed and a fold-out couch.
The total square footage of the room came in at 268 square feet, which means a total of three to four guests can fit. However, my family had booked two separate (and connecting) rooms, which meant just my brother and I were sharing a room. 
The room included all the standard amenities you'd expect, including a hair dryer, expansive closet and fridge.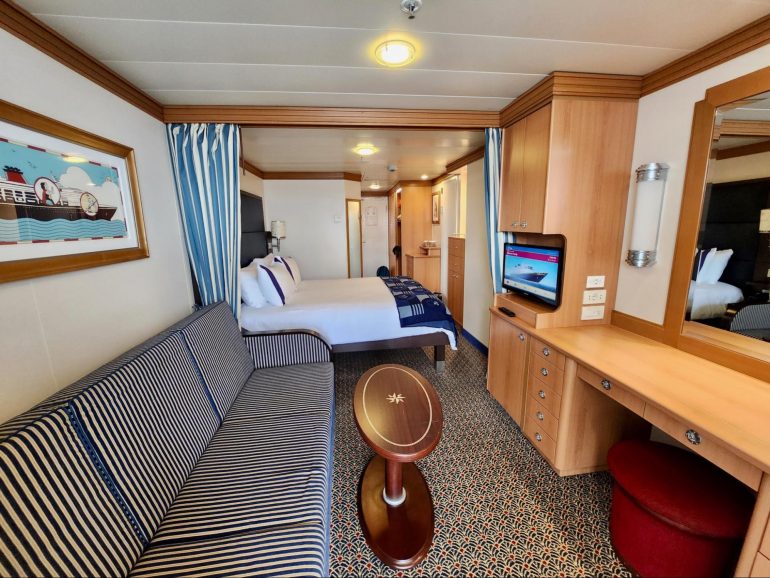 It's clear that Disney expects many different types of guests. I was grateful for the curtain divider that separated the "living room" from the "bedroom," since my brother and I each had a private space.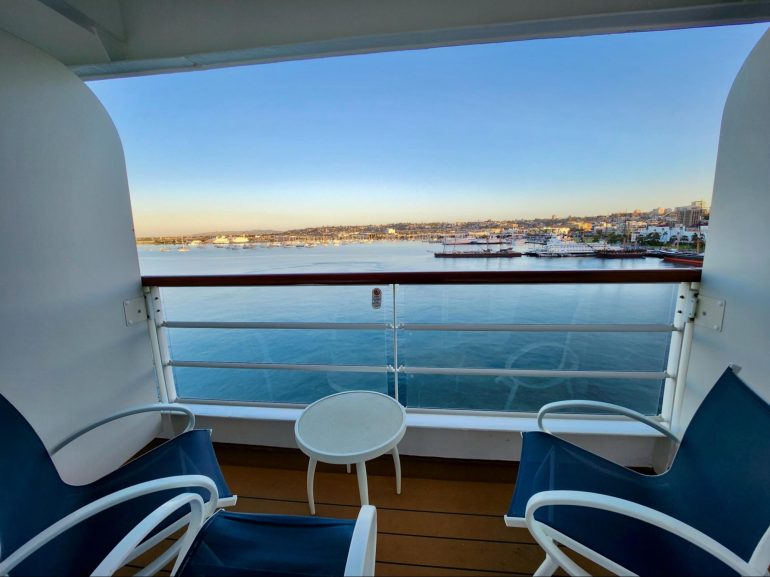 My favorite part was our private verandah, where we spent a lot of time hanging out, reading and enjoying the wine we'd brought with us.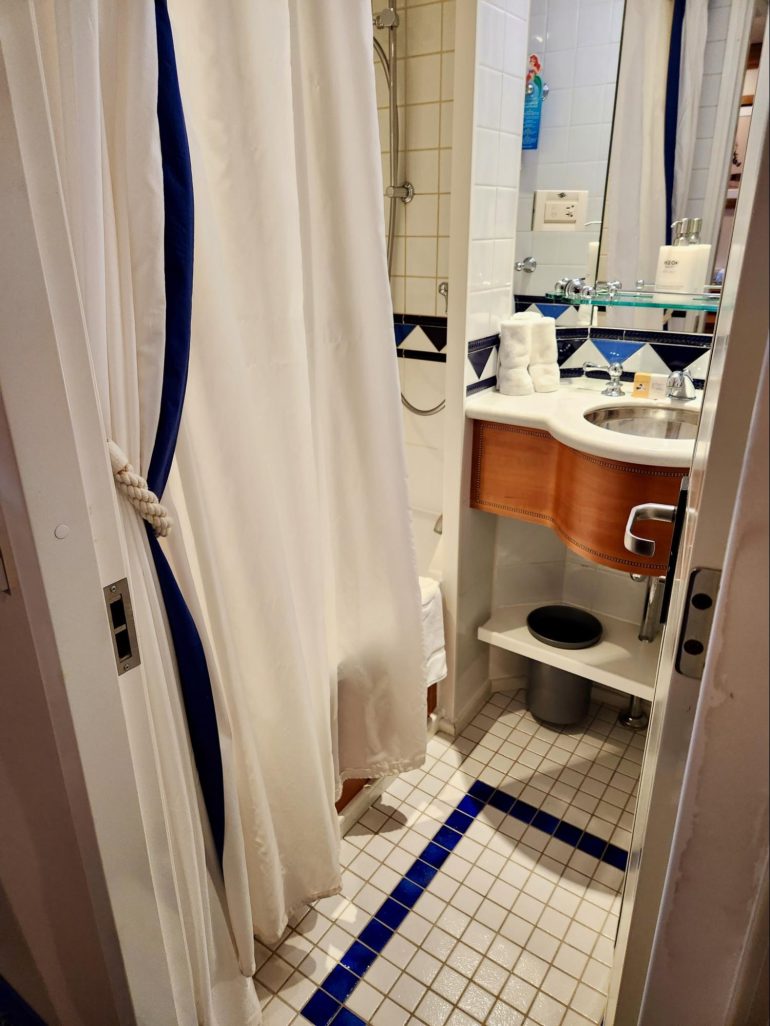 I also especially appreciated the bathroom design. Rather than cramming everything into a single space, Disney has chosen to create two distinct bathing areas. One features the shower and a sink.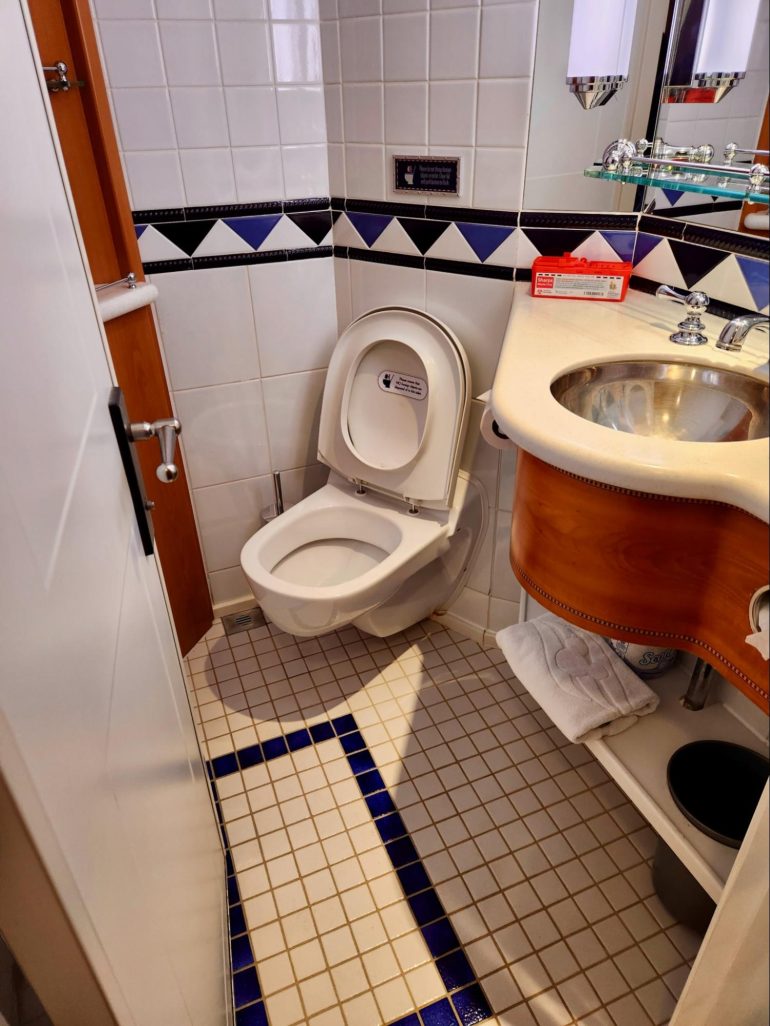 The other has an additional sink as well as a toilet.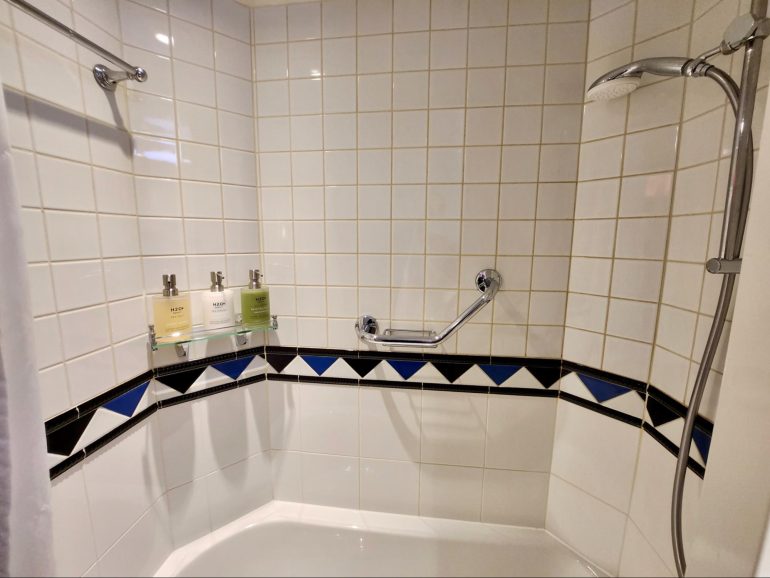 Such a design allows two groups of people to get ready simultaneously, which is super convenient. The shower also includes a tub, which is unusual for cruises. I imagine the intention is to make it easier for children and families. 
Note that each night housekeeping came in for turndown. This included creating fun towel animals, converting the couch into a bed and providing chocolates.
I've been on cruises before where the food was unlimited but nearly inedible. This wasn't the case on my Disney cruise. Simply put, there is food everywhere, all the time, and nearly all of it is incredible. Most food on the ship is included with your fare, though there is one specialty dinner restaurant that costs money. 
Most non-alcoholic drinks are also included, such as coffee and soda. Specialty coffees and smoothies cost extra, as do any alcoholic beverages. 
Guests are allowed to bring up to two bottles of wine or six cans of beer with them when they board and at each port of call.
In the mornings, there are two dining options: a buffet or a sit-down restaurant. We tried out both, and the result was a resounding mixed bag. I greatly preferred the sit-down option, which had fewer options but a much slower pace.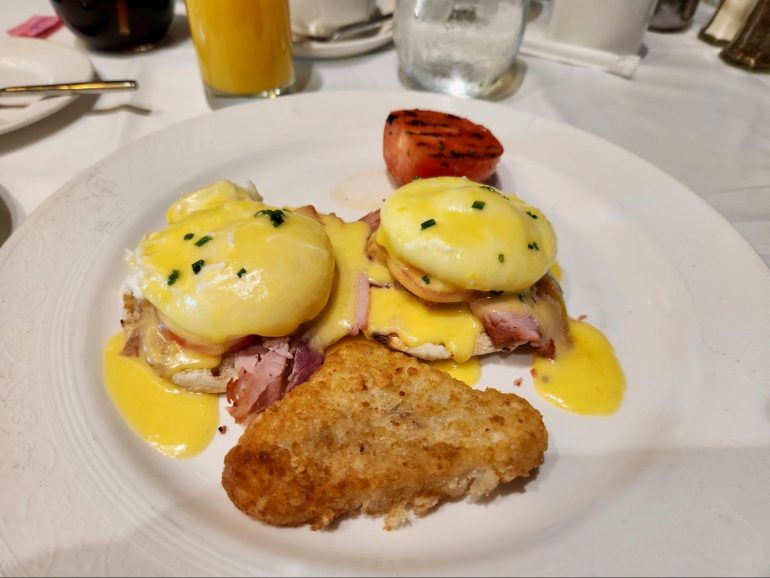 As for food, I particularly enjoyed the eggs benedict, though you're able to order as many meals as you'd like. 
My dad, meanwhile, loved the plethora of choices provided by the buffet, although it was much more crowded than the sit-down restaurant. 
At lunchtime, it was also possible to enjoy a plated meal, but we generally found ourselves too full to go in for a big portion. Instead, we enjoyed quick bites from the pool deck, which included paninis, ice cream, chicken tenders, fries, hot dogs, salads and more.
Dinner was the crown jewel of the evening. Each night, we showered, got dressed, then went to eat at a rotating variety of restaurants. Disney breaks up diners into two groups: First seating is at 5:45 and the second seating is at 8:15. We had the second seating, which was a little late for my taste.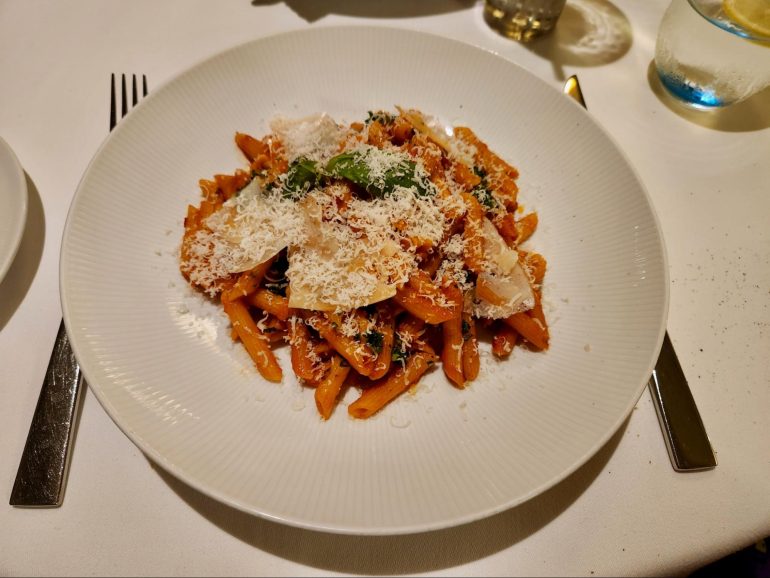 Again, you can order as much as you like during your meals, which quickly becomes a slippery slope. The first night I ordered just a single entree, but by the end, a veritable pile of plates surrounded me during dinner. 
A final note: Although water is free onboard, it can be difficult to come by, especially if you didn't bring your own refillable bottle. While room service will charge you for a bottle of water, it'll bring you as many glasses as you like for free. 
There are almost too many things to do aboard this cruise ship, and we struggled a little trying to fit everything in. 
Each night, Disney put on a different show in its main theater. This is perhaps one of the things I was most looking forward to — although nearly all cruises provide live entertainment of some sort, Disney's is said to be the best. They didn't disappoint. While these weren't, maybe, Broadway-quality, they were high-end, well-designed and really fun to watch. 
Most everything you do during your cruise takes place courtesy of the Disney Cruise app. This includes viewing the daily schedule and booking any paid activities. While these are completely optional, they are a lot of fun.
During our trip, we tried both the whiskey tasting and the beer tasting, both of which were worth the additional cost. If this is something you're planning to do, be prepared to pay from $40 to $70 per person for your activities. 
Games and other activities
Like I said above, there is an absolute abundance of things to do onboard. If you're not interested in the pool, gym, spa, deck, sports or shows, it's still possible to find tons of things to do. 
One favorite activity was bingo, which featured a rolling jackpot and took place three out of the four days of our cruise. 
There are also things like Disney movies playing in various theaters, towel folding classes, karaoke, trivia contests, drawing classes and more. 
If you're traveling as a family, you'll be glad to note that there are plenty of things for teens to do as well. While I didn't spend any time in these venues, I did peek into Vibe, the teen-exclusive hangout area at the top of the ship. Teenagers also have access to the Chill Spa, which is designed specifically for their age group. 
Tweens aren't left out, either. The Edge club fills the niche between teens and children and features video games as well as a dance floor. 
Again, we were a group of four adults traveling together, so we didn't need to take advantage of any children's activities, but suffice it to say that kids have a lot to choose from. The Oceaneer Lab was especially popular and is for those ages 3 to 12.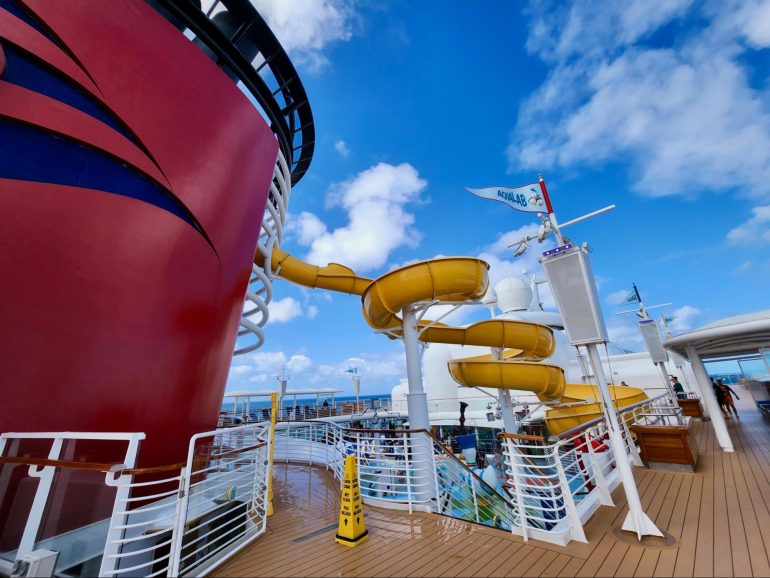 Deck Nine and above featured a couple of different pools, a splash pad, a waterslide and a sports area. 
Although Disney cruises are definitely oriented toward children, they also maintain separate adult-only areas. As a family of four adults, we certainly enjoyed the quiet that came with our own private pool. 
The Senses Spa and Salon offers a wide variety of treatments, from couples massages to haircuts and manicures. I didn't indulge, but my parents did, and they had a great time. There's also the option to purchase access to the Rainforest Room, which includes heated stone chairs, a sauna and a steam room.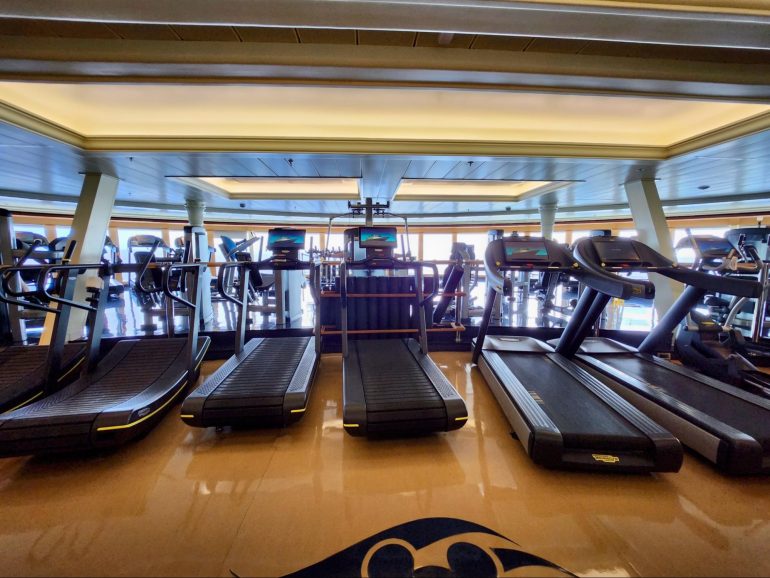 If you're the type of person who wants to exercise while on vacation, the ship's fitness center has you covered. Although I visited only once, I quite enjoyed the well-stocked facilities and the ability to look out over the water while working out. 
There were quite a few treadmills, bikes (both spinning and recumbent), free weights, ellipticals and really interesting curved treadmills that I was too afraid to try. 
Disney gives all its customers 50 MB of free data on day one. After that, you'll need to pay, though the pricing is exorbitant and starts at $19.99 for an additional 50 MB. It's not that fast, either, according to my mom, who spent the money and immediately regretted it. 
I resisted the urge to purchase any and instead relied on my international data when we made port. It was tough but I survived. 
This four-day cruise included just one stop in Cabo San Lucas, Mexico. I've never been a huge fan of stopovers on cruises, mostly because I feel like they're too short and inauthentic. That was the case here, though this wasn't any fault of Disney. 
The disembarkation and re-embarkation process was smooth, though we did need to board a smaller boat to get to land. Although we could have stayed out from 9 a.m. to 3 p.m., we ended up returning early to enjoy lunch on the ship. 
Note that it is possible to book excursions through the Disney Cruise Line app as well as onshore, though we chose not to. 
After breakfast on our last morning, it was time to disembark. We chose to hold our luggage with us, though it was possible to have it delivered down to the terminal. 
The disembarkation process was as magical as the embarkation process. That is to say that it was terrible, disorganized and took way too long. We stood in line for more than an hour both on the ship and onshore as we waited for the immigration clerks to process the many thousands of passengers. 
Disney cruise review recapped
I've waited a lot of years to experience a Disney cruise, and at the end of it all, I'm glad I had the opportunity. Was it expensive? Yes. Was it worth the cost? Also, yes. Although I haven't booked another Disney cruise yet, I'm looking forward to the day I can board one again. 
(Top photo courtesy of Carissa Rawson)
---
How to maximize your rewards
Get more smart money moves – straight to your inbox
Sign up and we'll send you Nerdy articles about the money topics that matter most to you along with other ways to help you get more from your money.