Here's What It's Like When a Hotel Switches Brands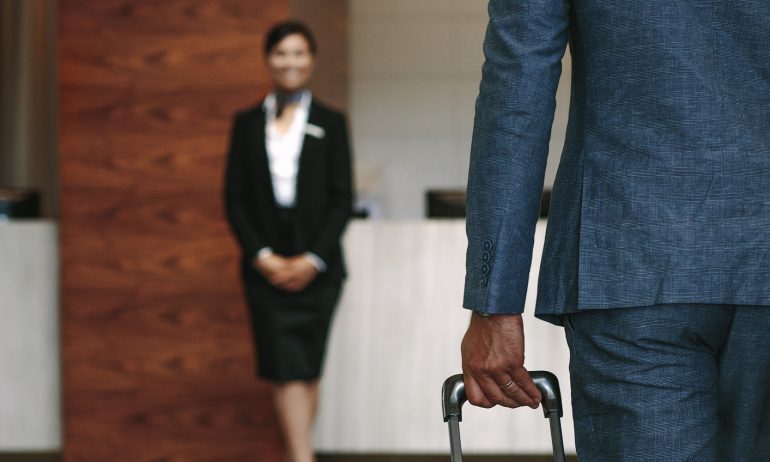 Many or all of the products featured here are from our partners who compensate us. This influences which products we write about and where and how the product appears on a page. However, this does not influence our evaluations. Our opinions are our own. Here is a list of our partners and here's how we make money.
The next time you check into a hotel, look around carefully. It is amazing the number of branded elements that are in guest rooms, public areas and even behind the scenes. But what is truly interesting to understand is the story about how those branding elements arrived there in the first place.
When you reserve a hotel, you might often look to specifically stay with your preferred travel brand. Sometimes, you may choose a hotel based primarily on price or location. Nevertheless, hotel brands are a key part of business. And when a hotel decides to make a change, whether for economic reasons or perhaps new ownership, there is a lot of work that goes on behind the scenes to make that new name a success.
Hotel companies are often searching for iconic properties to add to their portfolios, whether to fill in gaps in their geographic network or simply offer something that customers will find especially appealing.
Since many hotels are operated under management contracts and are not owned by the hotel corporation itself, this means that ownership companies purchase properties and then decide which brand they want it to operate under.
If a hotel chooses to make a brand switch, it is not as simple as slapping on a new coat of paint. There are hundreds (if not thousands) of small touch points that are affected.
While it takes months of coordinated planning, the actual day of the brand switch is a complex process. For legal and operational reasons, many branding elements cannot be put into place until midnight, when one contract ends and another begins. Even training for staff cannot begin in full force while the hotel is operating under another brand contract. This requires careful planning so the hotel can remain open while the transition occurs.
We followed this intricate process of rebranding a hotel during a visit to Puerto Rico's El San Juan Hotel, which rebranded to a Fairmont property on Jan. 3, 2020. Previously, it had operated as a Curio Collection by Hilton. Opened in 1958, the hotel is an island legend in the Isla Verde neighborhood. It occupies beachfront property only five minutes from the international airport.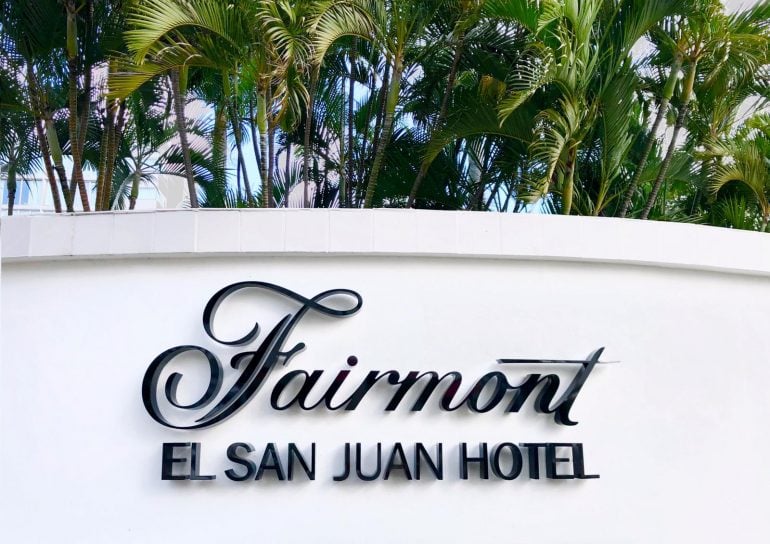 Over the years, it has welcomed celebrities and entertainers like Frank Sinatra, Liza Minnelli and Julio Iglesias. Following a $65 million renovation, the hotel retains its iconic status with many of its vintage features, like the Chico Cabaret where many well-known performers have taken the stage.
The transition between brands took place the evening of Jan. 2, and it went off without a hitch — but that's because every little detail was anticipated. Andrea Torrance, senior vice president for guest experience with the Fairmont brand, is a pro when it comes to brand transitions or opening a new hotel. She knows what to anticipate in a brand changeover and stayed up all night on the evening of Jan. 2 to oversee the switch to the Fairmont brand.
This is the first Accor property in Puerto Rico and the third Fairmont in the Caribbean Islands and Bermuda. To prepare for the big day, Fairmont sent teams to the hotel more than a month before the planned brand change to help staff prepare. On the big day, even more executives (including the CEO for North and Central America, Heather McCrory) were present to oversee the transition.
Among the many changes were Fairmont's operating systems and standards, which would replace what was being used before. Those things could not be implemented until after the transition date.
Since the holiday period was a very busy one for the hotel, there was little margin for error. Guests were checking in and out in the week leading up to the transition, and the resort even hosted an enormous New Year's Eve celebration and concert that was open to the public. The gala events marked the new year but were also an exciting way for the hotel to welcome their new brand name and operation.
In the lead-up to the change, boxes of new materials containing things like new towels, toiletries and marketing materials were prepared. At midnight, the hotel would officially switch from Curio Collection by Hilton to Fairmont. Even the smallest details, like staff name tags, would need to be changed immediately — but that could not happen until one brand contract expired and the new one started.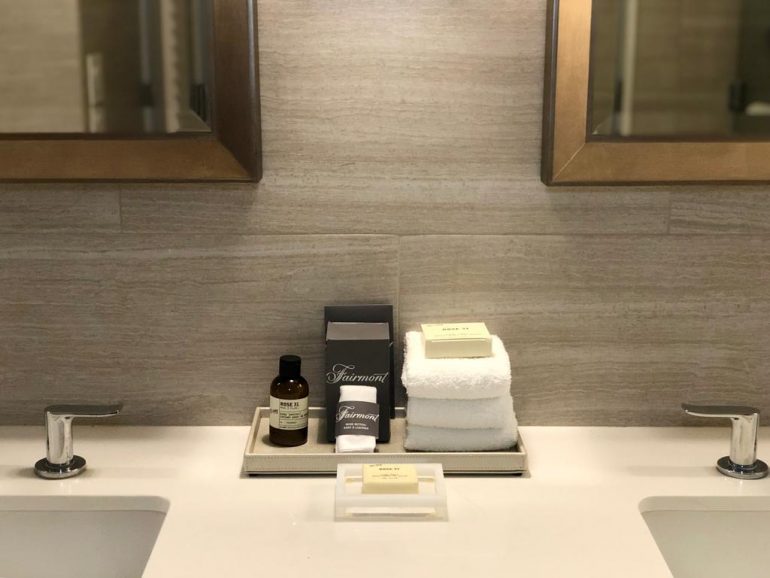 As housekeepers clocked in for duty on the morning of Jan. 3, they had a secret weapon up their sleeve. They had prepared a "room in a box" kit that included everything necessary to transition between brands overnight. This included new toiletry products, stationary, do-not-disturb signs, room service menus, robes, laundry bags and stationery sets. With each room cleaning, it was out with the old and in with the new.
But transitioning a brand isn't as simple as cleaning a room. Fairmont's procedures are slightly different, and the staff would have to learn just how to implement them. How are towels folded? How many towels are stocked in the room? How are rooms turned down in the evening? Is there complimentary bottled water, and does it have the appropriate brand labels? Where should the room service menu be placed? All of these seemingly small things are big deals in the hotel industry, and they are important components of how a brand is perceived by customers.
To be fair, it is unrealistic to expect all changes to happen overnight. There is only so much that can be done at one time, which is why Fairmont chose to make adjustments in phases, starting with its beachfront wing of rooms first. The hotel's remaining rooms, suites and villas will all eventually receive the complete brand makeover.
It's not just customer-facing things that need to change during a rebrand; there are internal processes that need adjustment, too. For starters, the staff had to begin winding down the accounting books for the hotel under the Curio Collection brand on the evening of the transition.
To facilitate this, at 8 p.m., all food and beverage outlets transitioned from credit card payments and room charges to cash-only operations. This allowed the accounting teams to wrap up any necessary budgeting and planning while gearing up for the new system (which had to be learned by staff overnight) without disturbing the guest experience.
At 11:59 p.m., the plug was pulled on one computer system and another was switched on to operate under Fairmont's accounting program and guidelines. Similar changes all took effect at midnight, like posters in employee break rooms, brand terminology and specific Fairmont programs for staff. The staff unpinned one name tag and added a new Fairmont logo to their uniforms.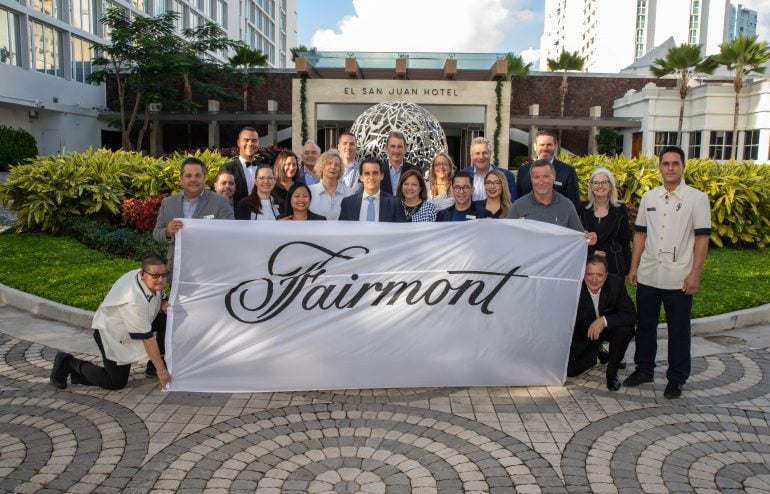 Other programs required changes too. Fairmont Fit is the brand's recreational offering that provides workout gear and tennis shoes to guests so they do not have to pack their own. This program did not exist under the previous brand, and gym and spa staff had to learn how to implement the new program as well as explain it to guests.
Fairmont, as well its parent company Accor, has a strong focus on environmental awareness. While Hilton did too, it was still slightly different. Things like single-use plastics needed to be phased out, and new programming around things like recycling and energy conservation would be put into place. Even stocks of cocktail napkins and swizzle sticks were changed out in an instant.
Guests checked in under one brand, but when they received their folio at checkout, it had a new logo.

Travelers are exceptionally loyal to their preferred programs, and changing a brand is not a decision that will appeal to everyone.
Fairmont was keenly aware of this, and notified travelers of the impending brand switch well in advance. While they would not be earning Hilton points at a Fairmont, their status was being honored. In addition, the hotel encouraged travelers to join the ALL rewards program to enjoy similar benefits as Hilton Honors. Guests were even given bonus points to encourage them to do so.
Loyalty among staff is also important. On the first full day of Fairmont operations, Accor hosted a party for all of the hotel staff where they could interact with managers and learn more about what Fairmont and Accor are like. This party is standard practice for Accor whenever they open a new hotel under their brand. Staff participated in a raffle to win free hotel nights, which seemed to be a huge hit.
To make the transition as seamless as possible, Fairmont brand leaders worked side-by-side with staff to help them understand the new processes. They've got their work cut out for them — as soon as this project is finished, they are on to the next new hotel opening (there are quite a few in the pipeline).
It's clear that transitioning between brands is a logistical challenge, but when brands get it down to a science, guests will hardly notice any inconvenience. Peering behind the curtain of hotel operations was certainly an eye opener for us.
Photos courtesy of the El San Juan Hotel and Fairmont.
---
How to maximize your rewards
Get more smart money moves – straight to your inbox
Sign up and we'll send you Nerdy articles about the money topics that matter most to you along with other ways to help you get more from your money.