The Sneaky Ways Hotel Programs Can Restrict 'Free' Award Nights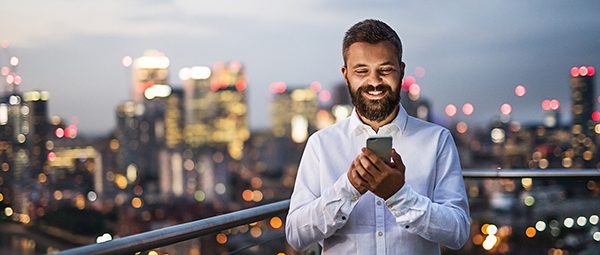 Many or all of the products featured here are from our partners who compensate us. This may influence which products we write about and where and how the product appears on a page. However, this does not influence our evaluations. Our opinions are our own. Here is a list of our partners and here's how we make money.
Hotel reward points can be extremely valuable for booking award nights. That's because many loyalty programs promise things like "no blackout dates" or that awards are available for "any standard room."
That sounds great, in theory. But such claims can be deceiving.
A pattern emerges when we closely examine the fine print of these programs, as well as how award rooms are restricted in practice. Hotel chains often fail to back up their promises when it comes time for customers to redeem their reward points.
How hotel loyalty programs work
But when customers try to redeem these points for award nights, they're often restricted based on what rooms the chain makes available (or doesn't). In our research, we found hotels attempting to spell out these restrictions deep within their program terms and conditions, with the marketing departments sometimes putting a more attractive spin on things.
It's also important to recognize that an individual hotel property's interest may not be aligned with that of the hotel brand/chain. That's because many hotel properties are independently owned franchises. Property owners pay a fee to the hotel chain in return for using its brand, and the property agrees to maintain the brand's standards and participate in some aspects of its loyalty program.
Unfortunately, this creates a situation in which individual properties can reap the benefits of being part of a large, well-known chain of hotels, but avoid actually honoring the rewards that the brand promises its customers. We'll explore what this can look like below.
Key terms hotels use to discuss award availability
Here's a basic glossary of key terms to understand as we move through this analysis:
Award availability guarantee. This is a claim that shows members how valuable their points could be based on the availability of free nights.

Blackout dates. A blackout date is an ominous-sounding term that describes when a program designates certain dates when you can't redeem your rewards. However, a hotel can technically claim "no blackout dates" while allowing its properties to restrict the availability of free night awards in virtually any other way, so long as it doesn't explicitly say that no awards can be redeemed on designated dates.

Capacity controls. This is a more benign-sounding term, but it can actually have a greater impact on customers than blackout dates. That's because a hotel can apply capacity controls that severely restrict (or completely prevent) you from redeeming your points based on other factors than the date. For example, a hotel could make few, if any, award rooms available at vacation destinations during holidays or at a business hotel during a major convention.

Standard room. Some hotel chains claim to offer no blackout dates or capacity controls on awards for "standard rooms." However, the definition of a standard room may be up to individual properties. In practice, a hotel could designate nearly all of its rooms as non-standard in some way, making it difficult or impossible to redeem your points for a hotel — despite having numerous unsold rooms that any reasonable person would consider "standard."

Minimum stay requirements. A hotel chain can allow individual properties to require a minimum stay on all awards. For example, if you wanted to redeem your reward points for two free nights over a holiday weekend, you would be prevented from doing so if the property has a three-night minimum stay requirement. These requirements are often imposed without any advance notification and may only apply to award bookings.
Policy vs. practice: How major hotel loyalty programs offer free nights
Marriott's Bonvoy loyalty program covers the now-combined programs of Marriott Rewards, Ritz-Carlton Rewards and Starwood Preferred Guest. Its website states that members can use their points to redeem "Free Night Awards at any of our 7,000+ hotels and resorts worldwide with no blackout dates."
But scroll to the bottom of the page and you'll find (in much smaller type) a link to the program terms and conditions. Examining this over 27,000-word document reveals several restrictions on award availability.
Section 3.2.n specifically addresses the "No Blackout Dates" policy, claiming that "Participating Properties have standard rooms available every day for Award Redemptions," subject of course to some specific limitations and exclusions.
And 17 of the Bonvoy program's brands — specifically those that had been part of the Marriott Rewards and Ritz-Carlton Rewards program — "may limit the number of standard rooms available for redemption on a limited number of days." In practice, a hotel could conceivably offer just a single room available for award booking during peak season and still comply with this term.
Outside of these brands, you can expect the others (typically legacy Starwood hotels) to make any unsold standard room available as an award.
Also note that the Bonvoy program excludes all Marriott Vacation Club and Marriott Grand Residence Club properties (along with nine of its other most luxurious properties) from the "No Blackout Dates" policy. Marriott Executive Apartments and ExecuStay brands don't offer points redemptions at all.
The World of Hyatt program claims to let members "Enjoy free nights at Hyatt hotels and resorts (with no blackout dates) and participating Small Luxury Hotels of the World, on standard rooms or at participating M life Rewards destinations."
Its terms and conditions document runs over 24,000 words and includes the following under Appendix B, Section II, Paragraph 14.(b).1: "Standard-room Free Night Awards may be redeemed only when standard rooms are available at the Standard Rate at the selected hotel or resort. Standard-room Free Night Awards are not subject to blackout dates at Hyatt hotels and resorts."
While this seems pretty clear, it hinges entire entirely on the definition of a "standard room" and a "standard rate." Section II (a), Paragraph 9, says, "Standard rooms are defined by each hotel or resort and may differ by hotel or resort. Some properties do not have standard rooms or may only offer accommodations as part of a package and Free Night Awards are not valid at those properties (unless specifically stated as part of a particular award offer)."
If an individual property doesn't feel like offering its rooms as awards, there are many ways it can utilize this leeway to its advantage. For example, I've seen hotels in the middle of a city designate all available rooms as "city view" so they aren't considered standard rooms. I've also seen hotels only sell rooms as part of a "parking package," or label otherwise ordinary rooms as "garden view," making them impossible to book as an award.
For example, the Andaz Maui at Wailea Resort doesn't show any awards available for a stay from Jan. 14 to Jan. 18, 2020. Yet if you choose to book with cash, you'll find rooms available purchase with a "Property Development View," which is actually a downgrade from the standard room since the hotel is undergoing construction.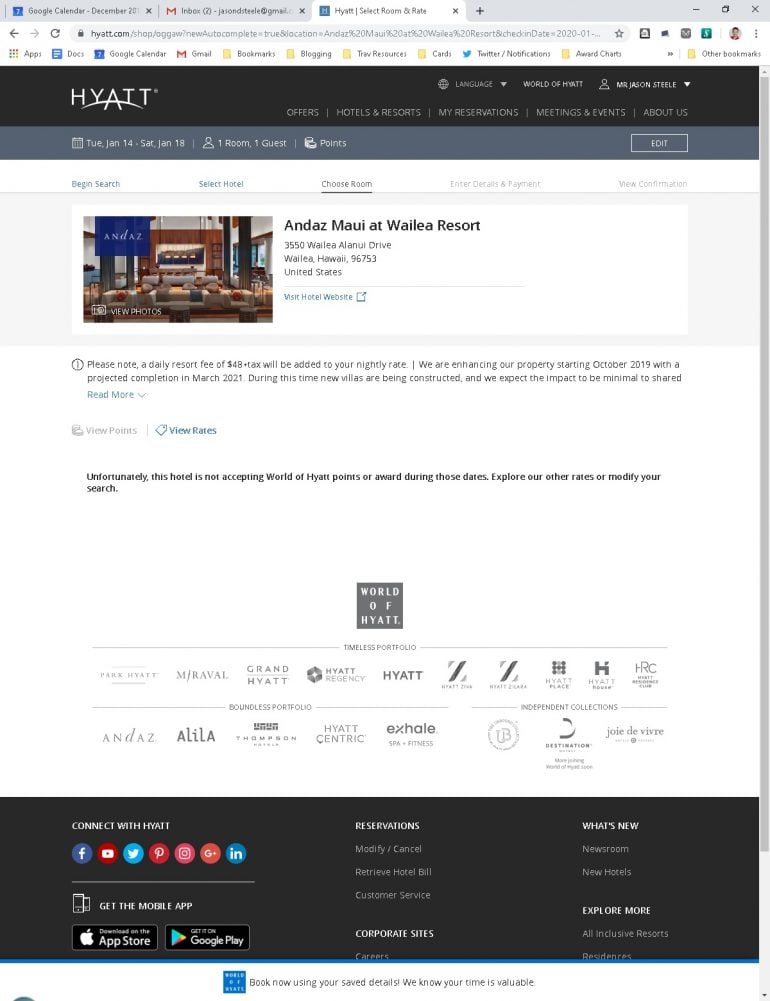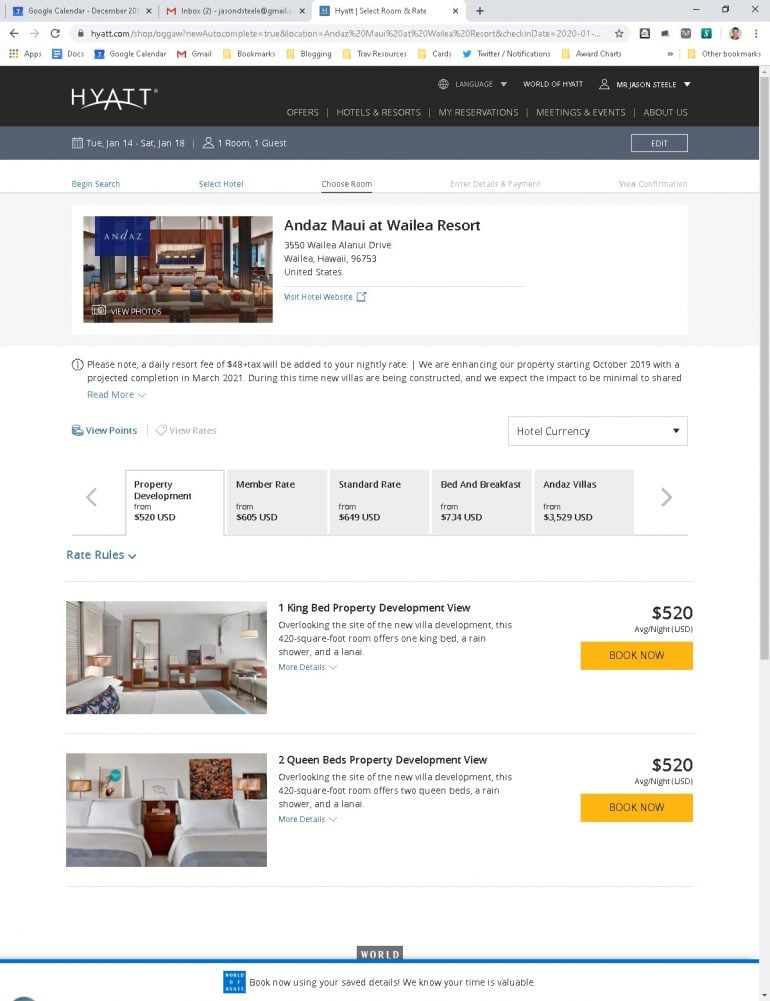 Gary Leff of View from the Wing recently discovered that another Hawaiian property, the Hyatt Centric Waikiki Beach, in Honolulu, Hawaii, was designating fewer than 9% of its rooms as "standard." In fact, some of the non-standard rooms that aren't available for awards were actually bookable for a lower cash price than the few supposedly "standard" rooms you could reserve with points.
The Hilton Honors program doesn't currently make any explicit claims as to award availability, and at just over 13,000 words, its terms and conditions are about half the length of those for the Marriott Bonvoy and World of Hyatt programs.
Paragraph 6 under "Hotel Reward Stays" states that "Reward Stays are not subject to blackout dates or capacity controls. All Rewards depend upon availability and some Reward Stay types may not be available on the date of Member's request."
While this seems pretty clear, members may not realize that Hilton can price its awards dynamically. This basically means hotels can charge astronomical rates for awards based on availability, date, location, etc.
For example, I searched for points availability in New York City over New Year's and found the Hampton Inn Manhattan/Times Square Central charging a total of 547,000 points for a two-night stay in a King City View Nonsmoking room.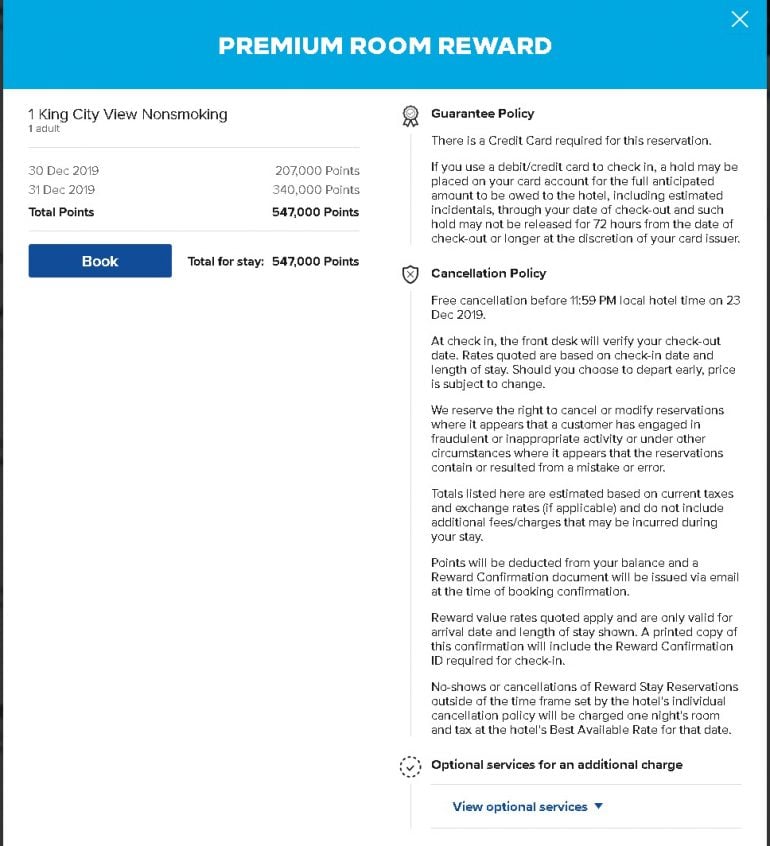 Thankfully, there are other Hilton properties adhering to more reasonable pricing. For example, the Hilton Times Square is a mere 80,000 points per night for the same reservation dates.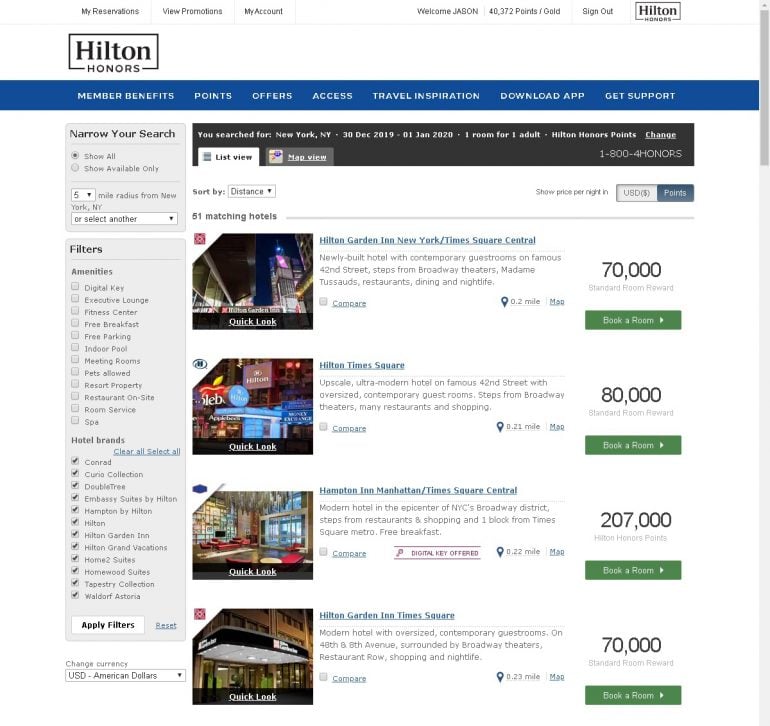 IHG includes brands like its namesake InterContinental, as well as Holiday Inn and Crowne Plaza. The IHG Rewards Club program states that you can "Use your points to stay at any of our hotels worldwide — with no blackout dates." But the brand goes into more detail in its nearly 12,000-word membership terms and conditions document.
Paragraph 53 under General Terms states that "There are no blackout dates for Reward Nights; however, room inventory is limited and subject to prior sale. In addition, Members may not be able to redeem Points for Reward Nights at InterContinental Residences."
Without actually using the term "capacity controls," IHG is essentially saying it offers no guarantee of award availability — other than it won't prohibit awards on pre-designated blackout dates. Much like an airline frequent flyer program, an IHG property could have plenty of rooms for sale, but offer none for points redemptions.
And while most of the IHG hotels we looked at do show award availability when a standard room is available, occasionally you'll find awards are effectively blacked out. For example, the Holiday Inn Express Denver Downtown was unavailable over the New Year's holiday, despite this hotel having standard rooms for sale starting at just $136.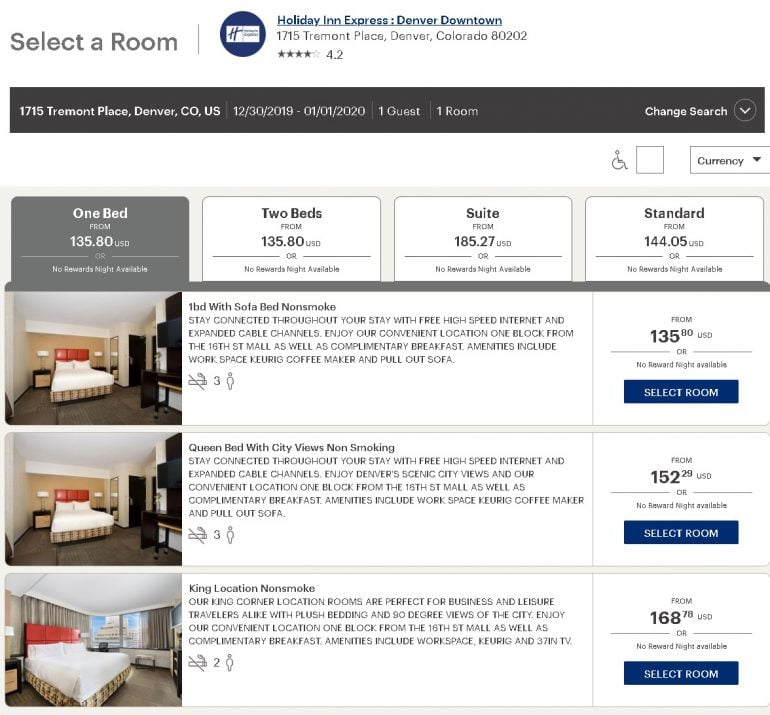 The Wyndham Rewards program specifically says "Blackout dates/rates, minimum length of stay requirements, and other restrictions apply."
This would appear to make it one of the more restrictive programs, but its Frequently Asked Questions offers this clarification: "While our Participating Hotels do not have blackout dates, blackout dates and rates do apply for the use of Go Free awards at Participating Caesars Entertainment Properties. (A "blackout rate" means a room rate above which a particular hotel will not offer a Go Free award.)"
You'll also find that free night awards at Wyndham vacation rental properties are also "subject to blackout dates and rates." Unfortunately, the specific blackout dates that apply to certain properties aren't disclosed.
Though Wyndham's terms and conditions devotes 17,500 words to the section on redeeming points alone, it never actually spells out when blackout dates apply. The only (very specific) exception is a line stating that "Caesars Go Free Awards are never available for Saturday night stays at either Caesars Palace Las Vegas or Nobu Hotel Caesars Palace."
In practice, I've found that there are virtually no Go Free Condo awards available for Wyndham condos at Colorado ski resorts during the ski season. I also found that the Wyndham Resort at Avon (near Vail and Beaver Creek ski areas in Colorado) doesn't seem to offer Go Free awards during the ski season at all, even when rooms are available otherwise. (Note that this hotel only offers rooms labeled as "Presidential Suite.")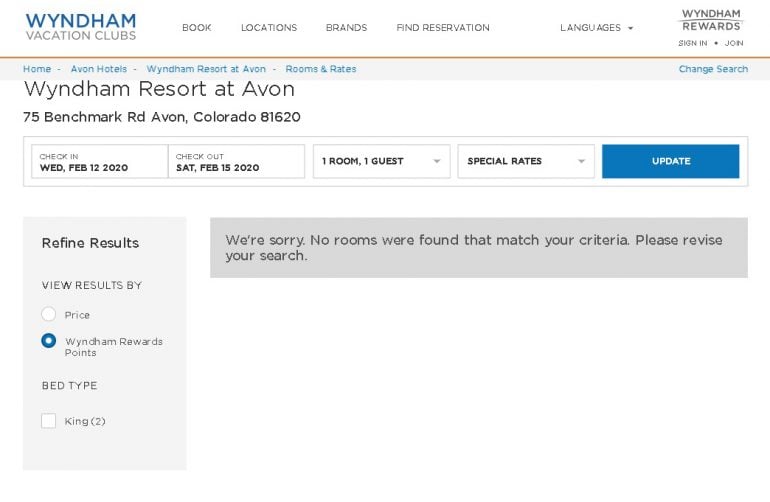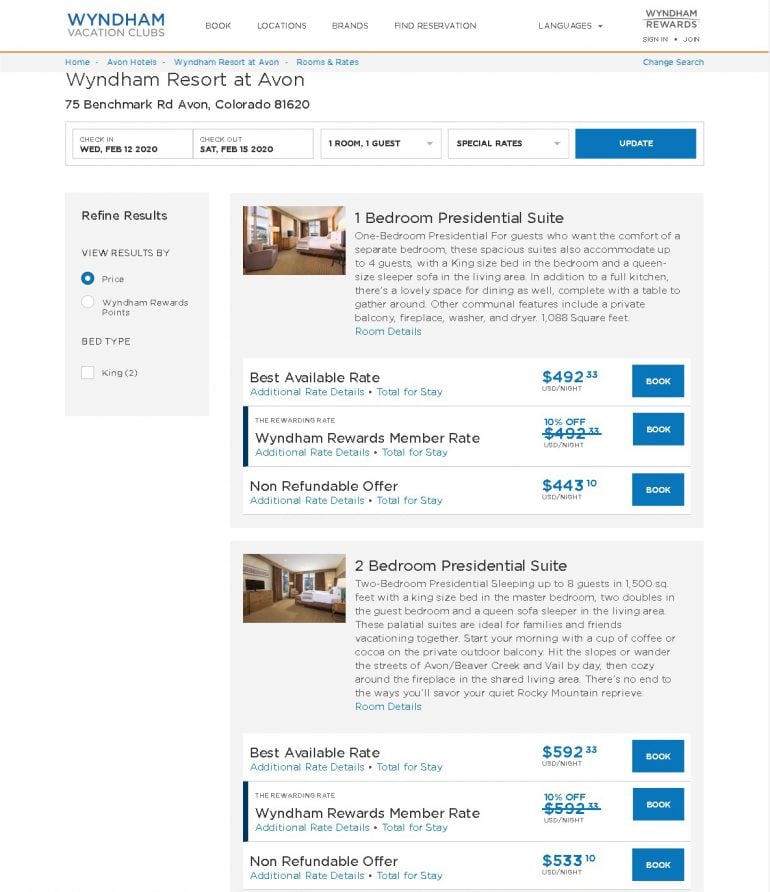 Also, this program can have surprisingly restrictive minimum stay requirements. For example, earlier this year, I used my points for a three-night award stay at a Wyndham Vacation property in South Carolina. When I asked to extend my stay a fourth night, I was told that was impossible, as there was a two-night stay minimum requirement that applied. I explained over and over that I wished to stay a fourth night, but was repeatedly told that I couldn't due to the two-night stay minimum requirement. Essentially, an existing reservation couldn't be modified, and my stay could only be extended by adding a minimum of two more nights.
What to do when you can't use your hotel points
It can be extremely frustrating when you see that a hotel isn't sold out, but you're unable to redeem your points for an award. Your first response should be to reach out to the hotel chain's customer service. Explain that it's offering rooms for sale, but you're unable to redeem your points. If the property appears to be violating the loyalty program's terms and conditions, you could politely point that out as well.
In many cases, the lack of free night award availability could be due to a glitch instead of bad faith by the property or the hotel chain. And sometimes the corporate office is able to speak with the individual property and release the room to you as an award. You could also try contacting the property directly and asking to speak with a reservations manager.
For example, I was recently unable to redeem my World of Hyatt points for an award night at the Hyatt Place in Keystone, Colorado, even though standard rooms were for sale (albeit during a peak holiday season). However, Hyatt customer service was quickly able redeem my points for a free night's stay.
If these methods fail, you could try reaching out to the hotel chain's social media channels, or contacting the hotel's executive customer service with documentation that the property is violating the company's terms and conditions.
If you've exhausted these remedies but still haven't been able to get a hotel to honor its own terms, then you should probably reconsider your loyalty to the program (and any of its co-branded credit cards that you use).
---
How to maximize your rewards
Get more smart money moves – straight to your inbox
Sign up and we'll send you Nerdy articles about the money topics that matter most to you along with other ways to help you get more from your money.