How Much To Tip Hotel Housekeeping
The American Hotel & Lodging Association suggests leaving a $1-to-$5 tip per day for the housekeeping staff.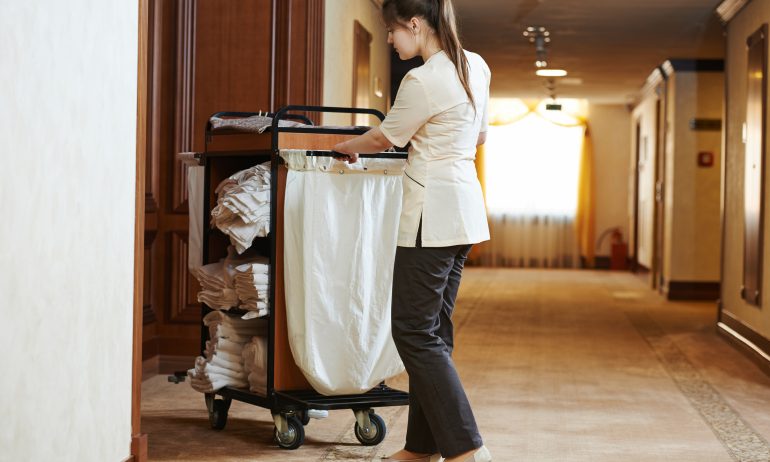 Many or all of the products featured here are from our partners who compensate us. This influences which products we write about and where and how the product appears on a page. However, this does not influence our evaluations. Our opinions are our own. Here is a list of our partners and here's how we make money.
When planning a trip, travelers tally up all the major expenses — plane tickets, rental car, hotel, dining. But there's one expense some vacationers overlook: tipping hotel housekeepers.
Unlike a restaurant server or the hotel parking valet, where face-to-face interaction between guests and the staff prompts a tip for a service, hotel housekeepers usually work sight unseen.
This might be why a Cornell University study found that respondents don't feel obligated to tip hotel housekeepers, compared to bartenders or hotel bell staff. But tipping these essential hotel staff members is an important part of travel etiquette to factor into your next trip.
Here's what travelers need to know about tipping hotel housekeeping staff, whether they enter your room or not.
Guide to tipping hotel housekeeping staff
There's no hard-and-fast rule on how much to tip hotel housekeeping, but there are best practices you can adhere to when it comes to expressing your gratitude.
The recommended tipping range
The American Hotel & Lodging Association suggests leaving a $1-to-$5 tip per day for the housekeeping staff. The tipping range is helpful when estimating your trip budget, but how much you should ultimately tip depends on a few factors (more on this later).
When to tip your hotel housekeeper
Some guests leave a lump-sum tip on the last day of their stay, but a better practice is doling out incremental tips daily, as hotel housekeepers might have different day-to-day room assignments. A daily tip more closely ensures your gratitude goes to the specific worker who services the room each day.
When leaving hotel housekeeping tips, cash is preferred. Other forms of gratuity — like food, leftover alcohol or gambling tokens — may be a well-meaning gesture. However, some hotel policies restrict what housekeeping staff can accept.
For example, if you're staying at a Las Vegas hotel, you might be tempted to leave casino chips or an electronic slot machine voucher as a tip for housekeeping, but state gaming regulations prohibit housekeepers from accepting them. Further, some hotels have strict no-gambling policies for their staff, which puts housekeepers in a difficult position when redeeming vouchers or casino chips for cash.
How to leave tips for housekeeping
Make sure the tip is visible, like on the dresser or next to the bathroom sink. Avoid leaving your housekeeping tips on the bed or nightstand, as these areas risk your cash getting jostled around or lost when bed sheets are changed.
Leave your tip on top of, or next to, a thank you note. This makes it very clear that the cash is a tip meant for the housekeeper and reduces the risk of misunderstanding.
How much to tip housekeeping
The amount you leave to show gratitude for your hotel housekeeper's service depends on the specifics of your stay. How much do you tip hotel housekeeping? Should you go above and beyond the recommended tipping range of $1 to $5 per day? Consider the following.
Number of occupants. If you're traveling with family or a group, account for the extra cleaning the housekeeper needs to do. For example, extra sheets and blankets to replace, plus more trash to clear out. Consider adding an additional $1 tip per person on top of your base tip.

Room type. How much time a housekeeper spends tidying up your room also depends on your room's size and amenities. If you've booked a room with a kitchenette, for example, housekeeping has extra duties, like cleaning microwaves and restocking kitchen supplies and dishes.

Condition of your room. Your housekeeper will appreciate you for putting trash in the waste bin and, in general, for treating your room like you would your home. But if you leave your hotel room in disarray while on vacation — for example, empty pizza boxes on the floor, soda cups or drink bottles strewn around — tip your hotel housekeeper accordingly.

Special requests. Say you love the scent of the hotel shampoo or you'd like an extra pair of the plush hotel slippers and you asked housekeeping for more. A nice tip shows your appreciation.

Interactions with staff. Housekeepers usually perform their magic while you're away from your room so they don't interrupt your stay. But sometimes you might interact in person — for example, when making a quick trip back to your room midday. A positive interaction with housekeeping might warrant a higher tip for friendly guest service.

Your budget. Ultimately, the amount you tip hotel housekeeping depends on your budget. If you can, consider acknowledging the physically laborious service that housekeepers provide by tipping generously. If your budget is limited, a $1-to-$2 tip per day with a handwritten thank you note is a thoughtful gesture.
Should I tip housekeeping if they don't enter the room?
You may be wondering if tipping housekeeping makes sense if they never clean your room. Not surprisingly, the answer is still yes. There are several reasons for this.
If you stay at one of these hotels, housekeeping will still need to clean your room once you check out. And if you've had a stay longer than a day or two, the housekeeping staff will likely need to spend more time cleaning your room. Even though you may not interact with the staff, tipping can still go a long way to express your generosity.
If the concierge staff person has made a number of arrangements for you — ranging from minor tasks that only take a few minutes to calling in favors to garner you VIP treatment — consider tipping $5 or more. A good rule of thumb is to consider the value of their extra effort and tip accordingly.
You can tip as you go or wait until the end of your stay to tip in a lump sum.
Final thoughts on hotel tipping
You don't have to tip your hotel housekeeper, but these hardworking staff members are often forgotten when it comes to tipping, so the money can go a long way for them. The Bureau of Labor Statistics reports that the national mean hourly wage for hotel housekeepers is $13.47, well below the $27.07 mean hourly wage for all occupations in the U.S.
Hotel housekeeping staff provide an essential service during your trip, ensuring that your in-room experience is relaxing and sanitary. Consider making tips for housekeeping staff an ongoing habit if you're able.
---
How to maximize your rewards
Get more smart money moves – straight to your inbox
Sign up and we'll send you Nerdy articles about the money topics that matter most to you along with other ways to help you get more from your money.