How to Find Cheaper Last-Minute Flights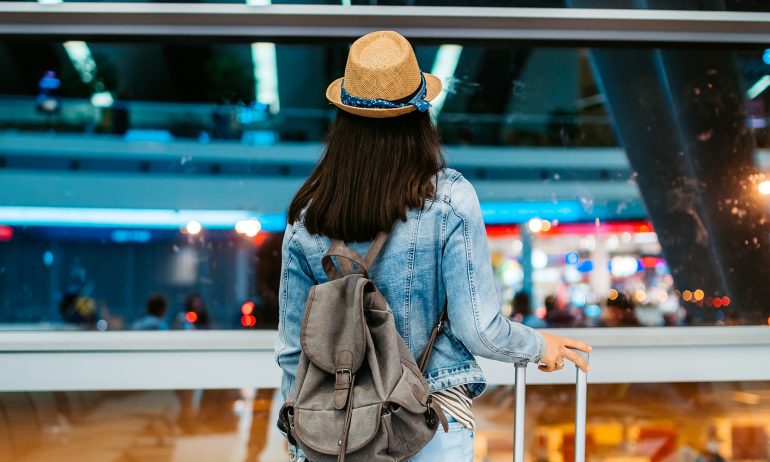 Many or all of the products featured here are from our partners who compensate us. This influences which products we write about and where and how the product appears on a page. However, this does not influence our evaluations. Our opinions are our own. Here is a list of our partners and here's how we make money.
Most savvy travelers know the best way to find cheap flights is to be flexible and plan ahead.
But sometimes things come up — be it pressing business, a family emergency or a spontaneous vacation — and you have to pack your bags within mere days or even hours of flying. Fortunately, there are several tips and tricks for finding a better deal on impromptu airfare. Here's how to find cheaper last-minute flights no matter when and where you're flying.
Check prices at nearby airports
If you're booking a last-minute flight, don't just search for the airports closest to your current location and destination. Instead, widen your search to include nearby airports. Decide how far you're willing to travel before you take off and after you land, and include any airports that fall into that radius in search results.
For example, if you're flying to New York City, you may think JFK is the obvious option, but Newark or La Guardia are sometimes cheaper. Likewise, there are more than five airports in and around London. The one closest to your final destination may not be the cheapest, so check ticket prices for the other airports, too.
There are a few downsides to consider when flying into a cheaper airport that might be farther away. It will likely take longer to get from the airport to your hotel or office if you choose a cheaper flight that goes into a less convenient airport. And don't forget to factor in the cost of transportation for that increased distance.
In a destination like New York City or London, ubiquitous and inexpensive public transportation options like buses, subways and trains may still be cheaper than an expensive last-minute flight to your intended destination. But in less popular tourist destinations, it may wind up costing you more once you land to save a little bit of cash on your flight.
Platforms like Google Flights or Expedia often offer the option to include nearby airports when searching.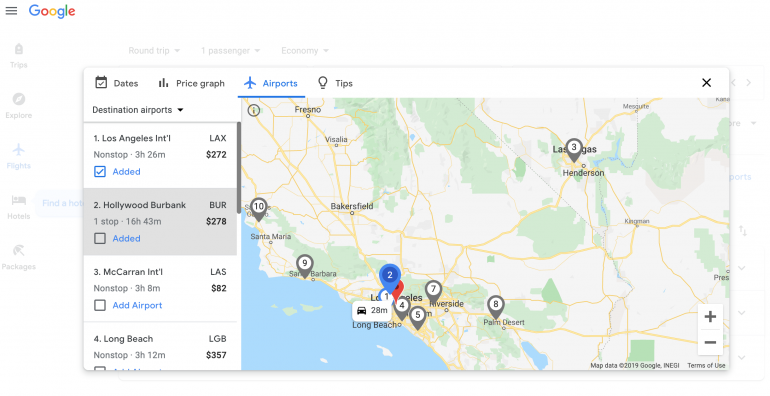 Search for one-way flights
Another option is to search for one-way flights instead of round-trip. Most airlines price their flights like this anyway for domestic flights at least, but if you search multiple airlines at once, you may just find a good deal on two one-way flights on different airlines. This allows you to choose the cheapest one-way flight in both directions, which has the potential to save you cash.
The downsides may include having to pay for luggage on several different airlines. If, for example, you flew one-way with Southwest (which allows two checked bags per passenger for all flights) and flew with Spirit on the way back, you would have to pay for your checked luggage and your carry-on during the second leg. So be aware that airline luggage policies differ (sometimes vastly).
Google Flights and Skyscanner offer the option to show separate tickets in search results. As you can see, separate tickets can save you $100 in this example from Dallas to Calgary.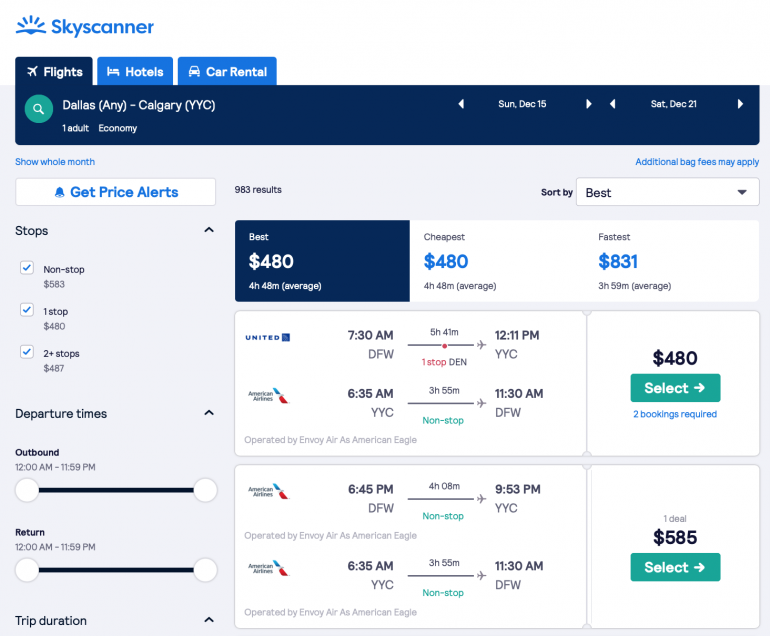 One step further: Search for single legs
A more complicated approach to the above is searching for and booking flights one leg at a time. For example, if you have to book a last-minute flight from Austin to Cincinnati and can only find expensive connecting flights, try searching for flights from Austin to Denver and then Denver to Cincinnati. Since Denver (or Atlanta, Chicago, etc.) is a major airport, there's the potential to find cheap and direct one-way flights from one destination to the next.
As you can see, a direct flight costs $254 while booking two separate single legs costs as little as $200. The amount you could save will vary by destination.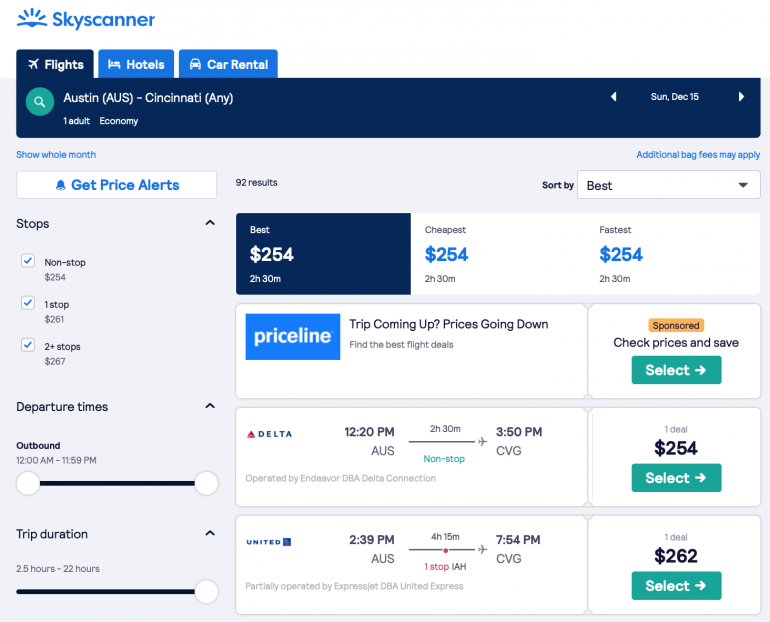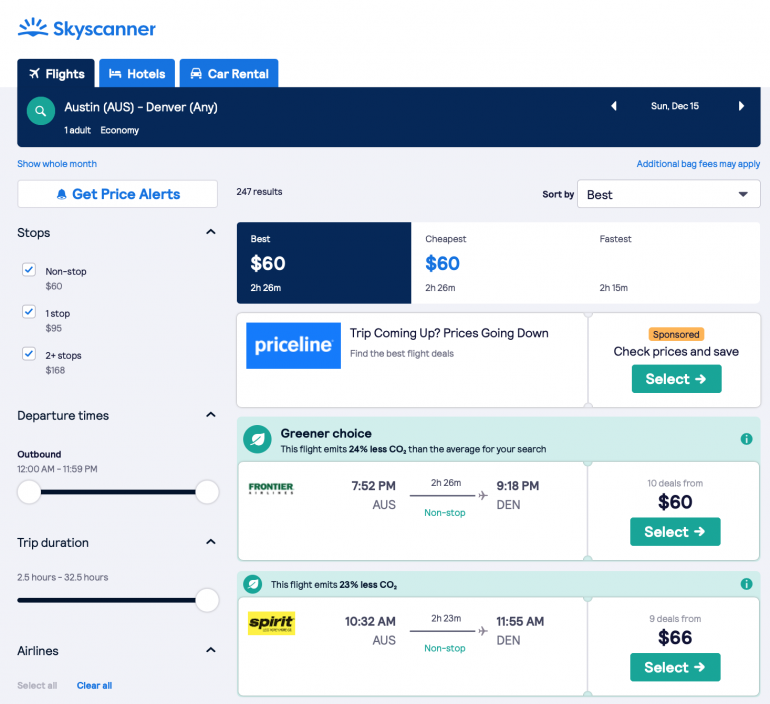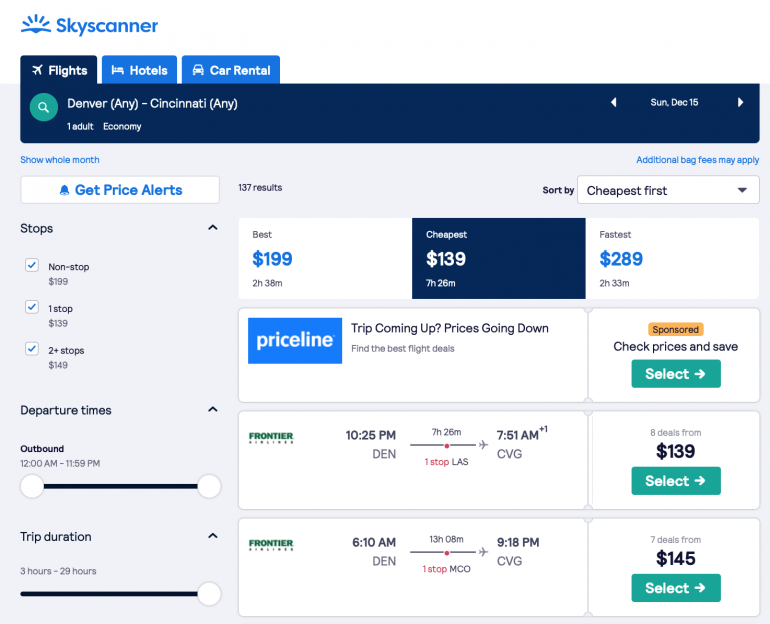 This practice is risky, however, for multiple reasons. First, even if you do save on airfare, you could run into the same problem with luggage fees as booking one-way flights, even if all your travel legs are on the same airline (you'll have to pay for luggage for each individual booking). But more importantly, if you miss your second flight because the first was delayed, the airline isn't responsible — which means you could pay more if you have to rebook your final flight.
That said, searching for single legs of travel to find cheaper last-minute flights is best saved for when you can budget several hours or more between connecting flights.
Search for individual tickets if traveling in a group
Another way to potentially save money on last-minute flights (or any flights, for that matter), is to search for individual tickets even if you're traveling in a group of two or more. Occasionally, you'll be able to find a lower price on one seat if there's only one left at that price point.
But you'll only see it if you search for single seats. If you search for flights for two or more, that lower-priced single seat won't show up.
More lower-cost flights may be available when searching for seats for one person than a family of four.
If you do find a lower-priced single seat on a flight, book it first, then go back for the other seats and book them separately. This could save a fair amount on at least one ticket.
However, know that you probably won't be sitting together since you booked separately.
How to rebook quickly for a canceled flight
If your flight is canceled, most airlines will rebook you on their next flight with available space for no additional charge, according to the U.S. Department of Transportation. But sometimes there aren't any additional flights available on the same airline — or sometimes the future flight times aren't ideal.
This is an ideal scenario to employ the tactics outlined above. This can improve your odds of getting to your destination without too much disruption to your other travel plans.
Do one better by adding the Cancel For Any Reason upgrade, which expands your covered reasons for seeking refunds on your upfront travel expenses, like hotels and airfare.
Last-minute flight deals are out there
While last-minute flights will frequently cost more than those booked in advance with flexible travel dates, there are ways to find cheaper last-minute flights. Check nearby airports, search for one-way flights, and consider booking one ticket at a time in order to save cash on impromptu travel plans.
Frequently asked questions
How late can I book a flight?
Do airlines offer last-minute flight deals?
How do I find last-minute flight deals?
How can I get a cheap last-minute standby flight?
Can I get a discount if I have to fly for a family emergency?
---
How to maximize your rewards
Get more smart money moves – straight to your inbox
Sign up and we'll send you Nerdy articles about the money topics that matter most to you along with other ways to help you get more from your money.