How to Get an American Airlines Refund
If you have a refundable ticket, you can apply for a refund after you cancel the flight.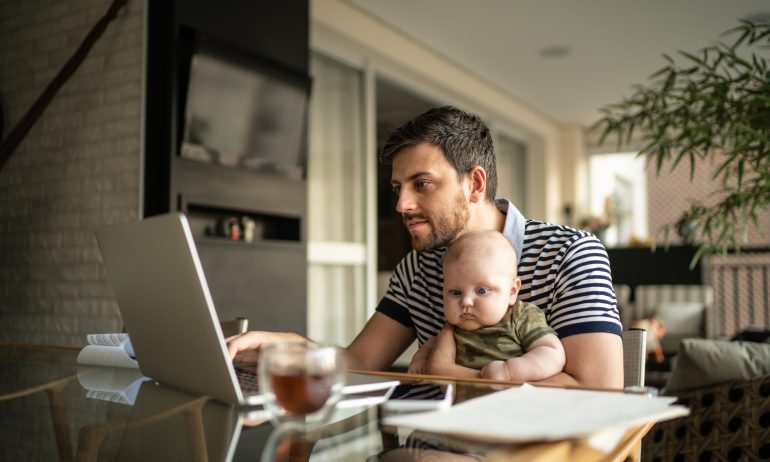 Many or all of the products featured here are from our partners who compensate us. This influences which products we write about and where and how the product appears on a page. However, this does not influence our evaluations. Our opinions are our own. Here is a list of our partners and here's how we make money.
When traveling, it's wise to be prepared for plans to change. The chance that a flight could be delayed due to weather — or an unprecedented pandemic — might have you thinking twice about booking your trip. Rather than scrap your dreams and avoid travel altogether, opt for a backup plan.
Will American Airlines refund a ticket in such circumstances? If you booked a flight on American Airlines and need the cost of your ticket refunded, here's how to get the process started.
American Airlines refund policy
It can be difficult to navigate American Airlines' refund policy, but here are the key parts to understand before booking.
If you cancel any tickets within 24 hours of booking and at least two days before departure, you will automatically get a full refund to your original form of payment without needing to take additional steps.

Basic economy fares are never considered refundable American Airlines tickets unless they are canceled within that 24-hour booking window.

You can book a refundable ticket from the get-go by filtering results by what the airline calls "Flexible tickets" in its search engine.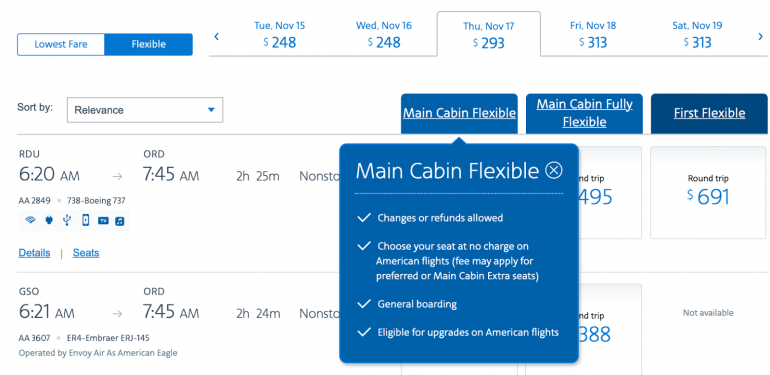 A nonrefundable American Airlines fare, regardless of class, isn't eligible for a refund unless:
There has been a flight schedule change of more than four hours.

The passenger and/or traveling companion has died.

Military orders affect the passenger's ability to travel.
If any of the above circumstances arise, you will be eligible for a refund from the airline in the form of a travel credit (we talk more about this later).
You must submit separate refund requests for your flights, seats and other purchases.
In general, the refund process requires that you cancel the reservation for the applicable passengers first. Refund requests must be submitted individually for each ticket in a record locator.
Steps to getting a refund from American Airlines
The refund process depends on when you booked your American Airlines trip and when the flight was canceled. Automatic refunds are given if you cancel the booking within 24 hours of purchasing a ticket and if that purchase happened 48 hours before the flight's departure. The carrier will refund the value of your ticket minus service charges for booking through the reservations phone system and nonrefundable taxes.
Beyond this 24-hour window, you'll need to be mindful of a few steps to get a refund from the airline. You can call American Airlines reservations; however, to avoid high call volumes, you can also submit a refund request online.
1. Wait until your trip is canceled
American Airlines typically doesn't offer refunds on nonrefundable tickets when you've voluntarily canceled your trip. This includes choosing to cancel your trip because you're no longer comfortable traveling.
If an involuntary cancellation or significant change or delay is made by American Airlines, you can choose to request a refund. However, sometimes you won't know of a flight cancellation until within 24 hours of your departure time, so stay on top of your flight's status.
An example of what the carrier considers a significant involuntary change or delay, based on its conditions of carriage terms, is if your departure time is delayed for more than four hours. If your flight is officially canceled and eligible for a refund, you can start the process for a refund.
2. Initiate an American Airlines refund request
To get a refund for a canceled American Airlines flight, visit prefunds.aa.com. When you arrive on the page, you'll see a pop-up box that says your ticket value is safe when you're ready to rebook.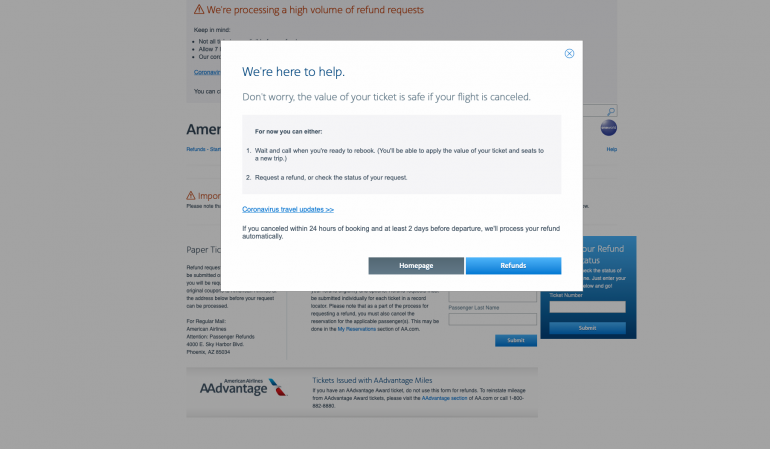 To continue with a refund request, click on the blue "Refunds" button.
3. Pull up your canceled booking
After clicking on the "Refunds" button, the pop-up box will close and you'll see the information that's in gray behind it. You'll need the last name of the passenger associated with the canceled ticket and the ticket number.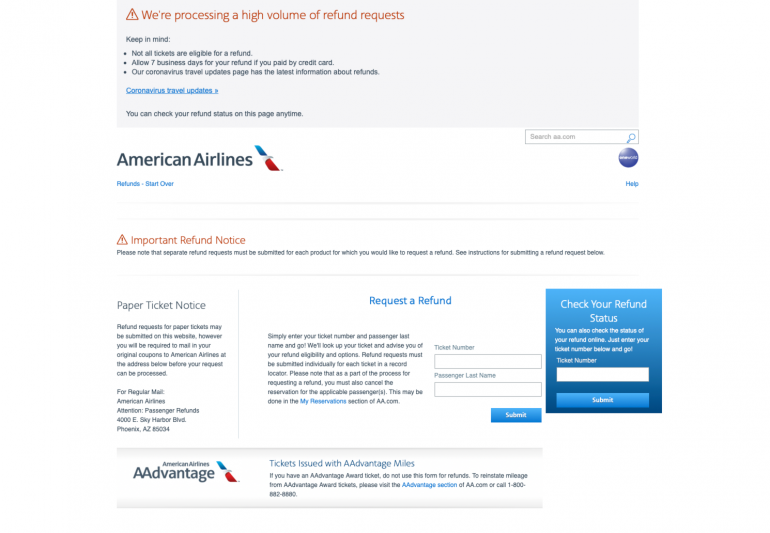 In the "Request a Refund" section, enter your ticket number and the passenger's last name into the respective fields. Then, click "Submit."
The carrier will pull up the canceled reservation, and you can go through the steps to see whether the booking is eligible for a refund along with your options.
4. Verify the information of the canceled booking
Read the reservation information carefully to ensure that the correct booking was pulled for the refund request. If everything looks correct, click on the blue "Continue" button.
5. Review your refund eligibility
The next step shows you whether your booking is eligible for a refund. You can also view other options by clicking on the blue "Options" link.
If you're eligible for a refund, click on the blue "Continue" link to submit a formal refund request to American Airlines.
6. Enter your contact information
You'll be asked to fill in your basic contact information. This includes your full name, address, email address (which you'll need to enter twice) and phone number.
After completing each field, click on the blue "Continue" button.
7. Verify and review the refund request
The next step asks you to review all of the details for the refund request, including the booking information and your contact information. It will also prompt you to select a "Reason for Refund" from a drop-down menu.
Choose the option that best describes your reason for requesting a refund. There's also a comment box to the right of the dropdown if you need to include further clarification.
When you're ready, click on the blue "Submit" button.
If your reason for a refund requires additional documentation (such as for a medical condition), you'll be asked to upload supporting documentation.
8. Keep your refund request confirmation number
After completing the final review and uploading any necessary supporting documents, you'll receive a confirmation number. Keep this handy, in case you need to follow-up on a refund request or contact American Airlines about it.
You can expect a refund within seven business days if the booking was purchased using a credit card. If you haven't received a refund and would like to check on the status of your request, you can look it up here.
American Airlines flight credits
If a flight schedule change is more than four hours, the passenger or a traveling companion has died, or military orders impact the passenger's ability to travel, the original value of your nonrefundable ticket can be issued as a travel credit.
American issues three types of travel credits: Trip credits, flight credits and travel vouchers. All of these can be used for future flights.
Trip credits: Trip credits are issued as refunds and remaining value from flight credits. Trip credits can be used on domestic or international paid flights originating in the U.S. and expire within one year from the date of issue.

Flight credits: Flight credits are provided for unused or canceled tickets. These credits are valid on paid flights (within or between the U.S., Puerto Rico and U.S. Virgin Islands). These must be used within one year from the date of issue and only one credit is allowed per passenger.

Travel vouchers: American's travel vouchers can be electronic or paper and are valid on flights only. These must be used within one year from the date of issue and up to eight credits are allowed per passenger. Travel Vouchers expiring between Jan. 1, 2021, and May 31, 2021, were automatically extended to expire on March 31, 2022.
How to know if you purchased refundable American Airlines tickets or not
If you booked the flight on the American Airlines website, you were given the option of booking a refundable ticket. Refundable ticket perks are generally offered as an add-on during booking, resulting in a higher price compared with nonrefundable tickets.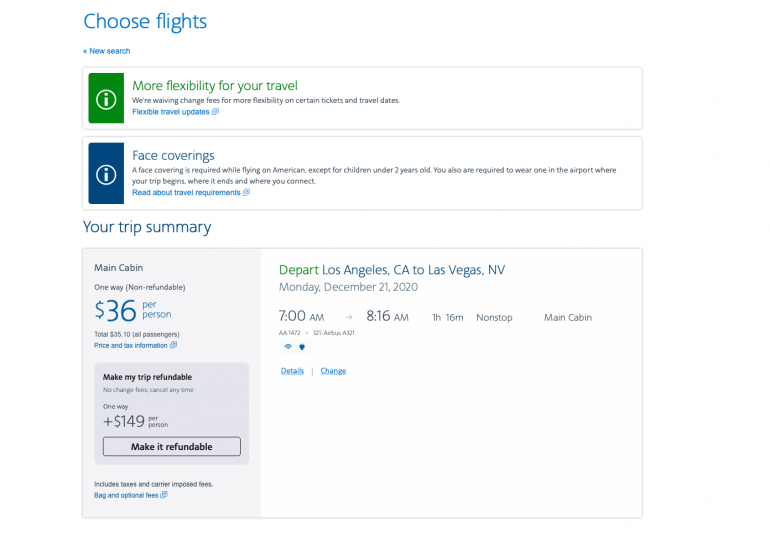 You can also confirm the type of ticket you purchased by:
Viewing fine print on your original booking confirmation email.

Calling American Airlines Reservations at 800-433-7300.

Logging into your American Airlines account to see your booking details.
Final thoughts on American Airlines refunds
With the right planning, submitting an American Airlines refund request doesn't have to be a headache. As travel plans and restrictions continue to change day by day, having the flexibility to get a refund on your next flight can help put you at ease.
Consider booking nonrefundable American Airlines flights only if you're fully confident that you won't have to cancel or require a cash refund. If possible, purchase flights that are eligible for a refund so you can get your money back ASAP if the trip falls through.
---
How to maximize your rewards
Get more smart money moves – straight to your inbox
Sign up and we'll send you Nerdy articles about the money topics that matter most to you along with other ways to help you get more from your money.