Is Southwest Early Bird Check-In Worth It?
Everyone selects their own seat during boarding on Southwest, but you can pay to line up ahead of many others.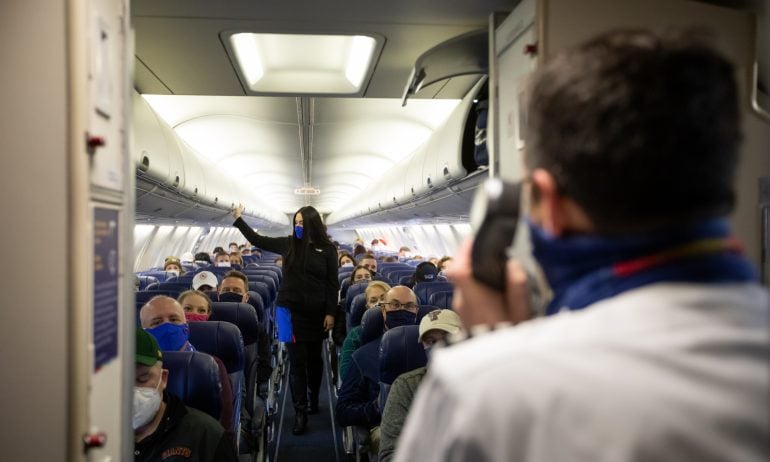 Many or all of the products featured here are from our partners who compensate us. This influences which products we write about and where and how the product appears on a page. However, this does not influence our evaluations. Our opinions are our own. Here is a list of our partners and here's how we make money.
Southwest is a no-frills airline that doesn't offer traditional luxuries like a first class cabin or even more standard options like reserved seating. If you want to get on the plane early enough to grab a good seat, you can pay extra for early boarding. Prices range from $15 to $30 each segment, depending on how you go about paying for the privilege to board amongst the first.
Southwest has a highly unconventional boarding system. Rather than being assigned a seat, you're assigned a boarding position, so folks with an A by their name board before those with a C. There are many ways to guarantee (or at least improve your chances of getting) an A next to your name. Among them is something called Early Bird Check-In.
But is Southwest's Early Bird Check-In worth it? Here's what you need to know to decide.
What is Early Bird Check-In?
Early Bird Check-In guarantees that you will be one of the first passengers to board the plane — for a fee. The cost ranges from $15 to $25 per person, per flight. If you have a round-trip ticket and want this add-on both ways, you would need to buy it for each leg.
If you pay for Early Bird Check-In, you likely won't be the first to board the plane. Why? Southwest guarantees the first 15 boarding spots to those who purchase Business Select tickets. The number of Business Select tickets purchased on your flight determines your place in the boarding line with Early Bird Check-In. Even so, you'll still board earlier than you would likely have otherwise, with enough time to find the seat you want and room in the overhead bins.
Another benefit of Early Bird Check-In is that you'll be automatically checked in for your flight, so after you buy the ticket, you can just show up at the airport and print out the boarding pass at the terminal. If you'd prefer to use a mobile boarding pass, you can retrieve it on Southwest's app.
How does Southwest Early Bird Check-In work?
Southwest has a unique boarding procedure that differs from almost every other major airline. Rather than reserving a specific seat when booking a flight, you are placed into one of three boarding groups: A, B or C.
Then, you're assigned a number within the boarding group that determines your place in line. This means that A1 will be the first to board, followed by A2 and so on.
Without paying for early check-in, it's usually the case that the earlier you check in for a Southwest flight, the better your boarding spot will be. That's why many passengers check in at the earliest possible moment: precisely 24 hours before the flight's scheduled departure.
Most passengers try to get in group A or B so that they can get better seats, have enough bin space and won't be separated from their travel companions. Without Early Bird Check-In, you could be stuck with a middle seat, rows away from family or friends and without space for a carry-on if you're late to check in.
Why consider paying extra?
The lower your check-in letter and the higher your number, the more risk there's to your in-flight comfort. You might consider the added peace of mind worth the investment if:
You're worried about overhead bin space. Consider paying for this service to improve your chances of onboard storage if you're traveling with valuables that you're uncomfortable putting in the belly of the plane (or that won't fit under the seat in front of you).

You're worried about sitting in a less-than-ideal seat. If you can't stomach the idea of flying from Los Angeles to New York in a middle seat, fork out the extra money for Early Bird Check-In.

You're worried about being separated from your party. Traveling with elderly parents or others that you're concerned about can already be stressful and being separated might bring on even more stress. Note that Southwest's Family Boarding allows two adults traveling with a child six years old or younger to automatically board after the A group and before the B group.
If you won't be available to check in to your flight at the 24-hour mark and you have travel companions you want to sit with or you don't want a middle seat, you should strongly consider paying for the early check-in.
The service isn't for everyone. We recommend the following travelers opt out of it:
Families with small children. If you're traveling with small children, Early Bird Check-In may not be necessary because of Southwest's family boarding policy. Parents traveling with children six or younger are allowed on the plane after the A group has boarded, but before the B group does. In most cases, this should let you get at least two seats together.

No frills travelers. Many people fly Southwest because they want to save money with low fares and don't mind the trade-offs that come with them. If you'd rather have money in your pocket than the seat of your choice, it's probably worth it to skip early check-in.

Budget-minded group travelers. While $15 to $25 may not seem like much to pay for early boarding, it can quickly add up if you're traveling with a group. A family of four paying for this perk on a round-trip flight could easily spend up to $200.
How to purchase Early Bird Check-In on Southwest
If you're booking a new flight
Early Bird Check-In can be purchased during check out on Southwest.com. After selecting your flight, seeing the cost summary and potentially adding a rental car to the booking, you will be directed to input passenger information. Before adding your contact information, you're given the option to add on Early Bird Check-In.

To add it to a flight you've already booked
Log in to your Southwest account and navigate to your Trips. Find the flight that you'd like to add the service to, and click Details. From there, select the Add Early Bird Check-In button and purchase
Early Bird Check-In can be purchased on Southwest.com, over the phone with a reservation agents or in the Southwest app up to 36 hours before a flight's scheduled local departure time.
Other ways to board early
In addition to Early Bird Check-In, there are a few other strategic ways to board your Southwest flight earlier than most passengers.
Fly on a Business Select ticket: A Southwest Business Select ticket is more expensive but comes with its own suite of perks besides early boarding, including a complimentary drink and bonus Rapid Rewards points.

Purchase Upgraded Boarding: If you want an even higher position than what you'd get with Early Bird — but you don't want to pay more for a Business Select ticket, you can purchase upgraded boarding. For $30 to $50 each way, you can buy a spot in the A1 to A15 boarding group. You'll either have to buy it at the gate or at the ticket counter the day of departure (assuming it's available) or you can purchase it online from Southwest's website within 24 hours of departure.
The best way to know if Southwest Early Bird Check-In is worth it is to determine what you value more — money or convenience?
There's a lot to be said for sitting next to a travel companion in your favorite seat, with your carry-on tucked above you. However, if you can check in at the 24-hour mark, you'll usually be just fine getting seats together or avoiding a middle seat. Plus, you'll have more money to spend when you arrive at your destination.
---
How to maximize your rewards
Get more smart money moves – straight to your inbox
Sign up and we'll send you Nerdy articles about the money topics that matter most to you along with other ways to help you get more from your money.