Many or all of the products featured here are from our partners who compensate us. This influences which products we write about and where and how the product appears on a page. However, this does not influence our evaluations. Our opinions are our own. Here is a list of our partners and here's how we make money.
Would you jump on the opportunity to fly "private" for the price of a normal airline seat? That's the experience JetSuiteX promised when it launched in 2016. Now known as JSX, the public charter air carrier has since expanded to dozens of routes along the West Coast and is moving eastward, too.
But what does flying semiprivate aactually mean? Is JSX worth the additional cost? I booked a flight on JSX from Las Vegas to Los Angeles to see for myself. Here's an overview of my experience and what you need to know about flying JSX.
To check JSX, I hopped on a flight from Las Vegas to Los Angeles. I booked the one-way flight for $109 eight days before departure.
When I flew in November 2021, JSX was remodeling its Las Vegas lounge. So the JSX check-in desk and the departure lounge were temporarily inside the nearby 5 Star Helicopter Tours building. JSX had ample signage to point travelers in the right direction.
Check-in agents were friendly and quickly issued my boarding pass — assigning me a window seat without me even having to ask. The entirety of the security measures consisted of the check-in agent asking if I had any prohibited items and swabbing my driver's license and backpack for explosives.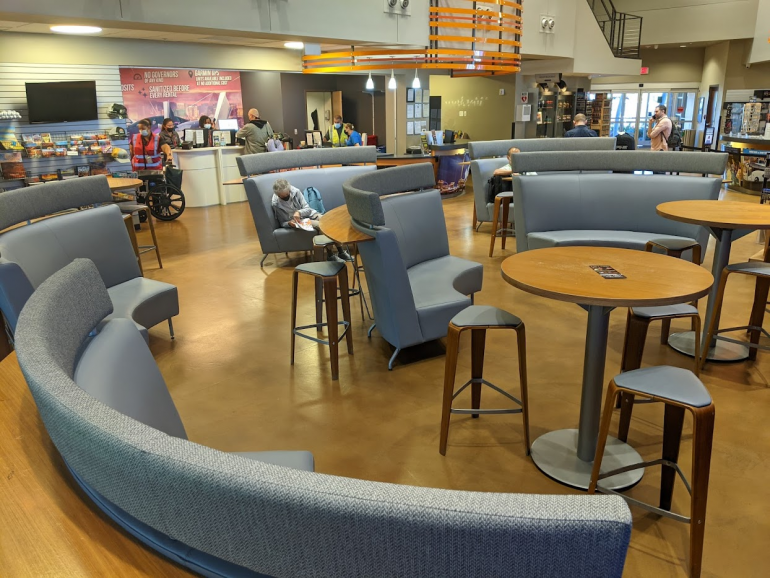 The departure lounge offered coffee, tea and a variety of seating options. The JSX lounge Wi-Fi speeds aren't going to win any awards — 4.66 mbps download, 5.23 mbps upload — but it was free and had low lag.
Boarding was announced 15 minutes before departure. It would've been a bit of a walk to the airplane from the temporary lounge. So JSX drove passengers to the plane on a private bus — which felt a bit excessive for the five passengers on our flight. Passengers were asked to drop their checked bags at the luggage cart next to the bus.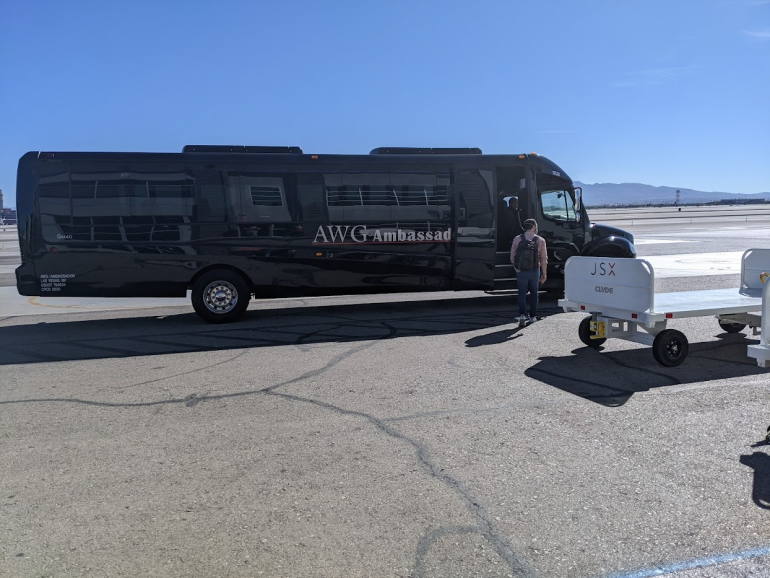 The solo flight attendant welcomed passengers on board. Our flight left the JSX hangar a few minutes early. After a short taxi, we took off before we even hit the scheduled departure time.
The flight attendant served drinks and snacks during the 43-minute flight. The plastic cups and packaged snacks from a snack basket felt a bit short of what you might expect when flying private. But for the price I paid, it was perfectly fine. No additional drinks or snacks were offered.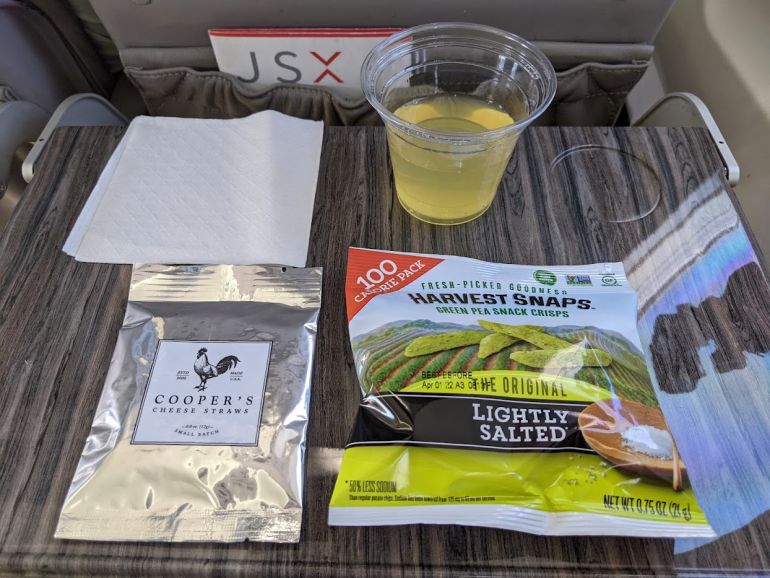 Arrival was just as seamless as departure. It took just minutes from touchdown to arriving at the Signature flight services parking spot. Then, it took only a couple of minutes to deplane, pick up bags from the back of the aircraft and walk through the Signature terminal to the pickup area.
There are a lot of perks to flying semiprivate, but what stood out the most to me was the time savings. JSX requires that you arrive at the airport only 20 minutes before departure. And even that isn't strictly enforced. On my flight from Vegas to Los Angeles, a passenger arrived at the terminal within 20 minutes of departure and still made the flight.
You'll also save time on arrival. It took only 10 minutes from when we landed at LAX for me to get curbside for my ride. On a commercial flight, you're lucky if you're off the plane in 10 minutes. Then, you still have to get through the terminal, wait for checked bags and potentially need to take a shuttle to get to the rideshare pickup spot.
Also, depending on where you're flying, the JSX terminals could also get you where you want to go faster than the commercial airport terminal. For example, in Las Vegas, the JSX terminal is located much closer to The Strip than the commercial airport terminal.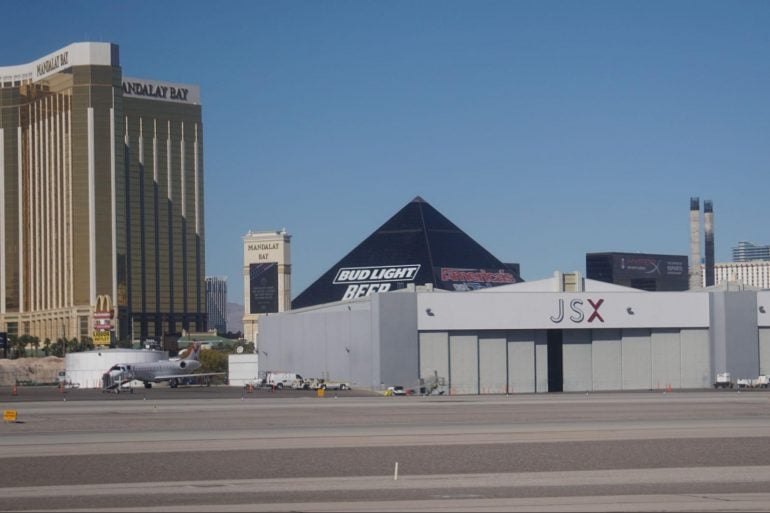 Flying on JSX also reduces a lot of the hassle of flying. The passenger who checked in late for my flight had limited mobility due to recent spinal surgery. For him, flying JSX meant getting dropped off at the front of the JSX terminal and only needing to walk a few hundred feet to check-in, then get to the transfer bus and get on the plane. To fly commercial between Las Vegas and Los Angeles would have required a lot more hassle and transfers throughout the process.
JSX is still primarily a West Coast public charter jet service focused in California, Nevada and Arizona.
However, it has been incrementally expanding eastward, launching routes in and around Texas, Nashville, Miami and Westchester County near New York City. The air carrier has also added winter and summer seasonal flights.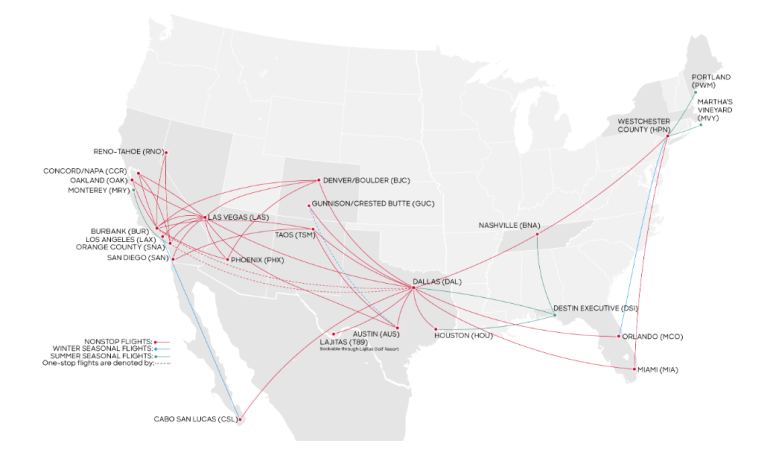 JSX offers two types of fares: Hop On and All In. Hop On is JSX's cheaper fare type — with fees for changes, cancellations and seat assignments. Upgrade to an All In fare to gain the flexibility to change or cancel your ticket without fees.
However, the price difference can be steep. On some routes and dates, Hop On fares can be just $109 each way while All In fares are $499 each.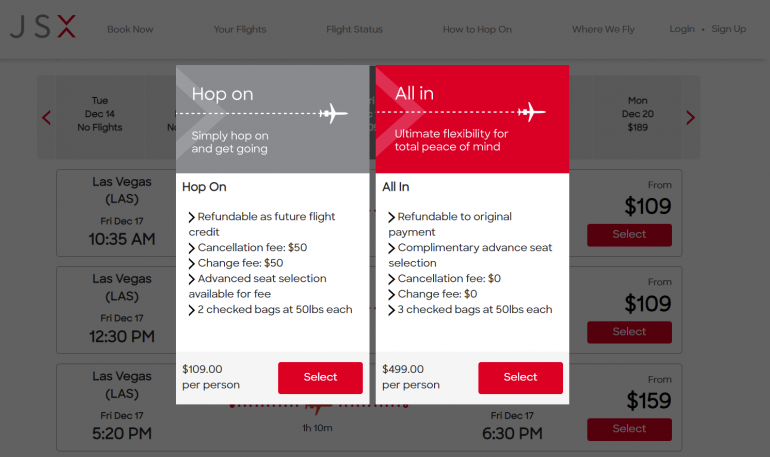 Change fees: JSX charges a $50 fee to change or cancel Hop On fares for travel credit. All In fares have no change or cancellation fees. Either way, you'll need to change or cancel at least an hour before departure to avoid forfeiting your ticket.
Bags: Hop On fares include two checked bags of up to 50 pounds each plus a small personal item, such as a purse or backpack. All In fares get a third free checked bag up to 50 pounds. For both fare types, additional and overweight bags cost $50 each.
Seat assignments: Travelers on Hop On fares need to pay $10 to $30 to book a seat assignment ahead of check-in. All In flyers get free seat selection.
Other fees: JSX charges a $20 fee per passenger for flights booked over the phone. Besides this, there are no other fees to note. JSX doesn't charge a pet fee, and drinks and snacks are complimentary.
Unaccompanied minors: Another important thing to note is that travelers younger than 14 aren't able to travel alone on JSX. Travelers who are 14 to 18 can travel alone, but cannot accompany someone under 14.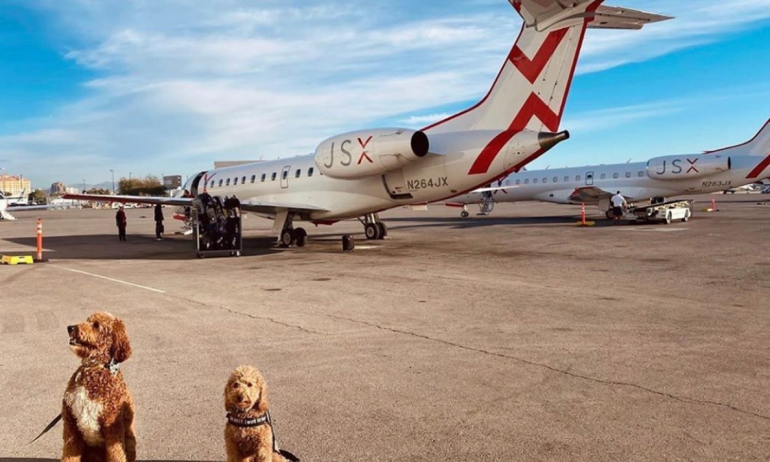 There are a few rules, including that pets must have valid health and rabies vaccination certificates, and they must be well-behaved.
A maximum of five animals are allowed to travel on any given flight, and JSX can deny boarding to any additional pets, regardless of which category they fall into. You should notify JSX when you book your ticket that a pet is coming along too. Check out JSX's pet policy here to ensure you comply with all regulations, but here's an overview of the rules:
JSX allows one small dog or cat per passenger to fly free of charge, as long as the pet remains in a small (13 by 11 by 17 inches), approved pet carrier under the seat in front of you for the entire flight. When booking your ticket and when checking in with the concierge at the airport, indicate that you're traveling with a pet. 
Medium-to-large dogs can fly in the cabin. But if your dog cannot fit under the seat in front of you, you'll have to purchase a separate seat so that your pet can lay on the floor directly under the seat, which might get expensive. Call customer service at 800-435-9579 to purchase the extra seat for your pooch. 
The dog must weigh 79 pounds or less and remain leashed.
Emotional support animals
JSX limits emotional support animals to dogs or cats. If the animal is small enough it's allowed to sit on your lap. At check-in, you must provide documentation from a mental health professional or a doctor if you're traveling with an emotional support animal. 
The public charter jet service allows dogs trained as service animals on its flights. If you have more than one animal with you, you'll need to speak to the booking staff. The animal must remain on the floor but can be on your lap if it's small.
JSX flies Embraer ERJ-135 and ERJ-145 aircraft. These aircraft are typically used by larger airlines to operate regional flights in smaller markets.
JSX's FAA certification limits JSX to 30 seats on each aircraft. That means there can be awkwardly large gaps at the front and back of some aircraft.
The onboard experience will depend on where you're flying. On most JSX flights, aircraft are arranged with 10 rows of seats in a 1-2 arrangement — meaning one seat on one side and two seats on the other side. Because of this, you might rub elbows with another passenger on full flights.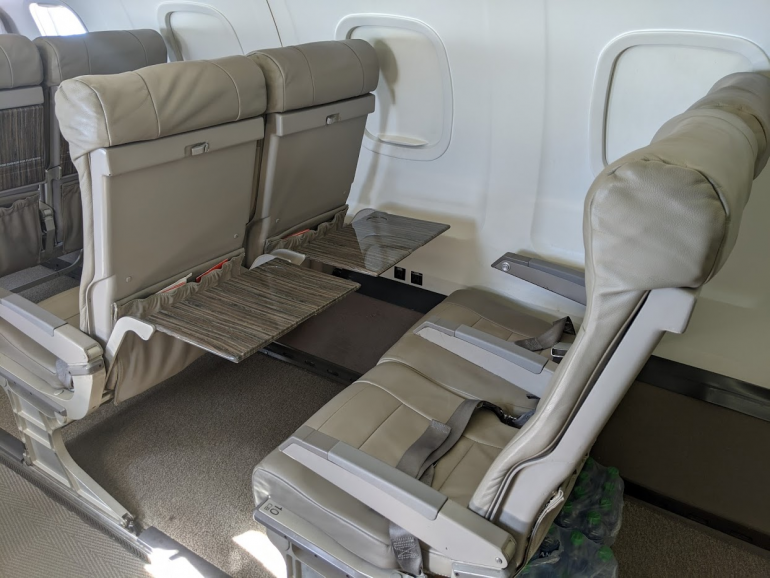 However, JSX's Texas-based ERJ-145 aircraft are arranged in 15 rows with one seat on either side of the aisle. That means you won't have to worry about having a neighbor on these flights.
Seats are arranged with 35 to 36 inches of pitch. That's OK for most passengers to have enough legroom. However, it's less pitch than you'll find in business or first class on many airlines.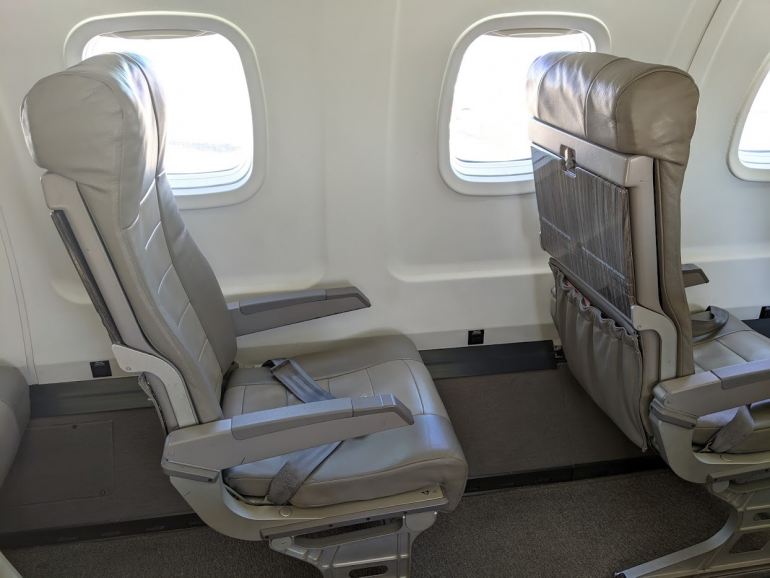 Earn miles on United or JetBlue when flying JSX
JSX doesn't have its own loyalty program. Instead, JSX partners with JetBlue's TrueBlue program and United's MileagePlus program for mileage earnings on flights. The earning rate for TrueBlue is simple. You'll earn 150 TrueBlue points on Hop On fares and 250 TrueBlue points on All In fares.
MileagePlus members will earn:
50% of miles flown in fare classes N, H, and P.

75% of miles flow for fare classes W, G and Q.

100% of miles flown for fare classes Y, B, E, M, V, S, D and T.
What's more, to launch this earnings partnership, MileagePlus members will also earn at a bonus rate for a limited time:
MileagePlus Member: 5x miles.

Premier Silver: 7x miles.

Premier Platinum: 9x miles.
Final thoughts on flying JSX
On most routes and dates, you're likely to find cheaper airfare on a commercial airline. But it's hard to beat the convenience of flying JSX. Between the private terminals, spacious seats, friendly service, and free snacks and drinks, the price difference should be worth it for many travelers.
Plus, with money-saving perks like two free checked bags and no pet fees, it might actually be cheaper for some travelers to fly JSX than a conventional airline.
(Top photo courtesy of JSX)
---
How to maximize your rewards
Get more smart money moves – straight to your inbox
Sign up and we'll send you Nerdy articles about the money topics that matter most to you along with other ways to help you get more from your money.