The Guide to Alaska Airlines Partners
You might be able to earn and redeem miles or receive elite status perks on Alaska's partner airlines.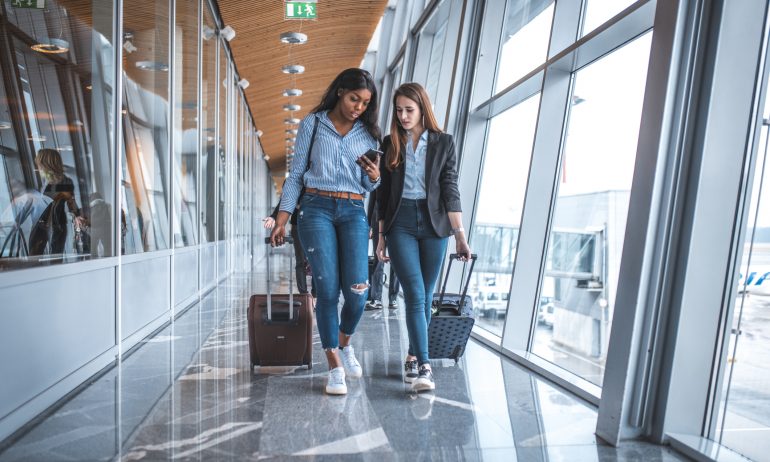 Many or all of the products featured here are from our partners who compensate us. This may influence which products we write about and where and how the product appears on a page. However, this does not influence our evaluations. Our opinions are our own. Here is a list of our partners and here's how we make money.
Alaska Airlines joined the Oneworld alliance in 2021, expanding the breadth and benefits of its partnerships. It has also maintained many of the high-quality partnerships — such as Emirates —  from before joining Oneworld.
The benefits of these partnerships are threefold:
Since Alaska flies few international routes itself, these partnerships greatly expand the benefits for Mileage Plan members, geographically. Alaska doesn't fly to Europe, for example, but several of its partner airlines do.
Here's what you need to know about Alaska Airlines' partners.
Alaska is currently partnered with 19 other airlines. Many of these are Oneworld members, but not all.
You can earn miles on Alaska's partners by crediting the flight to your Alaska Mileage Plan account. That is, if you book a flight on British Airways, you must enter your Alaska number in your itinerary in order to earn miles.
Alaska miles are earned based on the number of miles flown with the partner airline, though not always at a 1:1 ratio. Most partner economy tickets only earn 25% of flown miles. For example, if you fly 4,000 miles on British Airways in the cheapest fare class, you'll earn 1,000 Alaska miles.
On the flip side, many partners offer bonus miles for flying in their premium cabins. In British Airways' highest fare class (F), you'll earn 100% of flown miles plus a 200% class of service bonus plus a 200% additional bonus. Flying 4,000 miles in this fare class will earn a whopping 20,000 Alaska miles.
Note that the "additional bonus" applies to redeemable miles (which can be used to book award flights) but not elite-qualifying miles (which earn ).
Here is how many miles you'll earn for each partner in the cheapest economy fare class:
For a full breakdown of earnings based on partner airlines and fare classes, check .
An important caveat: The flight must be sold and operated by the same partner airline in order to qualify for Alaska miles. What does that mean? If you book a flight through British Airways that is operated by Iberia Airways, you will not earn Alaska miles. This can get tricky, especially for partners in the Oneworld alliance, so keep an eye out when booking your ticket.
Alaska only operates a handful of international routes, so redeeming miles on their partner airlines is a good way to travel the globe.
Searching for available partner award flights is fairly straightforward. Use the flight search tool on the website or app and select the Use miles box.
Once you search, you'll see the available partner routes for the destination you selected.
Each partner serves different regions and has its own .
Some partners (British Airways, most notoriously) charge massive fuel surcharges that are not published in the award chart. The best way to find the "real" cost of a given itinerary is to search and compare.
Most Alaska partners allow free stopovers on award itineraries, which means you can stop for several days (or weeks) at the airlines' hub on your way to your final destination. This is a great way to extend the value of your miles, especially when booking premium cabin awards.
To book stopovers, use the multi-city search tool.
Make sure the stopover is in one of Alaska's partners' hubs (in this case, Japan Airlines' hub in Tokyo) or the search will fail.
Note: Some partners, like LATAM, are only bookable by calling Alaska directly.
Alaska MVP elite members receive automatically reciprocal Oneworld status, which confers benefits such as lounge access when flying with Oneworld partners.
All of these policies are subject to the specific rules of each Oneworld partner airline. Don't be surprised to encounter some hiccups when flying with partners. And remember to use your Alaska Mileage Plan number on partner itineraries, not your reward account associated with that airline.
In addition to Oneworld benefits, a few of Alaska's partners extend lounge access to members:
A few of Alaska's partners extend lounge access to members:
Alaska has long offered some of the best partnership earning and redemption options out there. Now that it has joined the Oneworld alliance, these partnerships have only expanded and strengthened.
You might think of Alaska as a small-ish airline that primarily serves the West Coast. But when you consider these partnerships, especially with American Airlines, its reach is far greater.
Now that you've mastered their partnership program, you're ready to learn more about .
You want a travel credit card that prioritizes what's important to you. Here are our picks for the , including those best for: