Passport Book vs. Card: 4 Key Differences
Which will work best for you depends mostly on where you're going and how you plan to get there — air, land or sea.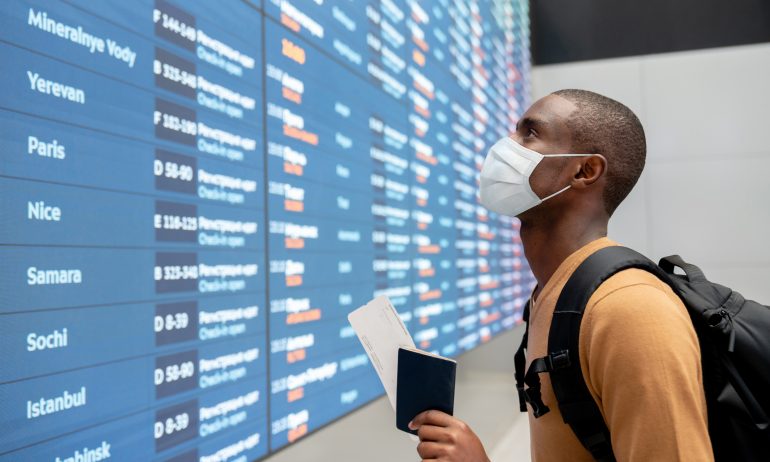 Many or all of the products featured here are from our partners who compensate us. This influences which products we write about and where and how the product appears on a page. However, this does not influence our evaluations. Our opinions are our own. Here is a list of our partners and here's how we make money.
Countries around the world are reopening their borders to qualified international travelers. For example, Canada is now welcoming visitors if they meet the fully-vaccinated traveler exemption.
If you qualify for the exemption and are eager to dust off your luggage for a trip to our northern neighbors, you'll need a valid U.S. travel document.
For international travel, the U.S. Department of State issues two types of official governmental documents: the passport book and the passport card.
The main difference between a passport card and book boils down to where you can use them, what methods of transit are eligible and the cost.
It's important to learn the difference between the two so you can choose more confidently if one (or both) are right for you.
A passport book is a small booklet available to U.S. citizens and non-citizen nationals that can be used for international travel by air, sea or land. For travelers age 16 or older at the date of issue, the books are valid for 10 years. Younger travelers are given passports that are valid for five years.
Each passport book is assigned a unique number. The first page of a passport contains your photo and personal information, including your full name, nationality, date of birth, place of birth, sex, the passport issue date and passport expiration date. The rest of the book is filled with blank pages for immigration stamps and visas. Depending on the country you're visiting, you might be required to have two to four blank visa pages.
The standard passport book is 28 pages; however, you can request a 52-page book if you anticipate frequent international travel.
Since 2007, only electronic passports have been issued. These books contain an electronic chip that stores the information on the first page, a biometric identifier of your passport photo, a chip identification number and a digital signature.
The passport card is also available to U.S. citizens and non-citizen nationals, but can only be used for foreign border entry by land and sea — and only in specific places. Regardless of the country you're visiting, it's not an accepted form of ID for international air travel. Passport cards are valid for the same durations as passport books.
The passport card fits a standard wallet card slot and contains your photo, full name, nationality, date of birth, place of birth, issue and expiration dates, plus your unique passport card number.
The card also has built-in Radio Frequency Identification which can be used in Ready Lanes at Canadian and Mexican land borders for faster entry.
How a passport book and passport card differ
The biggest difference between a passport book and passport card is the methods of travel that are eligible. While passport books can be used for all entry methods into an international country — whether air, land or sea — passport cards are limited to travel through land and sea borders only.
Another difference between a passport book and passport card is which countries each can be used to enter.
There are no limitations for destinations where you can use your passport book. Passport cards, however, can only be used going through a land border or seaport in Canada, Mexico, the Caribbean and Bermuda. For example, if you're planning a Mediterranean cruise, you'll need to use a passport book. The card isn't valid for seaport entry in Europe.
Passport books and passport cards have physical differences. Passport books are 3.5-by-5-inch booklets with blank pages for foreign immigration stamps and visas. Although they're pocket-sized, passport books are bulkier than passport cards, which are the size of a credit card or driver's license.
Passport books are more expensive than cards. Regardless of document type, all first-time applicants must pay a $35 acceptance fee, which is included in the price.
Passport books for first-time applicants cost:
For adults (16 and older): $165.

For children (15 and under): $135.
The cost difference is stark compared to passport cards for first-time applicants:
For adults (16 and older): $65.

For children (15 and under): $50.
Acceptance fees are dropped for renewals of both the passport book and card. Travelers can expect to pay $130 to renew an adult passport book and $30 to renew an adult passport card.
The passport book is the all-encompassing identifier to carry regardless of how and where you're traveling. You have the option to purchase a passport book and card in one application, and there are a couple of scenarios when having both passport types might be convenient, like:
If you travel equally by air and land. If you're visiting Canada or Mexico by car, you might prefer a more compact document for traveling across the border. In that case, having a passport card for regular land-based trips would be useful. You can keep your passport book handy for international air travel.

If you don't have a Real ID, which is required for domestic air travel. A U.S. passport — book or card — is accepted as an alternative to the Real ID, but the card is more convenient to carry around. If you're flying domestically without a Real ID, you can use a passport card for air travel within the 50 states and reserve your passport book for international travel.
If you choose to apply for both passport options in one application rather than applying for them separately, you'll save $35 since you'll only pay one acceptance fee.
If you're choosing between the passport card and passport book
Deciding between a passport book and a passport card can feel like a difficult choice considering the cost difference and the turnaround time to get your passport application processed.
When choosing which option is best for you, consider the type of travel you're most likely to do over the next few years. If you're unsure about your future travel needs, a passport book might be your best option.
---
How to maximize your rewards
Get more smart money moves – straight to your inbox
Sign up and we'll send you Nerdy articles about the money topics that matter most to you along with other ways to help you get more from your money.