How Long Is a Passport Valid for Minors?
Passports for those under 16 are valid for five years. Travelers ages 16-17 get a validity period of 10 years.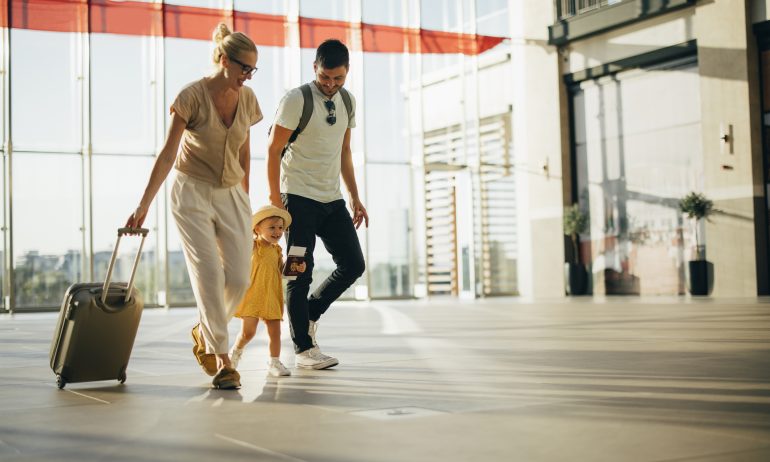 Many or all of the products featured here are from our partners who compensate us. This influences which products we write about and where and how the product appears on a page. However, this does not influence our evaluations. Our opinions are our own. Here is a list of our partners and here's how we make money.
Traveling when your children are young can result in some of the best experiences and memories. Perhaps no more so than traveling internationally, where you can introduce children to new cultures, languages and foods.
But international travel also means more planning, including ensuring that everyone who needs a passport has one and, more importantly, that it won't expire while abroad. U.S. passport rules for children differ from rules for adults.
So how long do minors' passports last before they expire?
First things first: when discussing U.S. passports for those under 18, the precision of language matters. The U.S. government uses the term child to refer to anyone under 16, while minor refers to those ages 16-17.
All children under the age of 16 require a valid passport to travel internationally, even if they fly as lap infants.
How long is a child's passport valid?
A child's passport is valid for five years. Remember, a child is considered anyone under the age of 16.
When do passports expire for minors?
The same expiration date rules apply for minors as adults: a passport is good for 10 years. Once the passport is issued, your child's age won't impact how long minor passports last — it's instead about the printed expiration date in the booklet.
For example, if your child was 14 when their passport was issued, their passport is valid for five years or until around the age of 19. Let's say they're planning to travel internationally for their 18th birthday. They wouldn't need to apply for a new passport as long as they return to the U.S. before the printed expiration date on their "child" passport.
Likewise, a minor granted a passport at age 16 or 17 doesn't need to reapply for or renew it when they turn 18. It's valid for the full 10 years, no matter your age.
Always check the expiration date printed on your U.S. passport. That's the date that matters.
How to apply for a child's or minor's passport
If your child is applying for their first passport, they'll likely need to do so in person no matter how old they are. The only minors able to apply by mail instead are those whose last passport was issued after age 16.
All children under 16 must also apply with two parents or guardians present, unless exceptions are approved. Minors 16-17 years of age must provide proof of parental consent from at least one parent, but options for doing so are less limited. You'll need one of the following:
A parent or legal guardian present when you apply.

A signed note from your parent or legal guardian accompanied by a photocopy of their ID.

Payment for the passport application via money order or check with a parent or guardian's name on it.

Potentially (if requested), a notarized statement from a parent or guardian stating they give permission, accompanied by a photocopy of their ID.
With two parents or guardians in tow for children and/or at least one form of proof of consent for minors, head to a passport acceptance facility. You'll need to bring:
Proof of U.S. citizenship, such as a valid U.S. passport, birth certificate or certificate of citizenship. Bring the original and a photocopy.

A current form of ID for the child (if they have one) and/or the parent(s) and a photocopy.

Proof of parenthood or guardianship if the child is under 16.

A method for paying the application fees.
Passport renewal for minors
So you know how long passports are good for minors, but what about renewing a child's or minor's passport? Unfortunately, children's passports cannot be renewed. Once the five years is up and their passport has expired, you'll have to repeat the process above.
The only exception is for those whose most recent passport was issued after they turned 16. In that case, provided they meet all the other criteria (such as their passport wasn't lost or stolen, their name hasn't changed, it was issued in the last 15 years), they can renew by mail.
Children's Passport Issuance Alert Program
Whether or not you're concerned with how long children's passports are good for, some parents may find enrolling their children in the Children's Passport Issuance Alert Program comforting. This will alert parents if their child applies for a passport and allow the government to double-check with parents to verify parental consent.
The goal is to ensure parents know what their children are up to and help prevent abduction.
To do so, complete the request form and send it with proof of identity and parental relationship via mail or email to the contact listed on the Department of State website.
Minor and child passports recapped
So how long is a minor passport good for? Ten years. How long are child passports good for? Five years.
Just make sure before you head to an application office you have all the necessary documentation and paperwork and know what to expect.
---
How to maximize your rewards
Get more smart money moves – straight to your inbox
Sign up and we'll send you Nerdy articles about the money topics that matter most to you along with other ways to help you get more from your money.