Renting Hotels for Big Events Is Dirt-Cheap … for Now
The cost of booking a hotel for conferences and weddings has plummeted, but don't expect it to stay that way.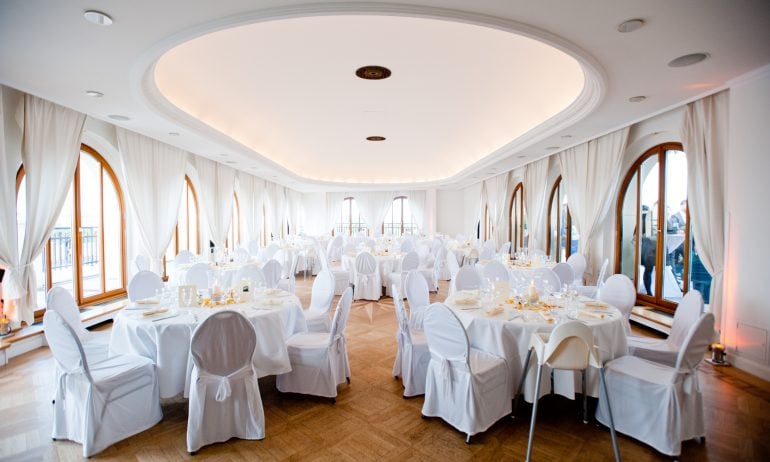 Many or all of the products featured here are from our partners who compensate us. This influences which products we write about and where and how the product appears on a page. However, this does not influence our evaluations. Our opinions are our own. Here is a list of our partners and here's how we make money.
It's no secret: Hotel ballrooms, boardrooms and rose gardens that once commanded big budgets for conferences, cheer competitions and wedding ceremonies have now been mostly vacant for months. For people still willing to hold events in 2020, venues are cheap and abundant. But event planners don't expect things to stay that way for long — especially if (OK, when) coronavirus gets under control.
Event planners are imploring soon-to-be-married couples, corporate party planners and everyone else renting a hotel to jump on hotel venues now — even if the event is a long way out. Because pretty soon, finding available event rental space is going to become harder than finding a spare roll of toilet paper in March.
Demand could soon be greater than ever
While a lot of 2020's conferences and corporate events either went virtual or were canceled completely, many weddings, family reunions and other events have simply been postponed.
"I have new clients who are looking for wedding dates in 2021, but 2021 is already getting booked up by the people who postponed their 2020 date," says Keith Willard, a corporate and social event planner based in Fort Lauderdale, Florida.
And many of those postponers rescheduled them for early 2021 in hopes of a vaccine by the end of 2020.
"That meant the February and March 2021 dates were already solid packed," he says. "But now I'm starting to see February dates get anxious."
He's already rescheduling many events set for early 2021 to the end of the year. But for Willard in South Florida, winter already was a popular time for most events. In 2021, he expects colossal demand.
Between all the events that were postponed and the ones always intended for 2021, there's now double the events to hold. What's more, Willard says he expects corporate holiday parties to be more over-the-top than ever in 2021.
"Since companies didn't get to celebrate this year (2020), they'll want to make sure next year's event is really over the top," he says. "As the economy improves, companies will need to work to keep their employees, and a great holiday party is a way to entice people to stay."
Throw in the fact that Christmas falls on a Saturday in 2021, and you've lost one more available weekend to host most events.
Deals exist now (even for events years from now)
Bargain buffs don't need to use their rented ballroom by the end of 2020 just to score a deal. You can still get great prices on events scheduled for a year or two out — as long as you're willing to commit to the date and venue now.
"Hotels basically lost eight months of 2020," Willard says. "Now, they're doing everything they can to hedge their bets on revenue, which is why you're seeing these great deals."
Danny Camargo, Olympic weightlifting coach and president of the Florida Weightlifting Federation, hosted a meet this summer at a ballroom in the Hilton Orlando Altamonte Springs. In October, he hosted the Florida Weightlifting State Championships at the Wyndham Orlando Resort.
"Venues right now are desperate, so they'll give you a deal," Camargo says. "Every single phone call I made, the hotels told me, 'We've lost so many events. What can we do in your budget?' Today you can probably afford a larger venue than what you ever thought you could."
The Hilton Orlando Altamonte Springs had already been booked before COVID, so it didn't lower the price, but Camargo was able to negotiate that it include extra sanitizing supplies, expand room discounts and include another meeting room at no additional cost, which made it easier to maintain social distancing. He also was able to negotiate that his group could bring in its own food (in past years it was only allowed to consume food purchased on-site from the hotel's restaurants).
As far as the Wyndham Orlando Resort, which was booked during the pandemic, Camargo got a 50% discount. Even still, you don't necessarily need to hold an event this year to snag a discount.
This fall, Hyatt launched a promotion dubbed "Hyatt Together," which promises World of Hyatt loyalty program bonus points plus additional discounts for booking an event at one of its hotels — and that's on top of the bonus points you already earn for hosting events.
Perhaps the most enticing part of Hyatt's promotion: There's no pressure to actually hold your event this year; the event simply must be booked and held by Dec. 31, 2022.
Between the bonus points and low pressure to hold your event in the near future, Hyatt's promotion is a swell deal, offering about 20% back on the event cost in points and credits.
Let's say you would have spent $25,000 with Hyatt on your wedding (the average total wedding cost in 2019 was $33,900). Here's what kind of savings you can expect through the Hyatt Together offer:
10% of qualifying event spend credited toward your master bill: You'd earn $2,500 as a statement credit.

1 bonus point per dollar spent on eligible event charges, up to a maximum of 50,000.

Bonus points for hitting spending thresholds: You'd earn 90,000 World of Hyatt bonus points (doled out for spending at least $20,000 on qualifying expenses).

Total value from Hyatt's promotion (based on $25,000 in spending): 115,000 bonus points plus a $2,500 statement credit.
That's just under 20% back in total value — about half of which are points. Those points alone could fund a long, luxurious trip — say nine nights at the 5-star Hyatt Regency Phuket Resort in Thailand, or seven nights at the Diamond Dreams of Africa, a seafront resort in Kenya.
Hotels are willing to negotiate
You have more negotiating power than before, as hotels are desperate to get some type of cash flow now.
Negotiate for bigger discounts or freebies
Willard recommends focusing negotiations on intangibles that don't cost the hotel more outright, but that can dramatically improve your event, like suite upgrades for guests staying at the hotel.
Or, try to negotiate away annoying fees. Beyond usual hotel fees, events tend to come with their own set of fees, like mandatory bell services fees (even if you don't use them).
"As sales people, hotel event staff have to meet their sales goals too, so they're willing to work with you," Willard says. "If you don't ask, you're never going to find out. The worse they can say is no."
Negotiate for policies in your favor
While you should always read the fine print, it's more imperative now than ever. Especially this year, Willard advises looking at not just cancellation clauses, but also move date clauses.
The good news: It's easier now to negotiate for policies that favor you more than the hotel.
Deanna Nwosu, an event planner based in the Cleveland area, told NerdWallet that nearly any contract you sign right now — whether at big chains or independent hotels — will likely reduce former requirements that can turn out to be quite pricey, such as the minimum number of rooms you need to book or food and beverage spending minimums. Others are reducing or waiving cancellation fees.
Some hotels have already proactively amended policies to incentivize hesitant customers to book. For example, the Hyatt Together offer specifically states that rescheduling flexibility is documented in the event contract.
You might be in full-on stay-at-home mode currently, and that's all good. The thought of hugging 200 wedding guests or shaking hands with potential clients at a conference might seem unfathomable. But if you can imagine yourself hosting an event a year or two in the future, locking in a venue now can mean not just better deals, but it also can ensure you get the date and venue you want.
You don't have to book everything right now. The wedding bouquets and conference brochures can probably be booked closer to the actual event date. But with a well-written contact, you'll get the best of both worlds: A date locked in now and the ability to change your date should it still not be safe to host events.
Willard is optimistic that you likely won't need to change your event date anyway.
"There's going to be a moment in 2021 where there becomes a vaccine widely available or a medical advancement of some sort," Willard says. "When that happens, there's going to be a surge in demand for event rentals, and I'm urging my clients to get theirs locked in now."
---
How to maximize your rewards
Get more smart money moves – straight to your inbox
Sign up and we'll send you Nerdy articles about the money topics that matter most to you along with other ways to help you get more from your money.