The Guide to Spirit Airlines Big Front Seat
A little extra legroom, a wider armrest — Spirit's Big Front Seat delivers on the name, but it's no first class.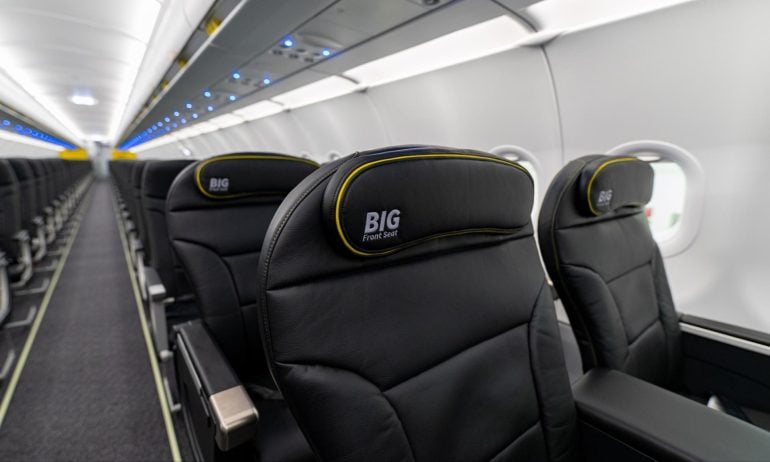 Many or all of the products featured here are from our partners who compensate us. This influences which products we write about and where and how the product appears on a page. However, this does not influence our evaluations. Our opinions are our own. Here is a list of our partners and here's how we make money.
Anyone who's ever flown on Spirit Airlines knows the unique challenges of traveling with the ultra-budget airline: small seats that don't recline, no carry-on included (just a personal item) and no free snacks or drinks. But for those willing to travel light, the airline's rock-bottom prices can offer an exceedingly budget-friendly way to travel by air.
Thankfully, for those looking for a more comfortable Spirit experience, there's an option to upgrade from standard economy class seating: the Big Front Seat.
But is the Spirit Big Front Seat really worth the upgrade? And does Spirit have first class? We discuss these questions and answer them below.
What is the Spirit Airlines Big Front Seat?
These seats located at the front of the plane are larger and more comfortable than economy class seats. They boast a 36-inch pitch (plus curved seatbacks to offer more room for your knees) and an 18.5-inch width, which means you can enjoy 6 more inches of legroom than a standard seat.
Maybe the biggest selling point is that there's no middle seat in Big Front Seat rows, which means fewer people to crawl over (or to crawl over you) on long flights. This also means at least one armrest is guaranteed to be just for you, and the shared armrest in the middle is also wider.
There's also an ergonomic memory foam headrest and extra memory foam in the seat cushion for enhanced comfort.
Does Spirit have first class?
In short, no. The Big Front Seat is as close as you'll get to Spirit airlines first class, and truthfully, it lacks many of the perks you normally find in first class cabins. Namely, physical separation from the economy class cabin, free food or drinks, early boarding or even free checked bags.
It's quite literally just a bigger seat in the front of the plane. They don't even recline (all Spirit seats are "pre-reclined").
What's the difference between the Spirit Big Front Seat vs. exit row seats?
In "Spirit first class," (aka the Big Front Seat), you can enjoy extra legroom, but only an inch more than in exit row seats, which cost less. On its own, this could hardly be considered an upgrade, in our opinion.
However, legroom isn't the only thing to consider when choosing a seat. There's seat width to contend with, too, and Big Front Seats are wider. Plus, exit rows are three seats across, meaning they'll still feel more cramped.
How much is Spirit's Big Front Seat?
The Spirit Big Front Seat price depends on where you're flying. Upgrades can cost between $12 and $250, according to Spirit's website — an exceedingly wide spread. They can be reserved during or after booking.
In one flight search from Dallas to Atlanta, upgrading to the Spirit Big Front Seats would cost an additional $62 per direction of travel. In comparison, we were able to upgrade to a Boost It package during booking for $69.50. That option includes a checked bag, early boarding and the option to pick your own seat (including an exit row seat if available).
A shorter flight from Los Angeles to Las Vegas resulted in a Big Front Seat upgrade fee of only $39 each way, but the Boost It bundle cost more at $75 one-way.
A flight from San Diego to New York-LaGuardia cost the same $75 for a Boost It bundle and $153 for the Big Front Seat.
So, sadly, the only way to know how much upgrading to these larger seats costs is to go through the booking process.
How to book the Spirit Big Front Seat
You can select to upgrade your ticket to the Big Front Seat when making your seat selections during checkout on eligible flights.
You might be wondering if you can use Free Spirit points for your upgrade. Sadly, you can't use points to upgrade to a larger seat, Big Front Seat included. Miles can only be redeemed for the fare portion of your flight, so if you want the extra space, you'll have to pay for it in cash.
On the upside, if you're a Free Spirit member when you upgrade, you can earn 12 points for every dollar you spend on À La Smarte options, or 20 points if you're an elite Gold member. This includes seat upgrades, meaning you can earn more miles than if you'd purchased a fare with a regular seat.
Is the Spirit Big Front Seat worth it?
Whether upgrading to Spirit's more spacious seats in the front of the plane is worth it, of course, will depend on who you ask. If you're looking for a true first class experience, for example, you're going to be disappointed with the services and amenities that come with the Big Front Seat (which is to say, none).
However, if all you want is a more comfortable travel experience on a long flight with a bit more legroom and elbow space, the Big Front Seat will definitely deliver. It's more spacious, more comfortable and will likely cost far less than even business class flights on other, nonbudget airlines, meaning you can fly in style without blowing up your budget.
Photo courtesy of Spirit Airlines.
---
How to maximize your rewards
Get more smart money moves – straight to your inbox
Sign up and we'll send you Nerdy articles about the money topics that matter most to you along with other ways to help you get more from your money.