Travel Insurance Through Chase Sapphire Preferred: What You Need to Know
This popular card offers travel insurance that covers unexpected events like trip delays and lost bags.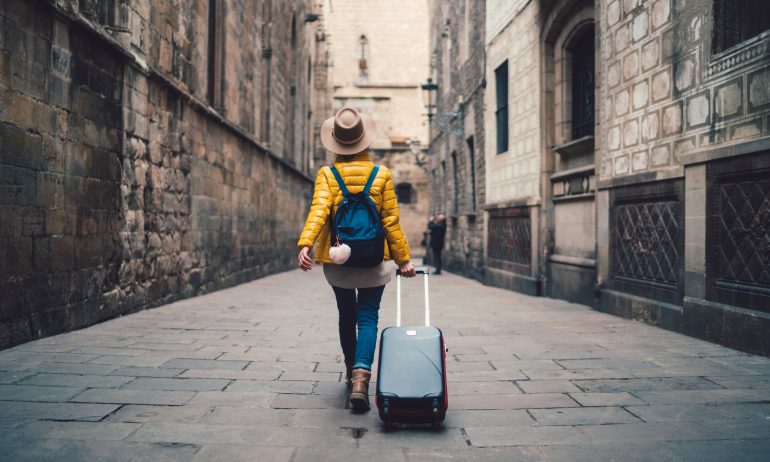 Many or all of the products featured here are from our partners who compensate us. This may influence which products we write about and where and how the product appears on a page. However, this does not influence our evaluations. Our opinions are our own. Here is a list of our partners and here's how we make money.
When travelers go abroad, many don't think about travel insurance until something bad happens.
Who qualifies for coverage under the Chase Sapphire Preferred® Card? More importantly, how can you use your coverage in the worst-case scenario?
Empower yourself with the right information before you leave the country — then you'll be ready to lean on your travel insurance through Chase Sapphire Preferred® Card. Here's what you need to know.
When does the
Chase Sapphire Preferred® Card
provide coverage?
To qualify, a portion of the trip must be purchased with the Chase Sapphire Preferred® Card or with Chase Ultimate Rewards® points earned from the card. Flight purchases made with Chase Ultimate RewardsⓇ transferred to another program will not qualify for travel insurance benefits.
In many situations, travel insurance through the Chase Sapphire Preferred® Card extends beyond the primary cardholder. Trip cancellation, trip interruption, lost luggage and baggage delay coverage includes immediate family members, even if they aren't traveling with the primary cardholder. However, there are limits to how many people can be covered per trip.
Rental car benefits are only given to the primary cardholder, who Chase defines as the "person to whom a U.S. credit card has been issued and their name is embossed on the card." But if you meet the qualification requirements, any authorized drivers are also included in the rental car coverage.
Travel insurance benefits and limits on the
Chase Sapphire Preferred® Card
We've included a table of all the travel insurance benefits provided by the Chase Sapphire Preferred® Card with further details about each benefit in the following sections.
The travel insurance benefits, explained
Trip cancellation protection
If an event out of your control prevents you from departing for your vacation, trip cancellation benefits may help you recover some of your nonrefundable costs. When you pay for your trip using your Chase Sapphire Preferred® Card or using Chase Ultimate RewardsⓇ points, the primary cardholder gets trip cancellation benefits up to $5,000 per trip or $10,000 per 12-month period. If multiple people are covered on the trip, the limit is $10,000 per trip or $20,000 per 12-month period.
The trip cancellation benefit applies if a situation arises which prevents you from traveling on or before the departure date. Covered reasons include the accidental illness or injury to the traveler or a companion, severe weather that prevents a trip, or a change in military orders for the cardholder or their spouse or domestic partner.
Nerdy tip:
Despite the name, trip cancellation doesn't mean cardholders can cancel their trip for any reason, or that all cancellations are covered. Travel arrangements canceled by a common carrier (like an airline or cruise line), tour operator or tour agency may not be covered, unless the cancellation is due to an organized strike or weather.
Trip cancellation also doesn't apply if you are in jail, have a reoccurrence of a pre-existing condition, or are "traveling or flying on any aircraft engaged in flight on a rocket-propelled or rocket launched aircraft." Note, if the travel supplier cancels your trip but offers a credit or voucher for future travel, you will not be reimbursed by the Chase Sapphire Preferred® Card. If this scenario applies to you, you'll need to decline the future travel credit to qualify for reimbursement under the Chase Sapphire Preferred® Card.
If you're concerned with traveling and your reason for cancellation doesn't fall into one of the covered reasons, consider Cancel For Any Reason (CFAR) travel insurance, which is an optional add-on that you can purchase with a comprehensive stand-alone travel insurance policy.
Trip interruption coverage
Trip interruption insurance kicks in after departure and protects your nonrefundable prepaid trip plans if an event during your trip results in an interruption. For example, if you're injured a few days into your trip and need to return home, trip interruption benefits can help you get your money back on the unused portion of your hotel stay. Coverage provided by the Chase Sapphire Preferred® Card provides up to $5,000 per trip or $10,000 per 12-month period. If multiple people are covered, the limit is $10,000 per trip or $20,000 per 12-month period.
The benefit applies to any prepaid tour, trip or vacation charged to your Chase Sapphire Preferred® Card at a destination greater than one mile from your primary residence and for a trip that doesn't exceed 60 days. Covered situations include accidental injury or illness experienced by the traveler, their companion or an immediate family member, severe weather preventing a trip, finding a primary dwelling to be uninhabitable or a quarantine imposed by a physician for health reasons.
Like the trip cancellation benefit, travelers can't file a claim for common carrier-caused delays. In addition, traveling against a physician's advice, to receive medical treatment, while on a waitlist for specific medical treatment or traveling with a pre-existing condition do not count as a trip interruption.
A delay can happen for any reason, from irregular operations to missing flight crews for aircraft. Depending on how long your flight is delayed, you could get reimbursed for your incidental costs, ranging from meals to a hotel room.
The Chase Sapphire Preferred® Card offers a trip delay benefit of up to $500 for each purchased ticket if you are delayed by 12 hours or require an overnight stay. The reimbursement can cover reasonable expenses, such as food, hotel rooms, toiletries and any medications you may need.
However, if the delay was made public before departing, you may not be covered by this benefit. Prepaid expenses are not covered under trip delay but could be covered under the trip interruption benefit.
Baggage delay reimbursement
The last thing any traveler wants is the baggage carousel to stop without their bags on it. Those who pay for their trip with the Chase Sapphire Preferred® Card automatically qualify for baggage delay benefits in the event they arrive at their final destination, but their bags do not.
If luggage is delayed by more than six hours while traveling on a common carrier (such as an airline or train line), the Chase Sapphire Preferred® Card baggage delay benefit can reimburse you for up to $100 in essential items per day the luggage is lost. The benefit maximum is five days of delayed luggage, for a total maximum benefit of $500.
Not all emergency items are covered under the benefit. Excluded essential items include contact lenses or glasses, hearing aids, business samples, jewelry, watches, electronic equipment and cell phones. In addition, travelers are only allowed to purchase one cell phone charger under the duration of the benefit.
The term "lost luggage" doesn't just apply to bags that are never recovered. A luggage loss can also apply to bags damaged by an airline or certain items that are damaged inside the bag.
If your bags are damaged in transit, you could receive the actual cash value (replacement cost less depreciation) for the items lost, damaged or destroyed during handling up to $3,000. There are jewelry and electronics limits of $500 each, respectively. The benefit may also extend to repair costs for checked or carry-on luggage.
To qualify for the lost luggage benefit, all losses must be immediately reported to the carrier. A carrier damage report must be submitted with the claim, otherwise, it could be denied.
Auto rental collision damage waiver
The most unsung benefit of the Chase Sapphire Preferred® Card is the primary auto rental collision damage waiver. If you rent a car and pay for it with the Chase Sapphire Preferred® Card, you could receive reimbursement for damage due to collision or theft up to the actual cash value of the vehicle.
Because the insurance is primary coverage, you would not be forced to file a claim with other insurance sources before filing with the Chase. In order to use this benefit, however, renters must decline the rental company collision damage waiver or loss damage waiver. If the company forces you to purchase their collision damage waiver, you can call Chase for assistance.
Travel accident insurance
Travel accident insurance consists of two types of protections: Common carrier travel accident insurance and 24-hour travel accident insurance, both of which cover accidental death or dismemberment, loss of speech, sight or hearing that occur on a trip.
Common carrier travel accident insurance applies when a covered loss occurs when entering, existing or riding as a passenger on an airline, bus, train, cruise ship or any other common carrier. The benefit limit is $500,000.
The 24-hour travel accident insurance covers any losses experienced beginning on the departure date and ending on the return date as printed on the airline ticket. The benefit limit is $100,000.
Any losses sustained while committing an illegal act, parachute jumping, or involving flights on aircraft that are not certified by the government, will void coverage.
Other assistance benefits on the
Chase Sapphire Preferred® Card
The Chase Sapphire Preferred® Card provides access to two helpful pay-per use services: Roadside dispatch and travel and emergency assistance services.
For a set price, roadside dispatch offers standard towing, tire changing, jump starting, lockout service, fuel delivery and standard winching assistance 24 hours a day, 7 days per week.
Travel and emergency assistance provides help and referral services and connects you with appropriate local emergency and assistance resources while you're traveling, 24 hours a day, 7 days per week. Example of services include medical referrals, legal referrals, emergency transportation assistance and more. The cost of using the services are the responsibility of the cardholder.
To file a claim for any of these benefits, your claim time frame begins the day the loss happens.
Nerdy tip:
It's important to file a claim as soon as possible, as claims can take time to process and provide reimbursement.
Claim information can be found in the benefits guide provided with the Chase Sapphire Preferred® Card. In addition to filing a claim form, you must provide supporting documentation to prove your loss. This includes reports from your airline or other transportation carrier, receipts for purchases related to the loss, or other proof of items lost, damaged or stolen that may be covered.
Once a claim is approved, it can be reimbursed in as few as five days. If you have any questions, call 888-320-9961 from within the U.S. or 804-673-1691 from outside the U.S. Claims can also be filed online at Eclaimsline.com.
What if the card benefits are insufficient?
If you consider the benefits offered by the Chase Sapphire Preferred® Card to be inadequate or you don't have a premium travel credit card that provides travel insurance, consider getting a comprehensive travel insurance policy to protect your trip.
To find a policy in your state, you can either check with an insurance provider that you're already familiar with or check out an insurance comparison site, like SquareMouth.
Insurance comparison sites provide numerous policies to choose from, including travel medical insurance, long-term travel insurance, Cancel For Any Reason coverage and more. Choosing the right plan for you depends on your trip goals and the benefits you'd like to have on your vacation.
Frequently asked questions
Travel insurance through the Chase Sapphire Preferred® Card is free. Although the limits aren't as high as you could get on a comprehensive travel insurance plan, they may be sufficient for your trip needs. These benefits and others, not to mention its mid-tier $95 annual fee, make it a solid entry-level travel rewards credit card.
When planning a trip, consider your trip costs and the type of coverage you're looking for before purchasing an independent policy, as the benefits provided by the Chase Sapphire Preferred® Card may be adequate.
---
How to maximize your rewards
Get more smart money moves – straight to your inbox
Sign up and we'll send you Nerdy articles about the money topics that matter most to you along with other ways to help you get more from your money.