Aw nerds! Looks like this page may be out of date. Check out our list of the Best Travel Credit Cards.
UPDATE Nov. 2, 2016: The terms of this promotion have improved since it was first announced. As of Nov. 2, 2016, you'll get $15 in Uber credit after paying for nine rides with the Capital One® Quicksilver® Cash Rewards Credit Card or the Capital One® QuicksilverOne® Cash Rewards Credit Card, according to a statement from Capital One. Previously, you received a free ride token for a credit of up to $15.
This change makes it easier for you to get more value out of this promotion. Say you pay for nine rides and earn your $15 credit. If your 10th ride costs only $5, for example, you'd still have $10 in credit left over for your next ride. Under the previous terms, that $10 wouldn't carry over.
Free ride tokens earned before Nov. 2 will automatically be converted to $15 Uber credit. The promotion will still run until March 31, 2017, and cardholders can use credits on rides through April 30, 2017.
Below is NerdWallet's original article from June 15, 2016, when the promotion was announced.
---
Paying for an Uber trip with the right credit card could get you a step closer to a free ride.
Capital One is partnering with rideshare company Uber to offer a new promotion to cardholders: Every 10th Uber ride will be free, up to $15, when you pay with either the Capital One® Quicksilver® Cash Rewards Credit Card or the Capital One® QuicksilverOne® Cash Rewards Credit Card, until March 2017. Current Capital One customers who are new to Uber can also get their first ride free, up to $30, with a promo code until July 31.
These offers are a big deal for people living in areas where using rideshare services every day can actually be cheaper than owning a car and paying for car insurance. If you already have one of these cards saved as your primary payment method on Uber, you're ahead of the game.
» MORE: Making the most of Capital One® Quicksilver® Cash Rewards Credit Card
How to earn free Uber rides with your card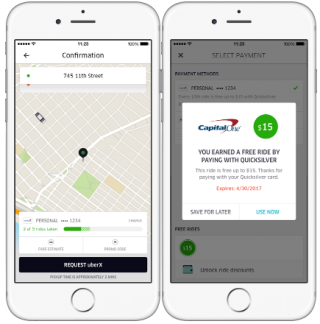 Capital One's in-app loyalty program with Uber doesn't require any registration. Once you enter your card information, the system starts rewarding you for rides automatically. Here's how it works:
Open the Uber app and go to the "payment" tab. Change your primary method of payment to one of these two cards:
• Capital One® Quicksilver® Cash Rewards Credit Card
• Capital One® QuicksilverOne® Cash Rewards Credit Card
To earn rides, you have to add the cards to the app directly. It won't work if you make the charges through PayPal or Apple Wallet.
Pay with your Capital One card on your next Uber ride. UberX, Uber Select, Uber Pool and Uber Black rides will automatically earn credits toward a free ride when you pay with your qualifying Capital One card. UberTaxi, UberEats and UberRush are excluded from this promotion.
Track your rides in-app. You can see how close you are to earning a free ride by looking at the ride counter on the payment tab. After nine Uber rides, you'll get a notification saying you've earned a free ride, up to $15 in value.
Redeem your free rides by April 30, 2017. Once you earn your free ride, you can choose to redeem it right away or save your credit for next time. There's no limit to how many rides you can earn, but the offer expires in March 2017, and rides need to be used up by April 30, 2017. If you want to squeeze the most value out of each free ride you earn, spend your credits on longer rides. When you use your free ride for a trip that costs less than $15, the extra money won't roll over. If it's over $15, you can charge the difference to your card.
If you ride with Uber frequently, but don't have one of the qualifying cards, this promotion is a good time to apply. NerdWallet named the $0-annual-fee Capital One® Quicksilver® Cash Rewards Credit Card, which is for people with good or excellent credit, the best cash-back card with no foreign transaction fees in 2016. It also named its companion, the $39-annual-fee Capital One® QuicksilverOne® Cash Rewards Credit Card, the best cash-back card for people with fair credit. Both cards offer 1.5% cash back on all purchases, a competitive rewards rate.
» MORE: Full review of the Capital One® Quicksilver® Cash Rewards Credit Card
First-time Uber riders save more
If you're new to Uber, this promotion gets even better. Capital One is allowing its credit and debit cardholders to get their first Uber ride free, up to $30, through July 31, 2016. To claim this benefit, enter the promotional code "CapitalOne30" in Uber's payment tab, and set your account up with your Capital One card.
You can't qualify for this free ride with a corporate card or a private label card issued by Capital One, such as the Neiman Marcus card or Saks Retail card. Existing Uber customers are also ineligible for the first-timer offer. But if you've been waiting for an opportunity to give Uber a try, this promotion is your big, free chance.
Uber, meet credit cards
Capital One's partnership with Uber isn't the first time the two have joined forces. Aside from Capital One, many other issuers and loyalty programs also offer promotions through Uber. But today, Capital One's free-ride program ranks among the most generous deals available for those who use the rideshare service frequently.
Here are a few other offers you should know about:
Chase is currently running a promotion in which first-time Uber users get their first ride free (up to $30) after using a Chase credit or debit card to set up a new account and entering the promo code "ChaseUber." The offer expires Dec. 31, 2016.
American Express, which also debuted an in-app Uber integration, gives customers 2 Membership Rewards points per dollar spent on Uber — twice the usual rewards rate for everyday purchases. AmEx also gave away Beyonce tickets in a promotion with Uber this summer.
Barclaycard is offering 3 miles per dollar spent on Uber through its AAdvantage® Aviator MasterCards. The cards aren't currently accepting new applications, but for existing cardholders, it's a good deal. Executive platinum members will also qualify for a free $25 ride credit. This offer expires July 31, 2016.
Regardless of which card you use for Uber, you can also earn even more rewards from each ride by linking your Starwood Preferred Guest loyalty account, if you have one, to the Uber app. By combining this offer with the Quicksilver promotion, you'll earn points with Starwood while also earning cash back with Quicksilver.
Claire Tsosie is a staff writer at NerdWallet, a personal finance website. Email: claire@nerdwallet.com. Twitter: @ideclaire7.