Advertiser Disclosure
Have You Heard of the Magnises Card?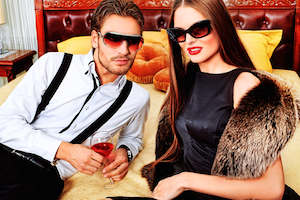 Do you relish the idea of running in an exclusive social group? Is it essential to you that every item you own double as a status symbol? Most importantly: Are you a stylish and sophisticated young adult living in New York City?
If you answered yes to these questions, you need to know about the Magnises card – dig into the details below. But if you answered no the questions above, the information is still worth a look. You'll likely be entertained at what you find!
What is the Magnises card?
The Magnises card is the pet project of Billy McFarland, a twentysomething college dropout from New Jersey. In 2013, he and a group of friends were discussing how exhilarating it would feel to carry a certain exclusive credit card, but recognized they'd have to wait a while to achieve the requisite income and status the card's issuer demands.
Inspired, McFarland set about creating a flashy card that he and his young friends could access right away. The Magnises card hit the market shortly thereafter and is making a splash on the New York City social scene.
What do you get with the Magnises card? If you're accepted (more on that in a minute), a $250 annual fee will get you:
A black metal card you can use to make purchases
Access to the Magnises townhouse, where you can hang out with fellow cardholders
Restaurant, shopping and hotel perks at prime New York City venues
Access to private drivers
Access and recommendations to exclusive New York City bars and clubs
Invitations to private events hosted by Magnises
Wondering where the card's name comes from? McFarland explained in an article that ran in the New York Post:
"Magnises is Latin for absolutely nothing. … The name is made up, but it sounds grand, doesn't it?'"
But remember: Magnises isn't exactly a credit card
So far, the Magnises card probably sounds a lot like many of the other high-priced, elite credit cards out there. Just one thing, though: The Magnises card isn't exactly a credit card.
The Magnises card isn't tied to an issuing bank, nor does it operate on any of the major credit card networks. It's simply a stand-in for your normal credit card; you copy your usual card's information onto the Magnises card and can then use it anywhere that accepts plastic.
Consequently, you can essentially choose any credit card that fits your lifestyle, transfer it onto the Magnises card and hit the town. There's something to be said for this type of flexibility, especially within the young, hip and diverse crowd Magnises is targeting.
Want a Magnises card? You'll have to be "cool enough" to qualify
Since Magnises isn't a conventional credit card, the process of applying and qualifying for the card is equally unconventional. Although you are asked to state your annual income and occupation, most traditional credit card application inquiries are omitted.
The Magnises team is more interested in your answers to some unexpected questions, which you fill in on a short online form. For example:
What do you like to do for fun in NYC?
What are your favorite restaurants in NYC?
What are your favorite places to shop in NYC?
If the Magnises team likes your initial application, you move on to step two of the acceptance process, which is a phone interview. An article in the New York Times about the Magnises card explained:
"The vetting process could be likened to a fraternity or sorority week. … The final decision, Mr. McFarland said, is based on whether the rest of the group thinks you are cool enough."
Although McFarland backpedaled on that statement, it's clear that Magnises wants to keep membership limited to a small, ultra-hip crowd. Think you fit the bill? As of July 2014, there's a long waiting list for the card – it never hurts to take a shot!
Writer's note: My request for comment from the Magnises team went unanswered. It seems they take their "no nerds" stance literally!
Young wealthy people image via Shutterstock